Shaun "Of The Dead" Marcum made a lot of Rays hitters look like zombies as he delivered three shutout innings in the Jays 4-1 loss to Tampa Bay at Port Charlotte Thursday afternoon. Jordan Bastian of bluejays.com reports the Kansas City native could be the man on the mound for the Opening Day start April 5th in Texas.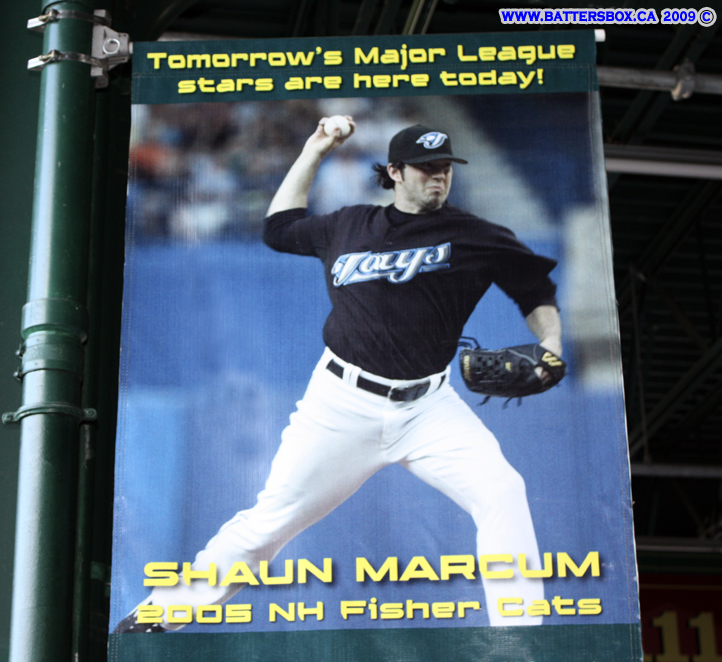 A banner of Shaun Marcum at Merchantsauto.com Stadium, home of the Jays Double-A affiliate in New Hampshire.
---
Marcum allowed just one hit while striking out two batters on just 39 pitches, 31 of which were strikes. Marcum's brilliance was not matched by Shawn Camp as the Rays got to him for three runs in the fifth inning, including a John Jaso two-run homer. He gave up six hits over two innings but at least he didn't walk anyone and five of his outs were on the ground. Lefty Brad Mills allowed a run on three hits over two innings to go along with a walk and a strikeout. Steven Register worked a clean eighth with three ground ball outs.
At the plate, the Jays only totalled five hits and two of them belonged to Jorge Padilla. David Cooper had the only extra base hit with a double in his lone plate appearance while Joey Gathright and John McDonald had the other base hits. Gathright's RBI single cashed in Johnny Mac with the first run of the game in the top of the fifth.
The Jays lose ground in the Grapefruit League AL East standings as they fall to 5-3 on the season. That puts them behind 6-3 Boston and 9-1 Tampa Bay while Cleveland remains unbeaten at 5-0. The Jays host the Houston Astros in Dunedin this afternoon in a 1:05 post meridian start in the time zone that is Eastern. It'll be the "Life of Brian" on the mound as Tallet pitches against Moehler. Hopefully, no one utters this magic word!
---
In other Jays-related news.......
---
Around the majors.....