Luis Rivera is the new manager of the New Hampshire Fisher Cats. Previously Rivera was a utilty infielder who totalled 2215 major league at-bats over eleven seasons from 1986 - 1998. Rivera was a coach in the Cleveland Indians minor and major league systems until the end of last season. I spoke with Rivera last weekend when the Fisher Cats were in Erie. Here is the transcript of the conversation.
BB: You have a had a pretty good season to this point, although the last week has been a bit of a tougher slog, is that just normal ups and downs or were you hurt when you lost some players to AAA?
LR: No, when we lost those guys we continued to play well. This is a cycle, baseball goes in cycles, and right now the guys are throwing the ball well, the last four or five days we haven't swung the bats well. We are capable of swinging the bats a lot better than that and that's why we went through that little hump. But last night we had better at-bats and we hope to continue to do that.
BB: Kyle Drabek is a new player to the organization. What have you seen in him this season that will get him to the big leagues?
LR: This is a guy who has a good fastball, and good breaking ball and a change-up and he just has to put it all together. A couple of starts ago he gave up eight innings, three hits, no walks and he is capable of doing that when he is consistent with his wind-up, his delivery. What is going to make him a better pitcher is his mechanics straight to the plate. His arm is there, he has to stay back on the rubber and have a good sound wind-up. His arm will take him to the big leagues, he has to make sure his mechanics are good.
BB: He has given up a few too many walks, so that's it, he needs to get his mechanics corrected?
LR: Yes.
BB: Zach Stewart did not have a good start to the season, his April numbers were not good but he has been pitching better since then. What has made the difference for him?
LR: He pitched, then we pulled him out for several days, and since then he has been pitching better. He is attacking the strike zone, now he is keeping the ball down and throwing to both sides of the plate. He is throwing the sinker in, he is throwing it away. Now his slider is getting better and he is getting outs with it.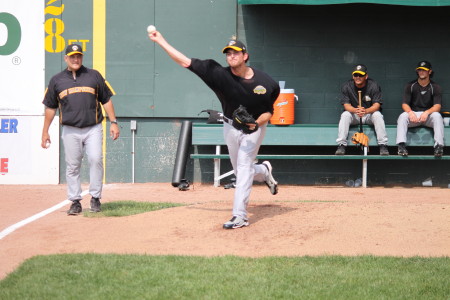 BB: Last year when the Jays acquired him there was discussion as to whether he could be a starter or a reliever. Does he have a third pitch developing or a fourth so he could be a major league starter?
LR: We have to give him time, he is a young kid and it is a process. You cannot rush him. if you want him to throw in the big leagues this year you have to take some pitches away from him amd have him throw sinker, sliders. But if you want to develop him as a starter you have to take a little time and let him develop a feel for the change-up and the other stuff. Right now that is what he is doing. He is getting a good feel for the change up and he is throwing it more and we have to continue to get him to do that.
BB: Another player who had a slow start but it now playing better is Adam Loewen. Has he improved or is he having better luck?
LR: He has really improved since spring training. I watched him in spring training and I see a guy just trying to hit the ball without any purpose. Now he is trying to hit the ball with purpose, where it is pitched. Now he is using the whole field, coming out of spring training he was trying to hit to right field, trying to create power to right field. But he found out trying to do that his average is going nowhere. Now he is hitting the ball up the middle, hitting the other way, he is driving the ball both ways now. At home he hit a 380 foot homer to left centre, that is telling me right there that he is staying through the ball and driving the ball. That has been the difference and that is why he is a better hitter now.
BB: Defensively do you think his defense is good enough to be an outfielder in the major leagues?
LR: Yes, right now he is an average outfielder but he can still improve because he is a tireless worker and during batting practice he always works on it. He takes pride on it and he has a good arm. He has been a big surprise for me because I didn't expect that from a guy who was pitching a couple of years ago.
BB: Eric Thames didn't play a lot for the Blue Jays before this season because of injuries. Is it just a case of getting playing time now or is there something he needs to do to get to AAA?
LR: Both. Before this season this kid had about 216 at-bats and he is already in AA. Thta is very good and he is hitting around .270 with 12 home runs and almost 50 RBI's, he is one of the top guys in the league. With this guy he needs to play more and more and more, to continue to get at-bats, to know himself, to know how they attack him and to know how to hit pitches in different locations. It's a process, he is going through it right now but all he needs to do is to continue to play. That's what is going to make him better and I think the more he plays the better he is going to get.
BB: Brian Jeroloman is back for part of a third season in AA. He didn't hit very well last season but he is hitting better this year. You didn't see him last season but what do you see in him this year?
LR: He is putting a lot of time in and hitting a lot of extra BP. When we are home he is taking early hitting every day and Ralphie is doing a great job with him. He is trying to level that swing instead of an uppercut swing. we are trying to make him more aggressive at the plate. He has the best on base percentage in the league but now we want to complement that with aggressive swings. Don't take so many pitches, if you get a good pitch to hit in a good count then go after that and be more aggressive. If he does that he is a good hitter, a better hitter.
BB: You have left him at number 9 the whole season, are you going to leave him there?
LR: He is hitting good there, leave him there, that's the way I look at it.
BB: David Cooper, another guy with a slow start but over the last few weeks he has had some big hits for you.
LR: We are trying to make him more aggressive also. He is only hitting .200 but he is hitting the ball well. If you look back at the reports there are a lot of hard hit balls, quality at-bats. But there are a lot of fly balls to left field, we want him to be more aggressive and turn on some pitches. He did that for two weeks and hit five or six home runs and drove in fifteen runs. He is cooling off a little again but he is there, we just have to push him and get the best out of him.
BB: Danny Farquhar is back in AA and his ERA is much higher this season. Is there something happening or is he just unlucky?
LR: I think that is the result of two or three games but there are a lot of games that he pitched great for us. He is leading the league in saves so he is throwing good but there was one game where he gave up four runs and another game where he gave up five runs in one inning. And if you are a reliever and you give up four or five runs in one inning that is a killer right there, it will kill your ERA. So I don't really look at the ERA, I look at the days he pitched to save a game and how did he do it. How did he do after he blew a game or how did he do after he gave up four runs, that happened twice where he gave up four runs and came back the next day 1-2-3 and got the save.
BB: He walks too many guys. I assume Tom (Signore) is working with him to tighten his delivery?
LR: It's tough on him because he throws underarm and overhand. If you just throw overhand you can work to control that but when you throw both that is twice as much to control.
My voice recorder died at this point so I lost my last Q&A. I asked Rivera about Shawn Bowman and he said they were working to shorten his swing and that his defense was great.
Batters Box thanks Luis Rivera for his time.