Who doesn't live for the big hit? The Jays had plenty of them Saturday afternoon as they belted eight homers among their 20 hits in a 17-11 victory at the Rogers Centre. Jonathan Paul Arencibia was living the dream in his major league debut by hitting two home runs, a double and a single in a 4-for-5 day at the plate. Aaron Hill also went yard twice while Adam Lind, Lyle Overbay, Edwin Encarnacion and Jose Bautista (shocker!!) also put one over the fence. However, I'll remember this game for another reason after encountering this "learned Jays fan" (not to be confused with this fellow down below because that would be an insult to crash test dummies and all dummies in general!).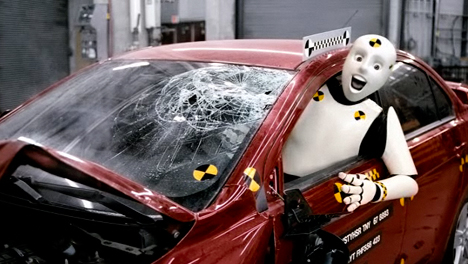 I was planning on going to Friday's game to catch Arencibia's debut only to find out he was not playing. I figured I'd go to this game instead to watch Arencibia and get my first look at starter Brad Mills, who was dominant against the Orioles in his first start of the season to earn his first major league win.
I was seated behind the Rays dugout thanks again to my "G-20 Summit ticket voucher" instead of my usual 500 level seats with the Toronto Star Season Pass. I was sitting near some pinhead who could not get over the fact I had my scorebook and camera with me. I love my camera but having the large lens I use with it tends to draw some unwanted attention from time to time. He thought I was a scout at first even though I was wearing a jersey and did not have a radar gun on me. As the game began, he got into a discussion with his girlfriend about 80's TV shows and they were trying to figure the one about two detectives in which one of them wore a cowboy hat. I answered "Simon & Simon". He then said I must have known that because I had a chart that listed 80's TV shows in my scorebook. That makes perfect sense because I always bring one just in case these types of conservations break out. This is why I have no problem making fun of him here!
As you may have figured, he was getting his drink on early and was heckling Matt Garza when he popped out from the dugout from time to time. I didn't see this but Garza apparently gave him the number one salute. At least the heckler kept it clean towards Garza but he didn't do the same towards some Rays fans sitting near us. To paraphrase an Eddie Murphy routine, "If you don't like it, get the bleep out, melonfarmer!" after they objected to his razzing of Garza. The Rays fans then objected to his swearing at them. He did tone it down but claimed he never swore at them. He tried to be friends with them afterwards but he was just being lame.
Later on, this genius thought he would drop some knowledge on the other people around us by saying that Arencibia was picked up in the Roy Halladay trade. No one else bothered correcting him and I didn't bother because there was no point. Besides, I didn't have a chart for that! He was so amazed by Brad Mills that he kept calling him Scott for some reason. Maybe he was confusing him with Scott Downs, perhaps? However, this was the money comment. He said Mills was so good he called him "Strasburg Canada". So what if Mills' fastball tops out at 86 miles per hour and he throws left-handed, I could totally see the comparison. That'll be my nickname for Mills from now on! Strasburg Canada! Priceless! You can't make up stories like this! That's why I won't forget this game anytime soon!
---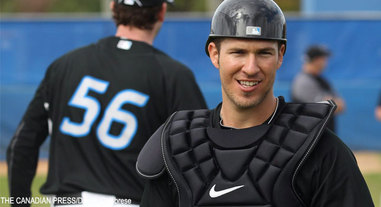 Random observations from yesterday......
It was nice to hear the more knowledgeable fans chanting "J.P." and it wasn't for our former general manager or for Rays reliever J.P. Howell. J.P. Arencibia could do no wrong yesterday and I don't blame him for the out he did make in his last at-bat. I blame the fans in the right field corner for not trying to interfere with Ben Zobrist in right field. Someone could have jumped on the field and tackled Zobrist! So what if you get arrested, take one for the team!
Yunel Escobar made an awesome throw from deep in the hole to get Evan Longoria when the Rays rallied for three runs in the fifth. That was huge to get an out there. The Rays would have had a bigger inning if it wasn't for that play.
I felt bad for Mills not being able to last the required five innings to get the win. I blame the guy for calling him Strasburg Canada because that clearly jinxed him. He was victimized by a couple of bloop singles and looked be tiring when he fired three straight balls well out of the strike zone before walking in a run. He threw a lot of pitches and I believe his strike-ball ratio was 28-28 at one point before finishing at 54-42 for a 96 pitch afternoon. Brian Tallet wasn't entirely great during his three innings but he got credited with the "W".
Why didn't Joe Maddon pull "Big Fly James" (as he was called on ESPN Radio) Shields from the game? Who allows a pitcher to get bombed for six homers? Seriously! Garza went the distance Friday so it wasn't like the bullpen was overly worked.
Every Jays starter scored a run, even pinch-runner John McDonald crossed home plate once. The only player not to score was Dewayne Wise, who replaced Jose Bautista late in the game. His ground ball double play in the eighth ruined the Jays chances of scoring in every inning after they scored at least once in the first seven. For this, Wise should be benched! ;D
Today, Brandon Morrow goes to the hill against Andy Sonnanstine in a 1:07 start at the RC. I remember Sonnanstine's debut three years ago and I hope the end result duplicates itself this afternoon.