The big news
just came in
.
Robbie Alomar
is now officially the first Blue Jay in the Hall Of Fame thanks to his "consistence excellence", according to the HOF dude. Alomar got 90% of the vote while Blyleven received 79.7%. Barry Larkin, Jeff Bagwell and Jack Morris are among those who didn't make the cut, and we'll update the vote totals when those become available.
We all know about Alomar's amazing career here. A 123 OPS+, three playoff appearances in his first three years including 2 World Series wins. Clutch home runs. Defense that looked amazing at times, leading to a record 10 gold gloves (most for a second baseman). 12 All-Star games, seven times getting MVP votes (1.91 shares). Clearly a HOF'er. It's unfortunate that he didn't make the cut
last year
because of some misguided desire by certain members of the BBWAA to restrict the honour of being a "first ballot hall of famer" to those who somehow deserve it (I'm still not clear on exactly who that refers to).
His playoff as a Jay stats: 44 hits, 2 home runs (both vs Oakland in 1992), his 1993 WS stats were incredible: .480/.519/.640. Lifetime in the playoffs he hit .313/.381/.448 and for the regular season he hit .300/.371/.443.
Some more stats, comparing Alomar to second basemen already in the hall: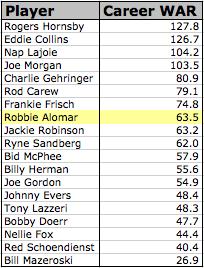 Obviously WAR isn't the be all and end all, but it's clear Robbie isn't in the conversation with Collins, Morgan, Hornsby and Lajoie for greatest second baseman of all-time. He's probably in the top 10, though. A top 10 all-time player at
any
position is a hall of famer.
His playing career was remarkable and if Ash hadn't tried to lowball him we might have had Alomar throughout the 90's. His career ended quickly - from superstar at 33 (150 OPS+) to never getting a 90+ OPS+ after. However, it was an amazing one and we'll never forget that amazing trade Gillick did to get him (Alomar & Carter for McGriff & Fernandez).
Here's Alomar getting the call: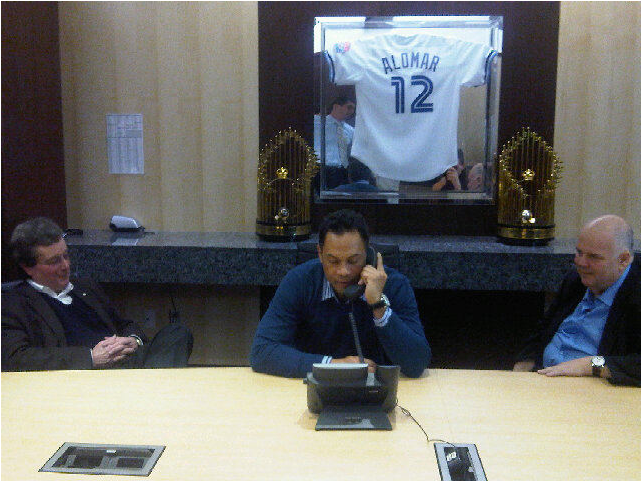 Here are the full voting results. Those whose vote %s moved by more than 3% are highlighted. To those lamenting a lack of Tim Raines: these things take time. Have patience. He actually showed a pretty strong improvement this year, and as John notes below, Larkin looks good for next year what with the weak ballot.