Today's
POTD
focuses on the Jays Opening Day shortstop of 2010.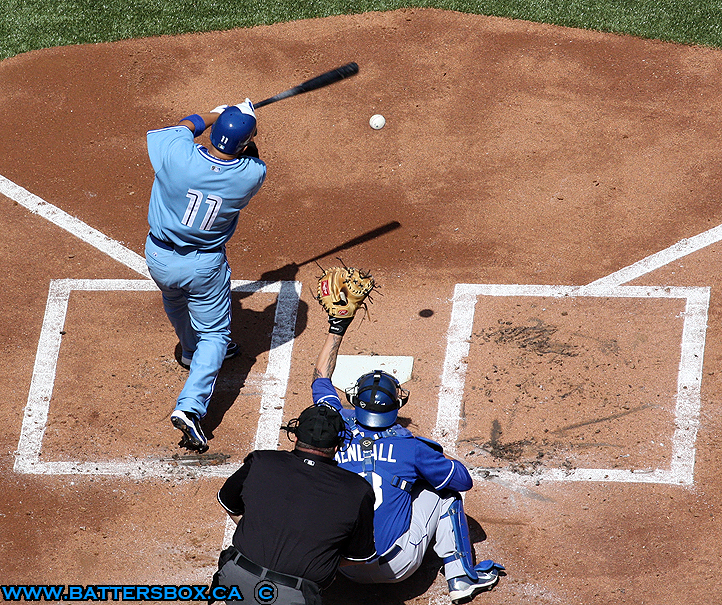 Alex Gonzalez
tries to get a hold of a
Zack Greinke
pitch against Kansas City at the Dome April 21.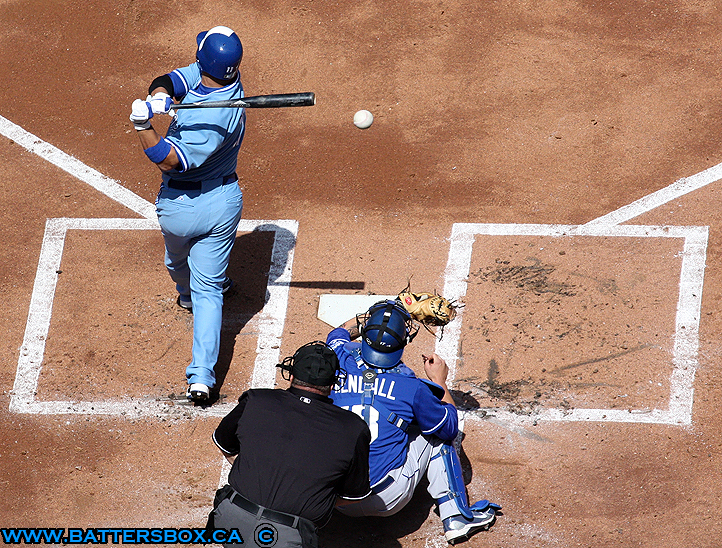 Unfortunately, Gonzalez fouls it straight back.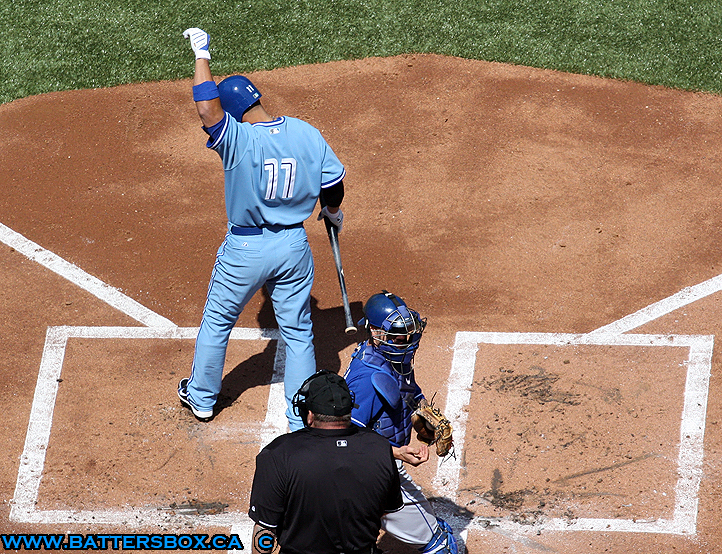 Gonzalez appears to raise his left arm in frustration while Royals catcher Jason Kendall waits for another baseball.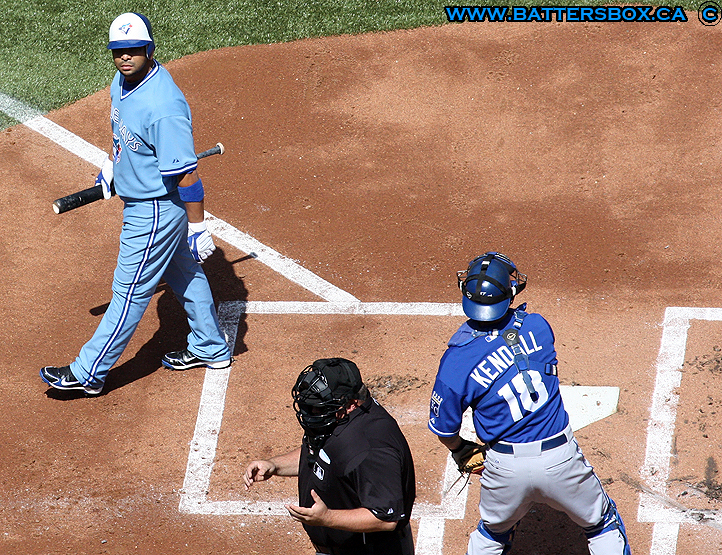 Gonzalez steps out of the batter's box as he glares at the home plate umpire. That's reminiscent of another player who wore #11 during the powder blue jersey days (initials G.B.).


Gonzalez watches a Greinke pitch miss the outside corner for ball four.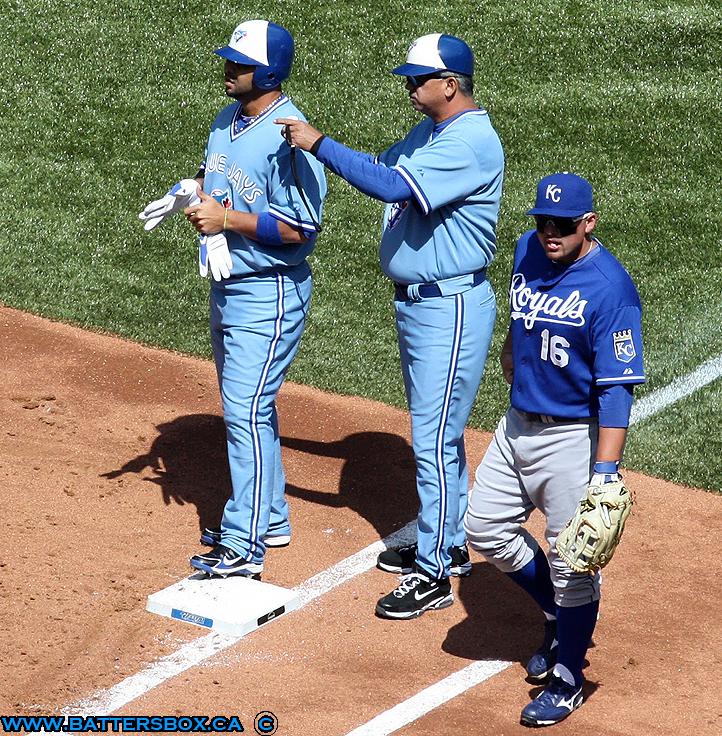 Gonzalez receives instruction from first base coach Omar Malave with Royals first baseman Billy Butler nearby.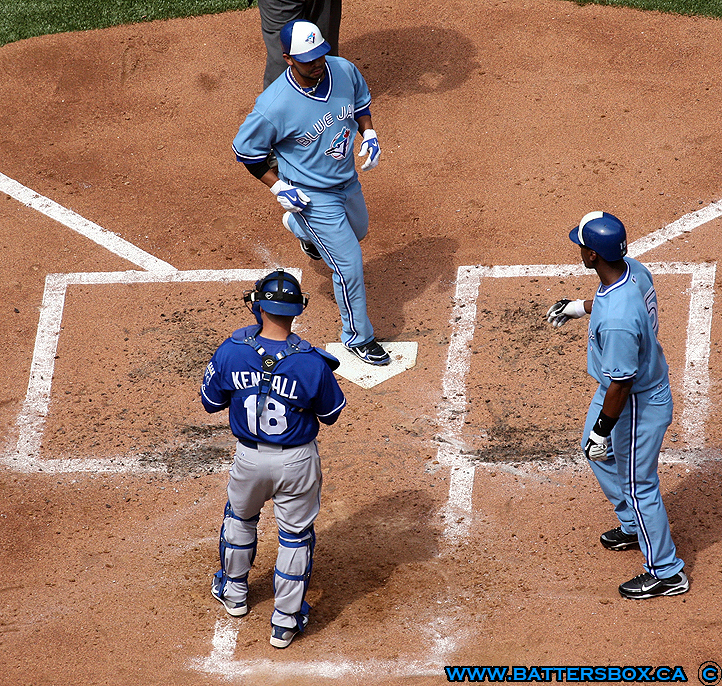 Gonzalez crosses the plate after belting a two-run homer against Greinke in his next at-bat. Fred Lewis, who reached on a hit by pitch, waits to congratulate Gonzalez for hitting his first homer in Toronto as a Blue Jay.



JaysVision shows Gonzalez's success against the 2009 American League Cy Young Award winner in his first two at-bats. That would be all the Jays could manage against Greinke as they would eventually lose in extra innings.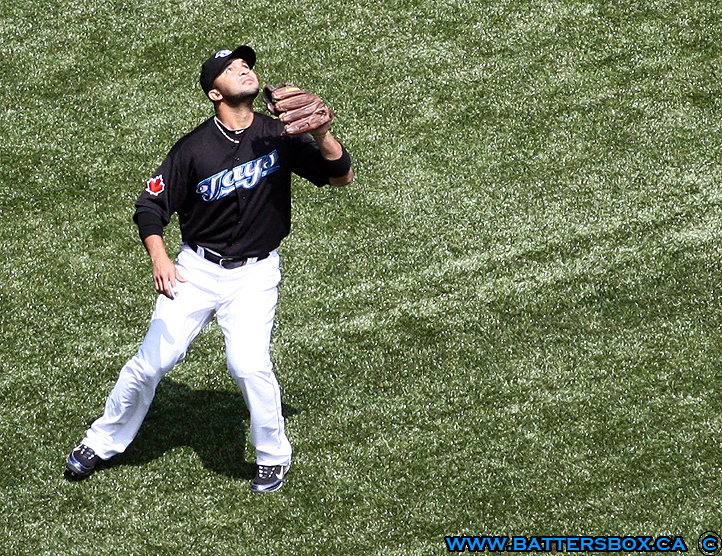 Gonzalez settles under a fly ball against the A's at the Dome May 2. He hit a two-run homer in the first inning off Ben Sheets as the Jays trounced Oakland 9-3.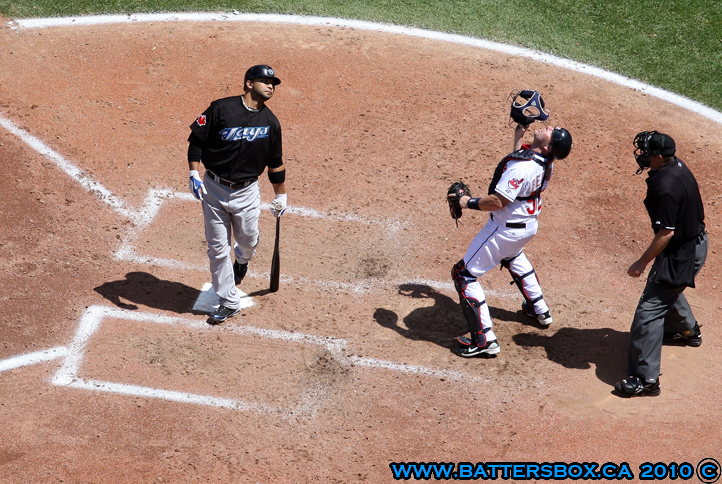 Gonzalez fouls one off against Fausto Carmona at Progressive Energy Field in Cleveland May 5. Lifting his mask behind the plate is new Lansing Lugnuts manager Mike Redmond. Gonzalez had a double and scored a run to help the Jays trip the Tribe 5-4.
---
Alex Gonzalez
proved to be a savvy acquisition for general manager
Alex Anthopoulos
when he signed the Venezuelan shortstop to a one year deal worth $2.75 million in late November 2009. He began his Jays career with an eight game hitting streak that included four home runs. The right-handed hitting Gonzalez hit his first homer in the Jays first win of the season in Texas April 7 and added three more homers during the Jays three game sweep in Baltimore, including a two homer game in the series finale April 11. The 5-foot-11 shortstop had a four hit game and three runs batted in on
Jackie Robinson Day
to help lead the Jays to a 7-3 win over the White Sox April 15. Gonzo would end the month of April with a bang by belting two homers in a 10-2 romp over Oakland at the Dome April 30. He hit .289 and slugged .629 in the season's first month.
Gonzalez cooled off a bit in May but was still hitting .265 and .515 by the end of the month. He homered in back to back games in Chicago against the White Sox, including a three-run homer in the 12th inning to give the Jays a 7-4 win May 7. A-Gon was traded to Atlanta July 14 with lefty Tim Collins and shortstop Tyler Pastornicky for shortstop Yunel Escobar and righty Jo-Jo Reyes. He did give a Jays a nice parting gift in his second last game in Toronto as he clubbed a three-run dinger in the Jays 9-5 win over Boston at the Dome July 10. Gonzalez finished his time in Toronto with a .259/.296/.497 batting line. He had 25 doubles, one triple, 17 homers and 50 RBI and was successful in his only steal attempt. He also provided a solid glove at short by finishing fourth in the American League in range factor at 4.42 while making 11 errors.
Gonzalez would add six more homers and 38 RBI with Atlanta but hit just .240 while slugging .386. He did reach the playoffs for the third time in his career but went just 3-for-15 with two RBI in the Braves four game NLDS loss to San Francisco. After eight seasons with Florida that included a World Series ring in 2003, Gonzalez hopes to settle down in one spot after spending time in Cincinnati, Boston and Toronto over the last two seasons. The 34 year-old veteran will begin 2011 with Atlanta but is eligible to be a free agent in 2012. Gonzalez and the Braves are scheduled to face the Blue Jays at Turner Field June 20-22.