Today's POTD shines the spotlight on the Jays 2010 closer.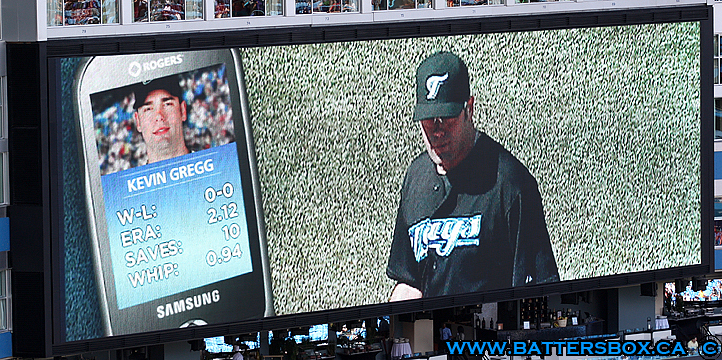 Kevin Gregg shown on JaysVision prior to his May 16 appearance against Texas.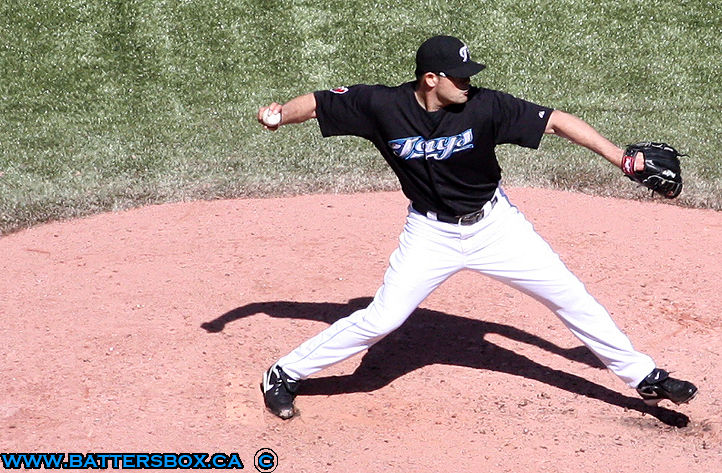 Gregg gets ready to unleash a slider against the Rangers.

Gregg follows through on his pitch.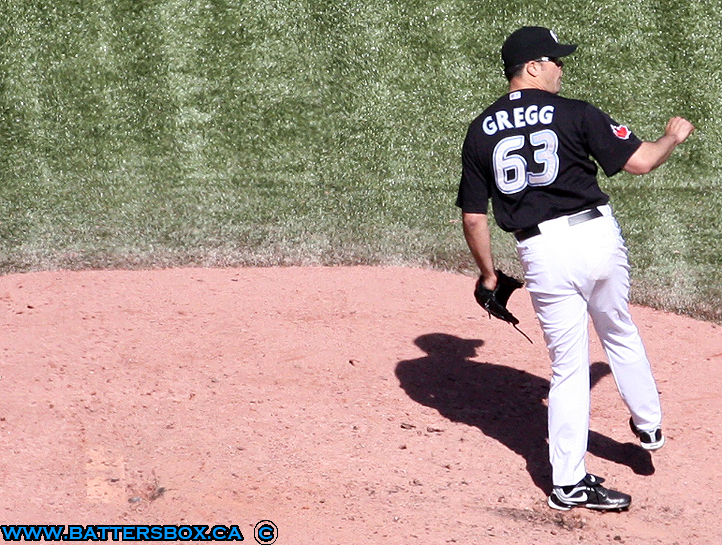 Note how Gregg's feet form at almost a 90 degree angle. It may look awkward but he got the job done. Despite an Ian Kinsler leadoff single, he struck out Justin Smoak and induced a double play ball off the bat of Max Ramirez for his 11th save in a 5-2 win over Texas.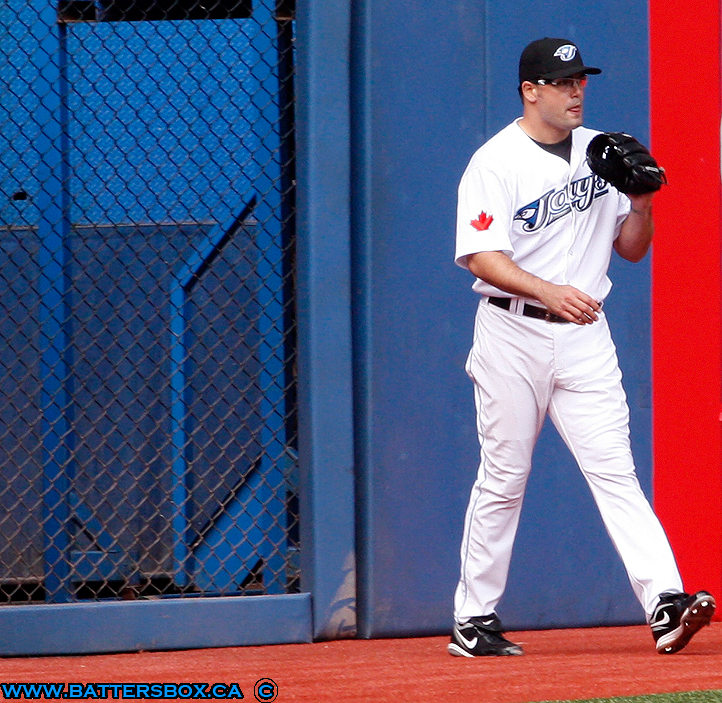 Gregg emerges from the bullpen to begin the ninth inning against Seattle September 23.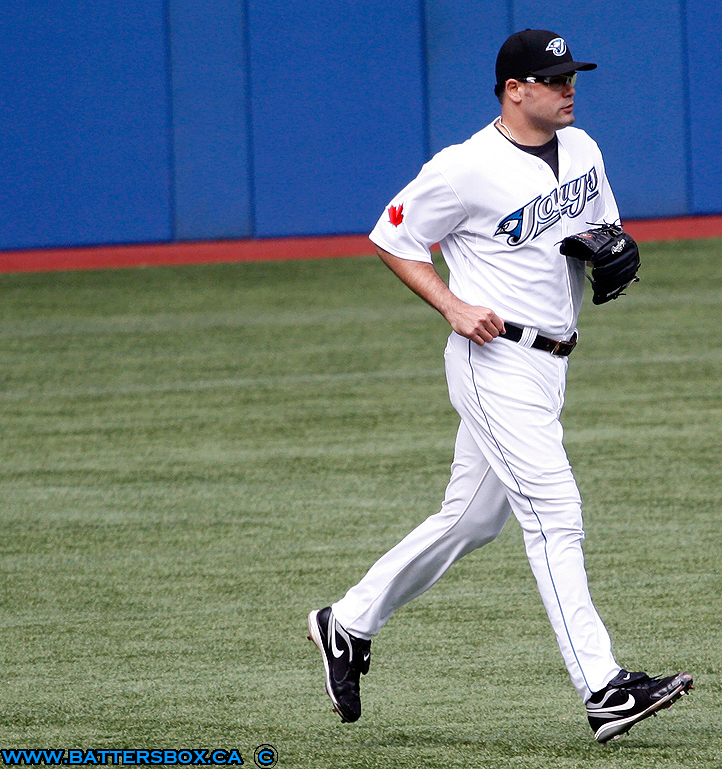 Gregg jogs towards the mound.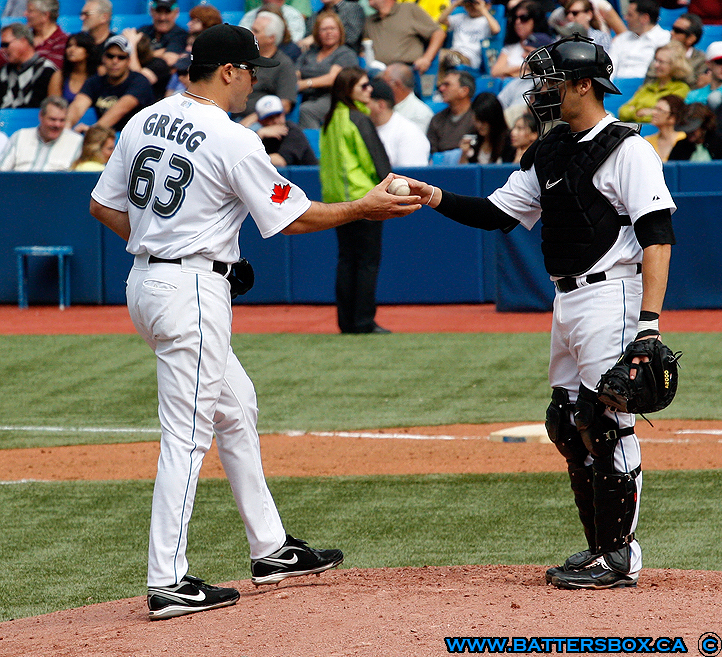 Gregg gets the ball from catcher J.P. Arencibia.


Gregg and his statistics shown on the left field scoreboard at the Dome. Travis Snider does a good job blocking out the WHIP stat (it was 1.36 by the way!).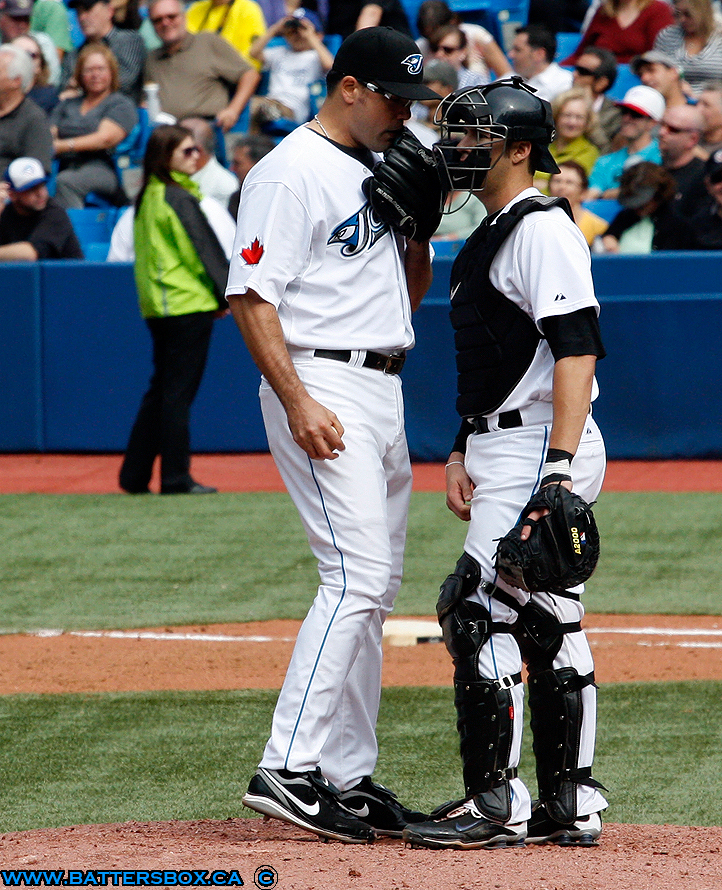 Gregg in conversation with Arencibia.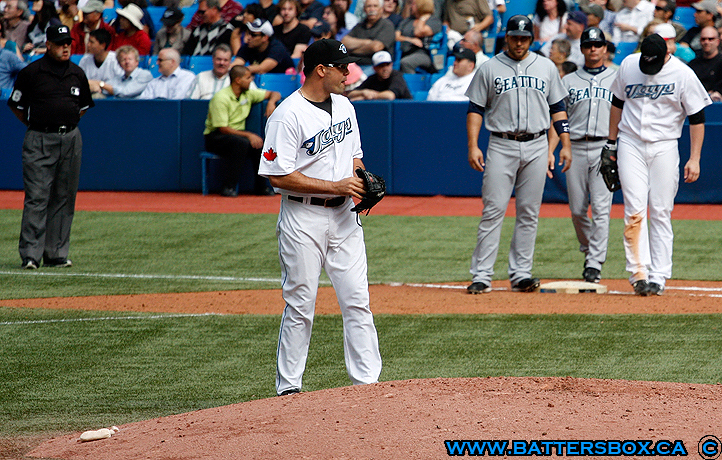 Gregg steps off the mound after allowing Matt Mangini's first major league hit. Matt Tuiasosopo pinch ran for Mangini but he would not get past first base as Gregg struck out Greg Halman and Mike Carp before getting Ichiro Suzuki to pop up to Aaron Hill to end the game. That was save #35 for Gregg as he preserved a 1-0 victory.
---
Kevin Gregg
was signed last February by the Jays to bolster their bullpen. Even though
Jason Frasor
was anointed the closer coming out of spring training, Gregg took over the role before too long and had an outstanding April. The 6-foot-6 righty recorded a hold in his Jays debut in Texas April 7 in the team's first win of 2010 and picked up his first save two days later against the Rangers. He also converted his first save opportunity in Toronto against the White Sox April 13 as part of a 6-for-6 month in save opportunities to go along with an 0.82 earned run average.
Gregg racked up eight more saves in May but went 0-1 with a 5.11 ERA. The low point of the month for Gregg came May 20 in Seattle when the Mariners rallied for three runs in the ninth, including a game winning RBI single from Ken Griffey Jr. in what turned out to be his last hurrah, to hand the Jays a 4-3 loss.
Gregg had a worse June when he was burned for four runs in the ninth against Tampa Bay at the Dome June 1 as the Jays blew a 5-0 lead enroute to a 7-6 loss. He issued a whopping five walks and one hit in two-thirds of an inning. The former Angel, Marlin and Cub rebounded with four straight saves but ended the month by allowing the game's only run in the ninth in a 1-0 loss to St. Louis at the Dome June 23. That was the game Ricky Romero and former Jay Chris Carpenter traded zeroes over the first eight innings. That ended an 0-2 June for Gregg in which his ERA shot up to 8.11.
Things went better for Gregg in July as he was not scored upon in nine of his 10 appearances. His one mis-step was a blown save in Kansas City July 21 in which the Jays grabbed the lead in the top of the tenth only to see the Royals rally for two runs against Gregg in the bottom of the inning for a 5-4 victory. Still, he picked up five saves and a hold while recording a 1.86 ERA for the month. August was also a good month for Gregg as he converted seven of eight save opportunities and earned his first win in a Jays uniform. That came August 12 when the good guys rallied to beat Jonathan Papelbon and the Boston Red Sox 6-5 at the Dome. His blown save for the month did not hurt the Jays in the end as they pulled out an extra innings victory against Detroit at the Dome August 27. Gregg ended August with a 1-0 record with a 2.08 ERA.
For September and October, Gregg was not May-June bad but still not quite as effective as he finished with a 1-2 record, a 4.22 ERA and six saves. He was shaky in two appearances against Tampa in which he was charged with a loss September 10 and allowed a go-ahead run September 12 at the Dome before Adam Lind bailed him out and gave him a win with a two-run walk-off home run against Rafael Soriano. His last save was October 1 in Minnesota but his last appearance was one to forget as he blew the save and took the loss against the Twins 4-3 October 2.
Gregg finished the season 2-5 with a 3.51 ERA with 37 saves in 43 opportunities. He struck out 58 batters in 59 innings and had a WHIP of 1.390. The 32 year-old Oregon native will remain in the American League East after Baltimore signed him to a two year deal worth $10 million plus a team option. Gregg hopes to face his former club June 3-5 in Baltimore and is scheduled to return to Toronto June 14-16.