Today's POTD pays tribute to the man who stopped the Blue Jays 24 2/3 inning scoreless streak to begin Spring Training with his RBI double in Monday's 6-3 loss to Philadelphia in Dunedin.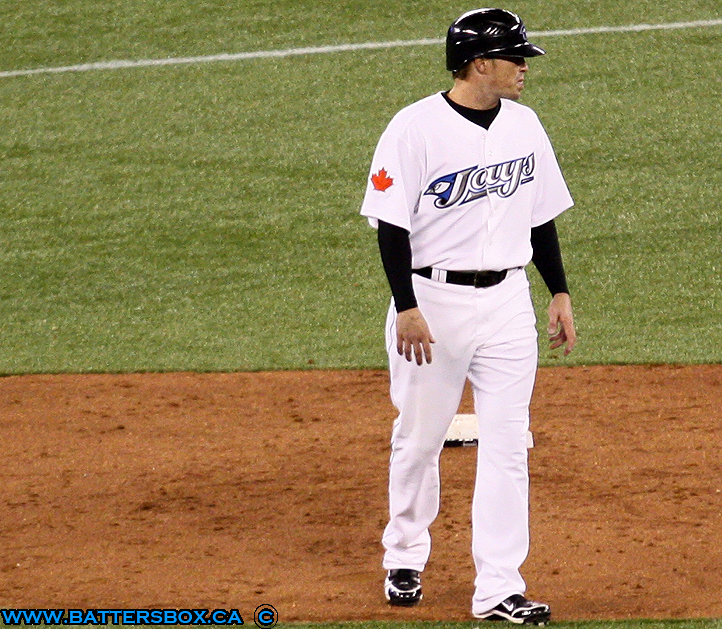 Mike McCoy leads off from second base after a double April 15 at home against the Chicago White Sox.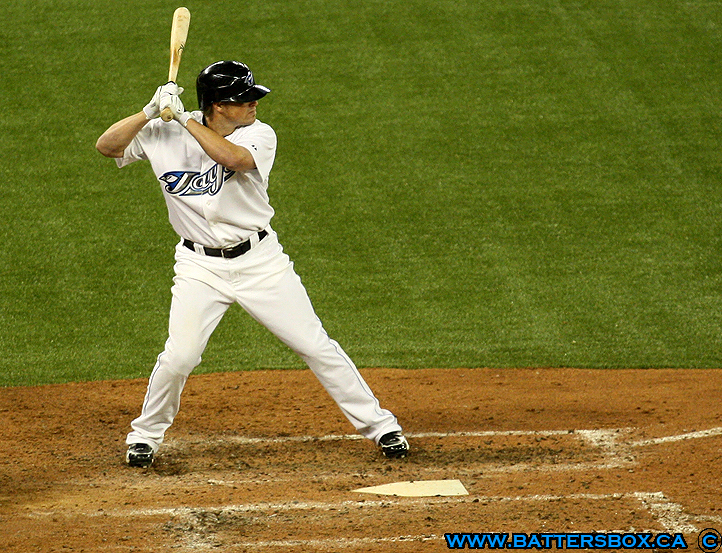 McCoy had four extra-base hits in 90 plate appearances in 2010, all doubles. Two of them came in this game against the Pale Hose.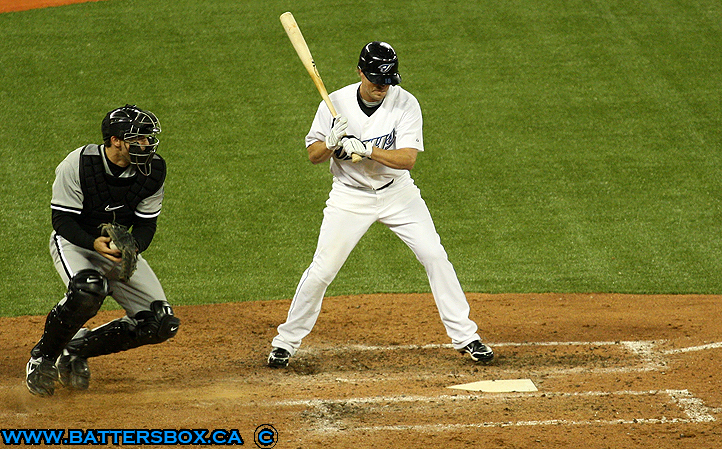 McCoy lays off a pitch in the dirt that is blocked by White Sox catcher Donny Lucy. McCoy went 2-for-5 with a run scored and an RBI in the Jays 7-3 victory against the White Sox.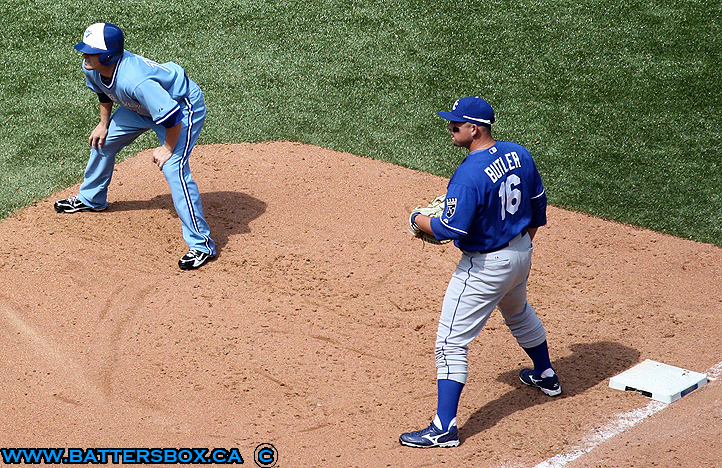 McCoy pinch-runs for Jose Molina after his leadoff single in the eighth inning against Kansas City at the Dome April 21. Royals first baseman Billy Butler stays close to the bag.

McCoy shown on JaysVision crossing the plate with the tying run. He was moved to second on a John McDonald sacrifice bunt before scampering home on a Fred Lewis RBI single. Sadly, the Jays lost this one in extras.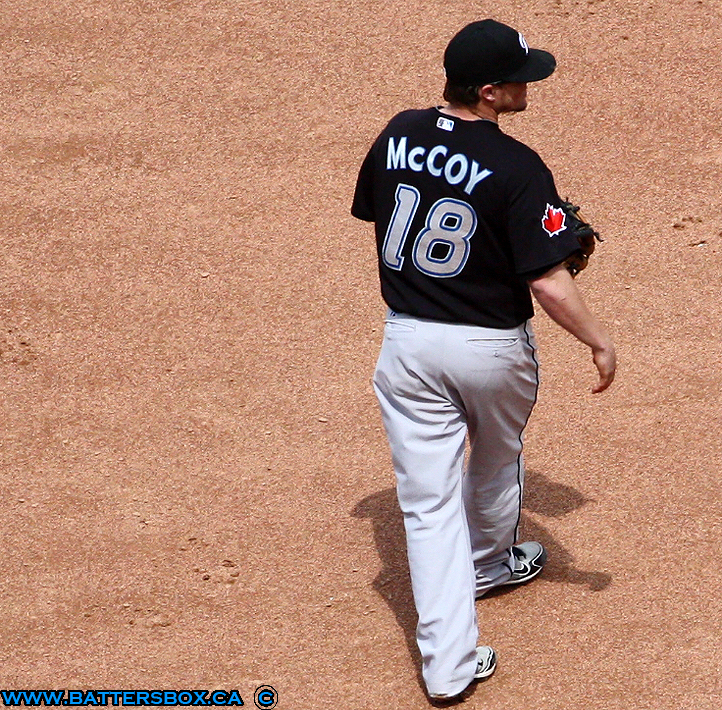 McCoy mans third base as he enters the game as a defensive replacement in the bottom of the eighth inning May 5 at Progressive Energy Field in Cleveland.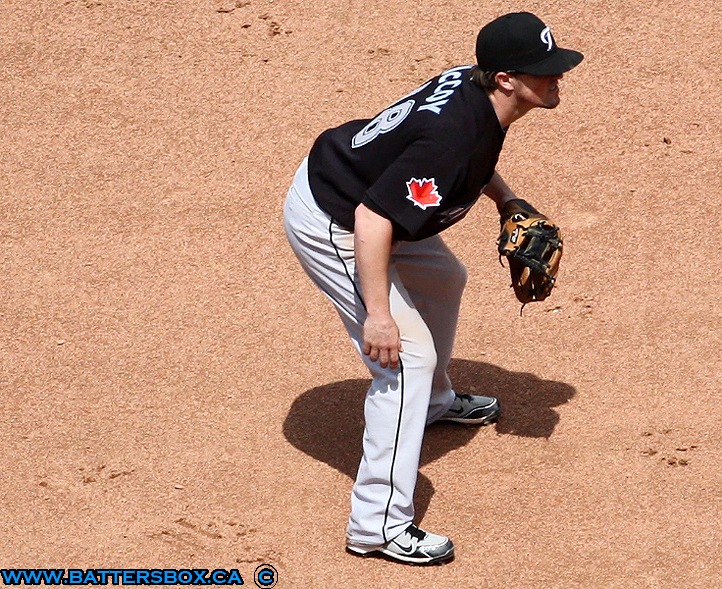 McCoy entered the game as a pinch-runner for Lyle Overbay in the top of the eighth. Jose Bautista began the game at third base but shifted over to first to make room for McCoy at the hot corner.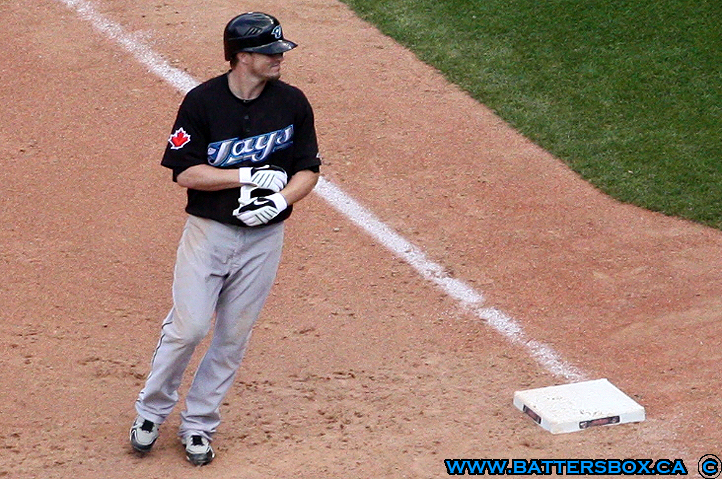 With the Jays trailing 4-2 heading into the ninth, they rallied for three runs to take a 5-4 lead. As a result, McCoy had a chance to come up to the plate to bring home an insurance run after Vernon Wells reached on an error and stole second. However, McCoy flew out to right field to end the inning and he removes his batting gloves to get ready for the bottom of the ninth.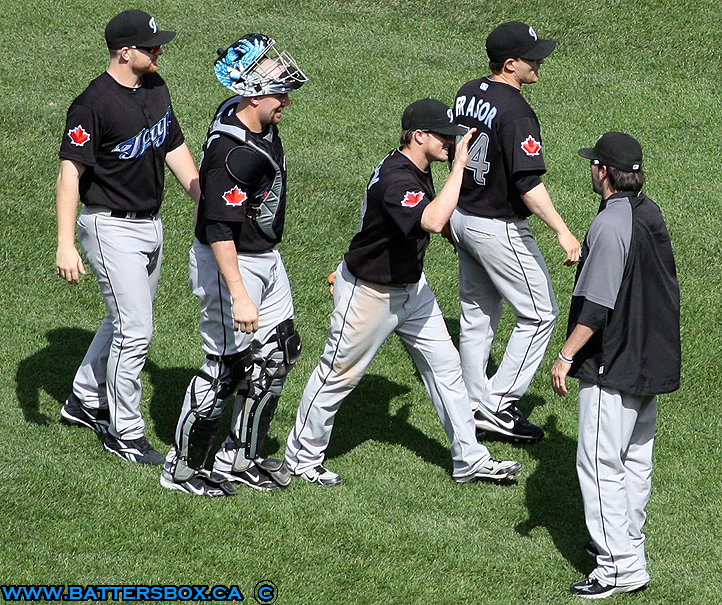 McCoy gets ready to high-five Shaun Marcum (far right) as the Jays celebrate a 5-4 win over the Tribe. McCoy made a fine defensive play at third as he charged Jhonny Peralta's weak ground ball and threw to first for the game's final out. Shin Soo Choo was on second base at the time representing the potential tying run. Adam Lind (far left) was the offensive hero with a go-ahead two-run homer off Indians closer Chris Perez in the ninth. Catcher John Buck and reliever Jason Frasor, who collected the win, also take part in the post-game handshake.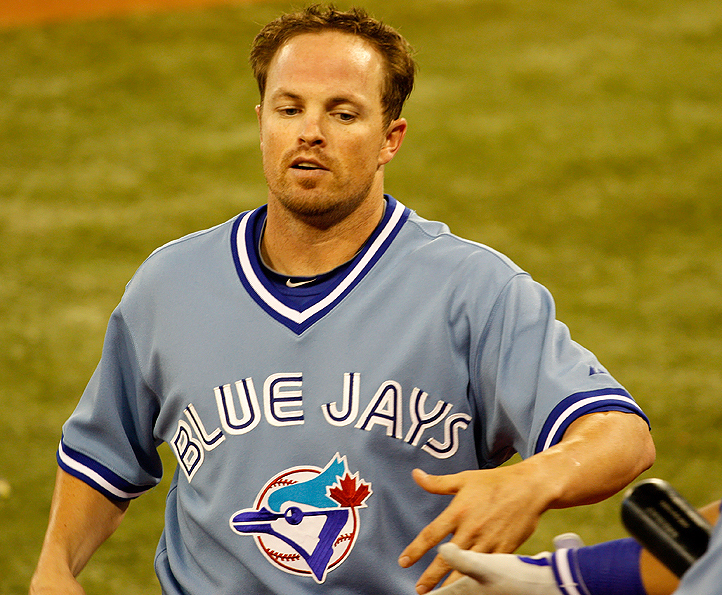 McCoy gets congratulated on his return to the dugout after scoring a run against the Orioles on 80s Night at the Dome July 26. He pinch-ran for Edwin Encarnacion and scored the game's final run in the Jays 9-5 win over Baltimore.
---
After hitting .400 in 30 at-bats in Spring Training,
Michael Howard McCoy
enjoyed a strong debut with the Blue Jays in 2010. A waiver claim from the Colorado Rockies, the San Diego native led off the April 8 game in Texas with a single and drove in an insurance run in the ninth in the Jays come from behind 3-1 win over the Rangers. The 5-foot-9 McCoy collected his first stolen base at home against the Los Angeles Angels April 17 but his best game came April 19 at home against Kansas City. He used his speed to score the game's first run on a wild pitch and went 3-for-4 with a double and two stolen bases in Toronto's 8-1 victory over the Royals. His batting average reached a season high .320 at that point but he finished up with a batting line of .195/.267/.244 in 90 plate appearances along with three RBI and five stolen bases in six attempts.
The right-handed hitting McCoy spent part of last season at Triple-A Las Vegas playing at shortstop and batted .310/.411/.469 with 14 doubles, one triple, six home runs and 26 RBI. He was 17 for 19 in stolen base attempts. McCoy played six different positions for the Jays in 2010 - second, third, short, left field, center field and right field. A 34th round selection of the St. Louis Cardinals back in 2002, the Univeristy of San Diego product made his major league debut with Colorado in 2009. He was hitless in six plate appearances but went 2-for-2 in the stolen base department. McCoy earned the call-up to Denver after hitting .307 with 40 stolen bases at Triple-A Colorado Springs. McCoy also spent time with the Baltimore Orioles organization in 2008 but was traded to Colorado later that season for shortstop Juan Castro.
Turning 30 on April 2, McCoy hopes to celebrate his birthday in Baseball North when the Jays host Minnesota for their season opening series April 1-3.