A couple of former Blue Jays decided to call it quits over the weekend. Sportsnet.ca says catcher Gregg Zaun, who tried to catch on with the San Diego Padres this spring, will officially announce his retirement today. Also, outfielder Frank Catalanotto said over the weekend that he is hanging up the cleats. He played briefly for the New York Mets last season.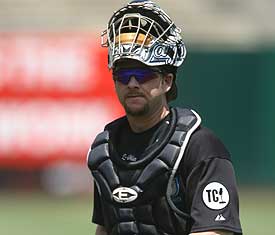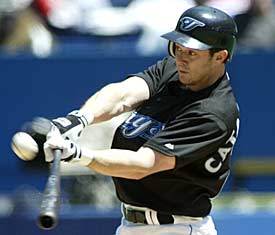 The nephew of former Orioles catcher
Rick Dempsey,
Gregg
Zaun was Baltimore's 17th round pick in the 1989 amateur draft. He also played for the Florida Marlins, where he earned a World Series ring in 1997, as well as Texas, Kansas City, Houston and Colorado before arriving in Toronto in 2004. He wound up at Toronto's doorstep only after the Montreal Expos released him in spring training. Zaun wound up with Baltimore again in 2009 but was traded to Tampa Bay later that season. He spent 2010 with Milwaukee but his season was cut short by a shoulder injury. The Glendale, California native hit .265/.350/.397 with seven doubles, two homers and 14 runs batted in over 28 contests last season.
A career .252/.344/.388 hitter, Zaun's best years were in Toronto where he became a starting catcher for the first time in his career. He hit 45 of his 88 career homers and 219 of his 446 RBI with the Jays. Zaun reached double digits in home runs for three straight years beginning in 2005. The switch-hitting catcher had to share time behind the plate with Bengie Molina in 2006 and almost left to sign a deal with the New York Yankees in the off-season when the Jays pursued free agent Rod Barajas. Eventually, Zaun did agree to a two-year deal to stay in Toronto. Still, he wound up losing his job to Barajas in 2008.
Zaun's reputation also took a hit when he was mentioned in the Mitchell Report regarding performance enhancing drugs. Still, Zaun wound up showing his grit with his ability to block the plate and his hustle on the basepaths. That was no more evident during May 8, 2005 at the Dome against the White Sox when he was taken out on a stretcher after trying to break up a double play. His swan song with the Jays came September 6, 2008 when he belted a walk-off grand slam homer against Troy Percival to help the Jays rally for a 7-4 win over Tampa Bay at the Dome.
We may see more of the 39 year-old Zaun in the near future. He has served as an analyst for Sportsnet's playoff coverage in 2006 and it would not be a surprise to see him back in front of the TV cameras sooner rather than later.
---

Frank Catalanotto
was a 10th round pick of the Detroit Tigers in 1992. He made his big league debut five years later in Motown where he began his career as an infielder. The Smithtown, New York native almost did not make his major league debut as a Tiger as he was selected by Oakland in the Rule 5 draft in 1996 but the A's returned him to Detroit. Before the 2000 season, Catalanotto was part of the
Juan Gonzalez
trade as he was sent to the Texas Rangers in an eight player deal that also his future Jays teammate Gregg Zaun go to Detroit. Zaun was eventually flipped to Kansas City and never did put on a Tiger uniform.
As for Catalanotto, he established a Rangers record in 2000 by reaching base in 13 consecutive plate appearances. His breakout year came in 2001 when he finished fifth in the American League in batting average with a .330 mark, slugged a career best .491 and stole 15 bases. Catalanotto began to see more time in the outfield as his career wore with the Rangers. However, he struggled to a .269 mark in 68 games in 2002 after suffering back and groin problems.
The left-handed hitting Catalanotto signed with the Blue Jays as a free agent and spent four seasons in Toronto. In 2003, he set career highs with 13 homers and 59 RBI while hitting .299/.351/.472. The injury bug bit the Cat again in 2004 when he spent three separate stints on the Disabled List thanks to more groin problems. He hit .293 but hit just one homer and slugged .390 in 75 games. Catalanotto remained healthy in 2005 and 2006 as he hit .301 and .300 respectively and established a career high in doubles in 2006 with 36.
Catalanotto would leave the Jays after 2006 to sign a three year deal with the Rangers but he never hit .300 again. With Texas, he hit .260 with 11 homers in 2007 and upped his average to .274 in 2008 but hit just two long balls. He was let go by Texas before the start of the 2009 campaign but signed a minor league deal with Milwaukee. With the Brew Crew, Catalanotto hit .278 with one homer in 77 games. He got to return to his home state in 2010 as he signed a minor league deal with the New York Mets but only hit .160 in 26 plate appearances before being designated for assignment in early May. He ends his career as a .291 hitter with 29 of his career 84 homers and 200 of his 457 RBI coming in Blue Jay blue.
The 36 year-old Catalanotto may join Zaun in the transition from ballplayer to broadcaster as the 14 year veteran has expressed an interest in joining the media. Thanks for the memories, Cat and Zaunie! All the best in your future endeavours!
---
It was a good weekend for the Jays on the field with a come from behind
7-4 win
over the Tigers in Dunedin Saturday and a
5-0 victory
over the Pirates in Bradenton yesterday.
Ricky Romero
fired four shutout innings and
Jose Bautista
had a three hit afternoon yesterday.
Zach Stewart
also shined with 5 K's in two innings of relief. However, the big story was
Brett Lawrie
as his three-run homer sparked the Jays victory over Detroit Saturday.
Kyle Drabek
also made his Spring Training Debut and gave up a run on three hits but did strike out three batters and got three groundball outs over two frames.
Stories of note...
The hitting star of the weekend, third base hopeful Brett Lawrie, is featured in The National Post. He still does not lack for confidence...
"I still feel like I'm ready for the big leagues. As I move forward as a person and a baseball player, I know there's always some things to learn. But as far as the big leagues go, I think I'm ready."
Also regarding Lawrie, it was interesting to note that Bautista mentioned in an interview with Buck Martinez and Pat Tabler during yesterday's broadcast on Sportsnet that he keeps an open dialogue with Lawrie and mentions that even though he may have more experience, he can still learn things from the young Canadian playing third.
The Toronto Star has a story on the hobbled Aaron Hill. Among the interesting nuggets was Hill declining to take part in the team's Winter Caravan....
Hill had asked not to go, while another veteran, the since-departed Vernon Wells, had apparently requested an opportunity to attend mini-camp and talk to young Jays newcomers. The second baseman, who has a home near the Jays' training headquarters, was re-asked this week whether he would have been more likely to step into a leadership role if Wells hadn't been there. "They may have been more insistent - 'maybe you should go' type thing," Hill said, hinting he still might have been inclined to stay home. "They knew Vernon was going. I asked and they said it wasn't a big issue if I came. They were watching me down here so they didn't feel the need for me to go up. But ... this off-season might be a different story."
The Star also has a feature on the types of pitches thrown by Jason Frasor, Brad Mills, Rommie Lewis and Zach Stewart. Frasor likes to throw a fosh...
"It's fingers on the side mostly," Frasor said about holding the pitch. "I'm okay with a fastball and slider. The three fingers (index, ring and pinky) are mostly out of the way, but I have some of them on the ball when I throw the pitch. I call it a changeup really, because I don't see myself as a forkball guy. When I see a forkball, I see a 6-foot-5 guy throwing 100 m.p.h., then coming in with a fork. The key for me is the middle finger. When I throw it, I want to feel it coming off that middle finger. But it's all grip; when I throw it, the grip takes over."
The Jays are off today. They begin a home and home set with Tampa Bay beginning in Port Charlotte Tuesday at 1:05 p.m. and wrapping up in Dunedin Wednesday at 1:05 p.m. Brandon Morrow gets the start on Tuesday.