That was the question Bob McCown posed to Stephen Brunt during the 4:00 hour on Monday's edition of Prime Time Sports. Brunt answered he was okay with them and that they are better than the 70's version. McCown then said, "if you like the current jersey, you better go get one because this time next year, they won't be available." McCown said he did not know what the proposed new uniforms will look like but guessed it would be closer to the original version or a combination of the new and old one. There appears to be further proof that McCown is on to something because the Jays have joined forces with a marketing firm for re-branding purposes.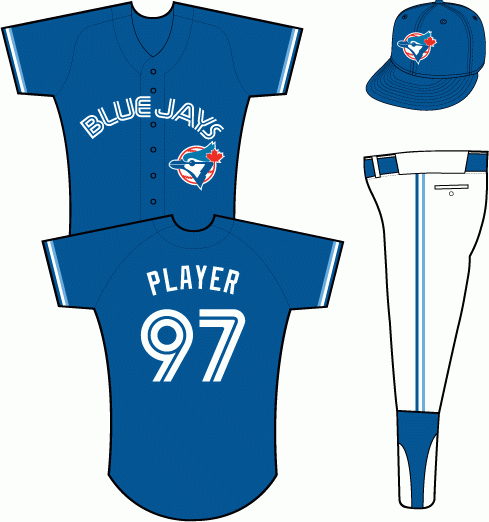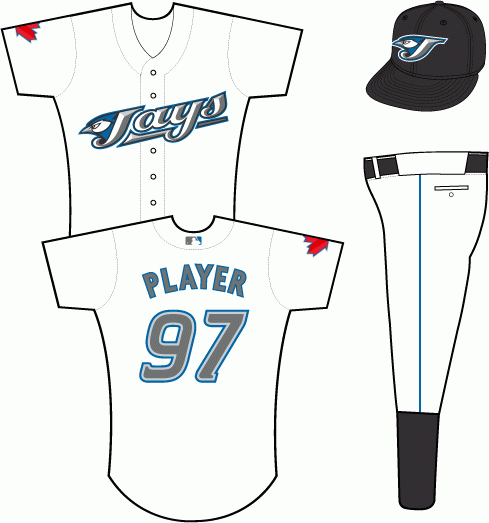 The 1994-1996 alternate uniforms (best in team history!) The current day uniforms.
Images provided by Sportslogos.net.
What I would like to see is the Jays keeping the current J-bird logo and their current road uniform and replace the Jays script logo on their black and white uniforms with the same style lettering on the road unis. More importantly, how about an actual blue uniform because it is ridiculous they don't have one this year after scrapping the powder blues this season. I also hope they lose the toothpaste caps and I'm not the only one who thinks so. I know Yunel Escobar has got my back on this. According to Uniwatchblog.com, Escobar wore the J-bird cap Saturday against the Twins while everyone else wore the toothpaste cap.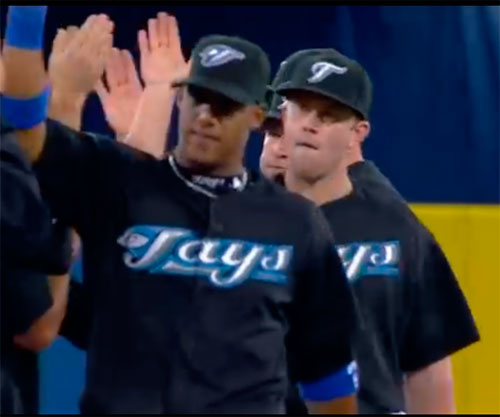 Yunel Escobar takes part in Saturday's post-game celebration with his J-bird cap while Aaron Hill and everyone else wears the toothpaste one.
In other uniform related matters...
Uniwatchblog.com also digs up a blast from the past of when the Jays first modelled its 1977 uniform.
Random Observation...Whoever stitched the names on Kyle Drabek's and Jayson Nix's jerseys did a sloppy job. Drabek looks like Dr. A. Bek and Nix looked a little too spread out. I can only imagine what would happen if the Jays acquire Fu-Te Ni.
With a new uniform apparently on the way for 2012, what do you want to see, Bauxites? The floor is yours.