Who's this guy that's in KC? It's
Eric Hosmer
, see! Two Batter's Box points for you if you get the reference. (
HINT: Pie-thon!
).
The annual baseball trip this year took the missus and I to the Show Me State where we saw the
Kansas City Royals
take on their baseball predecessors in the
Oakland Athletics
.
Kauffman Stadium
is an absolute jewel of a ball park and as far as I'm concerned, it has pulled into a tie with
PNC Park
in Pittsburgh as the best park in the major leagues. Among the highlights during a great weekend of baseball was getting to see Royals rookie sensation
Eric Hosmer
in his first weekend in the bigs. The third overall pick in the 2008 draft is the focus of today's edition of the
POTD
, which also features some thoughts on that weekend that was in Kansas City.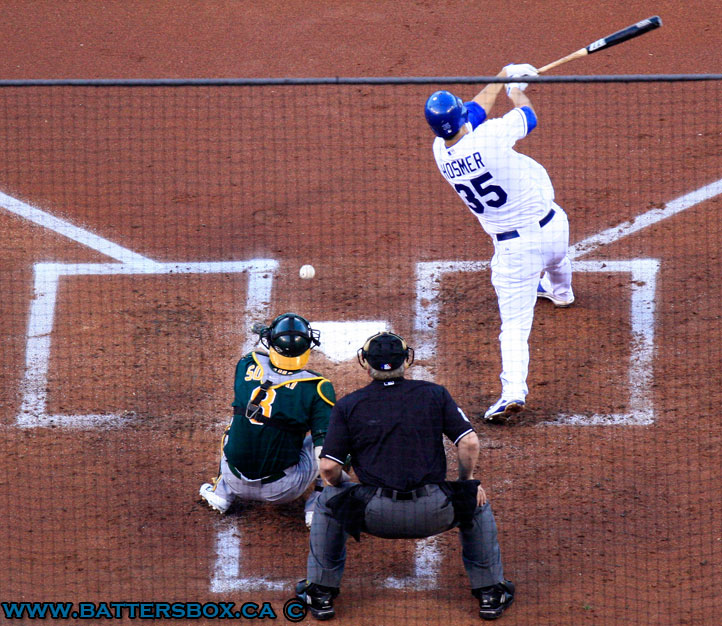 Eric Hosmer
takes a rip at a
Brandon McCarthy
offering at Kauffman Stadium on May 7.
Kurt Suzuki
is behind the plate for Oakland.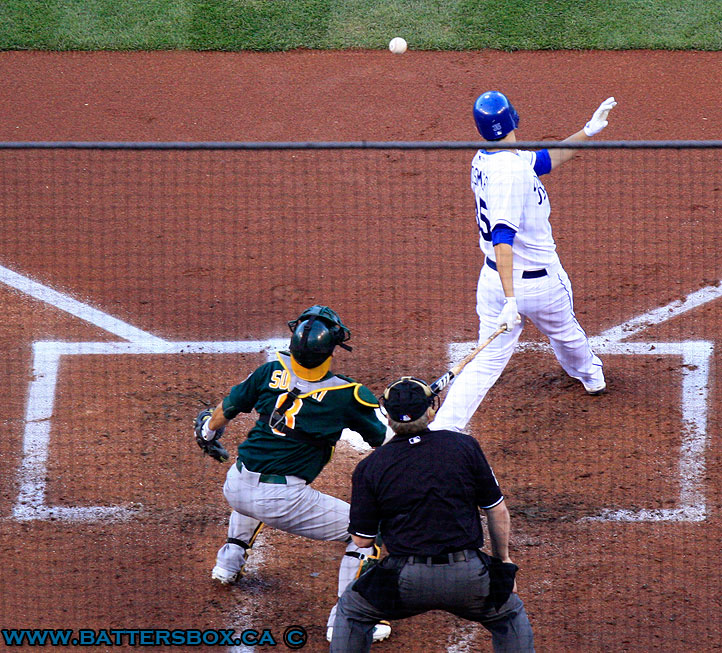 Hosmer fouls it back.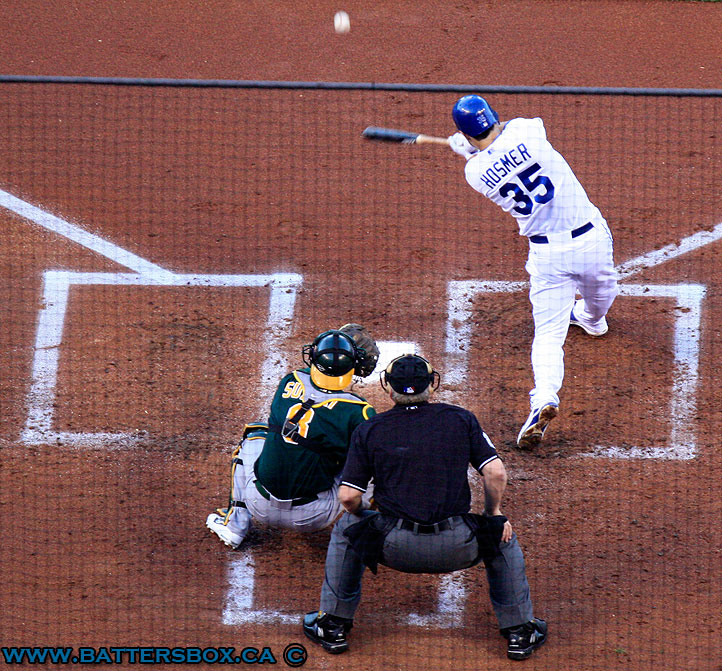 Hosmer takes one the opposite way.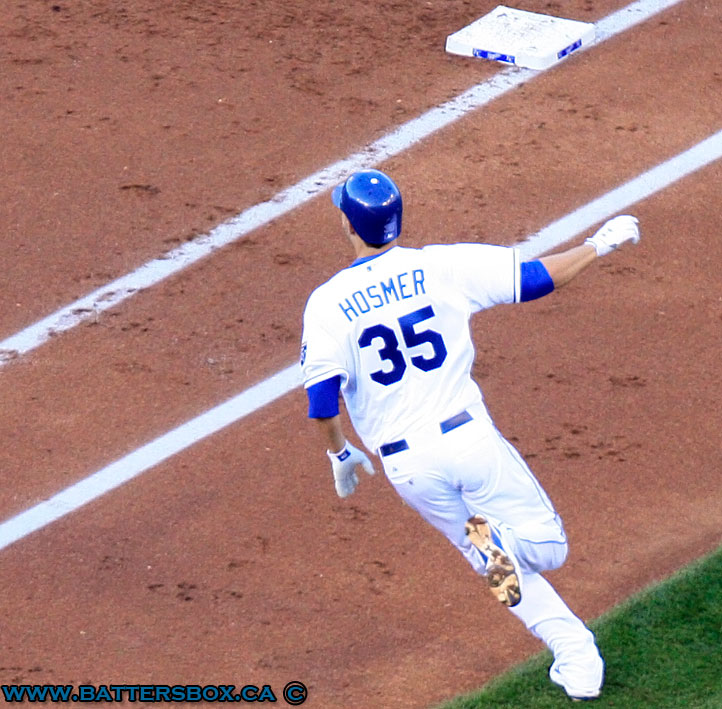 Hosmer gets ready to round first base.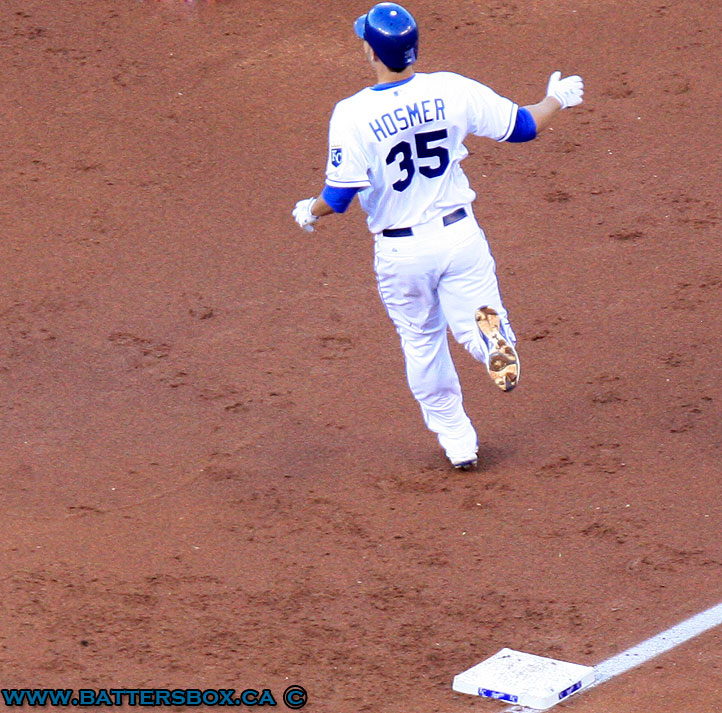 Alas, Hosmer is denied his first major league hit as the A's
Josh Willingham
flags it down in left field.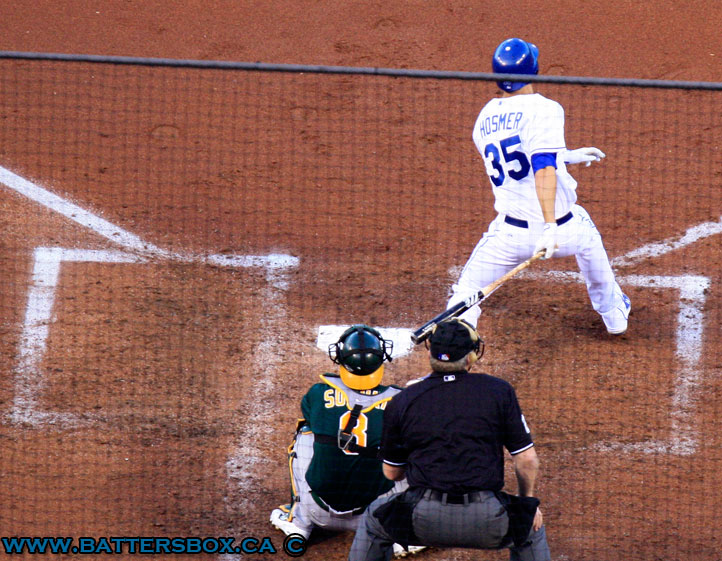 In his next at-bat, Hosmer decides to pull one to the right side.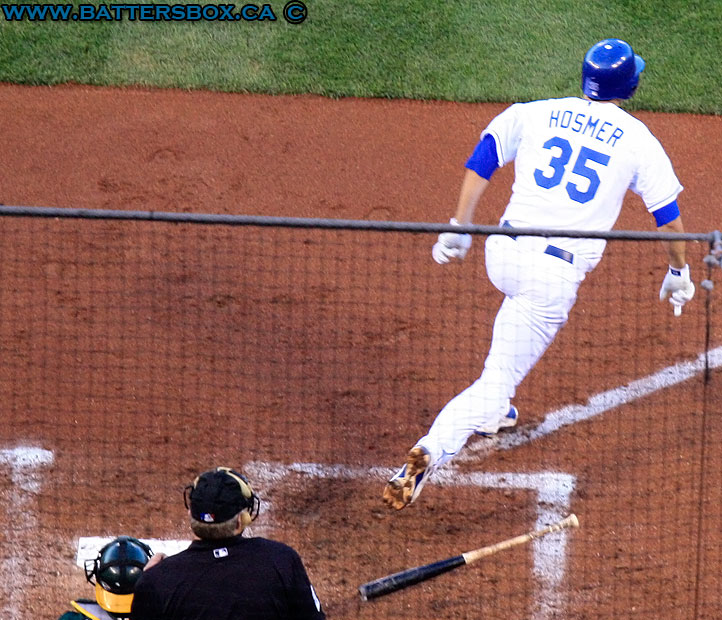 Hosmer drops the bat and bolts from the batter's box.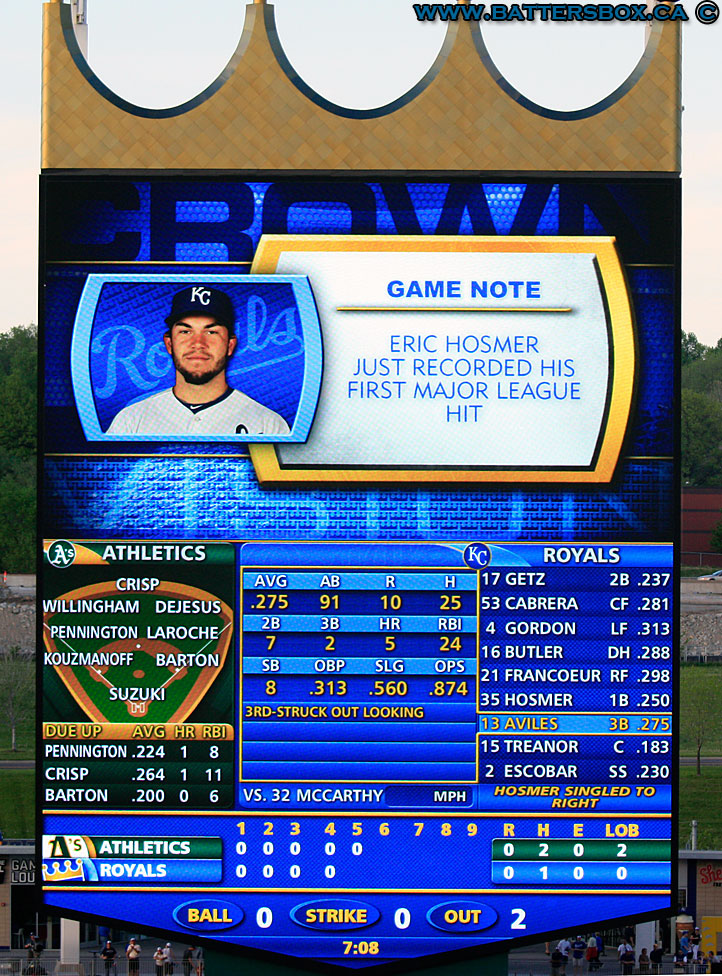 Crown Vision
displays the result of the Hosmer at bat. The scoreboard at the 'K' is easily the best one I have seen. It displays all the pertinent information you could want. Anyways, Hosmer drew an intentional walk in the ninth to load up the bases but the move backfired for
Brandon McCarthy
and the A's as
Mike Aviles
lifted a sacrifice fly to score pinch-runner
Jarrod Dyson
with the winning run in a 4-3 Kansas City victory.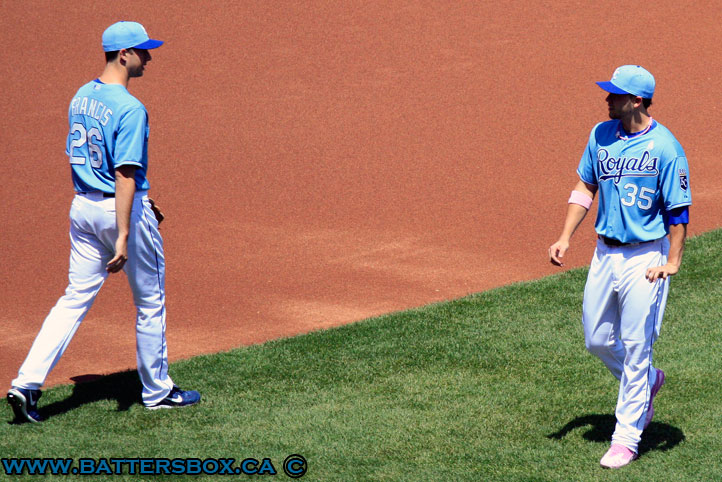 Hosmer (right) looks in the direction of the Royals Canadian lefty,
Jeff Francis
, prior to May 8 action against Oakland. Hosmer is wearing a pink armband and pink and white shoes in support of breast cancer awareness on Mother's Day.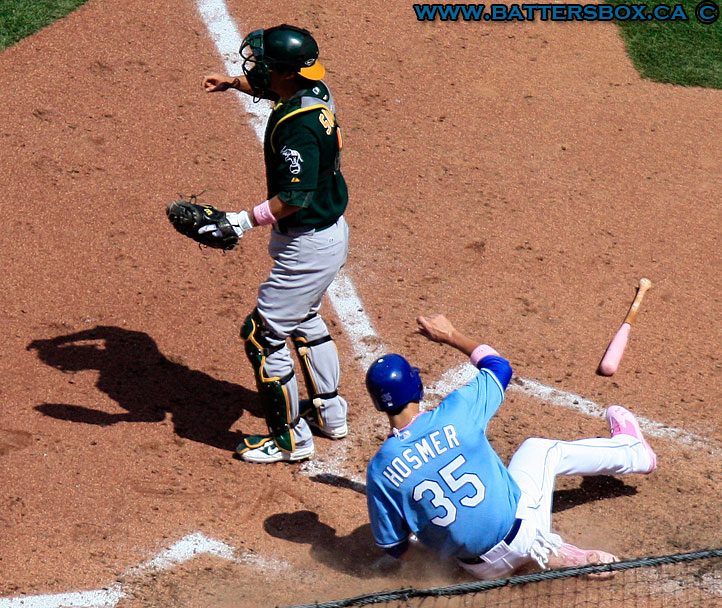 Hosmer slides across home plate for the first time in his career. That followed a double for his first extra-base hit and first run batted in as he drove in
Melky Cabrera
with Kansas City's first run. However,
Wilson Betemit
was thrown out at third moments after Hosmer scored to kill the Royals rally and they went on to lose to Oakland 5-2.
---
We got into Kansas City on the Friday afternoon and checked into the Drury Inn, a five minute walk away from
Kauffman Stadium
and
Arrowhead Stadium
, the home of the NFL's
Kansas City Chiefs
. As disappointed as I was to miss Hosmer's first game due to shopping commitments, we did manage to come across
Community America Ballpark
, the home of the independent
Kansas City T-Bones
of the American Association. We also got back to the hotel in time to witness an absolutely spectacular fireworks show from the 'K'.
Before we went to Saturday's game, we paid a visit to the Negro Leagues Baseball Museum. Like Cooperstown, this place is a must see for a baseball fan. Some of the stuff I read about how negro league players were treated was just sickening and heart-wrenching. Still, it was very educational and we were glad we made the visit. There was also a book signing that day as
Adrian Burgos Jr.
was in town to promote his book, "
Cuban Star
", the story of New York Cubans owner,
Alex Pompez
.
After seeing
Dave Winfield's
testimonial about the book on the back cover, I decided to buy it. I told Mr. Burgos when he signed my book that if it's good enough for the 1992 World Series hero, then it's good enough for me. He then told me that not only is Winfield is a Hall of Fame player; he's a Hall of Fame person. Apparently, Winfield sought Burgos' help when he spearheaded the idea of each major league team drafting a Negro Leagues player as part of the MLB draft back in 2008. So there you go!
After looking around downtown K.C., we got to Kauffman Stadium and I felt like I went back in time to the days when I first became a baseball fan. I thought I would immediately hate visiting the park of the team that spoiled the Jays first playoff appearance but I remember liking the Royals and always cheered for them in the post-season during 1980, '81 and '84. I was really happy to finally see them beat the Yankees to get to their first World Series in 1980. I remember
George Brett,
U.L. Washington
and his toothpick,
Willie Aikens
,
Frank White
,
Hal McRae
,
John Wathan
,
Darrell Porter
, "the Quiz"
Dan Quisenberry
,
Larry Gura, Dennis Leonard
,
Paul Splittorff
(loved that name! RIP) and the immortal
Onix Concepion
, who of course wore #2. His claim to fame was
scoring the tying run
in this fairly memorable contest.
I remember being captivated by the waterfalls whenever I would see the Royals on TV at the then-named Royals Stadium but I never thought I would ever get there. Thankfully, I did as the quest to visit all 30 major league stadiums continues (about halfway there now!). The Saturday game was really neat as replica caps of the Kansas City A's were handed out to fans arriving at the park. There were also some KC A's alumni on hand for the game, including Tommy Lasorda. They showed vignettes of the A's between breaks on the scoreboard and it was really cool to learn about KC's original major league club. The big excitement was
Eric Hosmer
getting his first major league hit. You could just tell everyone was pulling for him, hoping he will be the franchise savior and become the next
George Brett
.
Luke Hochevar
started against Oakland's
Brandon McCarthy
and the Royals built up a 3-0 lead before
Cliff Pennington,
of all people, belted a three-run homer off
Aaron Crow
to take the 'W' away from Hochevar.
Joakim Soria
came out to a
B.J. Ryan
-like entrance with flames on the scoreboard to pitch a shutout ninth and the Royals would win it in a walk-off sac fly by
Mike Aviles
.
The Sunday game was not nearly exciting as North Delta, B.C.'s
Jeff Francis
was victimized by some shoddy defence and a lack of run support as the A's wound up winning the rubber match of the weekend series, 5-2. If anything else, I got to see the Royals powder blue uniforms live and I'm glad one team is keeping alive that tradition. Another neat thing about Kauffman Stadium is the gift shop. In addition to Royals player t-shirts being sold (including one of former Jays farmhand
Tim Collins
), they also sold player t-shirts of their Triple-A team, the
Omaha Storm Chasers
. The two that were available were #8
Mike Moustakas
and #35
Eric Hosmer
. I cannot recall ever see that at the other big league parks I have visited. I guess the Royals figure they may as well try to take advantage of having the #1 rated farm system by
Baseball America
.
To conclude, if you get the chance, go see a game in Kansas City and check out the Negro Leagues Museum as well. You won't regret it!