Brett Lawrie's
timetable to reach the bigs has been pushed back again. After initial reports that he suffered only a bruise when he was hit in the hand by a pitch from Tucson's
Anthony Bass
last week,
The National Post
reports the pride of Langley, B.C. is expected to miss at least two to three weeks with a
broken bone
in his hand. Hat tip to Bauxite
dan gordon
for the heads up.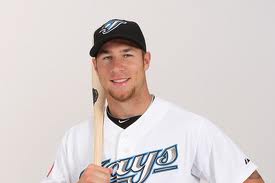 Brett Lawrie
was hitting .354/.415/.677 with Triple-A Las Vegas at the time of his injury to go along with 15 home runs, 49 runs batted in and 11 stolen bases.

Update @ 8:40pm
-
Sportsnet.ca
has video
of Jays skipper
John Farrell
talking about Lawrie's injury.
The Toronto Star
got this reaction
from Farrell.
This is unfortunate, considering how close he was ó or is. I should say is, and yet this is a setback.

NBC's HardballTalk
, via
a tweet
from
Sportsnet's Shi Davidi
,
breaks down
Lawrie's injury.
X-rays originally found no break in the area in which Lawrie was hit by a pitch last week while playing for Triple-A Las Vegas, but additional tests performed after the swelling went down discovered the fracture.

As Davidi tweeted, Lawrie will not need a cast for his hand as it is a non-displaced fracture. At best, Lawrie could be back in action around the All-Star Break if everything goes according to Hoyle.