I spent last weekend in Erie, Pa. to see the Fisher Cats win two of three games from the Erie Seawolves. This thread covers my observations from the games. Over the next week I will follow up with interviews of Sal Fasano, pitching coach Pete Walker, hitting coach Justin Mashore, pitcher Chad Jenkins and first baseman Mike McDade.
Hitters
Adeiny Hechavarria
"Hechy", as his teammates call him, lived up to his billing as one of the best, if not the best, shortstop in the minor leagues. In the Saturday game he made about five big league plays and a couple of those were plays that most major league shortstops would not make. It was about the seventh inning in Sundays game when I realized that I was disappointed that Hechy hadn't made a play yet. But then in the eighth he delivered another starred play.
Twice during the weekend he picked ground balls that basically went under the third baseman's glove and fired to first, once for an out and once the runner was safe. Just his getting to the ball was impressive. Another time Hechy came in for a bouncer that went over the pitchers head and died in the grass, I thought he wouldn't have a play but he did, and he nailed the runner at first.
Hechavarria could play shortstop in the major leagues today, and be better than most. He has a strong arm, probably around the same as Yunel, but his transfer from glove to hand is quick and his release is really fast. As you can tell I was impressed.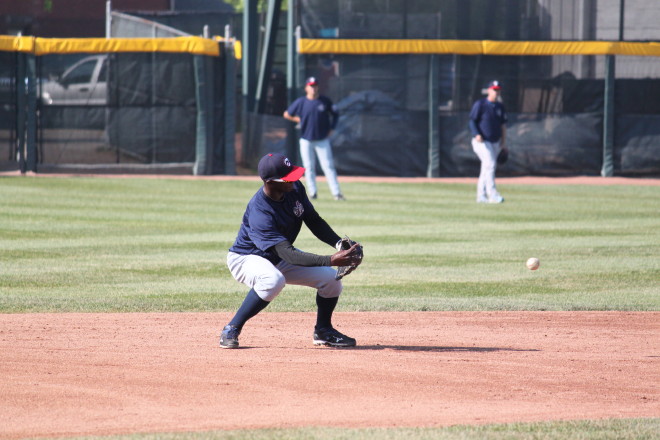 Unfortunately I was not as impressed with his hitting. In the first two games Hechy was making contact but hitting a lot of ground balls. He can square up the ball and hit it deep, more gap to gap power than home run power. He did have three hits on Saturday but one was a bloop and one off a broken bat. The third hit was a hard hit line drive into the right field corner. On Sunday, Erie threw a junk ball pitcher and Hechy struggled more against the off-speed pitches. Hechy sits on the border between a free swinger and an average hitter, he wasn't swinging at everything but he was swinging at anything that looked like a fastball over the plate.
I know the Jays just signed Escobar to a two year extention. I don't think Hechevarria's offense will be major league ready until late 2012 at the earliest. Personalities aside, and assuming Hechavarria's bat is ready, in 2013 I would move Escobar to second and install Hechavarria at shortstop.

Moises Sierra
Speaking of defense Moises had two chances to show off his arm over the weekend. In case you didn;t know Sierra has the strongest arm in the system. He threw one runner out at home from straightaway right field with a bullet one hopper. The scout near me was just as impressed with his speed of release as the arm. The second time an Erie hitter got a ball into the right field corner and it looked like he was heading for a triple. Sierra threw from the corner, about 320 feet from home, another one hopper to the third-baseman who actually backed up on the ball into foul ground to take it easily. The runner wisely stayed at second. The scouts around me were looking at each other as if to say did he really do that?
Sierra has average speed on the bases and in the field, he has a big frame so speed will never be his game. With the bat Sierra is strong but he is still refining his approach at the plate. Like Hechavarria, Sierra will swing at some bad pitches, and he is an aggressive hitter. If he catches up to one he can hit it out, as he did on Sunday. To me Sierra looks to be trying to muscle the ball, he needs some time to refine his approach and his stroke. We sometimes forget that Sierra missed most of last season to injury.

Anthony Gose
Gose is another excellent fielder who has a very strong arm. Gose didn't have any difficult plays to make but twice he showed a plus arm to keep runners from advancing. For a centrefielder, where a strong arm is a bonus, Gose definitely has a plus arm.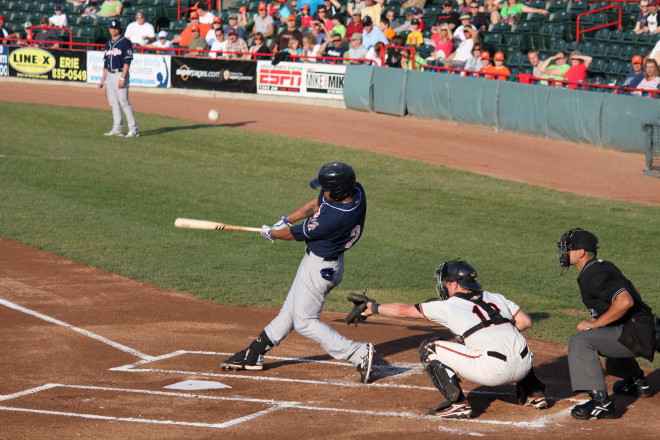 Offensively Gose was really struggling at the plate. The coaches blamed his three day suspension but his balance was off. The pitchers did make some good pitches to him but you could tell he was hitting with poor form. His only hit of the weekend was an infield hit.

Travis d'Arnaud
D'Arnaud showed the most power on the team during batting practice. At one stage he hit three consecutive home runs to left and later, another BP home run hit near the top of the Erie Coliseum, about fifty feet up from the 320 feet fence. D'Arnaud is not large, probably average size for a catcher, I would guess he is just under six feet with a solid frame. D'Arnaud would swing and miss often early in at-bats but with two strikes he would shorten his swing and hit some nice line drives. Again, I believe d'Arnaud is another hitter who is refining his approach as he gains experience in AA.
Defensively d'Arnaud was not really challenged behind the plate, Robert Ray and Chad Beck were around the plate. D'Arnaud's throwing looked to be average at best. But D'Arnaud plays hard, he knocked down, and knocked out of the game, the Erie secondbaseman breaking up a double play and the next day the Erie shortstop made sure to step out of D'Arnaud's way before completing the double play.

Mike McDade
In the series McDade had chances to hit from both sides of the plate. He showed more power from the left side, but that's a small sample size. McDade looked good from both sides of the plate, yes he strikes out some but he does try and control the zone.
McDade showed good form at first base and has a great stretch into almost doing the splits. According to those around the team McDade is an excellent first baseman and has saved numerous runs for the infield this season. With his size McDade is not a fast runner and is a double play candidate when he puts the ball on the ground.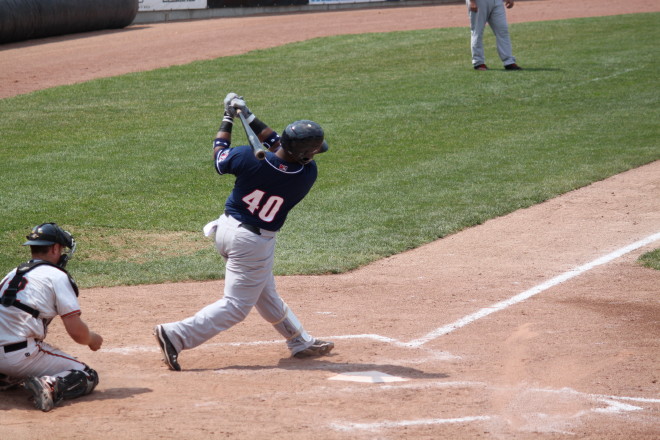 McDade is still young for the league and he might need a few more years to develop the power needed to play first base at the major league level. The major league standard for making it as a first baseman is high, McDade can get there but he does need to continue to develop his power.
John Tolisano
Tolisano had a tough series, he played two of the games and did not have a hit and didn't really look like he would have one. Defensively Tolisano made one bad error at second on a routine ground ball.
Pitchers

Robert Ray
Robert is in AA to pitch his way back into form. He gave up three runs in the first inning, including a big home run, but settled down thereafter. Ray was not particularly sharp, he went deep in counts to many hitters. In his defense the home plate umpire, who was also the home plate umpire for Joel Carreno, had a very small strike zone. Ray was throwing his fastball at 91-92 mph and complemented it with a slider, curve and a changeup. My memory may be bad but I thought Ray's pitches moved more when he was in the major leagues a few years ago.
Chad Beck
Beck is a powerfully built pitcher with big shoulders. Beck mainly throws hard, a 4 seam fastball at 94-95 mph (touched 96) and a sinking two seamer at 92-93. Beck also has a slider and is trying to develop a curveball. But as this stage the curveball is a "show-me" pitch. Beck got a lot of swings and misses with the slider.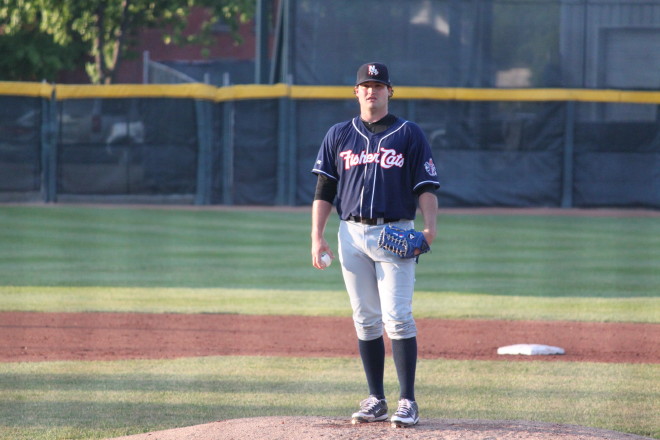 Joel Carreno
With all the news of Carreno's strikeouts I was expecting a super slider of sorts, but it wasn't a super slder, just a regular slider (82-83) and a slurvy version that comes in about 3 mph slower. When you pair Carreno's 90-92 mph fastball wth the two sliders, he does have three similar weapons. Carreno also mixes in a change-up. Carreno, like Ray, was hurt by the plate umpire with the tiny zone so he was finished after pitching five innings. Carreno pitches from a 3/4 arm angle so the ball moves across the right handed hitters and into left handed hitters.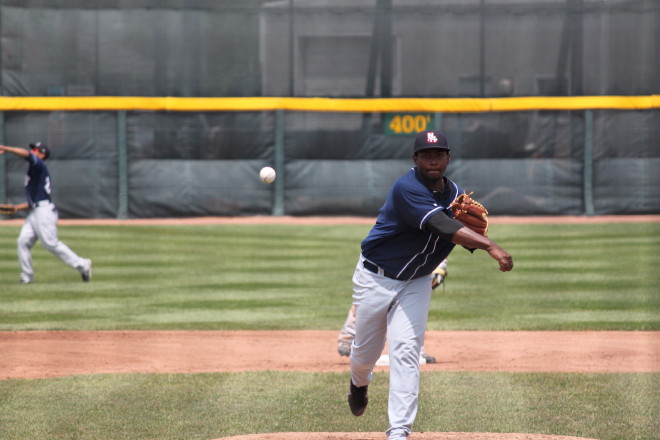 Carreno has always struggled with his confidence in his fastball, he is too tempted to use his sliders. Because of his delivery, and because of the confidence issues, I assume Carreno would come up to the majors as a reliever.
Evan Crawford
Crawford just pitched to one hitter but I did note that he has an unusual motion that could deceive hitters.
Yohan Pino
Pino pitched twice and while he had no outstanding pitch he was a strike thrower and nicely mixed his 90-92 fastball, a slider and a curve.