Today's
POTD
looks at the two Jays who were designated for assignment over the Canada Day weekend -
Juan Rivera
and
Jayson Nix
.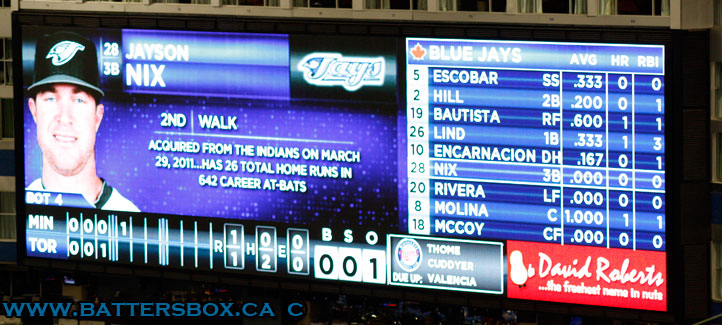 Jayson Nix
on
JaysVision
after his first plate appearance at the Dome April 2. The second one produced a home run against
Francisco Liriano
that lifted
Kyle Drabek
and the Jays to a 6-1 victory over Minnesota April 2. He went 1-for-2 with two walks and had a .500/.750/2.000 batting line after the game.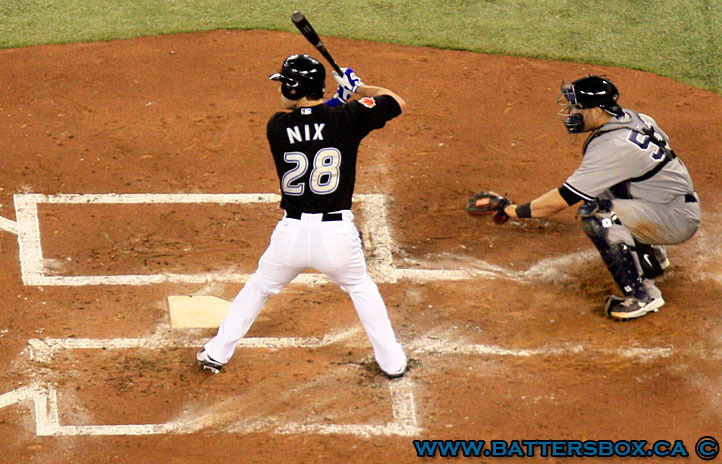 Nix bats against the Yankees
Bartolo Colon
at the Dome April 20. He went 1-for-3 with a walk and an RBI in the Jays 6-2 loss.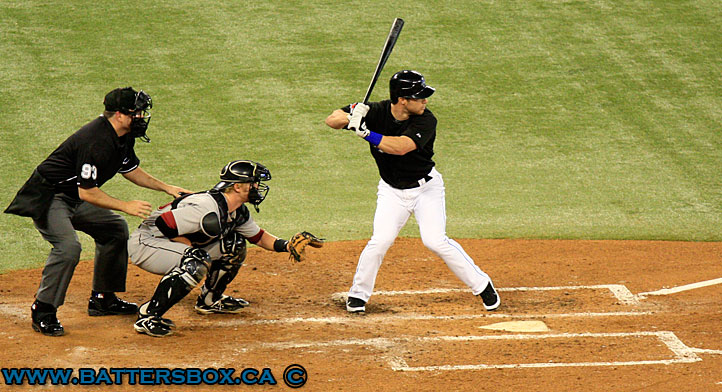 Nix in the batter's box against the Astros
Wandy Rodriguez
at the Dome May 22. He went hitless in three trips to the plate. This game marked exactly one month after Nix suffered a leg contusion from a collision at second base with Tampa Bay's
Sean Rodriguez
. He was hitting .244 at the time of his injury.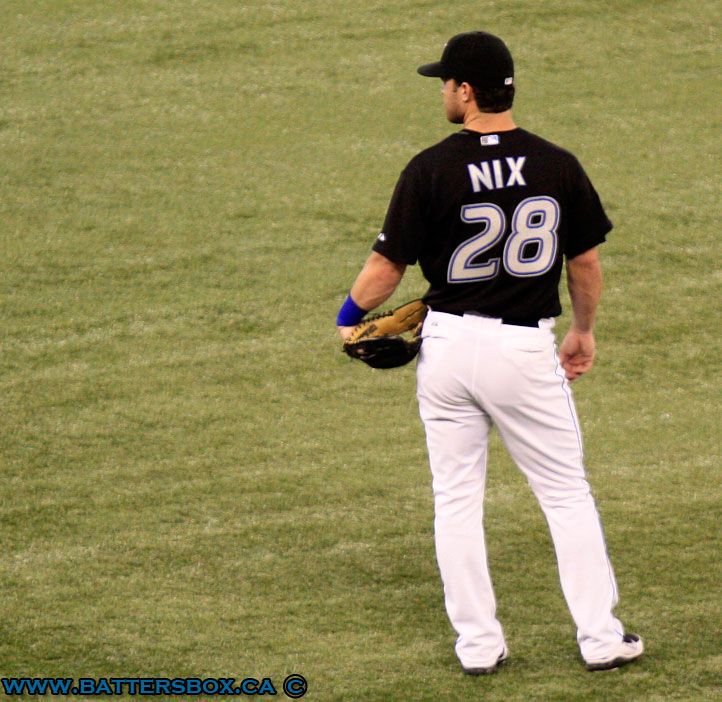 Nix standing at the hot corner. In addition to third base, he also saw action at second base and left field with the Jays.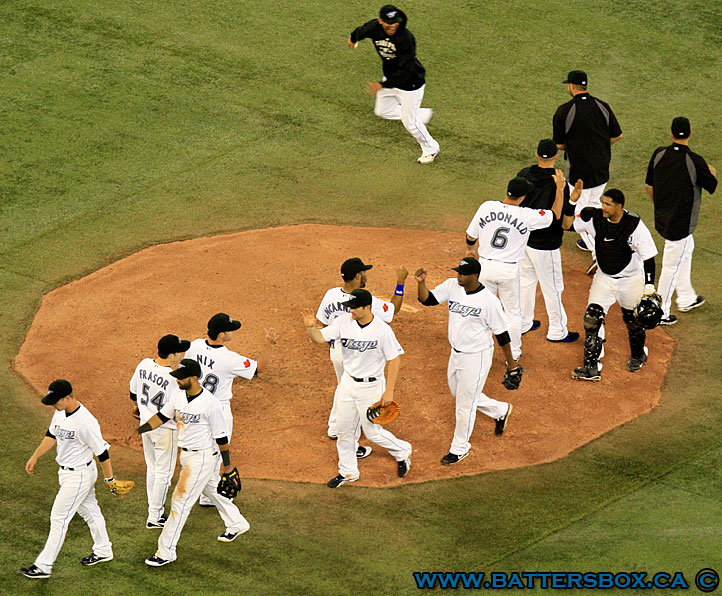 Nix (fourth from left or tenth from right, if you prefer) gets ready to high-five
Adam Lind
after the Jays 2-1 victory over Pittsburgh June 29. This turned out to be the last win Nix would celebrate as a Jay.
---
Though he batted just .169/.245/.309 overall, Nix did have a few good days at the plate with Toronto. His second homer as a Jay made a winner of Octavio Dotel in a 3-2 victory over the Los Angeles Angels April 8. The 28 year-old Dallas native had a three hit night in Seattle April 11 and a two hit night against the Mariners two nights later. He had back to back two-hit games against two of his former teams, the Chicago White Sox May 29 and Cleveland Indians May 30 that included a home run against the Tribe. Also a former Rockie, Nix's last hurrah with the Jays was in Kansas City June 6-9 when a season high four game hitting streak saw him collect five hits, a walk, a double, a homer and four RBI. Overall, he hit five doubles, one triple, four homers and drove in 16 runs while going 4-for-5 in stolen base opportunities.
---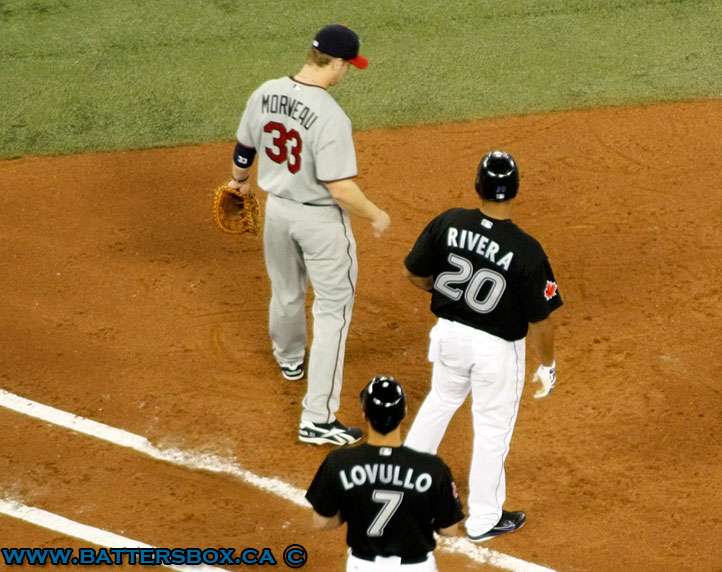 Juan Rivera
stands next to Twins first baseman
Justin Morneau
after drawing a walk against
Francisco Liriano
April 2. His first hit as a Jay came in the form of a single the next day against Minnesota.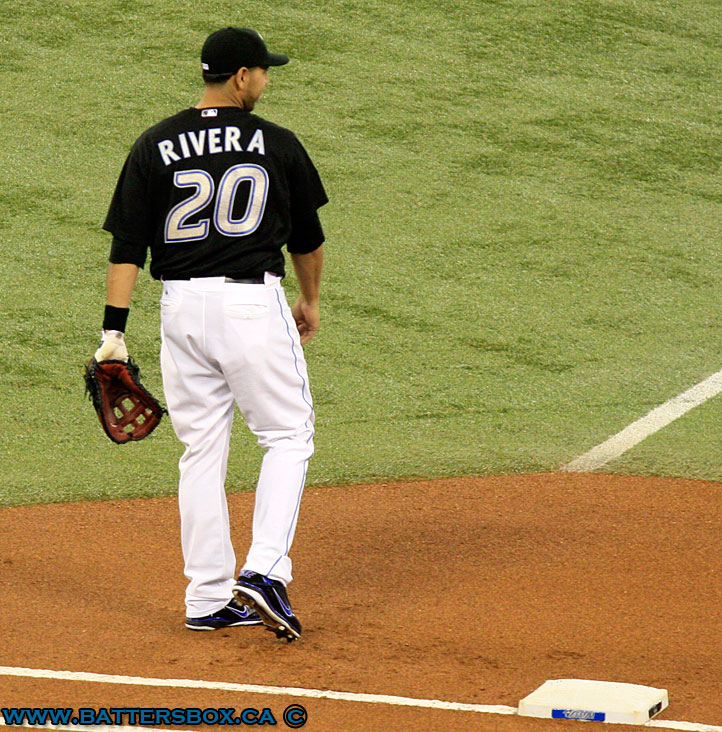 Rivera filling in at first base for an injured
Adam Lind
against the Astros May 22. He also played left and right field for Toronto.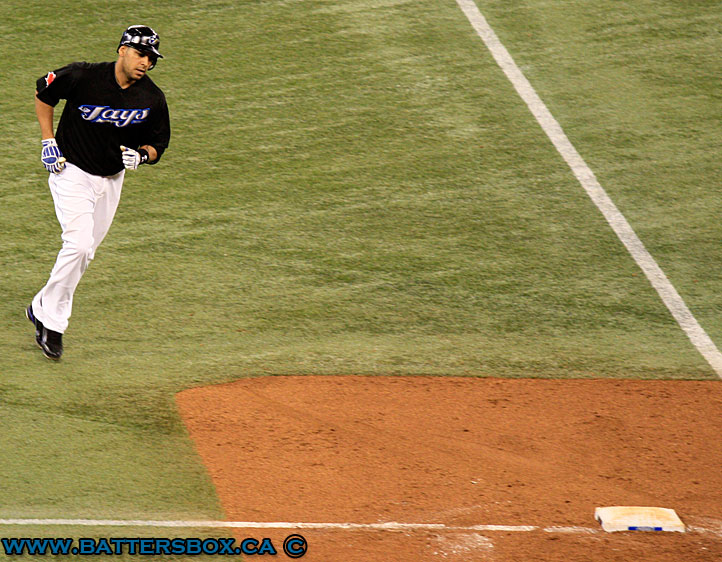 Rivera gets ready to touch third base after taking the Astros
Wandy Rodriguez
deep.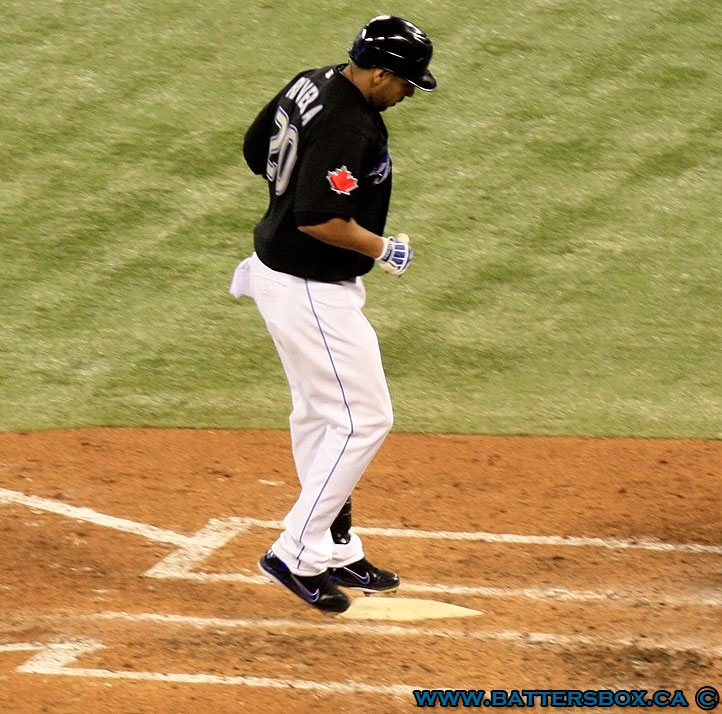 Rivera hops on home plate for his fourth homer of the season.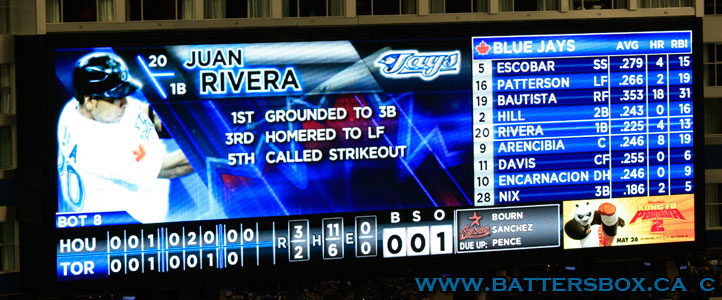 Rivera would also draw a walk in addition to his home run but the Jays fell to the Astros 3-2.
---
A former Yankee, Expo and Angel, Rivera had a tough start with the stick in 2011. The 33 year-old Venezuelan was hitting below .100 as late as April 22 before contributing a walk and a key single that allowed
John McDonald
to hit a walk-off homer against Tampa Bay April 22. That led to the start of a nine game hitting streak, which included his first two home runs as a Jay April 25 and 27 in Texas. He would also string together an 11 game hitting streak in the latter part of May. Rivera had a trio of three-hit games in Texas April 27, against Detroit May 6 and against Baltimore June 15. Rivera's last homer as a Jay came in St. Louis June 25 and his last RBI, a sac fly, came on his birthday July 3 against Philadelphia. He batted .243/.305/.360 with 11 doubles, six homers and 18 RBI and also stole three bases in five attempts.