According to Twitter, the Blue Jays
have designated
left-handed starter
Jo-Jo Reyes
for assignment. Fellow southpaw
Wil Ledezma
has been called up from AAA Las Vegas.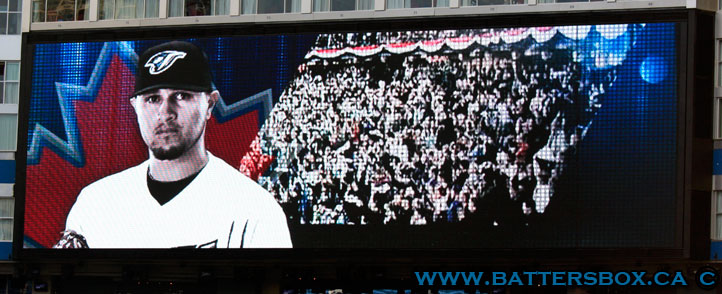 Jo-Jo Reyes
on
JaysVision
prior to Wednesday's game against Seattle.
Reyes was 5-8 with a 5.40 earned run average for Toronto this season. He struck out 64 and walked 35 over 110 innings.
The 26 year-old native of West Covina, California goes down to Las Vegas despite winning two of three decisions in the month of July. However, Reyes has been bombed in his last two starts. He gave up eight runs on eight hits and a walk over 4 1/3 innings in Texas' 12-2 shellacking Friday night. His prior start saw him get burned for seven runs on 10 hits and a walk over five innings but he still managed to get the 'W' during the Jays 16-7 win over the New York Yankees to begin the second half of the season. His other win this month came in Cleveland before the break as he yielded three unearned runs on eight hits and three walks over 5 2/3 innings during an 11-7 victory.
Reyes did have his good moments on the mound. He suffered a hard-luck loss in Anaheim against Jered Weaver April 10 despite allowing three runs (one earned) over seven innings. On May 3, he allowed just one run over six frames in Tampa Bay but got a no-decision in an eventual 3-2 loss and spun seven shutout innings May 20 at home against Houston but the Jays bullpen collapsed in a 5-2 loss. Reyes got that first elusive win by going the distance at the Dome against the Indians in a 11-1 Jays romp May 30. That prevented Reyes from a setting a major league record for most consecutive starts without a victory. His 28 straight winless starts leaves him tied with
Matt Keough
(1978-79) and
Cliff Curtis
(1910-11, who
Magpie
and
Mick
fondly remember!) for that dishonour.
Reyes did win two more games in June with road wins against Baltimore and Cincinnati but that was offset by three losses to Boston, Atlanta and Pittsburgh. His last hurrah in Toronto was overcoming a rough beginning by lasting six innings in a 7-4 win over
Cliff Lee
and the Philadelphia Phillies July 3. Toronto was 9-11 in his 20 starts this season.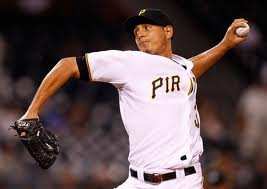 Coming up to take Reyes' spot on the roster is
Wil Ledezma
, who went 1-1 with a 4.65 ERA and three saves in 34 appearances with Las Vegas this season. He has punched out 63 batters and walked 18 in 46 2/3 innings of work.
The 30 year-old lefty from Venezuela has been in the bigs since 2003 and has pitched for Detroit, Atlanta, San Diego, Arizona, Washington and Pittsburgh. This is Ledezma's second tour of duty with the Jays organization. He signed with the Jays as a free agent in August of 2009 and saw time with Dunedin, New Hampshire and Syracuse but did not get a call to go to Baseball North. He spent last season in Pittsburgh and went 0-3 with a 6.86 ERA but did strike out 22 batters over 19 2/3 innings.
According to
FanGraphs.com
, Ledezma throws a fastball averaging 93 miles per hour with a silder that clocks around 84 MPH. He also flashes an occasional changeup at 83. His career record is 15-25 with a 5.29 ERA over 390 1/3 innings. Speculation is Ledezma will be a temporary call-up while the Jays decide on who will replace Reyes as the team's fifth starter. The
Jays website
says Ledezma will be wearing #58.