Doug Davis is the Blue Jays minor league field coordinator. He has joined us several times this year here on da Box, most recently in August. Davis was in town on the weekend for the Webster Awards ceremony and dinner. I had a few minutes with him before the on field presentation on Saturday at the Rogers Centre. The ceremony crept up on us so it is a little bit of an abbreviated discussion compared to most.
BB: This season the Jays have five teams in the playoffs, four that won a round and most likely two champions. What is most important to development, being in the playoffs or winning?
DD: For me the most important is to play in the playoffs. When you get into the playoffs in the minor leagues it's the closest to understanding and experiencing what major league baseball is all about. Even last night when I was sitting and watching the major league team play here against the Yankees I was thinking that even games in April are playoff caliber games in the minor leagues. Players get great experience from playing in the playoffs, it's different, it's just a different experience, there is more stress involved and just to be able to put yourself in that experience, to get those key at-bats, to understand that everything you do from your first inning at-bat to your game-on-the-line at-bat in the ninth; for a pitcher pitching in the first to having to get a key out in a game saving situation, all those things are valuable experiences that are compounded at a playoff level. So for me I am just thrilled that all these kids have had that opportunity. It's gaining very valuable experience at that level.
BB: Anthony Gose is a five tool talent with the major question being on his bat. How has his batting improved over the season?
DD: For most guys the question is about the bat, will this bat play at the major league level? Anthony's come a long way since we got him last year. We basically had to break down his swing. We got that started last year and this year we are continuing the process. I think we have seen better power numbers with extra base hits and home runs. But also his 70 stolen bases in that league is a big stat because it did show that he got on base, that he utilized his speed. We think he has the potentail to hit home runs and doubles at the major league level but he will also use his speed to score runs and steal bases. This year developed all of those areas, the hitting part still has a long way to go with him but I think we have accomplished an awful lot with Anthony and we are headed in the right direction.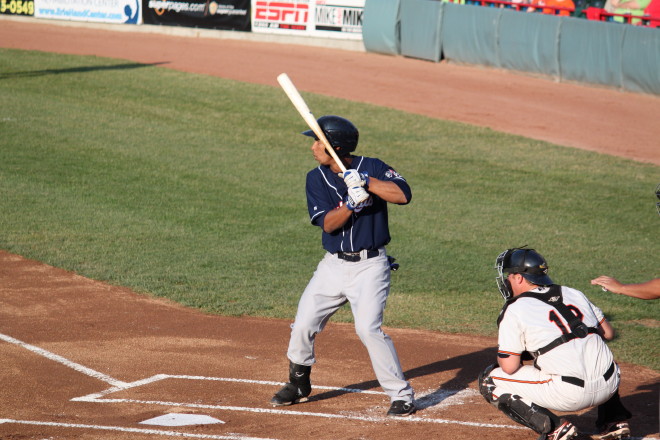 BB: Carlos Perez had an up and down season for Lansing, are you happy with the progress he has made?
DD: I am, Carlos is a different kind of catching prospect compared to the other prospects in the organization. He is not a big guy and this year he had to learn how to play every day in his first full season. I think there are a lot of factors from the standpoint of Carlos's year and why it has gone the way it has but overall I am very pleased with the way he has played this year. Again he has gained from his playoff experience, down the stretch and in the playoffs he has played as well as he played all year and I think he made a conscious effort to elevate his game and to impact that club. He has been able to do that during the season and much more so during the playoffs.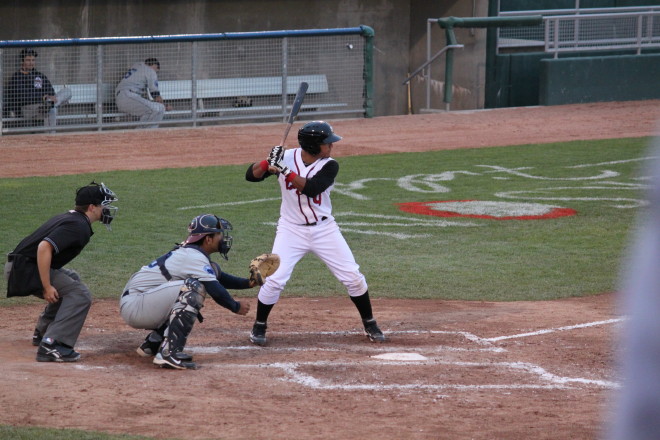 BB: Chris Hawkins had a very strong year, you have to be happy with that.
DD: Absolutely, especially for a first year guy out of high school. Chris' makeup is off the charts, he is a very committed player, he knows exactly what he wants out of himself, he is a very hard worker and he understands the direction he wants to go in, where he is at and where he needs to be.
BB: How is his fielding in left field, a new position for him?
DD: Again he put the time in and he committed himself to making himself a very good outfielder, which he is. You look at Chris and you don't realize how much speed plays a part in his game, because of that it makes it easy for him to progress as an outfielder. His arm strength is fine, he understand how to position himself, he has great instincts, he utilizes a lot of the intangibles to make him a better player and that really showed up this year for him.
BB: Sean Nolin has come a long way this year and particularly his last six starts have been excellent.
DD: Yes and coming into spring training he was the guy who had changed the most, he had committed to getting himself in shape. So right off the bat you look at a kid like that and you say that this kids gets it, he took the responsibility onto himself to make him a better player, and that set him up to have a real good year. He goes to Lansing and gets off to a decent start then he starts to fade a little because again it is all new to him, but down the stretch he really turned it up. That's what you want to see out of your prospects, you want to see guys that get into key situations and are able to respond. He responded, he got better, but like any other kid he still has a ways to go but he got things rolling in the right direction and it will be interesting to see where we go from here with him.
BB: One of this years draftees who played well was Kevin Pillar, a division 2 college player. What are the reports on him?
DD: You get players like that out of the draft and other than your top guys it is very hard to predict what will happen with those guys. But I think you have expectations for everybody but Kevin exceeded everyone's expectations by winning the batting title in Bluefield. Kevin's makeup is off the charts as well. Kevin is a very committed young man, he knows the type of game he wants to play, he understood his swing, he understood the limitations of his swing, we were able to break thingd down and improve on some areas. He put in thw work and the time which made him a very productive baseball player but in Bluefield and in Vancouver as well. He is a winner, he deeply wanted to win those baseball games and that carried over through his leadership skills which some of these other kids don't have, Kevin does and it was a great season for him.
BB: Tyler Ybarra missed all of last season but you recently moved him up to Lansing and he pitched in the playoffs. What do you see in him?
DD: Well we didn't know what we had in him, but Tyler is a little older and a more mature player. This year we weren't sure what we were going to get, but when he finally got back and got himself into game activity Bluefield was the right place to send him to see how he would progress and he had a really good year there. He got back on the hill, was consistent out there every five days and once they got through that season we moved him up to Vancouver to help there and then on to Lansing where, had things gone as they should have over the last couple of years, and if he had continued to play and personal things hadn't got in the way, he probably would have been at the Lansing level anyway. He now has experienced it and hopefully that will work to his benefit when next year comes around.
------------------------------------------------------------
Batters Box thanks Doug Davis, again, for giving us some of his time.