Today's
POTD
looks back at the Surrey, B.C. native's best day as a hitter in the majors.

Adam Loewen
on the Jays right field scoreboard during lineup introductions at the Dome September 11.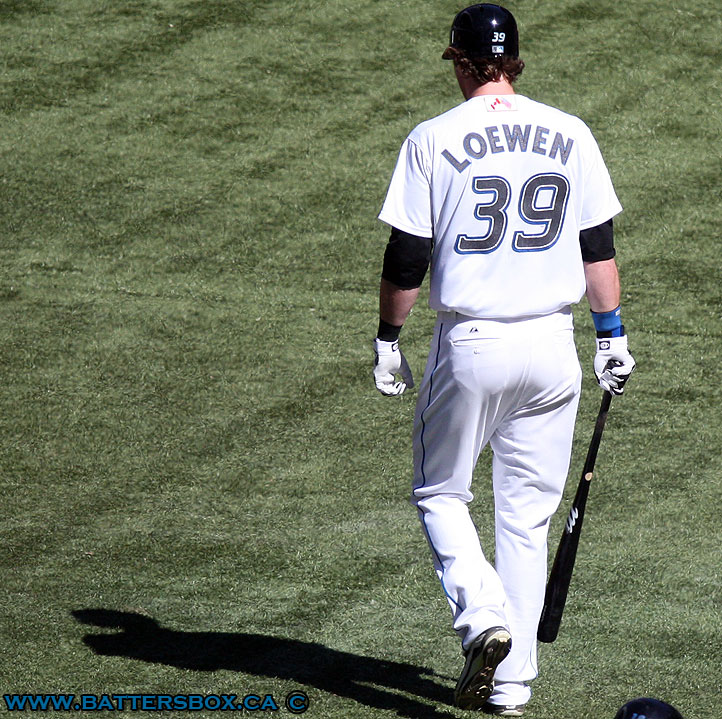 Loewen makes his way towards the batter's box.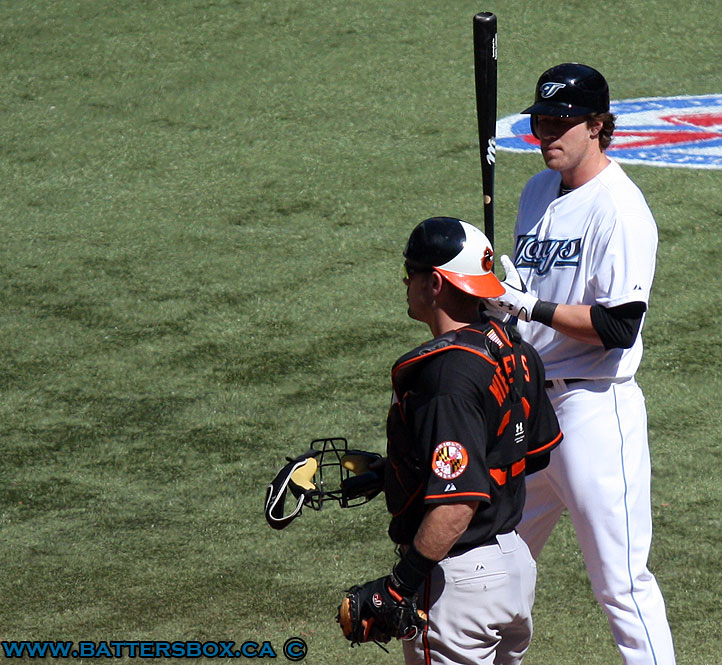 Loewen looks at Baltimore Orioles catcher
Matt Wieters
before settling in for his at-bat.

Loewen on
JaysVision
during his first at-bat of the afternoon.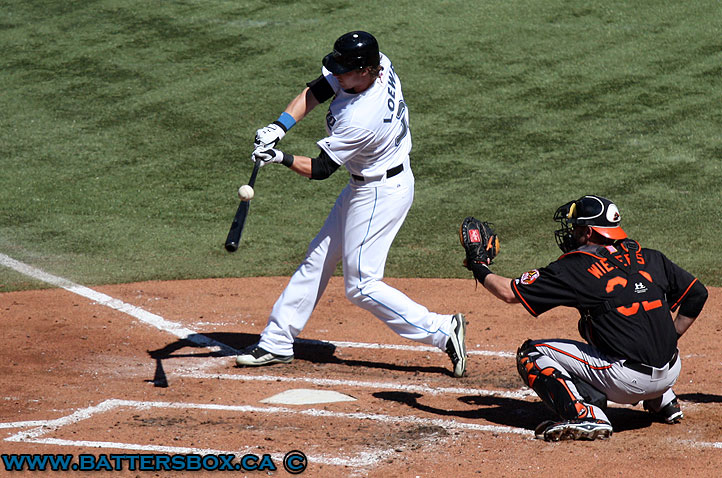 Loewen tries to make contact with an offering from Orioles pitcher
Tommy Hunter
but he strikes out swinging to end the inning.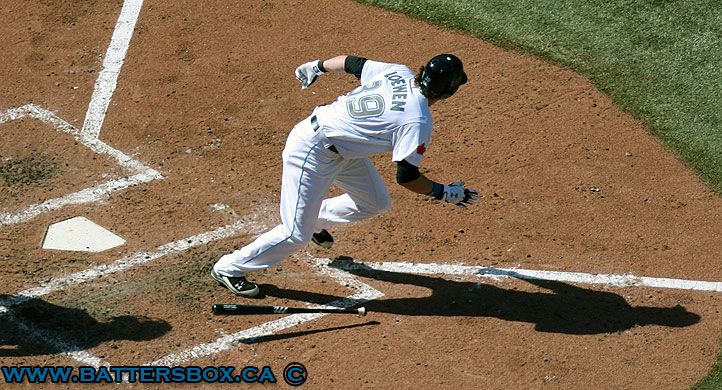 Loewen breaks out of the box to beat out an infield single to short in his second plate appearance in the fifth inning.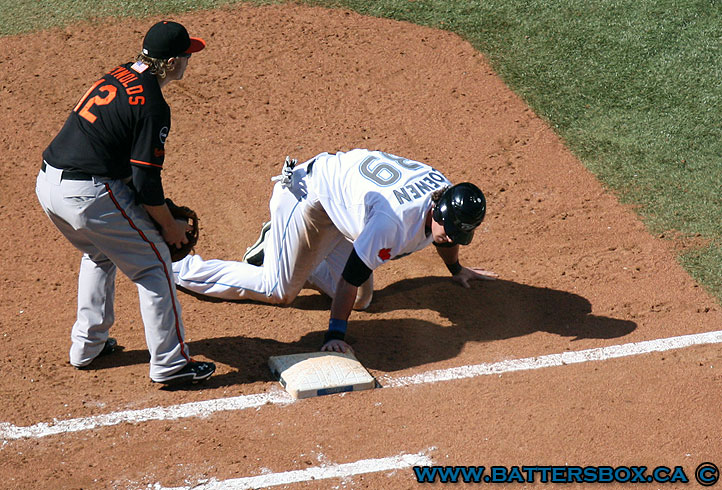 Loewen is able to scramble back to the first base bag in front of the Orioles
Mark Reynolds
on a Hunter pickoff attempt. He would eventually be stranded at third base.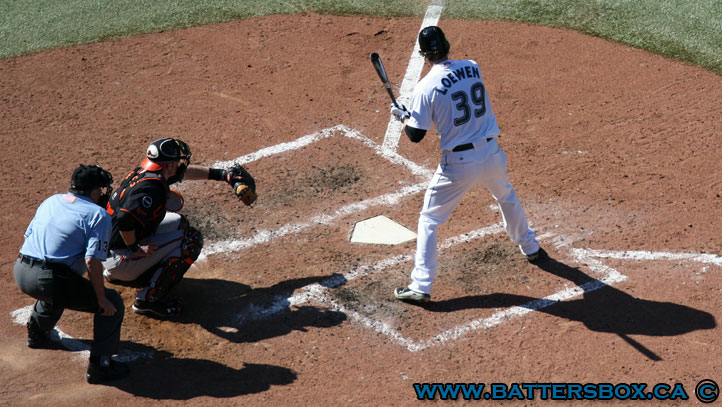 Loewen stands in for his third plate appearance against Hunter in the eighth inning.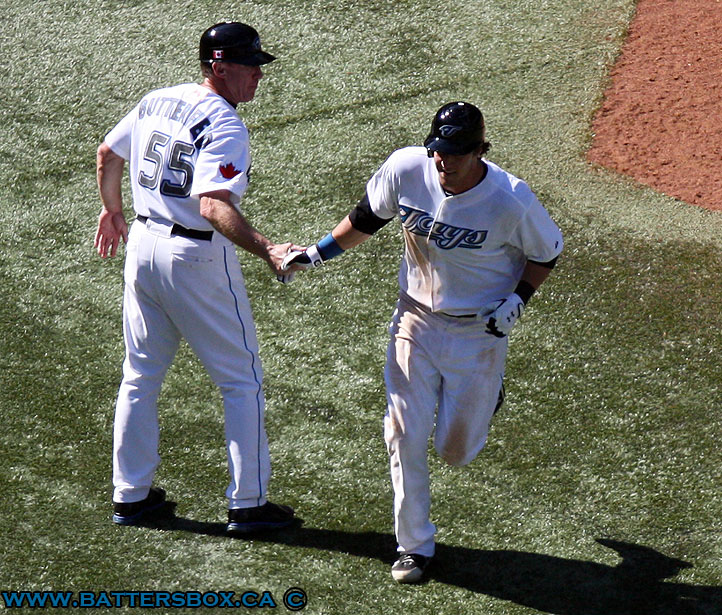 This time, Loewen gets past third as he is congratulated by third base coach
Brian Butterfield
thanks to a solo home run to dead center to tie the game at 5-5.

Loewen is greeted by leadoff man
Mike McCoy
after belting his first major league home run. McCoy would later double and score the winning run on a sacrifice fly by
Josť Bautista
to help the Jays knock off the O's 6-5.
---
Loewen would have another two-hit game as he drove in two runs to help the Jays beat Boston at Fenway Park September 14. His first major league hit came against the Red Sox seven nights earlier at the Dome as he singled off
Daniel Bard
to contribute to a Jays come from behind win and the Beantowners September collapse. The 27 year-old left-handed hitter batted .188/.297/.313 in 37 plate appearances with Toronto with one double, one homer and four runs batted in. He saw action at all three outfield positions.
Despite Loewen's outright release Thursday, Jays general manager
Alex Anthopoulos
did not completely
close the door
on the former Orioles hurler.
Now, Adam would be in competition with Eric Thames and Travis Snider in left, which would have been tough. Iíve told Adam there might be a log jam at triple-A, too. We had a very good outfield at (double-A) New Hampshire. This keeps his options open. We have no idea what the roster will look like. He could very well be back with us.Ē

All the best to
Adam Loewen
as he tries to continue his major league career as a hitter in 2012.