BlueJays.com
reports catcher
J.P. Arencibia
and third baseman
Brett Lawrie
have been named
to the 2011
Topps All-Star Rookie Team
.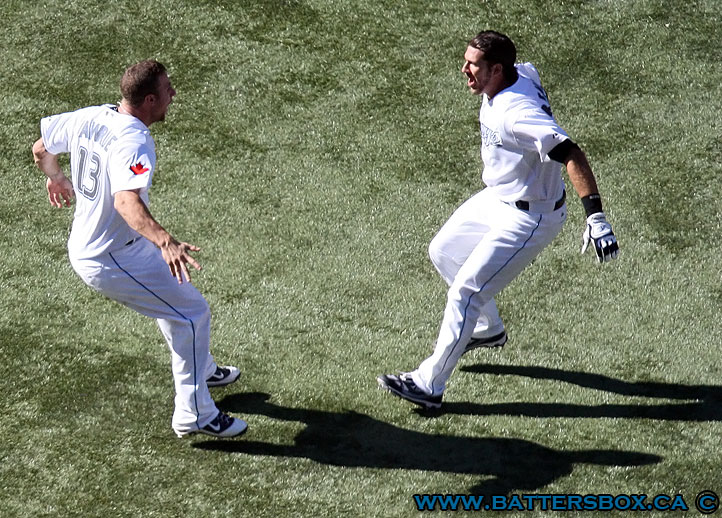 J.P. Arencibia
and
Brett Lawrie
have extra reason to celebrate after being named to the 2011
Topps All-Star Rookie Team
. The two celebrate Arencibia's walk-off single against Orioles closer
Kevin Gregg
in a 5-4 victory at the Dome September 10.
The 25 year-old Arencibia hit .219 with 23 home runs and 78 runs batted in while the 21 year-old Lawrie batted .293 with nine homers and 25 RBI in 2011. Meantime, Arencibia was on
Prime Time Sports
Wednesday and endured an
awkward interview
. Among Arencibia's comments...
he was very close and got along well with outgoing catcher Jose Molina and considered him a big brother
hopes to catch 140-150 games this season
he describes his rookie season as one with a lot of learning
worked extensively with bench coach Don Wakamatsu on his defence, who did not hesitate to "get on him" or "get in his face"
felt he improvement at the end of the year when it came to blocking balls in the dirt
more focused on production than average
says a cast on his finger played a role in his low BA
points to his higher average with runners in scoring position
bought a french bulldog named Yogi
Other notes...John Sickels
of
MinorLeagueBall.com
unveils his
Top 20
Blue Jays prospects.
This system has incredible depth, and a year from now it could look even better, depending on how Nicolino, Norris, and Syndergaard perform in full-season ball, not to mention hitters like Smith and Dean who are just getting started. Sanchez and Woj have the natural ability to zoom up the list as well. Many of the C+ guys (and even some of the Cs) have B or even A-level physical ceilings but need to play and get some experience in, particularly pitchers like Carmona and Osuna.


Earlier this week,
New Hampshire Fisher Cats
manager
Sal Fasano
shared his thoughts
on
THE FAN
on various topics.
on Fisher Cats pitcher Nestor Molina - unbelievable athlete, shortstop on mound, control pitcher,good splitter, works fast, throws strikes, expands strike zone, great work ethic, could make bigs as a reliever, closer material.
on Cardinals manager/former Jay Mike Matheny - cannot imagine becoming a major league manager off the bat, has learned a lot during his two seasons managing in the minors
expects to be back managing in New Hampshire in 2012.
The
Bluefield Blue Jays
officially unveiled
their new look
for 2012. The
Bluefield Daily Telegraph
spoke to general manager
Chris Maxwell
:
"The fact that Bluefield is changing its logo seems to point to a positive relationship between the Toronto and the local Jays. Maxwell said that is, indeed, the case.
'We've got a great relationship with Toronto," said Maxwell, who will attend baseball's Winter Meetings next week in Dallas. "I think they are extremely happy, we are very happy.' "

The
Chicago White Sox
have hired
Marco Paddy
away from the Jays. The former director of Latin American operations is now a
special assistant
to the general manager with the Pale Hose.
Among Toronto's international signings during his tenure were pitcher Henderson Alvarez, a two-time All-Star Futures Game participant who made his major-league debut in 2011, infielder Adeiny Hechavarria, a former member of the Cuban Junior National Team, pitcher Roberto Osuna, nephew of former White Sox pitcher Antonio Osuna, and catcher Carlos Perez, who was ranked by Baseball America as the No. 8 Prospect in the Blue Jays organization prior to last season.