Today's
POTD
looks at a pair of new acquisitions by the Blue Jays, who were teammates with the Los Angeles Angels from 2007-2009.

Darren Oliver
fires away against the Blue Jays in May of 2010.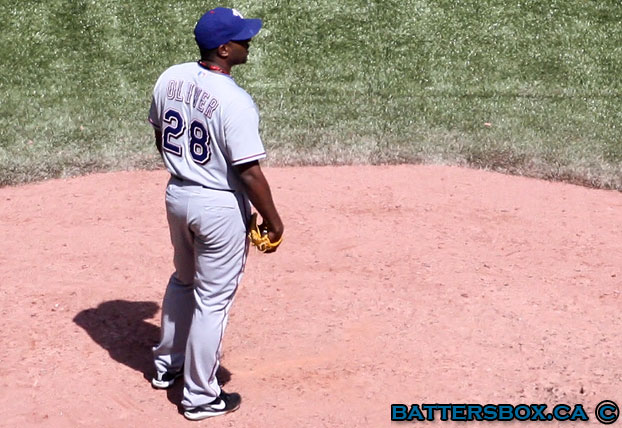 Oliver's major league debut came September 1, 1993 with the Rangers in Boston. He replaced former Jay
Tom Henke
with two outs in the 10th inning after
Billy Hatcher
singled to first. Hatcher stole second and Oliver was ordered to issue an intentional walk to
Mike Greenwell
before being lifted from the game. Texas would win the game in 12 innings. The losing pitcher was future Jay
Paul Quantrill
. The winner was the immortal
Jeff Bronkey
, the first of two wins in his big league career. Now you know!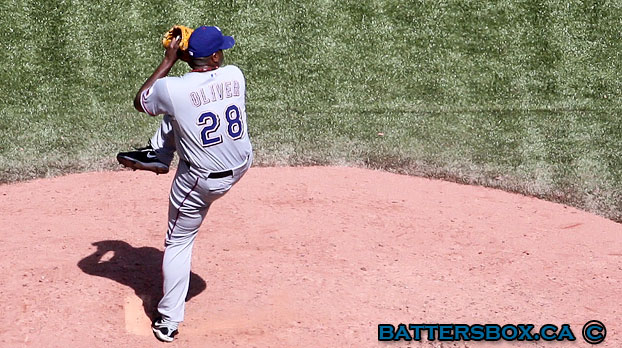 Oliver's first retired batter came October 2, 1993 against the visiting Kansas City Royals as he struck out the legendary
Kevin Koslofski
swinging. In fact, he rung up Koslofski again for half of his four strikeouts over 3 1/3 innings of relief. His only blemish was a solo homer to
Gary Gaetti
. However, Oliver owned Koslofski, who was 0-for-2 lifetime against the crafty lefty, so that's something to hang his hat on when he retires.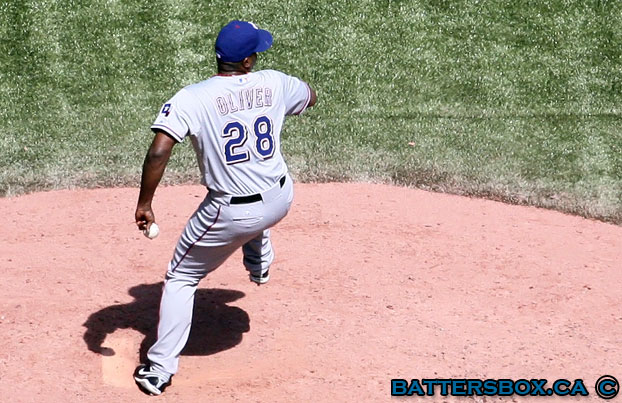 Oliver's first major league save came against the New York Yankees on June 8, 1994.
Rick Honeycutt
started the fire in the top of the ninth with a hit by pitch and two walks with nobody out. Oliver was able to induce a ground ball double play that allowed one run to score but got
Bob Melvin
to foul out to first to preserve the Rangers 6-5 victory.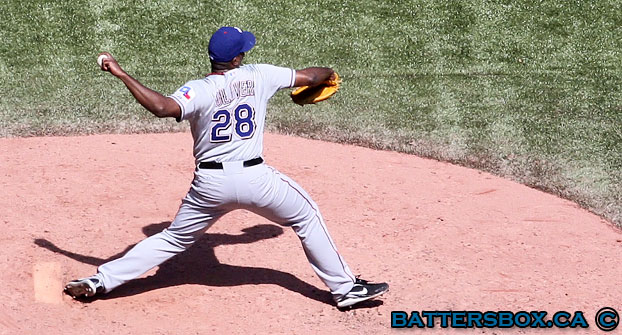 Oliver celebrated Canada Day in 1994 with his first major league win against Detroit. He relieved future Jay
Matt Whiteside
(who made two appearances for Toronto in 2005) and retired
Lou Whittaker
to end the eighth inning. The Rangers offence erupted for six runs in the home half of the eighth for a 10-6 win. It was former Jay
Manuel Lee
who started the rally with a leadoff double and scored on an
Ivan Rodriguez
single. Lee also had a single later in the inning to help bring home the final run.
Juan Gonzalez
gets a little credit too for Oliver's first "W" with a grand slam.
---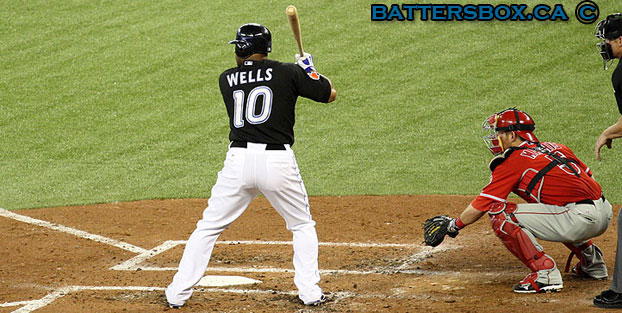 Jeff Mathis
is behind the plate with future Jays teammate
Vernon Wells
during a game at the Dome in April of 2010.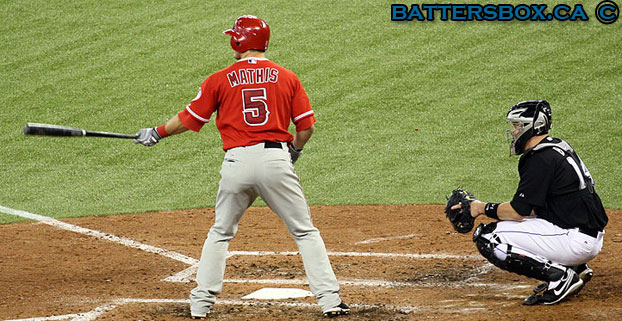 Mathis made his big league debut on August 12, 2005 in Seattle as a pinch-hitter for
Garrett Anderson
. He stepped in to face Mariners reliever
Shigetoshi Hasagawa
with the Angels down by five. Guess what happened next? Mathis homered and the Angels went on to beat the Mariners 10-9 OR Mathis struck out looking. If you guessed the latter, you're obviously a "glass is half-empty" type-person and you would also be right.

Mathis' second big-league at-bat came August 15, 2005 in Anaheim in the 10th inning against current teammate
Jason Frasor
. This time, Mathis made contact! Guess what happened next? Mathis took Frasor deep but the Jays still won OR Mathis grounded out to short and the Jays lost in 11. If you guessed the latter, you're correct again and you've proven that being a "glass is half-empty" type-person is awesome when it comes to my multiple choice questions.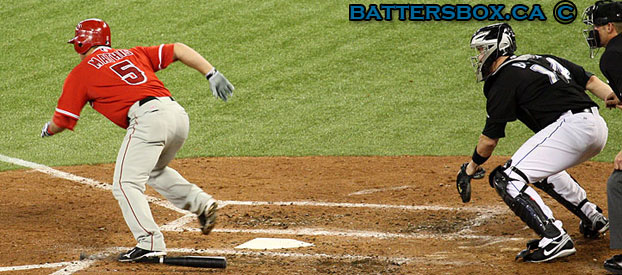 Mathis got his first major league hit September 29, 2005 in Oakland against Japanese sensation
Keichii Yabu
by lining a single up the middle. Mathis completed the 2005 season with a .333 batting average so he can hit! It was also the last time he wore #44 with the Halos before switching to #5 and apparently #10 for a brief while in 2010 according to Baseball-Reference.com.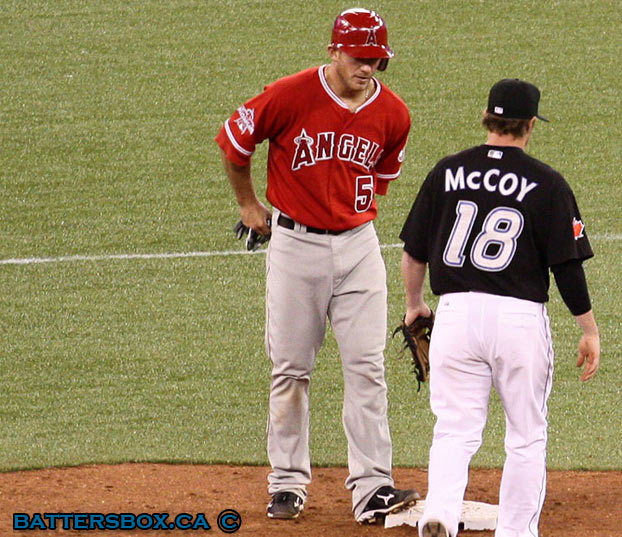 Mathis collected his first big league home run on April 14, 2006 in Baltimore when he took
LaTroy Hawkins
deep to tie the game with two outs in the top of the ninth inning. Guess what happened next? The Angels went on to win the game OR they would lose the game in the bottom of the ninth inning. If you guessed the latter, you are so correct and it proves you were sitting dead red and waiting on the fastball.
Roberto Hernandez,
who was on fire with a .500 batting average to begin April, homered off
Scot Shields
to win it for the O's.
---
Here's the kicker! The missus and I were in Baltimore that night but her shopping desires trumped my baseball desires so we went to see the next game on Saturday afternoon in which
Erik Bedard
outdueled reigning Cy Young award winner
Bartolo Colon
. Still, I could have witnessed
Jeff Mathis
' first major league home run. Instead, I get
Jose Molina
behind the dish for the Angels. WOMEN! ;D
Next up on
POTD
, oh me Omar!