The Toronto Blue Jays and the New Hampshire Cats will continue its affiliation into the 2013 and 2014 seasons, after signing off on a two-year extension of its Player Development Contract. That means if Ottawa manages to land an Eastern League franchise next year, it will have to look south of the border for a major league affiliate.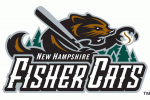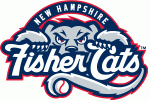 New Hampshire's logos through the years during its affiliation with the Blue Jays.
The National Post recalls glowing praise about the Fisher Cats from Jays general manager Alex Anthopoulos:
"We're thrilled with New Hampshire. They have the best ballpark in the Eastern League, unbelievable ownership and unbelievable management. It can't get any better for us than New Hampshire."
Ballpark Digest speculates this could end Ottawa's chances to return to affiliated baseball.
"Ottawa officials and Beacon Sports had been working to put together a deal to bring an Eastern League team -- though not the Fisher Cats -- to Ottawa Stadium for the 2013 season, and part of that plan was luring the Blue Jays as a parent team. Without Toronto as a parent, it's pretty clear that Ottawa efforts will fade away; the chances for a team had been diminishing anyway (no one was stepping up to buy the Binghamton Mets and move the team), and this is the final nail in the coffin."
With New Hampshire re-upping with the Jays, that means three Jays affiliates are in the fold are in the fold until the completion of the 2014 season. The Vancouver Canadians and the Bluefield Blue Jays signed four-year PDCs prior to 2011.
Up for renewal are the PDCs for Triple-A Las Vegas and Single-A Lansing. The Jays and Lugnuts should get around to extending its agreement at some point this season but the Triple-A situation remains up in the air. It's been widely speculated the Jays want out of Vegas in order to return to the International League. The prime target would be the Buffalo Bisons and a secondary option would be the Rochester Red Wings. Their respective deals with the New York Mets and the Minnesota Twins are up after this season. The Bisons are enjoying a winning season to this point and that may convince them to stay with the Mets after 2012. However, the Red Wings are dead last in their division and that could lead them to look Toronto's way when the season ends. Fingers crossed!!