The Toronto Blue Jays look to beat this man to start off the series at Fenway Park.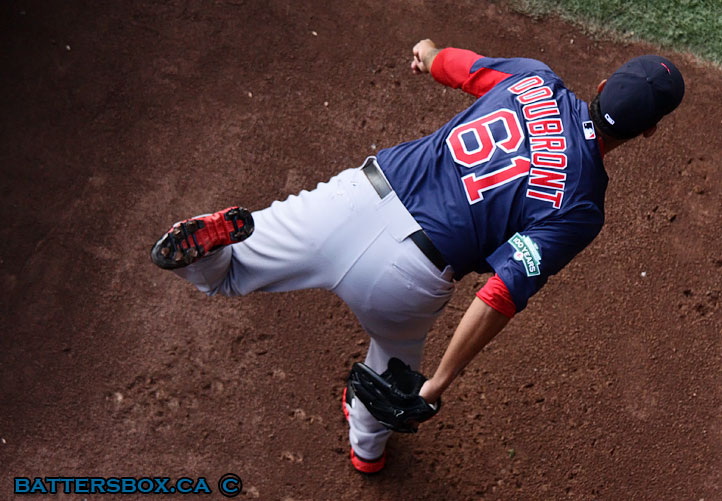 Boston Red Sox hurler
Felix Doubront
gets some work in from the bullpen at Target Field April 23
Tonight: RHP
Felix Doubront
(8-3, 4.30) vs. RHP
Henderson Alvarez
(3-6, 4.31) at 7:10 p.m.
FanGraphs.com says Doubront throws fastballs, cutters, changeups and curveballs. His fastball averages 92 miles per hour, his cutter is around 87 MPH, his changeup is about 85 and he drops hooks around 76. He beat the Jays in Toronto back on June 2 and is 2-0 lifetime against the Blue Jays. Doubront is 5-1 with a 3.19 earned run average on the road but at Fenway, his ERA jumps to 5.59 with a 3-2 mark.
Kelly Johnson
is 3-for-7 lifetime versus Doubront while
Jose Bautista
is 2-for-9 with two home runs.
Jeff Mathis
is 2-for-3 with a HR while
Brett Lawrie
and
Edwin Encarnacion
are each 2-for-6.
Rajai Davis
is 0-for-5.
Tuesday: RHP
Daisuke Matsuzaka
(0-2, 6.00) vs. LHP
Aaron Laffey
(0-0, 3.00) at 7:10 p.m.
Dice-K's vast repertoire of pitches includes a fastball around 91 MPH, a cutter averaging 89, a slider and changeup hovering around 80 with the odd splitter around 86. He's 7-1 lifetime against the Jays, including a perfect 4-0 at Fenway.
Omar Vizquel
owns Matsuzaka to the tune of 2-for-3 for a .667 average.
Yunel Escobar
is 2-for-10,
Bautista
is 2-for-16 and
Adam Lind
is 3-for-20.
Wednesday : LHP
Jon Lester
(4-5, 4.48) versus LHP
Ricky Romero
(8-1, 4.34) at 1:35 p.m.
This is a rematch of the April 11 matinee in which Romero outdueled Lester at the Dome. Lester throws the gas at 92 and combines that with a cutter around 90. His changeup clocks in around 86 and his curve is about 76. He's 10-5 lifetime versus Toronto with a 3.08 ERA. Vizquel mashes Lester at a .500 clip in his two career at-bats. Escobar is 6-for-19 and Jeff Mathis is 2-for-7. On the flip side, Bautista is 8-for-42, Johnson is 0-for-8 and Brett Lawrie is 0-for-5.
Notes: The Jays are 3-3 against Boston this season with all six games played in Toronto...
Brent Lillibridge
will wear #23 for the Red Sox after coming to Boston in a trade for
Kevin Youkilis
. Righty
Zach Stewart
, the former Jay, is to report to AAA Pawtucket.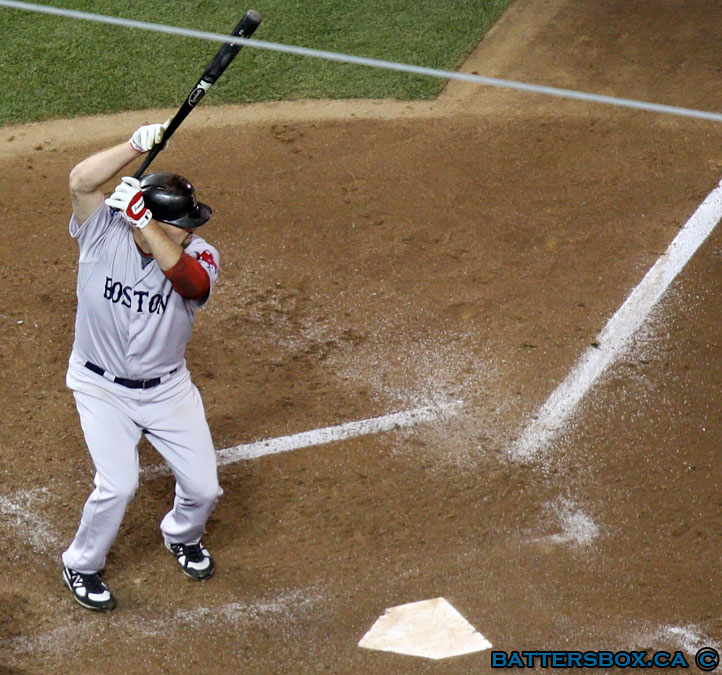 The Jays won't be facing
Kevin Youkilis
, batting here against the Twins earlier this season, but he's still in the American League as the color of his Sox changes from Red to White.