Las Vegas and Vancouver could not be accused of having slow hands at the plate as they put up a dozen runs apiece.  New Hampshire and the boys in the Gulf could not be accused of having slow feet as they each executed a double steal of home and second base. That was part of a 4-3 Monday night for the affiliates.
Las Vegas 12 Reno 4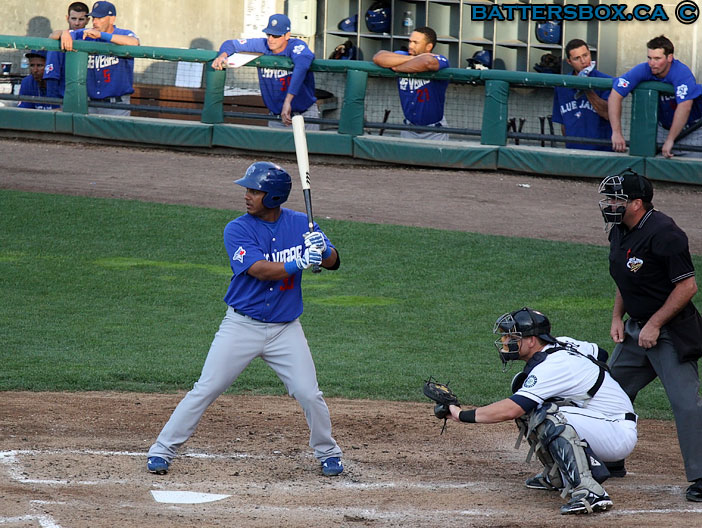 Ricardo Nanita
was one of five Las Vegas players to record two hits against Reno Monday night.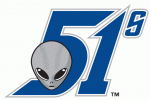 Las Vegas, NV
- The 51s found the end zone in the second quarter, er, inning with a converted touchdown against the Diamondbacks affiliate.
Eric Thames
launched the aerial assault by leading off with a solo home run (#5) and it continued with
Ricardo Nanita
,
Chris Woodward
and
Joel Galarraga
completing the cycle with a run-scoring single, double and triple respectively.   A throwing error and run-scoring singles by
David Cooper
and Thames rounded out the scoring for the inning.  Las Vegas dropped four more runs on the Aces in the fourth on Cooper's RBI double,
Moises Sierra
's two-run two-bagger and
Danny Perales
' sacrifice fly.  Sierra then led off the seventh with a home run, his 17th of the year.  Cooper, Thames, Sierra, Perales and Nanita all had two-hit games with Thames adding a base on balls. 
Mike McCoy
was 1-for-5 and
Jonathan Diaz
was 0-for-4 but drew a walk.  The only Las Vegas hitter not to get a hit or a walk was
Mark Sobolewski
, who was 0-for-1 as a late game replacement at third base.
Mississauga's
Shawn Hill
(5-0) was victimized for two homers but managed to last six innings in which he gave up four runs on nine hits, a walk and a hit by pitch.  He struck out two and collected 10 outs on the ground. 
Jim Hoey
pitched two scoreless innings that features two hits and two strikeouts. 
David Carpenter
worked a one-walk ninth and struck out a pair.
Harrisburg 5 New Hampshire 1
Harrisburg, PA
- The nightmare season continues for
Deck McGuire
(4-11) as the number five dominated his line score.  He was hammered for five runs on five hits and five walks over four innings and his strikeout total was a big, fat zero.  McGuire did keep the ball on the ground with eight of his 11 outs in play staying on the ground. 
Matt Daly
and
Ronald Uviedo
worked two scoreless frames with a strikeout apiece.  Daly survived two hits and a walk and Uviedo overcame three hits.
Brian Bocock
broke up the shutout against the Nationals affiliate by tripling and stealing home as part of a double steal with
John Tolisano
.  Bocock and
Kevin Howard
put a two in the hit column and
Mike McDade
doubled for the other New Hampshire hit but struck out three times. 
John Tolisano
drew the only Fisher Cats walk but whiffed twice. 
Sean Ochinko
was 0-for-2 but took one for the team.  He was replaced by
Koby Clemens
as a pinch-runner and behind the plate and struck out in his only at-bat. 
Ryan Goins
and
Jake Marisnick
had 0-for-4 nights while
Kenen Bailli
and
Brian Van Kirk
were both 0-for-3.
Clearwater 2 Dunedin 1

Clearwater, FL
-
Casey Lawrence
(6-5) held down the Phillies affiliate to single runs in the third and fourth innings.  He went seven frames of seven-hit ball and did not walk anyone.  One of the hits off Lawrence was a home run and he only struck out two but nine of his 15 outs in play were on the green. 
Dayton Marze
pitched a perfect eighth inning.
The only Dunedin run was in the sixth when
Kevin Pillar
's groundout scored a
Jonathan Jones
single.  Jones had two of Dunedin's four hits with Pillar contributing a double and
Marcus Knecht
getting a single. 
Ryan Schimpf
and
Kevin Ahrens
reached base via the base on balls. 
Jon Berti
was 0-for-4 while
Jon Talley
,
Jack Murphy
and
Justin Jackson
were a combined 0-for-9.
Lansing 6 Wisconsin 1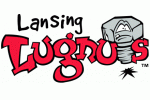 Appleton, WI
-
Kenny Wilson
broke a scoreless tie in the fifth with an RBI single and
K.C. Hobson
drove home the next two with a solo homer (#9) in the sixth and a double in the eighth.  The Lugnuts scored three more times against the Brewers affiliate in the ninth courtesy of a passed ball, a Wilson run-scoring single and a
Gustavo Pierre
triple.  Wilson and Hobson each totaled two hits, a walk and a stolen base and
Aaron Munoz
had a two-hit effort. 
Andy Fermin
reached twice with a single and a base on balls and
Kevin Patterson
heard ball four twice. 
Kipp Schutz
, recently acquired from the Baltimore organization, extended his three-game hitting streak with the Lugnuts by doubling in his five at-bats. 
Michael Crouse
and
Shane Opitz
were a combined 0-for-8.
Blake McFarland
(5-3) fired five shutout frames of four-hit ball for the victory.  He struck out three and had a groundout/flyout total of 3-6. 
Aleson Escalante
set down the side but walked the leadoff man in the seventh.  Lefty
Tyler Ybarra
stranded that runner and pitched two scoreless frames, getting around a hit and a walk with two punchouts. 
Brandon Berl
was nicked for a run on three hits but struck out two to close things out.
Vancouver 12 Spokane 7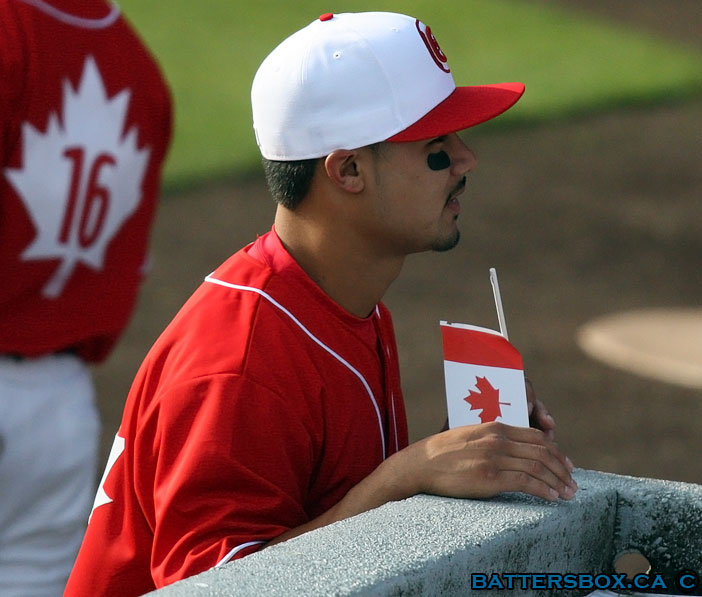 Nick Baligod
's run-scoring single tied the game at 4-4 for Vancouver Monday night before he belted his first home run of the season.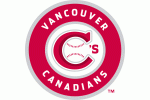 Vancouver, BC
- The Canadians ended the first half of the season on a winning note, taking four of five from Spokane.  The Rangers affiliate scored four times in the top of the second but the C's responded by scoring nine times in the bottom half. 
Jordan Leyland
tripled home Vancouver's first run and
Tucker Frawley
cashed him in with a single. 
Jorge Flores
and
Nick Baligod
drew the C's even with back to back RBI singles.  They came home to score on a two-run single by
Jason Leblebijian
.  Leyland doubled home two more runs and
Derrick Chung
wrapped up the scoring for the inning with an RBI single.  Vancouver hit double digits after an errant pickoff throw in the seventh.  Baligod capped off a two-run ninth with his first homer of the season after a passed ball scored the first run.  Leyland and Leblebijian had three hits apiece while Flores and
Ian Parmley
each had two hits and a walk. 
Balbino Fuenmayor
had a hit and collected his fifth walk of the season.  He has drawn a walk in three of his last four games but has struck out 46 times. 
Matt Newman
was 1-for-5, meaning every Vancouver batter contributed at least one hit in its 16-hit attack.
Amherstburg, Ontario's
Zack Breault
gave up all four of his runs in the second and did not have his best stuff as evidenced by five walks and four hits over three frames.  He did not strike out anyone.  Cobourg, Ontario's
Nick Purdy
did not fare much better over his three frames.  Two of his three runs were earned on five hits and a walk.  On the positive side, he rang up four Ks and induced five groundball outs. 
Tucker Donahue
(2-1) worked 1 2/3 scoreless frames by navigating around two hits and a walk while striking out one. 
Ian Kadish
gave up a hit and walked a batter but stranded a runner for Donahue and earned his fifth save by getting the final four outs.


Danville @ Bluefield

Bluefield, WV
- This game
was postponed
due to rain.  It will be made up today as part of a doubleheader beginning at 3:00 p.m. ET.
GCL Pirates 8 GCL Blue Jays 7
Dunedin, FL
- The Jays built an early 4-0 lead after a
John Silviano
run-scoring fly ball in the first and a two-run triple by
Dawel Lugo
.  Lugo proceeded to steal home as part of a double steal with
D.J. Davis
taking second.  The Jays would find themselves down 8-4 before
Jorge Saez
knocked home a run with a single in the fifth.  Lugo tripled home another run in the eighth and he was brought home on a Davis single.  Davis was on base four times with a double, a single, a walk and a hit by pitch.  Lugo,
Justin Atkinson
and
Josh Almonte
also had two-hit performances.  Saez was 1-for-4 with a walk,
Gabriel Cenas
was 1-for-5 and
Emilio Guerrero
had a hit in his four trips to the dish.  Silviano drew one base on balls but
Jesus Gonzalez
was 0-for-5.
Left-hander
Alonzo Gonzalez
(0-3) pitched four innings and saw six runs cross the plate on five hits and three walks.  He was hurt by the long ball twice and only struck out two but he did get seven outs on the ground.  The Pirates got to
Tim Brechbuehler
for the other two runs (one earned after a Saez throwing error behind the plate) on two hits and a walk over one inning.  The bullpen was near perfect after that as
Adaric Kelly
worked a clean inning, lefty
Francisco Gracesqui
scattered a hit and a walk and struck out a pair over two scoreless frames and
Chuck Ghysels
punched out a batter in a perfect ninth.  The Jays made four errors in this one with Saez committing two of them.
DSL Blue Jays 9 DSL Braves 4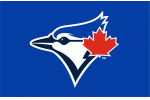 San Pedro de Macoris, DR
- The Jays put up runs in six of the eight innings they went to bat. 
Angel Rojas
doubled home a run in the first and singled three more times in the third, fifth and sixth to plate four more runs. 
Kervin Santiago
had an RBI single in the fourth,
Leudy Garcia
tripled home a run in the fifth and
Juan Tejada
scored another run with a base hit in that inning. 
Gustavo Perinan
capped off the scoring with an RBI double.  Rojas was 4-for-4, Tejada was 2-for-3 with a double, a walk and a stolen base. Santiago worked a pair of walks with his single and Perinan had a two-hit game. 
Rolando Segovia
doubled and stole two bases and
Ronniel Demorizi
had a two-bagger. 
Edwin Fuentes
was 0-for-4 with a walk,
Juan Kelly
was 0-for-1 pinch-hitting for Rojas and
Cesar Barazarte
wore the collar in five at-bats.
Lefty
Jose Fernandez
was one out shy of qualifying for the victory.  He was victimized by a solo home run that tied the game in the second but he stifled the Braves on just four hits.  He struck out six, did not issue a walk and five of his seven outs in play did not vacate the diamond.  Fellow lefty
Carlos Rodriguez
stranded Fernandez's lone runner but wound up yielding three runs (two earned) on three hits and a hit batsman in 1 1/3 innings despite a K-BB total of 3-0.  The win went to
Simon Paulino
(1-1), who worked three innings of one-hit ball while registering four strikeouts.
*** 3 Stars!!! ***


3. Blake McFarland, Lansing. 
McFarland is 1-1 with a 1.32 earned run average in three starts (13.2 innings) after beginning the year in the bullpen.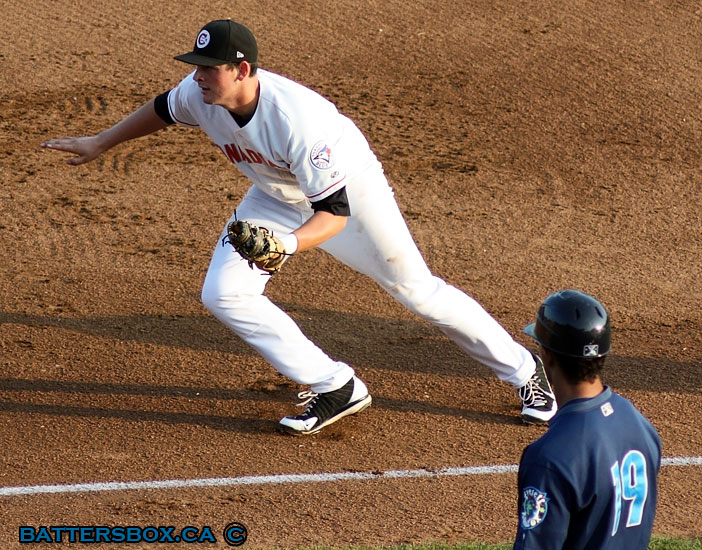 2. Jordan Leyland, Vancouver. 
Leyland is batting .316 at Nat Bailey Stadium this season and is hitting .290 with three doubles, one triple and six runs batted in over his last eight games.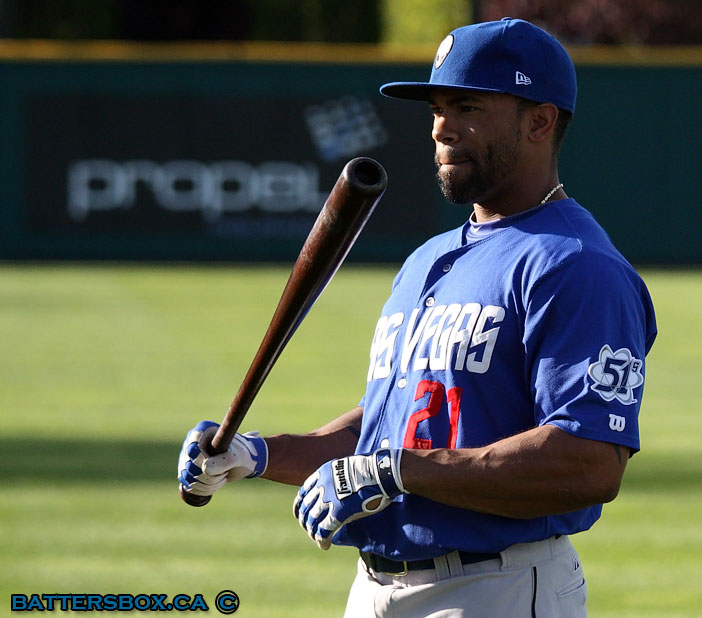 1. Eric Thames, Las Vegas. 
Thames has a .362 batting average and a 1.083 OPS over the month of July with seven doubles, two triples, three homers and 13 RBI.
Extra Innings...
The Las Vegas Review-Journal
catches up with
righthander
Shawn Hill
,
fellow righty
Clint Everts
and
lefthander
Nate Robertson
.  Plus, they look at the 51s past
pitching injuries
.
Sportsnet's Shi Davidi
has
a story
on Fisher Cat pitchers and first round picks
Chad Jenkins
and
Deck McGuire
.
The Vancouver Sun
talks about
pitch counts
with C's pitching coach
Jim Czajkowski
and shines the
spotlight
on first round pick
Marcus Stroman
.

The Vancouver Province
chats with
pitchers
Arik Sikula
and
Ian Kadish
.