There were a number of prospects who were named on the Minor League Crew's ballots who didn't make the Top 30 list. And each crew member no doubt considered several more prospects for their personal Top 30s who didn't make the final list.
Here are a few prospects who missed the final list that our minor league correspondents chose to highlight. This list isn't intended as a ranking of the next prospects in order, but is rather a sampling of some intriguing names in the system. Last year's feature included a player who got 111 major league plate appearances this year and a Webster Award winner. Without further ado, here are some prospects to keep an eye on next year, presented in alphabetical order.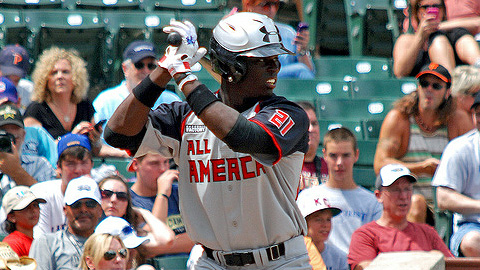 Anthony Alford | OF
Year
Age
Level
AB
2B
3B
HR
BB
K
SB
CS
AVG
OBP
SLG
2012

17

Rk

18

0

0

1

2

4

4

0

.167

.250

.333

Anthony Alford played professional baseball for a few weeks before heading off to play football. Most experts agree that this baseball, football mix is not good for Alford's baseball development. The Jays must figure that baseball is the future for Alford and he will come to learn that soon.
Alford is a QB at Southern Mississippi. On a not very good team he is a sometimes starting QB as a freshman. He has stated that football is his number one love, but he has also stated that becoming a major leaguer or a NFL player is his wish. So as I understand it his decision tree is as follows: (1) can I make it to the NFL? If yes, continue favouring football. (2) If the answer to #1 is no, then switch to basball.
The Jays are obviously hoping that option 1 is out of the question and that Alford turns to baseball. The first checkpoint will come after the football season and maybe not until after the college year in next April.
If Alford turns to baseball he is a toolsy outfielder, somewhat comparable to DJ Davis. But will he get a chance to show it? Time will tell.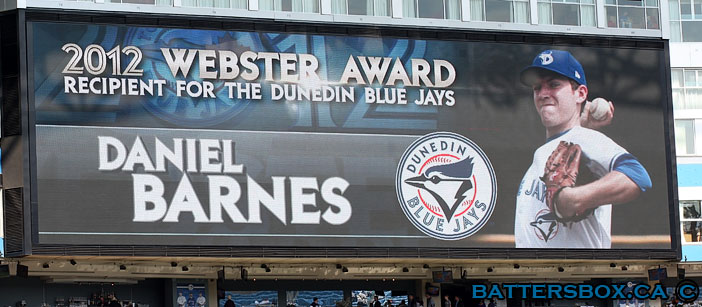 Danny Barnes| RHP


Year
Age
Level
G
GS
IP
H/9
HR/9
BB/9
K/9
ERA
2010

20

RK
14

0

27.0

5.7

0.3

1.7

12.3

0.67

2010

20

A
8

0

10.2

14.3

0.0

6.8

13.5

5.91

2011

21

A
44

2

66.0

6.0

0.4

2.7

13.5

2.32

2012

22

A+
50

0

51.1

6.5

0.5

2.8

11.0

1.40

2012

22

AA
1

0

1.2

10.8

5.4

10.8

10.8

16.20

Previewed in last yearís Prospects to Watch feature, all Danny Barnes has done in the last 12 months is win an R. Howard Webster Award after leading the Florida State League in saves by 12. A Princeton product who was Torontoís 35th-round pick in 2010, Barnesí low draft position may reflect the fact that he missed most of 2009 due to injuries and then got off to a slow start at Princeton with 2010, although he improved in the second half of the college season.
The Jays converted him immediately to relief and Barnes was promoted aggressively in 2010, graduating from the GCL, bypassing Auburn and finishing the season with Lansing. He spent all of 2011 with the Lugnuts, with dominant results. Barnes struck out 99 batters in 66 innings and held opponents to a batting average of .184. He was victimized by a trio of long balls, but only gave up three unearned runs all season, as well.
In 2012, Barnes spent the year with the Dunedin Blue Jays. He made 50 relief appearances, finishing the game in 47 of them with 34 saves, which was tied for the second-highest total in the Florida State League in the 2000ís. (Although Mike Sillman and Noah Krol havenít made it big to date.) Over 51.1 innings, Barnes allowed 37 hits, which included three homers. He struck out 63 batters and didnít allow an unearned run. He posted a 1.41 ERA. He made one appearance for the Fisher Cats, where he allowed three runs over 1.2 innings. Over 156.2 professional innings to date, Barnes has allowed 117 hits and 51 walks. Heís struck out 217 and has a cumulative 2.13 ERA.
There were concerns that Barnes may be more vulnerable to left-handed batters when he was drafted, but the statistics of the last two years donít suggest anything of that sort. In 2011, Barnes struck out 47 lefty batters in 28.2 innings and held them to a batting average of .150. This year Barnes struck out 29 left-handed batters over 19.2 innings and they hit only .213 off him.
In 2012, Barnesí strikeout-to-walk ratio fell more than 1 from 4.95 to 3.61, which is still very impressive. Whatís also promising about those numbers is that they are built around a high number of strikeouts. As impressive as Barnes was in 2012, he was nearly untouchable in the second half for Dunedin, posting a 0.38 ERA while allowing 1 run over 23.2 innings. He struck out 35 and walked four.
Barnes posted the lowest ERA in the Florida State League of any pitcher with at least 50 innings pitched and the third-highest K/9. Sure, Barnes barely pitched 50 innings, but the qualification is dropped to 40 innings, Barnes still finished fifth and seventh, respectively. He got a very brief taste of New Hampshire, but Barnes will get an extended look at Double-A in 2013 and heís put himself on the organizational depth chart with two very strong seasons in relief. The history of closers who have led the Florida State League in saves this decade is not inspiring, but in 2000 a slightly portly fellow racked up 23 saves to lead the FSL. If Danny Barnes turns out to have anything close to Heath Bellís career, the Jays will be delighted.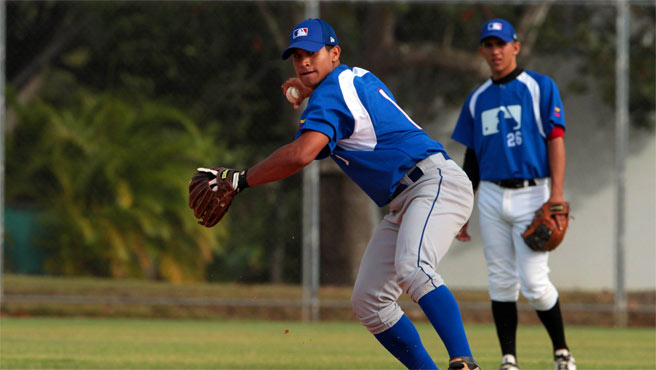 Franklin Barreto I SS/CF
Barreto was the consensus #1 International Free Agent available on signing day this year, and the Jays laid out a reported $1.45 million to land the Venezuelan shortstop. Barreto is considered an above average hitter, showing a quick short swing and excellent pitch recognition, as well as a willingnes to hit to all fields. He also brings plus speed which should make him a dangerous hitter even if he doesn't develop 20 homer power. He's a mere 5'9" but is well developed physically and has been a leading presence in international tournaments since the age of 10. On defense, there are mixed reports about his ability to stick at shortstop. He has a good arm and great instincts, but his footwork will need noticeable refinement. Look for the Jays to give him every opportunity to do that before conceding him to CF.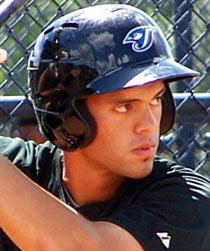 Wuimer Becerra | OF

Year
Age
Level
AB
2B
3B
HR
BB
K
SB
CS
AVG
OBP
SLG
2012

17

Rk

32

4

0

0

4

7

0

1

.250

.359

.375

Becerraís first pro season in America ended on a scary note as he got hit in the face with a pitch in the Gulf Coast League, breaking his jaw. He has recovered and was able to report to instructional league.
Becerra showed some promise during his brief time in the GCL, drawing a walk in over 10 percent of his 39 plate appearances and half of his eight hits were doubles.
The Blue Jays signed Becerra as a free agent from Venezuela to a $1.3-million bonus in July of 2011. His father worked as a scout for the Cardinals and Rangers and was one of his coaches. Becerra had played his entire career at shortstop but was moved to the outfield due to his 6-foot-4, 190 pound frame and a below average arm. He does boast good speed by running at 6.6 seconds in the 60-yard dash.
Some scouts believed Becerra was one of the best righthanded bats on the international market last year, citing his raw power, good plate coverage and feel for hitting. However, there are concerns that his swing is too long with an uppercut that translates better in batting practice than in games.
That did not dampen the enthusiasm of former Blue Jays director of Latin America Operations Marco Paddy, who believes Becerra could be a potential 30 homer/30 steals type of player. Becerra just turned 18 back on October 4.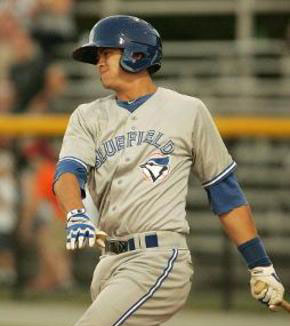 Matt Dean | 3B
Year
Age
Level
AB
2B
3B
HR
BB
K
SB
CS
AVG
OBP
SLG
2012

19

RK

167

8

4

2

12

60

3

2

.222

.282

.353

Dean was considered a high-upside steal as a 13th round "hard sign" pick in the 2011 draft. He was considered to be a hitter who would hit for power and average, and a solid defensive third baseman. Alas, he didn't provide a lot of compelling evidence for that estimation in 2012, spending the season in Bluefield and providing none of the above. He started off strong, faded in early July, had another hot streak towards the end of the month but was completely invisible in August. On defense, he contributed 24 errors and comments on his defense suggested that number is not deceptive.
You can grant a guy a mulligan on his first pro action, particularly one who came so highly praised (Sickels ranked him the Jays #16 prospect last spring), but the Blue Jays will be expecting his ship to be righted in 2013, where he will again likely play in short-season ball.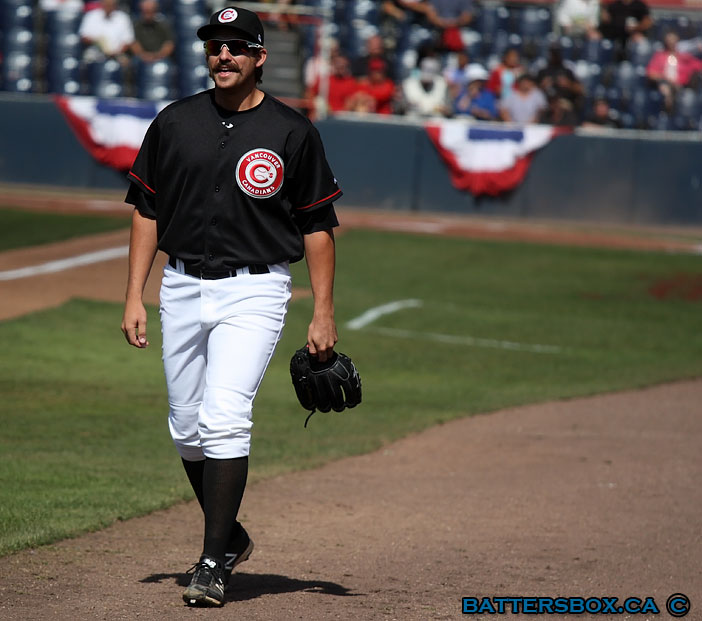 Griffin Murphy| LHP


Year
Age
Level
G
GS
IP
H/9
HR/9
BB/9
K/9
ERA
2011

20

Rk
11

11

41.0

10.5

1.3

3.5

8.6

4.39

2012

21

Rk
15

2

37.0

5.8

0.2

3.2

10.2

1.70

2012

21

A-
2

0

2.1

7.7

0.0

0.0

7.7

3.86

In 2010 the Jays drafted high school pitchers Aaron Sanchez, Noah Syndergaard and Justin Nicolino in the first eighty picks of the draft. But there was another left handed high school pitcher drafted that year between Syndergaard and Nicolino, Griffin Murphy. Murphy was also the oldest of the four pitchers, he pitched this year as a 21 year old with a January 1991 birthday.
So it was disappointing then when Murphy lagged the other three in 2011. He did not get promoted out of the GCL and turned an a WHIP of 1.56. The Jays were unimpressed and put Murphy in the bullpen in Bluefield when the short season league started. But something clicked then and Murphy thrived out of the pen and got to make two starts at the end of the season. His WHIP was an even one and he struck out over ten per inning. That earned Murphy two bullpen appearances in Vancouver to end the season.
The knock on Murphy had been his inability to command his fastball. That improved this season and worked well with Murphy's good change-up. Murphy is also working on improving his breaking ball.
It is hard to predict where Murphy will start 2013. Given his age and his high draft position I can see him in Lansing but whether he will start or be in long relief is unknown. Murphy could also be one half of a tandem starting duo with one of the younger kids like Osuna or Norris.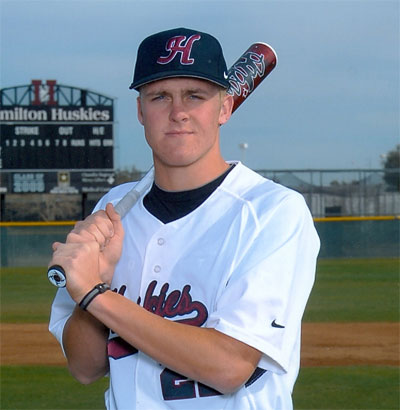 Mitch Nay | 3B/OF
The Jays were able to sign the power-hitting Mitch Nay away from his commitment to Arizona State after selecting him in the supplemental first round of the 2012 draft from Hamilton High School in Chandler, Arizona. Nay is a 6í3Ē right-handed batter and was selected at 58th overall. He was ranked 42nd overall by EPSN prior to the draft, despite lacking the history that many players drafted in the first couple of rounds did. Nay was unable to participate in the national showcase tour due to a broken left hamate bone and a strained lower back, but turned in a strong senior season, after hitting .495 as a junior.
Nay possesses strong power to all fields with quick wrists, bat speed and a strong stroke. He doesnít need to square the ball up to drive it with authority and can hit the ball deep to both alleys. However, he can open up early in his swing in order to drive the ball with added power. When Nay does this he leaves the outside of the plate open and he remains vulnerable to breaking pitches moving away from him and there remains debate over how well Nay will hit for average.
Defensively, Nay is still raw and his fielding ability is still developing. Reportedly, he needs to do work to routinely get his hands in good position to field balls and his footwork also needs to improve. Heís been able to compensate during college with his strong and accurate arm, with which he probably reaches around 90 mph. Nay is said to still look relatively awkward in the field, but thereís still a reasonable chance heíll be able to stay at 3B in the pros. If not, thereís a good chance Nay will wind up in right field, where he could fit in nicely with his strong arm. He has yet to make his professional debut, as he suffered an ankle injury after signing. Heíll likely head to Bluefield in the summer of 2013 after spending some time in extended spring training.