The extended spring training season ended last Thursday. Everyone gets a few days off around the draft and then the new signees show up this week. The Vancouver roster ships outs one of these days and next week Bluefield and the GCL Jays start their seasons. I received a copy of the stats for extended spring training. Before we look at the stats we should look back at the stats from extended in 2012 to see how predictive they were.
The thread for the hitters stats is here. The thread for the pitchers is here.
2012 Hitters
The top 5 hitters, by OPS, were Santiago Nessy, Balbino Fuenmayor, Eric Arce, Seth Connor and Matt Newman. Nessy and Newman made full season teams this year. Balbino is out of the Jays system, Arce is still in extended and Connor has bounced between extended and Lansing. OPS does not appear to be a significant predictive tool.
I also looked at OPS by prospect which included Jacob Anderson and Christian Lopes. That didn't work any better.
The players with the fewest strikeouts were Lopes, Dwight Smith, Connor, Nessy and Pompey. All of these hitters have spent time in Lansing, strikeout rate does appear to be a good indicator.
The highest K rates were Jesus Gonzalez and Matt Dean, both of whom are still in extended.
In summary K rate did the best job, in 2012, at predicting who would progress the most in the following season.
2012 Pitchers
The pitchers who allowed the fewest baserunners were Taylor Cole, Jeremy Gabryzwski and Roberto Osuna. Daniel Norris and Alberto Tirado allowed plenty of baserunners. This stat helps but is only mildly predictive.
The pitchers with the highest K rate, by a wide margin, were Cole and Osuna. Both are in Lansing this year.
The pitchers with the fewest K's include Tom Robson, Kevin Comer and Alberto Tirado. Tirado was a 17 year old last year, getting used to living in North America. Tirado appeared to improve as the season progressed. That might explain why looking at extended stats can be deceiving, in many cases players are getting are getting used to being a professional ballplayer. If you are coming straight from high school, or from Latin America, the adjustment might be significant over the first few months.
In summary, K rate may be the best stat to look at.
2013 Hitters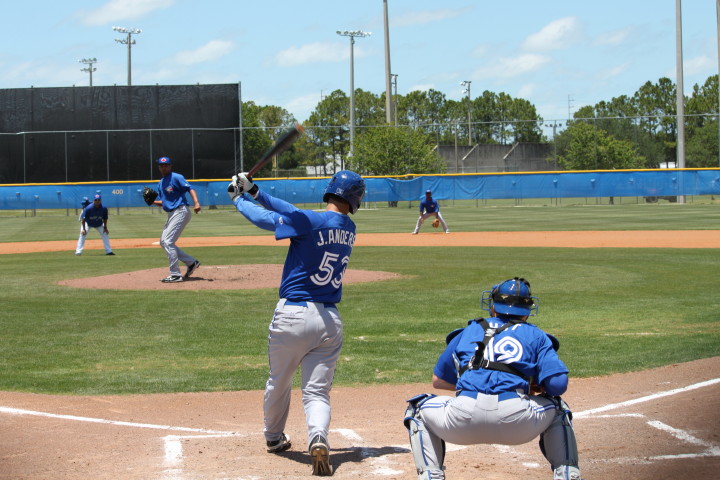 The top OPS in extended belong to Andy Fermin, Matt Hitt, Michael De La Cruz and Daniel Arcila. These are older players. De La Cruz was signed as a 20 year old Dominican free agent last season. He is on the DSL team and is hitting well, he might get a promotion to North America at some point.
Here are some stats for prospects:
Hitter             PA  OPS   K%   BB/K
Anthony Alford     53  910   36    .40
Jacob Anderson     77  863   43    .25
Franklin Barreto  115  825   19    .14
Gabriel Cenas      51  908   34    .57
DJ Davis          163  613   27    .26
Matt Dean          99  814   25    .32
Nathan DeSouza     52  436   27    .23
Dawel Lugo        140  764   19    .54
Mitch Nay         145  838   21    .73
Dickie Thon       121  910   27    .29
Richard Urena      68  724   26    .60

Most of the players OPS are in a tight range. The exceptions are Davis, DeSouza and Urena, three of the youngest players in camp. What of the K rate? Barreto, Lugo and Nay have the lowest K rates. In Barreto's case it is because he swings at almost everything, he rarely walks. Lugo and Nay have the stats that were most predictive in 2012.
On the other side Alford has a good OPS but strikes out a lot, expected for a guy coming late into camp without much experience. Anderson is striking out a lot.
2013 Assignments
Based on experience, 2012 assignements, and these numbers I would assume Thon and Dean would head to Vancouver as the more experienced pair. Lugo and Nay would go to Bluefield. Barreto, Cenas and Urena would stay in the GCL. Anderson was in Bluefield last season, he could go to either Vancouver or Bluefield. Alford looks like he is headed to Vancouver, Davis might go to Bluefield if on the field results are the determing factor.
2013 Pitchers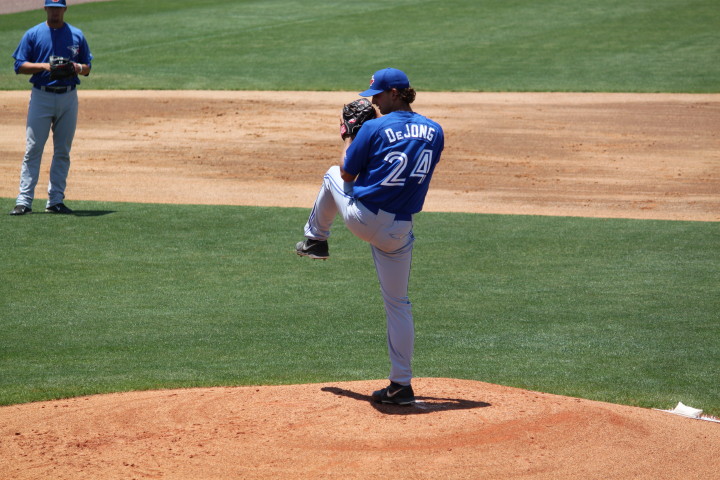 Pitcher              WHIP   ERA     K/9   K:BB
Adonys Cardona       1.23   2.28   10.4   6.4
Chase De Jong        0.94   3.27   11.2   5.9
Yeyfry Del Rosario   1.09   1.91    7.9   2.9
Jeremy Gabryszwski   1.24   3.82    6.8   2.8
Jairo Labourt        1.18   2.84    8.1   3.8
Tom Robson           1.59   5.28    6.2   1.5
Alberto Tirado       1.25   2.58    8.9   1.9
Zak Wasilewski       1.76   3.62    6.9   1.0

All of these pitchers pitched between 28 and 38 innings. Chase DeJong is best in WHIP, and it is DeJong and Cardona who have the best numbers for K rate and K:BB ratio. Tirado has good strikeout numbers but has walked a few too many. Wasilewski who looked good when I was in Dunedin has walked far too many.
Here are some pitchers who didn't have many innings.
Pitchers           WHIP   ERA    K/9   K:BB
Mark Biggs         1.69   5.40   6.9   2.0
Markus Brisker     1.17   2.35   9.4   1.3
Tyler Gonzalez     1.17   1.50   7.5   0.8
Matt Smoral        1.24   2.63   5.3   0.7

Brisker is a converted outfielder, a la Justin Jackson. Tyler Gonzalez was battling control problems when I was in Dunedin, he has pitched just 6 innings. Smoral is often injured and he has just 13 innings so far this season and he walked 11, versus 8 strikeouts, in 13.2 innings..
2013 Assigments
The Vancouver rotation will probably be made up of more experienced players from 2012, such as Deivy Estrada, Jeremy Gabryszwski, Carlos Pina, maybe hometown boy Tom Robson and Colton Turner was headed that way before being called to sub in for Daniel Norris. Kyle Anderson is another option. Bluefield's rotation will likely include Chase DeJong, Adonys Cardona, Alberto Tirado, Zak Wasilewski and Jairo Labourt.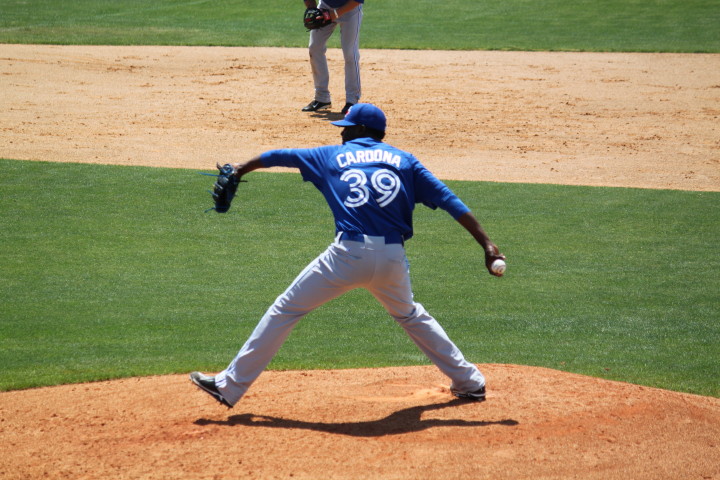 And finally, I was in Dunedin in May and I filed this report on what I saw in extended.