A 2-5 Tuesday on the farm with one game cut short due to Mother Nature.
Gwinnett 4 Buffalo 3


Lawrenceville, GA — Mauro Gomez
brought the Herd back from a 2-0 hole with a two-run homer in the sixth, his 22nd of the year. Gomez went yard again in the eighth for a solo shot in the eighth to bring the Bisons to within a run.
Anthony Gose
had a three-hit game, including a double and a stolen base, his ninth. He tried stretching his double to a triple but was thrown out in the ninth. That was the second out of the inning already so don't crucify him for breaking the cardinal rule of making the first or last out of the inning at third. On the plus side, Gose threw out a runner at home from left field.
Mike McCoy
had a 2-for-4 night.
Kevin Pillar
and
Moises Sierra
collected doubles.
Eugenio Velez
had a base hit.
Jim Negrych
and
Sean Ochinko
heard ball four once.
Luis Jimenez
came up empty in four trips to the dish.
The Braves managed 10 hits against
Justin Germano
(4-7) and scored three times in his six innings of work. One of the runs was unearned due to a Velez error at second. Germano struck out four, walked nobody and racked up seven outs on the ground.
Mickey Storey
served up a homer in the seventh inning that turned out to be the winning run.
Brad Lincoln
plunked a hitter but pitched a scoreless eighth.

Reading 0 New Hampshire 0 (Suspended - 2 1/2 Innings)

Manchester, NH
— This game is scheduled to be completed today in the bottom of the third.
Adam Loewen
had a base hit and
A.J. Jimenez
got a walk off Phillies prospect
Jesse Biddle
. On the pitching side of things,
Ryan Tepera
allowed just a hit and a walk over three scoreless frames with two punchouts. His other seven outs were on the grass.

Brevard County 3 Dunedin 1


Viera, FL
—
The D-Jays took a 1-0 lead in the second inning on a
Derrick Chung
RBI single. That was half of Dunedin's hit total in this one.
Oliver Dominguez
had the other base hit. Chung and Dominguez also reached base via the base on balls.
Marcus Knecht
drew two walks while
Jon Berti
,
Nick Baligod
and
Peter Mooney
were able to leisurely stroll to first base once.
Mike Crouse
,
K.C. Hobson
and
Gustavo Pierre
were all 0-for-4.
Casey Lawrence
got the start but was gone after one shutout inning in which he walked and struck out a batter.
Marco Grifantini
(2-2) soaked up the next five innings in which the Brewers affiliate scored twice on five hits and three walks while getting three K's. Lefthander
John Anderson
pitched the final two frames and yielded a run on two hits and a walk and also struck out three.

Dayton 7 Lansing 1


Dayton, OH
—
Taylor Cole
(4-6) was punked for six runs (five earned) on six hits, three hit by pitches and a walk over 2 2/3 innings. He struck out two.
Kramer Champlin
prevented Cole's line from getting worse by stranding the bases loaded. He pitched 3 1/3 scoreless innings with a pair of hits, a walk and three K's.
Wil Browning
walked two batters but pitched a shutout frame.
Arik Sikula
was tuned up for a pair of runs on three hits in the ninth.
An RBI single by
Jason Leblebijian
in the first inning was all the Lugnuts got against the Reds affiliate. Leblebijian also swiped a bag.
Dwight Smith Jr.
doubled, walked twice and stole his 14th base of the year.
Christian Lopes
was 1-for-2 before
Jorge Flores t
ook over at second and he also went 1-for-2.
Santiago Nessy
drew a pair of walks while
Kellen Sweeney
had one.
Dalton Pompey
was 0-for-5.
Carlos Ramirez
,
Chris Hawkins
and
Emilio Guerrero
put up a goose egg in a dozen at-bats.

Vancouver 4 Spokane 0

Spokane, WA
— Lefthander
Kyle Anderson
(1-0) stymied the Rangers affiliate by holding them down to two hits over six shutout innings. He struck out three, walked nobody and picked up eight groundouts. Anderson retired the last 11 hitters he faced.
Alvido Jimenez
earned a hold with a shutout inning in which he struck out a batter.
Tim Brechbuehler
surrendered a pair of hits but matched that with a pair of whiffs in the eighth.
Chuck Ghysels
struck out a batter in a scoreless ninth.
A
David Harris
RBI single in the second was all the C's would really need. He was replaced by pinch-runner
Jorge Vega-Rosado
after his base hit.
Daniel Klein
singled home another run in the seventh. An
Andy Fermin
double and a Jordan Leyland single plated the other two runs in the eighth. Klein had the only multi-hit game with two singles. Leyland reached base twice by adding a walk. Vega-Rosado,
Ian Parmley
,
Brenden Kalfus
and
Justin Atkinson
also contributed base knocks.
Dickie Thon Jr.
and
Ronnie Melendez
wore the 0-for-4 collar.
Pulaski 7 Bluefield 1


Pulaski, WV
—
Drayton Valley, Alberta lefty
Shane Dawson
had a rough outing. He was touched up for a two-run homer among his four hits and five runs allowed against the Mariners. Dawson walked one and struck out two.
Chase De Jong
gave up two runs, one earned, on four hits and walk over three frames but struck out five. He was also hurt by the long ball.
Yeyfrey Del Rosario
struck out a batter in a scoreless eighth inning.
Dawel Lugo
provided the only Jays run with a home run in the ninth. Lugo and
Derrick Loveless
had two hits with Loveless getting a double.
Alexis Maldonado
was the only other Jay to make the hit column and he also got a walk.
Eric Arce
and
D.J. Jones
both earned bases on balls.
John Silviano
,
Mitch Nay
,
Matt Dean
and
Jesus Gonzalez
each went 0-for-4 with Gonzalez donning the golden sombrero.
Garrett Custons
was 0-for-3.



GCL Pirates 3 GCL Blue Jays 2
Bradenton, FL
— A bases-loaded walk by
Anthony Alford
in the second and a throwing error by the Bucs shortstop in the third resulted in the Jays only runs. Those runs were answered by the Pirates in the next half-inning.
Franklin Barreto
and
Thomas Collins III
each collected two hits and a walk with Barreto getting a double.
Andres Sotillo
also had a two-hit effort. Alford and
Andres De Aza
both singled and walked.
Roland Segovia
was 0-for-1 before being replaced by
Will Dupont
, who went 0-for-3.
Christian Vasquez
laid down a bunt in a pinch-hitting role.
Gabriel Cenas
was 0-for-4 with a run scored.
Daniel Devonshire
was 0-for-3 and
Josh Almonte
was 0-for-1 pinch-hitting.
Trey Pascazi
pinch-ran for De Aza but did not score. The Jays came up empty in 12 at-bats with runners in scoring position and left 12 men on base. They had three straight base hits in the fifth but Barreto was caught stealing. In the ninth, there were runners on the corners when Collins was rung up at the plate to end the game.
Lefthander
Oscar Cabrera
pitched the first three frames and surrendered two runs on three hits and two walks. He struck out two and got five groundball outs. Southpaw
Tim Mayza
(0-1) gave up the winning run on three hits, including a triple, over two frames with a pair of K's.
Kamakani Usui
overcame three hits over two scoreless innings that included a strikeout. Lefty
Corey Gorman
plunked a batter but pitched a shutout ninth with a punchout.
DSL Blue Jays 10 DSL Mets1 6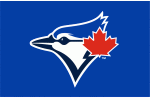 San Pedro de Macoris, DR
— The Jays had to fight back from a 3-0 deficit in this one.
Juan Fuente
plated the first run with an RBI single in the fifth. They scored three times in the sixth on a wild pitch, an error and a double play. An error scored the first run of a six-run eight inning.
Javier Hernandez
took one for the team to drive in another. A Fuente sacrifice fly, a two-run triple by
Deiferson Barreto
and a
Richard Urena
single capped off the rally.
Juan Kelly
was on base four times with two hits and two walks. Barreto also enjoyed a two-hit performance and was hit by a pitch.
Michael De La Cruz
,
Juan Tejada
and
Leudy Garcia
also recorded base hits.  Tejada, Urena and
Ronniel Demorizi
all earned a base on balls. Barreto and Hernandez had a stolen base apiece.
Francisco Rios
went the first five innings and was charged with three runs on six hits over five frames. He struck out four, walked nobody and collected six groundball outs.
Francisco Eduardo
(1-0) got a blown save with one run on one hit, three walks and two hit by pitches over two frames. He also struck out four.
Rauly Castillo
was cuffed around for two runs on two hits and two walks over 1 2/3 innings with one whiff.
Jairo Rosario
stranded two runners by striking out the final batter of the game to earn his third save.
Boxscores
*** 3 Stars!!! ***

3.  Anthony Gose, Buffalo
— Has gone 4-for-7 with a walk and two stolen bases in his last two games but his season OBP of .325 is seven points higher than his SLG.

2.  Mauro Gomez, Buffalo
— Only 9-for-40 in his last 10 games but six of those hits have been home runs. Has 36 extra-base hits for the Herd this season.

1.  Kyle Anderson, Vancouver
— Has walked just one batter with 11 K's in 16.2 innings.
Wednesday's Probable Starters...DSL Blue Jays
— TBA vs. DSL Mets1, 10:30 am ET.
GCL Blue Jays —
TBA
@ GCL Yankees1, 12:00 pm ET.

Buffalo
—
Thad Weber
(2-1, 2.01) @ Gwinnett, 6:05 pm ET.
Dunedin
—
Aaron Sanchez
(2-2, 2.96) vs. Lakeland 6:30 pm ET.
New Hampshire
— Completion of Tuesday game &
Marcus Stroman
(3-1, 3.77) vs. Reading, 5:35 pm ET.
Lansing
—
Ben White
(4-4, 3.84) vs. Fort Wayne, 7:05 pm ET.
Bluefield
—
Alberto Tirado
(0-0, 5.40) vs. Burlington, 7:05 pm ET.
Vancouver
—
Jeremy Gabryszwski
(1-0, 1.64) vs. Spokane, 9:30 pm ET.