The affiliates wound up on the right side of a 4-3 record Monday night. Triples were the key to two victories, including one that helped lead to a walk-off win. A BC pitcher and a hitter tried to give the BC team a win but they came up short.
Buffalo 7 Toledo 5



Toledo, OH
— The Bisons scored a converted touchdown in the second inning.
Clint Robinson
sparked the rally with an RBI double and
Ryan Goins
scored two with a single.
Munenori Kawasaki
singled home another run before
Anthony Gose
delivered the kill shot with a three-run triple. Gose had two triples as part of a three-hit afternoon and threw out a runner at home from right field. Goins also had three hits and a stolen base.
Andy LaRoche
had two hits and Kawasaki took one for the team.
Kevin Pillar
and
Moises Sierra
each had singles in five trips to the plate.
Thad Weber
(5-4) was touched up for a home run among the three runs he was charged with but he lasted 6 2/3 innings, allowing seven hits and two walks. He struck out seven.
Brad Lincoln
struck out the only batter he faced to strand a runner for Weber.
Sergio Santos
struggled in the eighth as the Tigers affiliate clawed their way to a pair of runs on two hits and a walk.
Neil Wagner
overcame two hits and a walk to pitch a scoreless ninth, striking out one to earn his 16th save.
Dunedin 6 Bradenton 4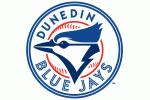 Bradenton, FL
— A passed ball in the first and a
Mike Crouse
RBI single in the third lifted Dunedin to an early 2-0 advantage. They poured it one with four runs in the fifth.
Jon Berti
poked one over the wall for a solo homer before
K.C. Hobson
singled home another run.
Marcus Knecht
and
Derrick Chung
had RBI singles of their own but Knecht was thrown out at home to end the rally.
Shane Opitz
had three hits while Berti, Crouse, Hobson and Knecht had two apiece. Berti and Hobson also drew walks while Crouse and Knecht both took one for the team. Crouse, Opitz and Knecht all swiped a base.
Gustavo Pierre
had the golden sombrero in five at-bats.
Austin Bibens-Dirkx
(8-3) went seven strong innings against the Pirates affiliate. He gave up two runs on four hits and a walk and a hit by pitch. He punched out nine and split his eight outs in play evenly on the ground and in the air. Southpaw
Tyler Ybarra
struck out the side but not before the Marauders scored a run on two hits.
Ajay Meyer
had an identical line to Ybarra's, save for one of hits being a solo homer, to notch his sixth save of the year.
Lansing 6 Bowling Green 5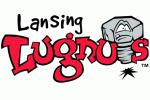 Lansing, MI
— The Lugnuts battled back all night long and were able to walk this one off in the end. They responded to a 3-0 deficit with three runs in the second.
Carlos Ramirez
singled home a run,
Chris Hawkins
tripled in another and an errant pickoff throw plated Hawkins with the tying run. Mississauga, ON native
Dalton Pompey
tied things up at 4-4 with a home run in the fifth.
Santiago Nessy
doubled home a
Christian Lopes
double to tie the game again in the eighth.
Kellen Sweeney
had the walk-off hit, delivering an RBI single to score another Chris Hawkins triple. Hawkins also had a single for a three-hit night. Lopes doubled twice, Pompey added a double with his dinger and Ramirez had a double as part of a two-hit performance.
The Rays affiliate got to
Ben White
with three runs in the first and scored four in total on seven hits and three walks over six innings. White also plunked a pair of hitters but struck out four and collected six ground ball outs. Lefty
Chad Girodo
surrendered a run on two hits and a walk with one K.
Ian Kadish
(4-3) pitched a one-hit ninth and struck out a batter.
Eugene 5 Vancouver 3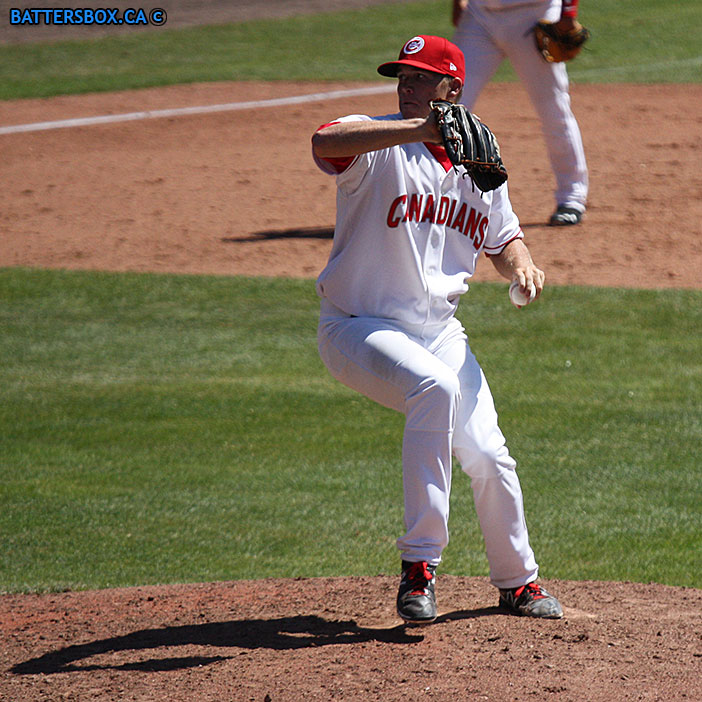 Colton Turner
did his job out of the bullpen, pitching 1 1/3 innings of scoreless relief against Eugene Monday night.
Eugene, OR
— The bullpen flushed another one down to the porcelain gods.
Tom Robson
had a nice outing in his Canadians debut. The Ladner, BC native went 5 2/3 innings, yielding just an unearned run on three hits and a walk. He struck out four and 10 of his 13 outs in play did not escape the diamond. Lefthander
Colton Turner
stranded a runner for Robson, pitching a one-hitter over 1 1/3 innings and striking out one.
Justin James
(1-3) could not hold the lead as he was whacked for four runs (three earned) on four hits and an intentional walk in the eighth inning.
Justin Atkinson
of Surrey, BC drove in all of the Canadians runs with a bases-clearing double in the sixth, giving his fellow BCer Robson a chance for the victory. Atkinson had two of the C's five hits.
Dickie Thon Jr.
singled, walked and was hit by a pitch.
L.B. Dantzler
also got on base three times with a single and two walks.
Brenden Kalfus
had the other hit.
Michael Reeves
of Peterborough, ON was 0-for-4.
Danville 5 Bluefield 1
Bluefield, WV
—
Adonys Cardona
(0-2) had one bad inning as the Braves scored three times in the second before adding another one in the fourth. The four runs against the Venezuelan came on six hits and a walk. He struck out five and four of his five outs in play stayed in the infield.
Brady Dragmire
limited the Braves to a run on a hit, a walk and two hit by pitches in five innings. He also struck out five and induced four ground ball outs.
The Blue Jays lone run came in the fourth when
Garrett Custons
singled home a
Mitch Nay
double. Custons had two of Bluefield's six hits.
Dawel Lugo
doubled and
Matt Dean
walked.
D.J. Davis
wore the golden sombrero in his four at-bats.

GCL Yankees1 6 GCL Blue Jays 4

Tampa, FL
— The Jays built a 4-1 lead after three innings.
Rowdy Tellez
singled home the first run in the first and drew a bases-loaded walk in the third.
Andres Sotillo
and
Edwin Fuentes
chipped in with run-scoring fly balls in the second and third innings. Fuentes and
Gabriel Cenas
had two hits apiece.
John Tolisano
doubled and walked.
Franklin Barreto
had a double.
The lefties got the job done on the mound for the Jays.
Corey Gorman
pitched five innings and allowed two runs on seven hits. He struck out three, walked nobody and got six ground ball outs. Fellow southpaw
Oscar Cabrera
punched out two batters in a perfect frame.
Francisco Diaz
(0-3) was knocked around for four runs on two hits and two walks in two-thirds of an inning while striking out one.
Jimmy Cordero
could not strand a runner for Diaz but pitched 1 1/3 innings of one-hit ball with one strikeout.
DSL Blue Jays 6 DSL Braves 4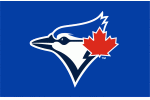 San Pedro de Macoris, DR
— The Jays did the majority of their scoring in the first three innings.
Juan Kelly
got things started with a two-run knock in the first.
Rodrigo Orozco
doubled in another in the second. A
Ronniel Demorizi
single and an error by the right fielder led to a couple of more runs in the third.
Richard Urena
double and another outfielder error accounted for another run in the eighth. Kelly, Demorizi and
Leudy Garcia
all had two hits apiece with Garcia reaching thrice on a walk.
Juan Fuente
came into the game as a pinch-runner and stole second for his 22nd steal of the year. He was then caught stealing third.

Alberto Guzman
(4-1) had some shaky defence behind him to say the least as the Jays made five errors, leading to four unearned runs. Guzman lasted five frames and allowed six hits, struck out four and walked nobody. Lefty
Miguel Burgos
took care of things the rest of the way with a four-inning save, giving up just two hits and a walk while whiffing one.
Boxscores

*** 3 Stars!!! ***

3. Austin Bibens-Dirkx, Dunedin
— Has a composite 11-6, 2.60 record with Dunedin and New Hampshire this season, striking out 128 hitters in 131 1/3 innings.


2. Chris Hawkins, Lansing
— Left-handed hitter faring better against lefties (.271) than righties (.208). Batting .250 over his last 10 games.


1. Anthony Gose, Buffalo
— Extended his hitting streak to five games and is enjoying his best month of the season with a .267 batting average in July.
Tuesday's Probable Starters...
DSL Blue Jays
— TBA @ DSL Braves, 10:30 am ET.
GCL Blue Jays
— TBA vs. GCL Yankees1, 12:00 pm ET.
Dunedin
—
Scott Copeland
(8-5, 2.75) @ Bradenton, 6:30 pm ET.
Buffalo
—
Justin Germano
(6-7, 5.29) TBA @ Columbus, 7:05 pm ET.
New Hampshire
— TBA @ Bowie, 7:05 pm ET.
Lansing
—
Daniel Norris
(0-6, 5.46) vs. South Bend, 7:05 pm ET.
Bluefield
—
Chase DeJong
(2-0, 3.58) vs. Danville, 7:05 pm ET.
Vancouver
—
Joe Spano
(1-0, 3.95) @ Eugene, 10:05 pm ET.