The affiliates split their eight games on Tuesday but were 2-3 in games featuring shutouts. On the plus side, there was an inside-the-park home run that clinched a victory and another Canadian Canadians pitcher had a strong debut in a Vancouver uniform.
Buffalo 1 Columbus 0



Columbus, OH
— The Herd produced the winning run in the eighth when
Andy LaRoche
worked a leadoff walk, ran to third on a
Ryan Goins
double and scored on a
Sean Ochinko
sacrifice fly. The Bisons had just four hits with Ochinko, Mauro Gomez and Moises Sierra making a dent in the hit column.
Kevin Pillar
and
Anthony Gose
were both 0-for-4.

Justin Germano
(7-7) hung around long enough for the win, throwing 7 2/3 shutout innings with just five hits and a walk on his ledger. He struck out five and piled up 13 outs on the ground.
Tommy Hottovy
walked a batter but struck out another to strand a runner for Germano.
Brad Lincoln
survived a hit and struck out a batter in the ninth to pick up his fifth save.


Bowie 9 New Hampshire 7


Bowie, MD
—
Drew Hutchison
got the start in this one and surrendered three runs over 3 1/3 innings on three hits and a walk. He struck out three and 35 of his 57 pitches were called strikes.
Tyson Brummett
(1-5) allowed a solo homer and one other hit in 2 2/3 innings while whiffing two.
Dustin Antolin
was hammered for five runs on five hits and a walk over two-thirds of an inning.
Randy Boone
cleaned things up with 1 1/3 perfect innings and a strikeout.
A two-run homer by
Kenny Wilson
in the second inning lifted the Fisher Cats to an early 3-0 lead after two innings.
A.J. Jimenez
put New Hampshire on the board with a sacrifice fly in the first. They rallied for four runs in the ninth, highlighted by a
Jack Murphy
RBI single and an
Andy Burns
bases-loaded walk. Wilson had a two-hit night, walked once and stole a base.
Adam Loewen
also got on base three times with two hits and a base on balls. Jimenez was 0-for-4 but was credited with two RBI.
Dunedin 2 Bradenton 1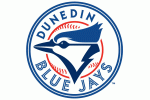 Bradenton, FL
— Trailing 1-0 after six innings, Dunedin responded with the tying run in the seventh when
Matt Newman
doubled home a
Marcus Knecht
two-bagger. They scored the go-ahead run in the eighth when
Jon Berti
doubled home a
Nick Baligod
single. Baligod had three hits and
Oliver Dominguez
had two.
Knecht was hit by a pitch to reach base twice.
K.C. Hobson
had a walk but
Mike Crouse
went down on strikes three times in his four at-bats.
Scott Copeland
(9-5) gave up a hit an inning but struck out a batter an inning over eight frames of one-run ball. He hit a batter but walked nobody and his ground ball/fly ball ratio was 12-1.
Ajay Meyer
struck out two in the ninth for his seventh save of the year.
South Bend 4 Lansing 0


Lansing, MI
— Another mixed
bag of an outing for
Daniel Norris
(0-7). He kept the Diamondbacks affiliate off the board but they got to him for single runs in the second, third and fourth over his four innings of work. The damage was done on six hits and a walk. On the plus side, he struck out six. I'm sure
Lugnut Fan
, if he was watching, will have more details on how Norris looked. Lefty
Efrain Nieves
suffered an unearned run on two hits and a walk but struck out seven in 3 1/3 innings.
Tucker Donahue
stranded a runner for Nieves and retired both hitters he faced.
Arik Sikula
worked a one-hit ninth.
The Lugnuts had just six hits, which were divided evenly between
Emilio Guerrero
,
Dwight Smith Jr.
and
Carlos Ramirez
. Smith Jr. stole his 18th base of the season.
Christian Lopes
had a walk.
Santiago Nessy
struck out twice, going 0-for-4.


Vancouver 7 Eugene 0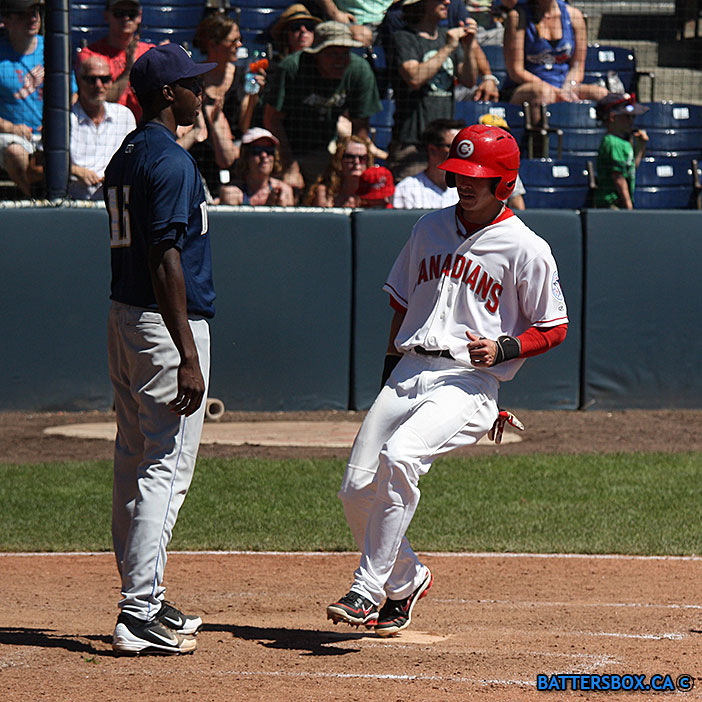 Ian Parmley
— scoring a run against Tri-City June 30 — was the first to touch home plate Tuesday night in Eugene. That turned out to be the only run Vancouver would need.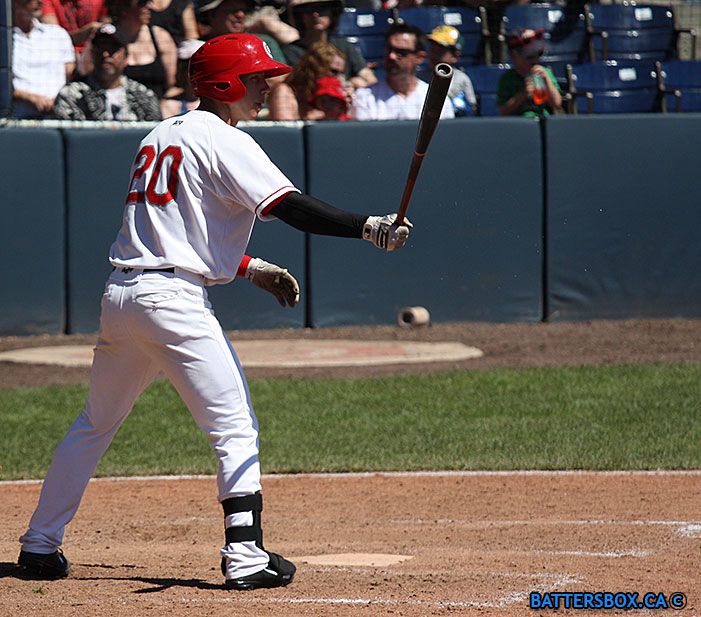 Brenden Kalfus
helped put the game on ice with his first professional home run. He is batting .277 this season.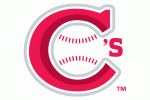 Eugene, OR
— The Canadians managed to salvage a split of their eight game road trip to start the second half. Leadoff man
Ian Parmley
set the tone with a leadoff walk to begin the game. He stole second base and scampered home on an error by the second baseman.
Dan Arcila
set the tone for the second inning with a leadoff dinger, his first of the year. A bases-loaded walk by
Justin Atkinson
produced another run in the third.
Brenden Kalfus
went yard for the first time this season, connecting on a two-run shot in the fifth.
L.B. Dantzler
slammed his seventh homer of 2013 in the seventh, bringing home a
Dickie Thon Jr.
triple. Thon Jr., Dantzler and Kalfus all had two-hit games with Kalfus earning a free pass. Parmley was 0-for-3 but walked three times.
Seth Conner
singled and walked but struck out three times.
Justin Atkinson
singled but also had a hat trick.
Lefthander
Shane Dawson
put together four shutout innings in his Vancouver debut. The Drayton Valley, Alberta native limited the Padres affiliate to one hit and two walks while striking out six. Two of his three outs in play were on the ground. Fellow southpaw
Matt Dermody
was even more dominant, allowing just one hit and striking out four over two innings.
Garrett Pickens
kept the shutout going with two innings of one-hit ball, striking out one.
Chuck Ghysels
allowed one hit but struck out two to close up shop in the ninth.

Bluefield 5 Danville 0


Bluefield, WV
—
Matt Dean
deposited a baseball over the fence to give the Jays a 1-0 lead in the fifth.
Mitch Nay
also hit a three-run homer but the baseball stayed in the park, capping off the four-run rally in the sixth. Nico Taylor doubled home the other run. Dean had the only two-hit night.
D.J. Davis
and
Tim Locastro
singled and walked.
Lydell Moseby
had a pinch-hit single.
Chase DeJong
scattered five hits and hit a batter over four shutout innings. He struck out seven and two of his three outs in play were on the grass.
Alvido Jimenez
(1-0) was the beneficiary of the offensive explosion, delivering two shutout innings of one-hit ball while striking out five.
Phil Kish
, not to be confused with "Kill Phish", had a succesful debut with Bluefield, striking out one and getting four ground ball outs over two perfect innings. Southpaw
Francisco Gracesqui
pitched a clean ninth with one punchout.
GCL Yankees1 9 GCL Blue Jays 5
Dunedin, FL
— Dunedin opened the scoring in the first when
"TC3"
-
Thomas Collins III
- tripled and raced home on a wild pitch.
Frankin Barreto
singled home a run in the third inning. The other three runs came in the sixth on an
Edwin Fuentes
single, a
Dan Jansen
groundout and an
Andres De Aza
sacrifice fly. Barreto led the charge with three hits and stole his seventh base of the year. Fuentes had two hits and
John Tolisano
drew two walks.

Connor Greene
(1-1) pitched four innings in which the Yankees scored three runs on five hits and a walk. He struck out a batter and induced four ground ball outs.
Jacob Brentz
faced four batters and did not get anyone out in his professional debut. The lefthander was charged with four runs on a hit and three walks.
Jose Fernandez
permitted two inhertied runners to score but was not charged with one himself in his inning of work, which featured one hit and one strikeout. Lefty
Daniel Lietz
was beaten up for two runs on five hits and two walks in three innings.
Drew Permison
finished up with a clean inning, striking out a batter.


DSL Braves 4 DSL Blue Jays 0
San Pedro de Macoris, DR
— An unearned run in the second inning against
Francis Eduardo
(2-2) was all the Braves would need. They scored two times against Eduardo on four hits and two walks over five innings. Eduardo struck out one and produced eight outs on the ground. Lefty
Jonathan Torres
surrendered the other two runs on two hits and a walk in one inning.
Osman Gutierrez
survived a hit and a walk to pitch a scoreless inning.
Manuel Cordova
was perfect in the eighth, striking out one.
Leudy Garcia
had the lone extra-base hit with a double.
Juan Kelly
singled and walked while
Rodrigo Orozco
walked twice.
Jean Almanzar
had the other hit while
Richard Urena
drew a base on balls.
Boxscores

3. Matt Dean, Bluefield
— Severe platoon split, hitting .361 against lefties but just .241 against righties. Batting .357 in his last 10 games.

2. Scott Copeland, Dunedin
— Has allowed just two runs over his last three starts, covering 17 1/3 innings. Averaging just over 2.5 ground ball outs per fly ball out.

1. Justin Germano, Buffalo
— Gained a measure of revenge against Columbus, who whacked him for six runs over 4 1/3 innings in his previous start. Four of his last five outings have been quality starts.
Wednesday's Probable Starters...
DSL Blue Jays
— TBA @ DSL Brewers, 10:30 pm ET.
GCL Blue Jays
— TBA vs. GCL Braves, 12:00 pm ET.
Lansing
—
Kendall Graveman
(0-0, 8.53) vs. South Bend, 12:05 pm ET.
Dunedin
—
Jesse Hernandez
(5-9, 3.53) @ Bradenton, 6:30 pm ET.
Buffalo
—
Chien-Ming Wang
(6-6, 2.62) @ Columbus, 7:05 pm ET.
New Hampshire
— TBA @ Bowie, 7:05 pm ET.
Bluefield
—
Zak Wasilewski
(3-1, 3.95) vs. Danville, 7:05 pm ET.
Vancouver
— TBA vs. Hillsboro, 10:05 pm ET.