The affiliates went just 3-4 on Tuesday night. Buffalo won a slugfest, Bluefield split a doubleheader and the boys in the Dominican won a game in overtime. Vancouver and Dunedin had the night off. Well, some of Vancouver had the night off as eight members of the Canadians played in the Northwest League All-Star game down I-5 in Everett.
Buffalo 12 Pawtucket 8



Buffalo, NY
—
Ricky Romero
was staked to a 7-0 lead after three innings. However, it all went to hell in a hurry as the beleaguered lefty gave it all back on eight hits and two walks, finishing just one out shy of the fourth. Four of the seven runs were the result of two homers, including one from
Will Middlebrooks.
Southpaw
Buddy Carlyle
(4-1) stranded a runner for Romero and delivered 2 2/3 shutout frames with just a hit and a walk while striking out six of the nine hitters he faced.
Jeremy Jeffress
stranded a runner for Carlyle and supplied 1 2/3 innings of scoreless relief with a walk and a strikeout.
Mickey Storey
was victimized by a Jeremy Hazelbaker solo homer, his second of the game. That was among the two hits he surrendered in the ninth.

Clint Robinson
started the offensive onslaught with a two-run double in the first, followed by a
Luis Jimenez
RBI double as part of a four-run inning.
Anthony Gose
slammed a two-run homer in the second inning. Back-to-back doubles by
Ryan Goins
and
Mike Nickeas
produced a run in the third. Back-to-back doubles by
Kevin Pillar
and Robinson and a
Ryan Goins
single plated three more runs in the fourth to put the Herd ahead for good. Goins singled home another run and
Munenori Kawasaki
got in on the act with an RBI single of his own in the sixth. Robinson doubled twice as part of a three-hit night. Goins also had three hits and walked. Gose singled and stole his 16th base to add to his third homer of the year.
Mike McCoy
singled twice and walked.

Bowie 2 New Hampshire 1


Manchester, NH
—
Marcus Stroman
(6-3) faced the minimum six batters in his first two innings but the Orioles affiliate got to him for two runs in the third on two singles and a double. He settled down to retire nine of the next 10 hitters and lasted seven frames. Stroman surrendered eight hits, struck out seven, walked nobody and induced nine ground ball outs. Of his 102 pitches, 71 of them were strikes.
Randy Boone
struck out one in a perfect eighth and
Alan Farina
struck out two in a perfect ninth.
The Fisher Cats got on the board first when
A.J. Jimenez
doubled home a
Kevin Nolan
single in the second inning. Jimenez, Nolan and
Andy Burns
all had two-hit performances with Burns chipping in a double.
Kenny Wilson
and
Brad Glenn
had the other singles.


Fort Wayne 3 Lansing 1


Fort Wayne, IN — Kendall Graveman
(0-1) put up zeros over the first four innings against the Padres affiliate, retiring 11 of 13 hitters at one point. The TinCaps got to him for two runs in the fifth, one of them unearned after catcher
Dan Klein
botched a bunted ball. However,
Carlos Ramirez
nailed a runner at home from right field to keep Fort Wayne's rally to two runs. In total, Graveman gave up four hits and two walks and struck out five over five frames. He had seven ground ball outs. Lefty
Griffin Murphy
struck out half of the six hitters he faced over two perfect innings.
Ian Kadish
allowed a run on two hits but struck out a batter in the eighth.
Lansing's solitary run came in the seventh when
Emilio Guerrero
doubled home a leadoff walk by
Jordan Leyland
.
Christian Lopes
had a two-hit effort and
Dalton Pompey
was aboard three times with a double and two walks.
Santiago Nessy
singled but had a hat trick.
Dwight Smith Jr.
drew a walk but was picked off by Padres 2012 first round pick
Max Fried
.


Princeton 3 Bluefield 2 - Game 1 (7 Innings)


Princeton, WV
—
Chase DeJong
(2-1) went the distance, posting a quality start in six innings. He scattered six hits and a walk but one of the hits was the game-losing homer in the sixth. He started a stretch of retiring nine of 10 hitters by fielding a bunt and throwing to first in time to prevent a runner from third from scoring for the final out of the second inning. However, that triple for the Rays scored their first two runs.
The Jays took advantage of a throwing error from the Rays third baseman, resulting in
D.J. Davis
and
Mitch Nay
scoring two runs in the first. Davis led off the game with a bunt single and Nay got aboard with a base on balls. Davis added a double for a two-hit night.
Dawel Lugo
and
Jonathan Davis
had the other base hits.
Bluefield 2 Princeton 0 — Game 2 (7 Innings)

Princeton, WV
— In a game that was to be played back on July 3, Bluefield made this 2-0 lead hold up.
Dawel Lugo
doubled home a
Mitch Nay
single and
Jesus Gonzalez
brought in Lugo with a sacrifice fly in the second inning. Lugo had a two-hit game.
Alexis Maldonado
and
Johnathan Davis
also put one in the hit column.
D.J. Davis
struck out twice and went 0-for-3.
Lefty
Zak Wasilewski
fired four shutout innings, yielding five baserunners (three hits and two walks) and striking out five. Five of his six outs in play were on the ground.
Yeyfrey Del Rosario
(3-1) pitched two frames of one-hit ball, striking out a pair. His ground ball to fly ball ratio was 4-1.
Brett Barber
struck out a batter in a perfect frame for his sixth save.

GCL Yankees2 8 GCL Blue Jays 1
Dunedin, FL
— Believe it or not, the Jays led this one until the top of the ninth. That's when the Gulf Bombers went off for eight unanswered runs.
Chad Jenkins
started this one and struck out two of the three batters he face.
Chad Beck
followed with a one-hit inning that included a K.
Clinton Hollom
pitched three shutout frames and struck out a pair. Lefthander
Jacob Brentz
walked one but added another scoreless inning.
Jimmy Cordero
went two innings and overcame a hit and a walk with two K's.
Kamakani Usui
(1-2) was beat up for five runs on three hits and a walk while only getting one out. Southpaw
Jose Fernandez
saw two inherited runners cross the plate and three of his own score on five hits over two-thirds of an inning.
The Jays only run came in the fourth when a ground ball double play from
Thomas Collins III
scored
Franklin Barreto
, who led off the frame with a double. That double was the only hit for the Jays. The only other Jay to get on base was
Nathan DeSouza
, who walked twice.
Rowdy Tellez
was 0-for-3.
DSL Blue Jays 3 DSL Tigers 2 (10 Innings)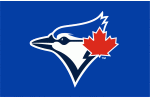 San Pedro de Macoris, DR
—
Juan Kelly
knocked home two of the three Jays runs, including an RBI triple in the tenth inning. Kelly singled home a run in the third and
Ronniel Demorizi
doubled home the other run as part of a two-run third.
Deiferson Barreto
and
Eddy Alcantara
joined Kelly in the two-hit club. Alcantara also walked twice while Kelly and Barreto walked once.
Juan Fuente
had two bases on balls. Richard Urena doubled but struck out twice.
Daniel Rodriguez
had an outstanding start as he delivered five shutout innings of one-hit ball. He walked two, struck out five and got eight ground ball outs. Lefty
Angel Perdomo
was dominant in his three perfect frames, striking out five of the nine hitters he face.
Jairo Rosario
was charged with two runs, one unearned, on two hits and a walk while not getting anyone out.
Pedro Diaz
(3-0) was unable to keep one of his two inherited runners from crossing the plate and got a blown save. He walked just one batter over two shutout innings.
Boxscores
Northwest League All-Star Game
South 8 North 7
Everett, WA
— The Canadians All-Star representatives made their mark on offense for the losing North Side.
L.B. Dantzler
went 2-for-4 with a two-run homer, a double and three runs batted in. His homer scored 
Ian Parmley
, who had a 0-for-5 night.
Justin Atkinson
also belted a two-run homer.
Michael Reeves
was 0-for-3 but scored a run. Brenden Kalfus was 0-for-4.
Dickie Thon Jr.
did not play.
Jordan Leyland
was called up to Lansing.
Pitching-wise,
Jeremy Gabryszwski
gave up a solo homer among two hits and a walk in the fourth inning. Lefty
Kyle Anderson
got a hold after striking out a batter in a perfect sixth.
Eric Brown
, the 10th C's representative, was called up to Lansing.
Boxscore
*** 3 Stars!!! ***

3. Buddy Carlyle, Buffalo —
A 23-3 K-BB total over his last 14 2/3 innings and a 71-17 mark over 52 2/3 innings on the season.

2. Marcus Stroman, New Hampshire
— His next strikeout will be his 100th and has walked just 21 hitters in 83 innings. Has a streak of seven quality starts in a row.
1. Anthony Gose, Buffalo
— Batting .286 in his last 10 games, with five of his 12 hits going for extra bases.
Wednesday's Probable Starters...
DSL Blue Jays
— TBA @ DSL Cardinals, 10:30 am ET.
GCL Blue Jays
— TBA vs. GCL Astros, 12:00 pm ET.
New Hampshire
—
Sean Nolin
(7-3, 2.94) vs. Bowie, 12:05 pm ET.
Dunedin
—
Aaron Sanchez
(2-4, 3.66) @ Lakeland, 6:30 pm ET.
Lansing
—
Taylor Cole
(6-10, 4.08) vs. West Michigan, 7:05 pm ET.
Bluefield
—
Alberto Tirado
(2-0, 1.72) @ Princeton, 7:05 pm ET.