The NHL should just send their hardware to Dunedin after another great start was turned in by the system's top pitching prospect. That's it for the good news as the other starting performances ranged from putrid to rancid on a 1-3 Tuesday night on the farm.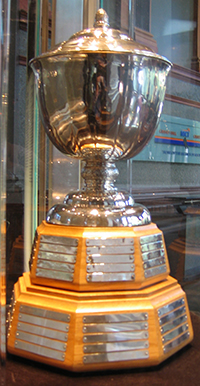 The Daniel, er,
James Norris Trophy
is awarded annually to the NHL's top defenceman. The more you know!
Indianapolis 6 Buffalo 1

Indianapolis, IN
-
Ricky Romero
(0-3) and the strike zone continue to be ships passing in the night. The embattled lefty started off well enough, setting down the side in order in the first and inducing a double play ball in the second to face the minimum over two frames. Trouble began to rear its ugly head in the third when Romero walked the bases loaded along with a double steal but he somehow managed to keep the Pirates affiliate off the board. The wheels finally come off in the fourth when he surrendered a run-scoring double that scored a walk before serving up a long ball in the fifth. Romero completed five frames and surrendered two runs on two hits and seven walks. He did strike out four and induced eight ground ball outs. Only 44 of his 98 pitches were strikes and he has walked 39 batters in 34.2 innings. These are control problems that would make
Ricky Vaughn
blush. Maybe he should get a pair of his glasses.

Shawn Hill
fared even worse as Indy raced around the bases three times on five hits and a walk over two frames, including a two-run homer. The Mississauga native had one strikeout and three outs via the ground ball. Lefty
Raul Valdes
gave up a triple and run-scoring ground out but did strike out one in the eighth.
The Bisons actually got the first run of the game in the fourth inning when a
Kenny Wilson
fielder's choice scored a
Dan Johnson
leadoff walk. Wilson singled, walked and stole a base in his Triple-A debut.
Brad Glenn
and
Matt Tuiasosopo
had two hits apiece with Glenn also getting hit by a pitch and stealing a base.
Ryan Goins
was 0-for-5.


Binghamton 6 New Hampshire 0 (Suspended - Bottom 2nd)

Binghamton, NY
-
The rain could not arrive in time to save
Matt Boyd
and the Fisher Cats from two early field goals in the first two innings. A
Kevin Plawecki
two-run double and a
Cory Vaughn
(son of Greg) sacrifice fly gave the B-Mets a 3-0 lead in the first. Plawecki ran his game RBI total to five with a three-run homer off Boyd in the second before the game was suspended. The southpaw pitched 1.2 innings and yielded six runs on five hits and three walks with only one strikeout. One of those walks was issued to former Jays farmhand
Travis d'Arnaud
. What should raise some eyebrows is the fact Boyd was actually allowed to throw 65 pitches, 37 of them for strikes.

Ryan Schimpf
managed the only Fisher Cats hit with a two-out double in the first. This game
will resume
tonight.


Dunedin 7 Charlotte 0


Port Charlotte, FL
- The Jays also had their way with the Rays affiliate in the Florida State League.
Dwight Smith Jr.
started the proceedings with a lead-off walk and scored on a two-out single by
K.C. Hobson
. The leadoff magic continued in the second when
Kevin Patterson
went deep for the fifth time this season to make it 2-0. Dunedin broke the game open with a four-run sixth, highlighted by a
Marcus Knecht
two-run triple. Knecht booted the extra point with an RBI single in the eighth.
Knecht had three hits while
Dalton Pompey
and
Christian Lopes
had two apiece. Lopes drew a walk to get aboard three times as did Smith Jr, who walked twice and singled. Patterson had a walk to go along with his dinger while
Derrick Chung
singled and walked. On the basepaths, Knecht and Pompey were both caught stealing. That was just the second time Pompey was caught this season as he is now 19-for-21.

Daniel Norris
(4-0) continues to be a force of one in the Florida State League, silencing the raging Stone Crab bats by scattering four hits and a walk over 5.1 scoreless innings. The lefty punched out eight batters but he bored the infielders the death as all seven of his outs in play were in the air.
Wil Browning
supplied 2.2 scoreless innings of relief, walking just one batter while striking out two and stranding a runner. Southpaw
Chad Girodo
finished up a perfect ninth with one strikeout.


South Bend 14 Lansing 4

South Bend, IN -
Is it just me or has there been more morning games for the affiliates this season? Canadian lefty
Shane Dawson
(2-2) might have preferred to stay in bed for this one. He coughed up three runs on 10 hits over four frames, including a solo homer. His strikeout and ground ball totals were three apiece and he walked no one.
Alberto Tirado
also wishes he napped through this one in the bullpen. He was bombed for a converted touchdown in two-thirds of an inning on three hits and three walks with only one K.
Phil Kish
got the final out of the fourth but not before allowing all three inherited runners to score on a double. He pitched 1.1 innings of scoreless ball. The nightmare resumed in the seventh when
Brady Dragmire
was pounded for three runs on four hits with one strikeout in the seventh. Lefty
Scott Silverstein
got to pitch on his 24th birthday and did not receive any nice gifts from the Diamondbacks affiliate as they scored a run on three hits and two walks in the eighth.
The Lugnuts managed to tie the game at 2-2 in the third inning after a bases-loaded walk by
Jorge Saez
and an RBI single from
Chaz Frank
. Lansing added their final two runs in the eighth as
Ian Parmley
grounded home a run and
Jason Leblebijian
doubled home the other.
Dickie Joe Thon
had the only two-hit game for the Lugnuts. Saez and Leblebijian were also on base twice with Saez getting a walk and Leblebijian taking one for the team.
Santiago Nessy
drew a pair of walks.
D.J. Davis
had a hit but struck out three times to run his season total to 74, tops in the Midwest League.
L.B. Dantzler
had a base on balls but
Mitch Nay
was 0-for-5.
Tuesday's Linescores

*** 3 Stars!!! ***


3. Dwight Smith Jr., Dunedin
- Continues to show a good eye at the plate with a .376 on base percentage and a walk-strikeout total of 25-22.

2. Marcus Knecht, Dunedin
- Toronto native is slashing .357/.357/.524 with five extra-base hits over his last 10 games.


1. Daniel Norris, Dunedin
- Lowered his ERA to 0.72 and has compiled a 60-14 K-BB total in 50.1 innings.

Wednesday's Games & Probable Starters...
Buffalo
@ Indianapolis, 1:35 pm ET - RHP
Kyle Drabek
(4-3, 4.07).
New Hampshire @ Binghamton, 5:35 pm ET -
Completion of suspended game + 7 inning game
- RHP Casey Lawrence (2-4, 3.90).
Dunedin
@ Charlotte, 6:30 pm ET - RHP
Kendall Graveman
(3-1, 3.38).
Lansing
@ South Bend, 7:05 pm ET - LHP
Matt Dermody
(2-1, 5.04).

Extra Innings...
Bob Elliott has a feature on New Hampshire's Andy Burns.
ESPN's Keith Law has released his Mock Draft 2.0 for ESPN Insiders. He has the Jays taking high school righthander Touki Toussaint from Coral Springs, Florida with the #9 pick and East Carolina righty Jeff Hoffman at #11. He also mentions the Jays are high on North Carolina State shortstop Trea Turner and Elk Grove, California high school outfielder Derek Hill. He says the Jays and Phillies are also interested in Canadian outfielder Gareth Morgan.
CanadianBaseballNetwork.com has a draft list of the top Canadians.