A pretty good day on the farm and an especially good one for the lone Canadian affiliate. It all added up to five wins in eight tries.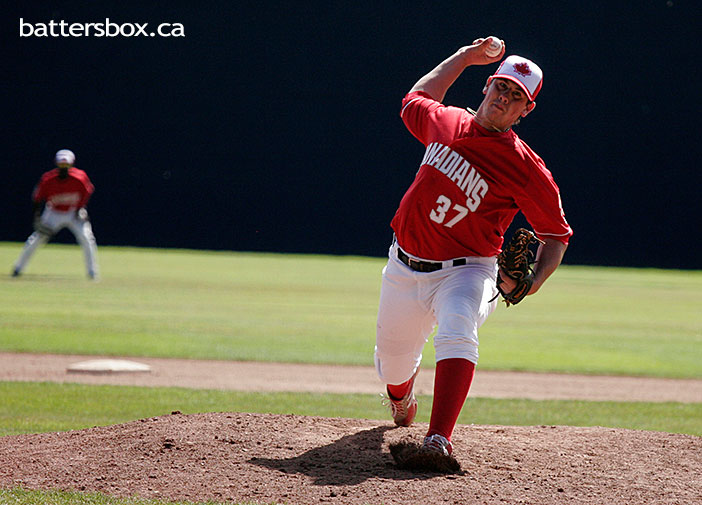 Canadian
Andrew Case
got to pitch for Vancouver on Canada Day at Nat Bailey Stadium.
Buffalo 5 Syracuse 4
(10 Innings)

Syracuse, NY
-
A.J. Jimenez
drove home the overtime winner with a double to score a
Dan Johnson
walk. The other Bison runs came in the fourth when
Erik Kratz
produced a sacrifice fly and
Jonathan Diaz
(of all people!) cleared the bases with a three-run double. You can say that about someone when they're hitting .158. Kratz, Jimenez and
Ryan Goins
were the two-hit trio with Goins stealing a base. Jimenez walked to get on base three times. The on-base leader was Johnson, who was 1-for-2 with three bases on balls.
Kevin Pillar
tripled and walked while
Jared Goedert
and
Ryan Schimpf
singled and walked.
Kenny Wilson
was 0-for-5.
Deck McGuire
got his card punched for three runs, two of them the result of homers, against the Nationals affiliate. He pitched 5.1 innings and gave up seven hits and two walks with only one strikeout. Six of his 11 outs were on the ground.
Rob Rasmussen
allowed the other run despite just one hit and three K's over 1.1 frames.
Luis Ayala
allowed that Rasmussen runner to score on one hit but struck out another in his two-thirds of an inning.
Mike "The Big" Zagurski
(3-0) limited the Chiefs to just one hit and struck out three over 1.2 innings.
Bobby Korecky
survived a pair of hits to close things out for his 10th save. His earned run average is just 0.60.

New Hampshire 6 Reading 2

Reading, PA
- A four-run frame also did the trick for the Fisher Cats as they produced their runs in the fifth.
Jack Murphy
mashed a two-run homer to score a
Pierce Rankin
double and
Andy Burns
belted his own two-run shot to plate a
Jorge Flores
single.
Kevin Nolan
also went yard in the sixth. The final run was a bases-loaded walk by
Dalton Pompey
. Burns, Nolan and Flores had two notches in the hit column. Murphy also walked and Pompey collected his first Double-A hit, a triple.
Mike Crouse
was the on-base leader with a hit and two free passes. Rankin also took one for the team to reach base twice. On the flip side,
Jon Berti
and
Mike McDade
wore 0-for-5 collars.
John Anderson
was one out short of qualifying for the W. In his 4.2 innings, he surrendered two runs on four hits with one K and no walks.
Dustin Antolin
(3-3) pitched a one-hitter over 2.1 frames with one punchout.
Randy Boone
also gave up just one hit over two frames, striking out a couple of Fightin Phils for his ninth save.
Dunedin 1 Clearwater 0

Clearwater, FL
-
Dwight Smith Jr.
knocked home the only run of the game in the eighth inning with a double to score a
Christian Lopes
pop-up single to second. Smith Jr. drew a walk and was the only Jay to reach base twice.
Emilio Guerrero
,
Andy Fermin
and
Nick Baligod
had the other base knocks.
Peter Mooney
and
L.B. Dantzler
got to hear ball four once.
Santiago Nessy
and
Gustavo Pierre
were both 0-for-4.

Kendall Graveman
was deserving of a win against the Phillies affiliate after going six shutout innings with just five hits allowed and a 4-0 K/BB total. Eight of his 12 outs in play remained in the diamond.
Justin Jackson
(4-1) struck out a batter in a clean seventh.
Efrain Nieves
threw a one-hit eighth with one strikeout while
Arik Sikula
also had a K in a perfect ninth for save number 16.


West Michigan 12 Lansing 4
Comstock Park, MI
- So much for a perfect day on the farm! The Tigers affiliate did quite a number on
Chase De Jong
(0-5), who could not get out of the second inning. In 1.2 innings, he was gonged for six runs on seven hits with a couple of strikeouts.
Brent Powers
had an organizational debut to forget. The former Oakland farmhand stranded a runner before browning out for a pair of runs on a hit and three walks over 1.1 innings.
Matt Dermody
lasted three frames and was cuffed around for two runs on four hits, including a home run.
Scott Silverstein
allowed the same number of runs and hits as Dermody but over two innings. Dermody and Silverstein both struck out two hitters but Dermody walked one.
The Lugnuts held a 1-0 lead after
Anthony Alford
led off the game with a single, stole second, advanced to third on a
Dickie Joe Thon
groundout and scored on a
Mitch Nay
single. The other runs came in the fourth on an error and RBI groundouts by Alford and Thon. Alford was 1-for-4 with two strikeouts in his Lansing debut.
Daniel Klein
had the lone extra-base hit with a double.
Matt Dean
,
Dawel Lugo
and
Chaz Frank
also put a one in the hit column with Frank stealing a base.
Jason Leblebijian
walked and was hit by a pitch.
David Harris
also took one for the team.
Derrick Loveless
was 0-for-1 after replacing Alford.
Vancouver 8 Salem-Keizer 4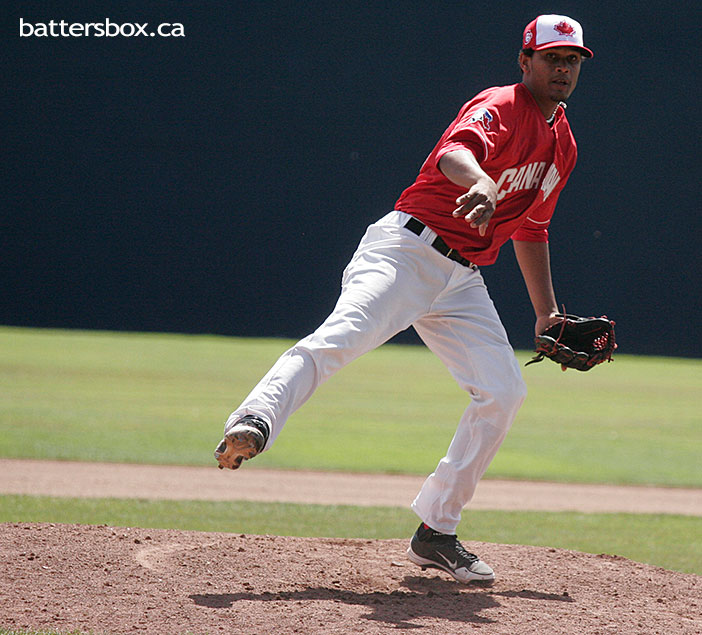 YDR winning in YVR!
Yeyfry Del Rosario
earned his first win of the season with 2.1 innings of shutout relief.
---

Vancouver, BC
- The parent club were not the only winners on Canadian soil. The C's broke out on top with three runs in the first two innings on RBI singles by
Franklin Barreto
and
Chris Carlson
in the first and by
Roemon Fields
in the second.
Seth Conner
highlighted a three-run third with a two-run double before scoring on a
Michael De La Cruz
base hit. De La Cruz doubled home another run in the fifth. An error led to the final run in the sixth. Every Vancouver hitter was represented in the hit column. De La Cruz doubled twice while Fields and
Tim Locastro
had two-hit afternoons with Locastro stealing a base. Carlson had three walks to go with his single. Barreto and
Jonathan Davis
also swiped a base.
Ryan Metzler
singled and walked and
Ryan McBroom
added a double.

Zak Wasilewski
finished one out short of the victory line. Over his 4.2 innings, the Giants affiliate scored twice on seven hits, a walk and a hit by pitch off the lefty. Wasilewski struck out three and seven of his nine outs in play were on the grass.
Yeyfry Del Rosario
(1-0) threw his fellow pitcher a lifeline by stranding the bases loaded and scattering a hit by a pitch and a walk over 2.1 hitless frames that included three strikeouts.
Kamakani Usui
coughed up a run on two hits and a plunk in the eighth. New Brunswick native
Andrew Case
was greeted by a
Christian Arroyo
homer in the ninth but got the next three hitters, striking out one.

Bluefield 13 Princeton 9

Bluefield, WV
- The Jays hacked up a 7-2 lead before rallying late. They pounced on the Rays with a four-run first inning.
Dan Jansen
singled home the first run,
Trent Miller
doubled home two more and
Gabriel Cenas
singled home another.
Josh Almonte
had an RBI single in the second and that was followed by a two-run fourth when
Jesus Gonzalez
tripled home a run before scoring on a
Richard Urena
sacrifice fly. Cenas hammered his first homer of the year, a three-run shot in the seventh, to give the Jays the lead for good. Miller doubled home another run as part of a three-run eighth. Cenas was 3-for-5 and was a triple short of the cycle. Almonte had the other three-hit effort for Bluefield. Jansen, Miller and
Rolando Segovia
had two-hit efforts. Gonzalez and Urena both had a hit and a walk apiece.
Rowdy Tellez
and
Austin Davis
were both hitless but they did earn a walk apiece.

Joey Aquino
put in a nice five-inning effort as he held the Rays to two runs on three hits and a walk. His strikeout and groundout totals were four and five respectively.
Alberto Guzman
got through the sixth inning with no problem but he blew the save spectacularly as he was pounded for seven runs on seven hits in an unlucky seventh. Guzman served up a homer and plunked a hitter but he struck out a pair over 1.2 frames.
Michael Kraft
(1-0) came to the rescue like he was serving dinner to a desperately hungry man. He stranded a Guzman runner and worked around a hit and a walk with two K's over 1.2 shutout innings.
Dusty Isaacs
gave up a hit in the ninth but got the last two outs via the strikeout to wrap it up.
GCL Tigers 8 GCL Blue Jays 2
Dunedin, FL
- Starter
Conner Greene
(0-1) and
Bobby Wheatley
turned in eerily similar efforts. They both pitched 3.2 innings, gave up two home runs and walked one batter. Greene was lit up five runs on five hits but struck out seven. Wheatley allowed an inherited runner to score and was chafed for three runs on seven hits but struck out a pair.
Jonathan Torres
walked two but struck out one and stranded one over 1.2 scoreless frames.
An
Edwin Fuentes
sacrifice fly in the third and a
Deiferson Barreto
single in the seventh brought in the Jays two runs.
Freddy Rodriguez
singled twice and the only double belonged to
Yeltsin Gudino
.
Juan Tejada
singled, walked and was a hit by a pitch.
Lane Thomas
,
John Silviano
,
Brett Wellman
had the other hits. Wellman and Barreto also earnaed a free pass.
Matt Morgan
was 0-for-4.

DSL Mets2 6 DSL Blue Jays 4
San Pedro de Macoris, DR
-
Osman Gutierrez
got the start and lasted 3.2 innings in which he yielded a pair of runs on four hits and three walks with one K.
Wilfri Aleton
(0-2) stranded the bases loaded but surrendered three runs on three hits and two walks over 1.1 innings that included a whiff.
Jose Diaz
scattered a hit and two walks and struck out a batter over 1.2 scoreless frames. He allowed one of two inherited runners to score.
Pedro Diaz
stranded two runners but coughed up a run on a hit and two walks with one strikeout over two-thirds of an inning.
Jairo Rosario
stranded a runner and struck out a batter over two-thirds of a shutout frame.
A
Francisco Rodriguez
plated the game's first run in the first inning.
Enmanuel Moreta
and
Bryan Lizardo
delivered run-scoring singles in the sixth and
Javier Hernandez
stole home as part of a double steal that saw Lizardo take second.
*** 3 Stars!!! ***

3. A.J. Jimenez, Buffalo
- Hit .302 in June and has a five-game hitting streak (10-for-23) with three multi-hit efforts. Is it me or does he look like Alex Rios?


2. Kendall Graveman, Dunedin
-
Last four starts in a row and six of his last seven have been deemed quality ones (3 earned runs, 6 innings).

1. Gabriel Cenas, Bluefield
- Has at least one hit in six of his first 10 games to go along with three doubles and a home run.
Tuesday's Linescores
Extra Innings...
The Vancouver Province has a story on pitcher Miguel Castro, a feature on Roemon Fields, a word with Ryan McBroom and a chat with Seth Conner.
The Bluefield Daily Telegraph has a piece on Michael Kraft.


Wednesday's Schedule & Probable Starters...

DSL Mets2 @ DSL Blue Jays, 10:30 am ET - TBA.
GCL Yankees2 @ GCL Blue Jays, 12:00 pm ET - TBA.
Scranton/Wilkes-Barre @ Buffalo (DH), 5:35 pm ET - P.J. Walters (2-0, 1.50) & Raul Valdes (3-1, 3.70).
Lansing @ West Michigan, 7:00 pm ET - Brad Allen (3-1, 4.46).
New Hampshire @ Reading, 7:05 pm ET - Radhames Liz (0-1, 1.11).
Salem-Keizer @ Vancouver, 10:05 pm ET - TBA.