The affiliates played .500 ball on Wednesday, featuring a come-from-behind victory and a come-from-ahead loss. One of the clubs put up a 10-run inning but it was almost not enough.
Buffalo 5 Indianapolis 4

Buffalo, NY
- The Herd rallied from a 4-0 deficit to pull out a win against the Pirates affiliate. A
Brett Wallace
two-run home run in the fourth put the Bisons on the comeback trail and he ended it with a walk-off single in the ninth.
Sean Ochinko
's solo poke over the wall had tied it in the seventh. Wallace had a three-hit night while Ochinko had two hits.
Darin Mastroianni
singled and walked twice.
Kevin Pillar
and
Jonathan Diaz
had a single, a walk and a stolen base.
P.J. Walters
was whacked for all four runs on eight hits in six innings with a 4-3 K-BB total and an
Andrew Lambo
homer on his line.
Sergio Santos
and
Kyle Drabek
pitched perfect innings and
Bobby Korecky
(5-1) overcame a hit with two K's in the ninth.


New Hampshire 7 Binghamton 2

Binghamton, NY
- Two batters in, the Fisher Cats got on the board quickly.
Jon Berti
led off the game with a single and
Matt Newman
sent him home with a two-run dinger. An RBI double by
Derrick Chung
and an RBI single by
K.C. Hobson
also happened in inning number one.
Cory Aldridge
had the other RBI with a run-scoring single in the ninth. Berti had a 4-for-5 night at the dish with a pair of doubles. Burns and Chung were 2-for-5 with a double apiece.
Casey Lawrence
(8-5) pitched to plenty of contact in his seven innings. He managed to hold the Mets down to two runs on seven hits and a walk. He only struck out a pair and of his 16 outs in play, seven were on the ground.
Mickey Storey
finished up the last two frames with only one hit and one walk allowed. He struck out a trio of hitters to get his second save.

St. Lucie 4 Dunedin 3

Port St. Lucie, FL
- The D-Jays spotted the Mets a four-run lead and fell short in their comeback bid. All of their runs came in the eighth inning on a
Gustavo Pierre
base hit and a
Christian Lopes
two-run double. Lopes had three hits but
Ian Parmley
was the on-base leader with two hits, including a double, and two walks.
Shane Opitz
singled and walked twice while
Marcus Knecht
singled and walked once.
Matt Boyd
(5-2) was victimized for an unearned run out of the two he allowed.
Gustavo Pierre
's 21st error from third base led to the Mets first run of the game. Boyd racked up five K's and split his eight outs evenly on the grass and in the air.
Ben White
coughed up the other two runs on three hits and a hit batter in the sixth.
Jonathan Waldling
had a one-hit seventh while
Wil Browning
had a one-walk, one-HBP and one-K ninth.

Dayton 3 Lansing 1

Lansing, MI
- A three-run first inning by the Reds affiliate held up against the Lugnuts.
Brad Allen
had an unearned run out of three on his pitching line after back-to-back errors by
D.J. Davis
in center field. Allen rebounded to put up five shutout frames after the first. He allowed eight hits and a walk, striking out six and getting all eight of his outs in the air.
Roberto Espinosa
pitched two perfect frames with four K's and
Phil Kish
had a one-two-three ninth.
The Lugnuts only run came on an error in the second inning. They managed just three hits by
Dawel Lugo
,
Mitch Nay
and
Derrick Loveless
- whose knock was of the pinch variety. Lugo walked once but he was outdone in the on-base department by
Chaz Frank
, who walked thrice and was 1-for-2 stealing bases.
Matt Dean
and
Jason Leblebijian
drew one free pass apiece.
Boise 8 Vancouver 7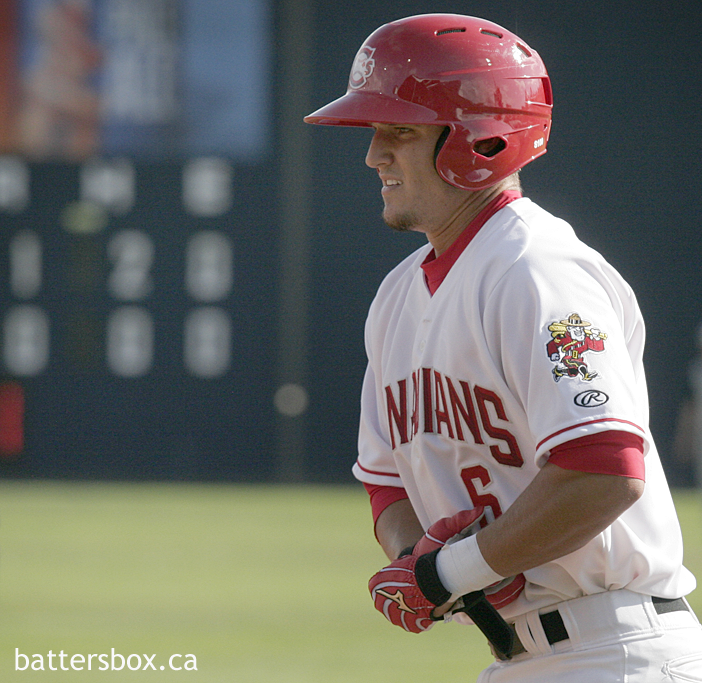 Max Pentecost
had an RBI triple as part of a two-hit performance and scored a pair of runs as the designated hitter in Boise Wednesday.
Boise, ID
- The Canadians blew a 7-0 lead against the Cubs affiliate in the first meeting between the teams since the C's beat the Hawks in last year's Northwest League final.
Franklin Barreto
's sac fly helped Vancouver take a 1-0 lead as part of a two-run first inning.
Tim Locastro
was responsible for both runs in the second by singling one home and scoring the other after stealing third and scoring on an error by the catcher. A
Ryan McBroom
fly ball cashed in a
Max Pentecost
triple in the fifth and
Roemon Fields
doubled in two runs in the sixth. Pentecost, McBroom,
Chris Carlson
and
Boomer Collins
all shared the hit lead with two apiece. Fields and Locastro singled, walked and stole a base. Barreto also swiped a bag.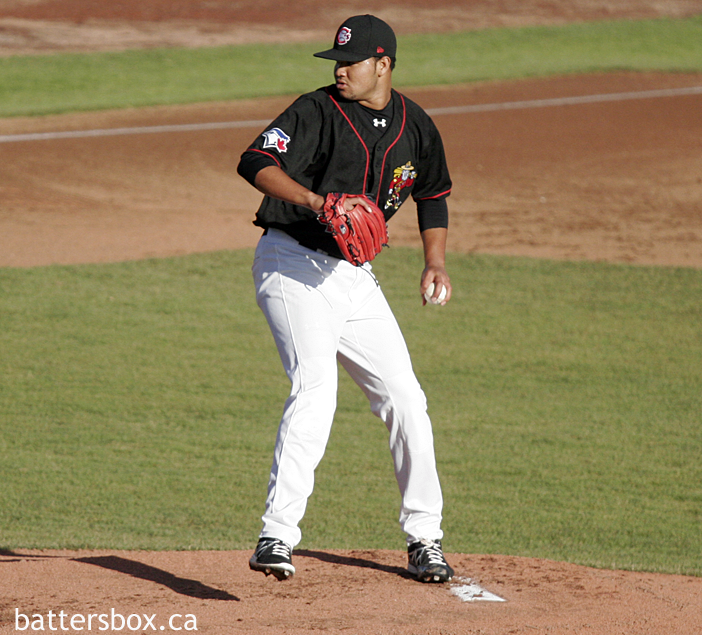 Jairo Labourt
spun five shutout innings in Boise Wednesday night but a bullpen meltdown led to him getting a no-decision.
Jairo Labourt
made his first appearance in Boise since Game 1 of last year's championship final, striking out 10 that day but taking the loss. He was in line for the win after five shutout frames of two-hit ball. Labourt walked four but struck out six and all five outs in play stayed in the diamond.
Tim Mayza
gave up the first run in the sixth but struck out a pair.
Alberto Tirado
struck out a batter but he was tonged on for five runs on four hits and a walk in two-thirds of an inning.
Jose Fernandez
was charged with an unearned marker on a Barreto error at short in 0.2 innings.
Adaric Kelly
(1-1) shared the same fate as Fernandez in his 0.2 frames but it was Locastro's error at second that gave the Hawks the walk-off victory.

Bluefield 13 Johnson City 6

Johnson City, TN
- This was actually a 2-2 game heading into the seventh before the Jays busted it open against the Cardinals. Bluefield got back-to-back runs in the second and third innings on a
Jesus Gonzalez
single and an
Aaron Attaway
groundout. Gonzalez and
Dan Jansen
restored their two-run lead with solo homers in the seventh. Jansen drew a walk with the bases loaded to kick-start a six-run eighth.
Gabriel Cenas
followed with a run-scoring single and Gonzalez plated another with a groundout. A wild pitch, a
Rolando Segovia
double and a
Richard Urena
triple accounted for the other three runs in the frame. A Cenas RBI double and a Gonzalez triple added two more runs in the ninth. For those of you keeping track, Gonzalez was a double short of the cycle. The six-pack of Urena, Jansen, Cenas, Segovia,
Trent Miller
and
Rowdy Tellez
all had two hits. Jansen walked twice while Tellez and Segovia added one to their BB totals.
Matt Smoral
gives up no runs over four innings and gets a no-decision but
Francisco Rios
(3-1) gives up six over four frames and gets the win? That's right up there with pitchers getting unearned runs when it's the pitcher who makes the error. Smoral's mistake was pitching the first four frames in which he gave up only three hits and had impressive ratios of 4-1 and 6-1 in the K-BB and GO-FO departments respectively. Two of Rios' six runs were unearned but he was roughed up for six hits and four walks while getting 3 K's.
Chase Wellbrock
had a hit and a strikeout in a scoreless ninth.
GCL Braves 7 GCL Blue Jays 0 Kissimmee, FL
- The Braves blew up
Sean Reid-Foley
(1-1) for six runs in 2.1 innings with six hits and three walks. He only struck out one but all five of his outs in play were on the grass.
Angel Perdomo
allowed an inherited runner to score and walked five hitters but still managed to pull off 3.2 scoreless frames. He struck out two as did
Francisco Diaz
, who accomplished that feat in just one inning.
Joe Claver
had a K but coughed up a run on one hit in the ninth.
Cole Gillespie
was installed as the leadoff hitter and got a single and a walk but was also caught stealing.
Yeltsin Gudino
and
Andres De Aza
had the other hits.
Cliff Brantley
and
Lane Thomas
were both 0-for-4.
Matt Morgan
struck out in all three of his plate appearances.

DSL Blue Jays 12 DSL Brewers 11

San Pedro de Macoris, DR
- The Jays led by two runs, trailed by three, led by five and tried their best to blow it but the Brewers eventually decided to pay the cheque.
Francisco Rodriguez
doubled in a run in the second inning and
Enmanuel Moreta
scored another with a single in the third. The offence stayed quiet until they erupted for a 10-run eighth inning.
Bryan Lizardo
started the slaughter with a two-run double,
Edward Olivares
and
Junior Vasquez
added RBI singles and
Rodrigo Orozco
scored two with his base hit. Two errors led to the next two runs before Lizardo doubled in another and
Ronniel Demorizi
drove in the winner with a ground ball. Lizardo led the hit parade with four and Rodriguez got aboard four times with two hits and two walks.
Miguel Almonte
had two hits and a walk and
Javier Hernandez
had the other two-hit effort. Demorizi and Orozsco stole a base.

Yonardo Hernandez
was one out short of a five inning outing as he gave up five runs, four of them the result of a pair of two-run homers, on five hits. He struck out five, walked nobody and got six of his eight outs in play on the ground.
Luis Gomez
(3-1) got nicked for a run on three hits but struck out six with zero walks over 3.1 innings.
Thony Vincio
struck out a batter but that was the only out he got as he was thumped four fours.
William Zambrano
also struck out a batter but that was the only one he retired as he was charged for a run and allowed both runners he inherited to score.
Pedro Diaz
also whiffed a batter and that was the only batter he set down but the good news was that was the final out of the game. He stranded the potential tying and winning runs on base for his fourth save.
Wednesday's Linescores
*** 3 Stars!!! ***

3. Jesus Gonzalez, Bluefield
- A three-game streak of no strikeouts after whiffing 45 times in his previous 96 at-bats.

2. Jon Berti, New Hampshire
- A seven-game hit streak, a .995 OPS in his last 10 games and 33 stolen bases on the season.

1. Brett Wallace, Buffalo
- A three-game hitting streak in which he has gone 5-for-12 with a home run and four runs batted in.
3 Stars images from
MiLB.com
.