There are two major league ballparks in the city of Chicago...


...but only one that carries a significant place in Baseball history...**(I'm starting a new occasional feature here on Da Box called "A Day At The Ballpark", where I recount an experience I have had at a baseball field. It won't necessarily be a major league park or even a field where a professional team plays. We'll see how this goes)**
Wrigley Field. The Friendly Confines, the home of the ivy walls and the bleachers on rooftops across the street from the ballpark. It is a rare place in that it has changed so very little in the span of a century. This is about to change, however, as the current Cubs ownership are planning a massive, half-billion dollar renovation to Wrigley that is likely to drastically change the entire ballpark experience there. Luckily I was fortunate enough recently to have the opportunity to see Wrigley in it's current un-modernized form.
While the Chicago subway does stop right outside Wrigley Field, Mrs. Eephus and I decided on taking the bus to the stadium. Coming from quiet Logan Square, we caught the Kimball bus to Addison and awaited that bus to go eastbound. It was a hot, sunny afternoon in the Windy City (surprisingly unwindy) and I was trying to hide under some fleeting shade without success. The bus arrived and was packed with the blue shirts and red Cs of Cubs fans, so many so that we weren't sure the two of us would even fit on the bus. Fortunately, the driver was no stranger to shuttling large crowds to the ballpark and let us on so long as we went as far back as we could.
This particular bus was filled with Rizzo jerseys (he had recently been named to the all-star team). I was wearing my Jays hat (I figured my Reds hat would be too cheeky) which evoked no reaction from the folks surrounding us (it's not like the Cubs and Blue Jays have any kind of history). During the ride I eavesdropped on a moment in a conversation between two Cubs fans:
"It seems like all the criminals or gangsters you see wearing baseball gear, it's always Yankees or Sox, Braves or Dodgers even. Never anything Cubs."
"Yeah, Cubs gear is definitely the least threatening in all of sports."
Never thought of it that way. Anyhow, the traffic on narrow Addison was extremely backed up with tons of folks either heading to the game or trapped in the current of people trying to get there. For a moment I wondered why such a small street was a primary way of reaching a large sporting venue until I remembered: Wrigley is really old. Probably older than most of the neighborhood around it. Cars were a fairly
new invention
when this place opened up. I guess that makes sense.
We still arrived at the park with plenty of time to spare before first pitch. Once we got off the bus and found our bearings, an incredible sensation overtook me that I'm certain has claimed many thousands of others throughout the decades: a physical rush of being in a place with so much history and so many stories that the moment you are there seems to be in several different places at once. People have been coming to this park for a hundred years to watch some of the greatest players to ever wear a uniform. When one tries to imagine such a place, the natural inclination is to visualize it so monstrously large that it feels impenetrable. Wrigley Field is nothing like that. The south part of the ballpark is surrounded by something like a bustling seaside marketplace: shops and streetside vendors selling Cubs hats, shirts, programs and bottles of water (only a dollar!) to all of the fans off to see the game. Once the bus rolled off, the famous red marquee welcomed us to Wrigley Field, Home of the Chicago Cubs, yet it was the two of us from another country who felt at home.
We went inside and wandered about the concourse for a bit. There are typical concession-type things like beer vendors, hot dogs, popcorn and all that. There was a booth for people to get certificates of "My First Game At Wrigley Field" where they would write your name and the date for you. They misspelled my name (happens a lot) and Mrs. Eephus and I chuckled about it. Also chuckle worthy was a banner on the first level with "Emilo Bonifacio, 64" with a picture of our old utility player ready to crush a pitch. Oh, if only they had known. Eventually the first pitch was minutes away so we climbed up to the second level and found our seats.
One could describe Wrigley as the Spiderman of big league stadiums: just your friendly neighborhood ball park. And really, the surrounding neighborhood is such a big part of what this place is. Other parks I've been to like Citi Field, Oakland Coliseum and our Dome here in Toronto are all fine parks to watch a game (okay, not Oakland) but those stadiums are primarily what that little section of town is about. If those parks were dropped in from the sky, Wrigley was grown from the ground with the buildings around it: you really can't imagine one without the other. What excited me most beforehand about seeing a game there (aside from being able to tell people I'd seen a game there, heh heh heh) was to look off into the outfield and see the famous rooftop bleachers across the street. The first sight of that did not disappoint. Again, to watch a major league game and see something like that makes you feel like you're not in a sporting venue, you're in an actual park open to everybody, even if you've gotta pay to get in.
The game itself looked good on paper: Travis Wood against Julio Teheran. For some reason I thought Wood was a lot better than he was (his 2014 has been very rough) so once the Braves were up 8-0 after three innings that little notion of mine quickly changed. For much of the day I was keeping an eye on the great green scoreboard in centerfield to see how the Reds and Blue Jays were doing (Cincinnati beat the Pirates while Toronto could not even manage a whimper against David Price). While I can understand the difficulty in labor and lack of necessity of using a manually operated scoreboard in such a digital age, it just looks so darned
cool.
The suspense of waiting for a number to change in either of those games was extremely fun, especially since it doesn't say how many outs there are. I found myself often thinking: "the Jays have been batting for a while now. That's a good sign!" Also interesting was for the White Sox game, they were simply listed as "CHI" and not "Sox". Those guys could play on a different planet, for all Wrigleyville cares.
Down 10-2 going into the bottom of the seventh, Chicago rallied for a couple to make it 10-4. Then in the bottom of the eighth, the Cubbies put another rally together. They drew a trio of walks around a single to make it 10-5. Suddenly, the tying run was on deck with one out. Atlanta pitcher Jordan Walden threw a pitch that bounced several feet away from catcher Gerald Laird and Starlin Castro came charging home. Laird recovered and made a quick flip to Walden covering home, who tagged Castro out. The play was reviewed (remember, there's no big video board at Wrigley) but Castro remained out. (Actually, where we were sitting there was a television above us which was broadcasting the game. He was probably out.) It proved costly for the Cubs as that batter, Jeff Baker, ripped a double that scored the remaining two runners on base. It was 10-7 but Chicago could not get anything more that inning. Worst of all, now it was Kimbrel time.
"Kimbrel Time?" I said aloud to myself. "I gotta get close and see this!"
We slipped down to about ten rows back of home plate (we were right behind there anyway) and watched as the great Braves closer warmed up. There are so many different perspectives to watch a pitch travel that I feel it's extremely difficult to fully appreciate how hard these men throw. Watching on television you are likely to think these balls aren't traveling quite as fast as they actually are, likewise if you're watching a game from the outfield bleachers or from the upper deck: the distance skews our perception of it. I've played a bit of competitive baseball and the hardest throwing pitcher I ever faced probably hit eighty to eighty-three on a good day, in other words Mark Buehrle velocity. But let me tell you, a baseball thrown at eighty miles-per-hour comes on you so quick you've got to start your stride before the ball even leaves the pitcher's hand. Being in the batter's box is the closest you can possibly be to truly gauge how hard a pitcher throws (being a catcher is a close second, home plate umpire a very close third) As a batter I will never have to face Craig Kimbrel in my life, and I am extremely happy that is the case.
Watching the warmups I thought "Okay, he throws hard. But I knew that anyway. Watching him on TV and their radar guns have told me that." Once he actually took the rubber to face his first hitter (Anthony Rizzo I think), his first pitch hissed through the strikezone with such ferocity I'm sure from ten rows up that I flinched. For me, facing a pitcher who throws eighty is uncomfortable enough, but at least you can see the ball for maybe half of a second before it hits the catcher's mitt. I could barely see Kimbrel's fastball that long from
a hundred feet
away. And it doesn't help that the guy looks in for the catcher's signs like an enormous hungry cat waiting to pounce on you. After a diet of hard fastballs that Rizzo struggled to keep up with, Kimbrel put him away with an evil slider down and in. Can't blame the Cubs star for that one.
The Braves won it 10-7 and while the game was exciting at times, what I'll remember a long time from now isn't that result but the experience itself, an experience that Wrigley Field itself provides. Despite all of the history, all of the great players and great moments that have happened in this cathedral of baseball, Wrigley does not intimidate or make you feel small. It simply whisks you away with its many charms.
Let's call it,
Ten ivy covered walls out of ten.


Here are some pictures while we're at it: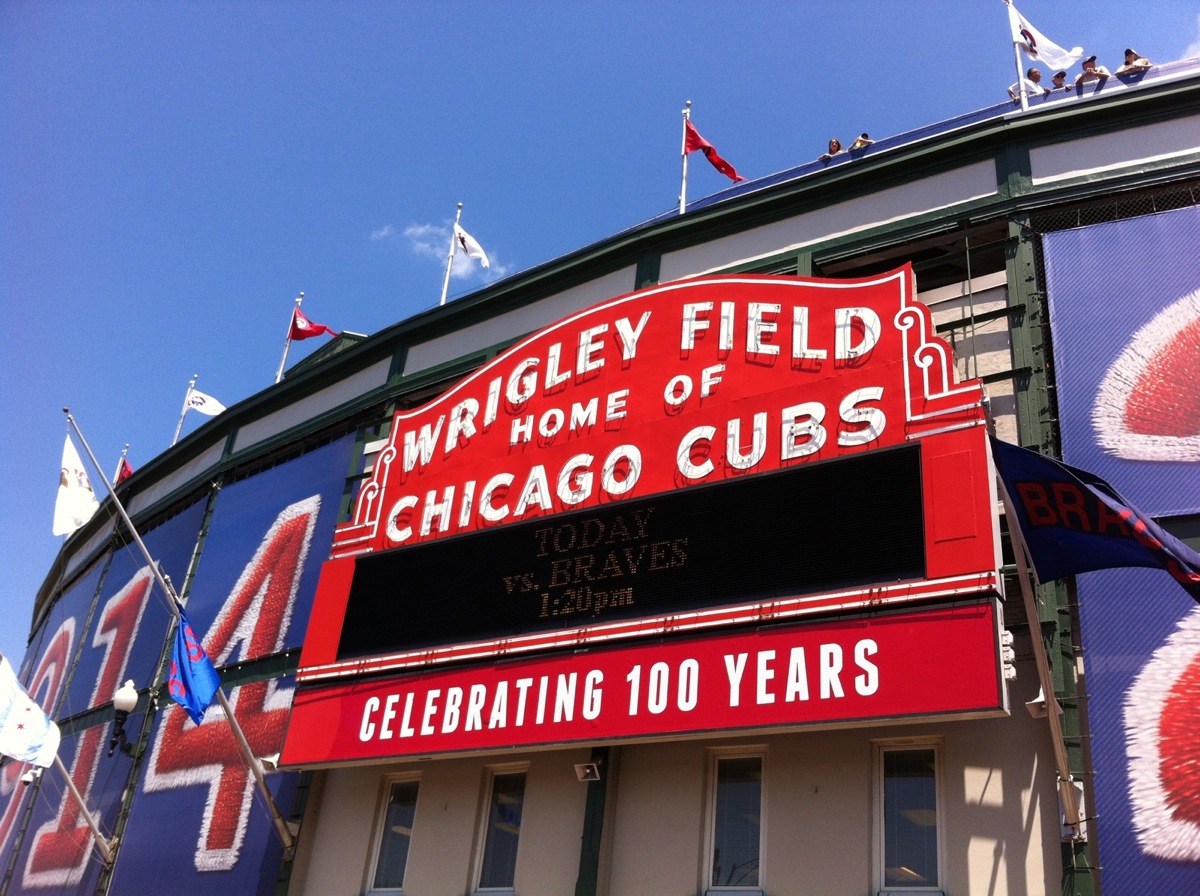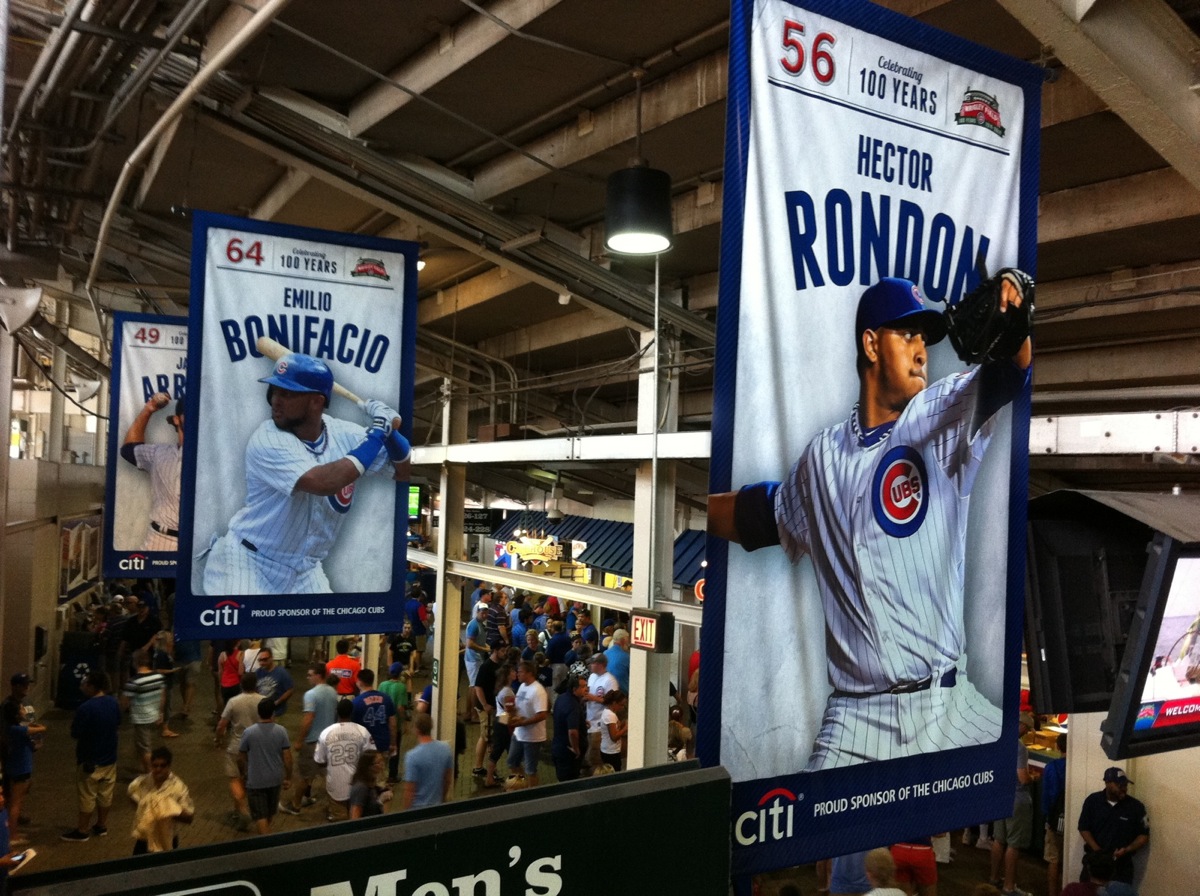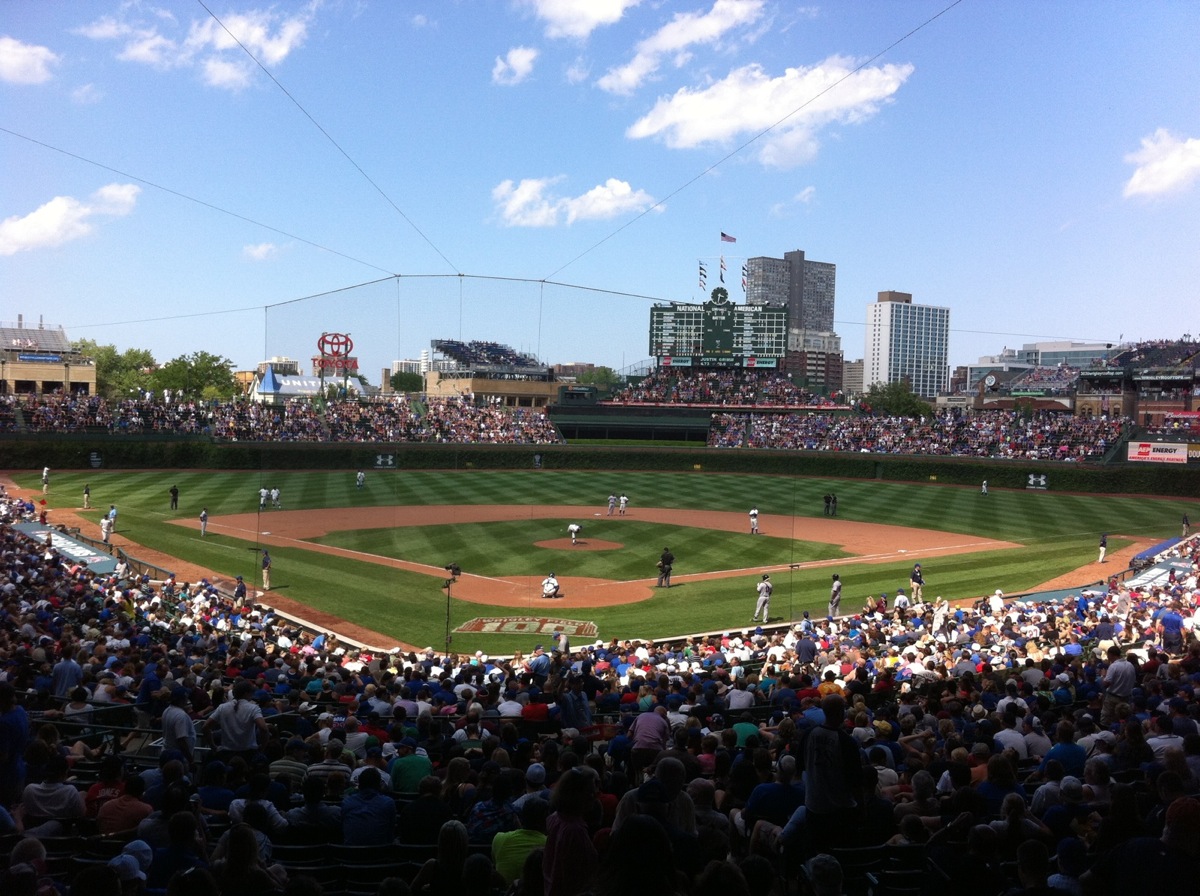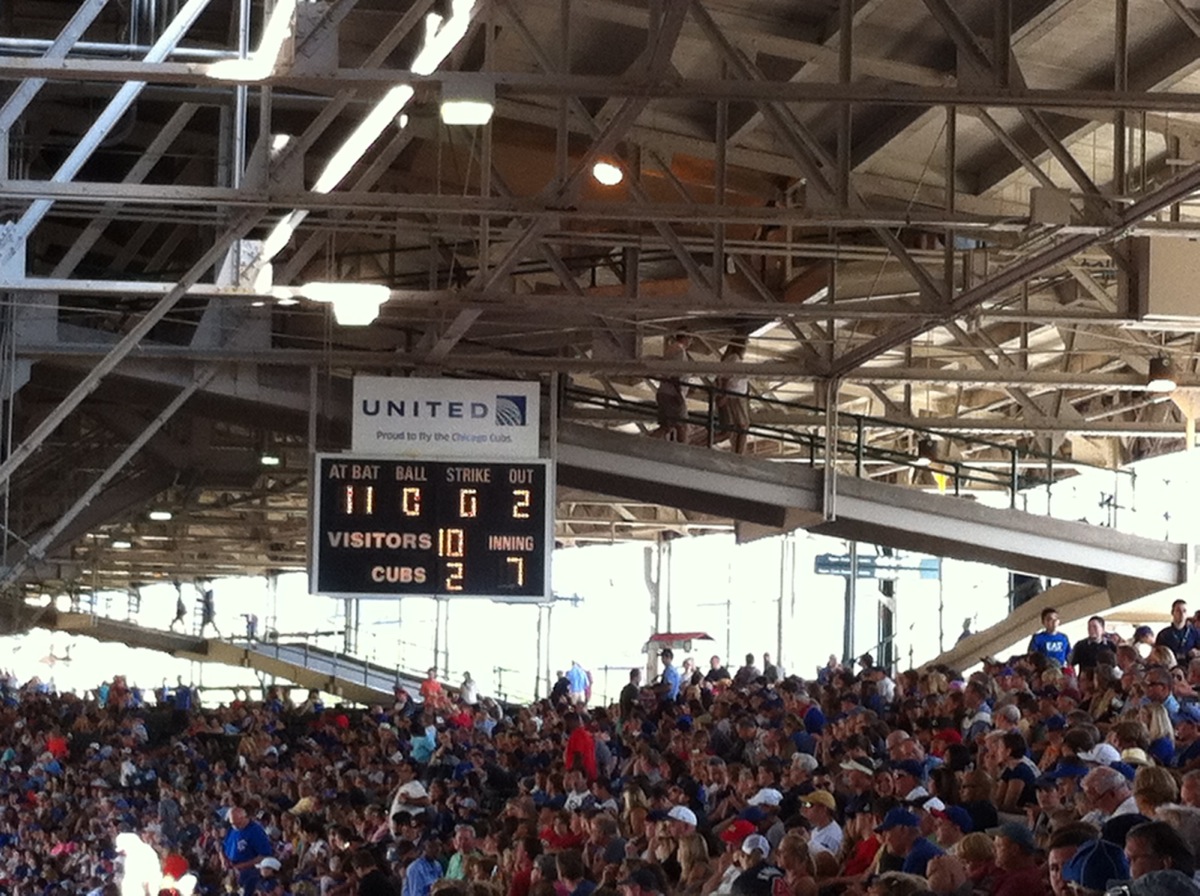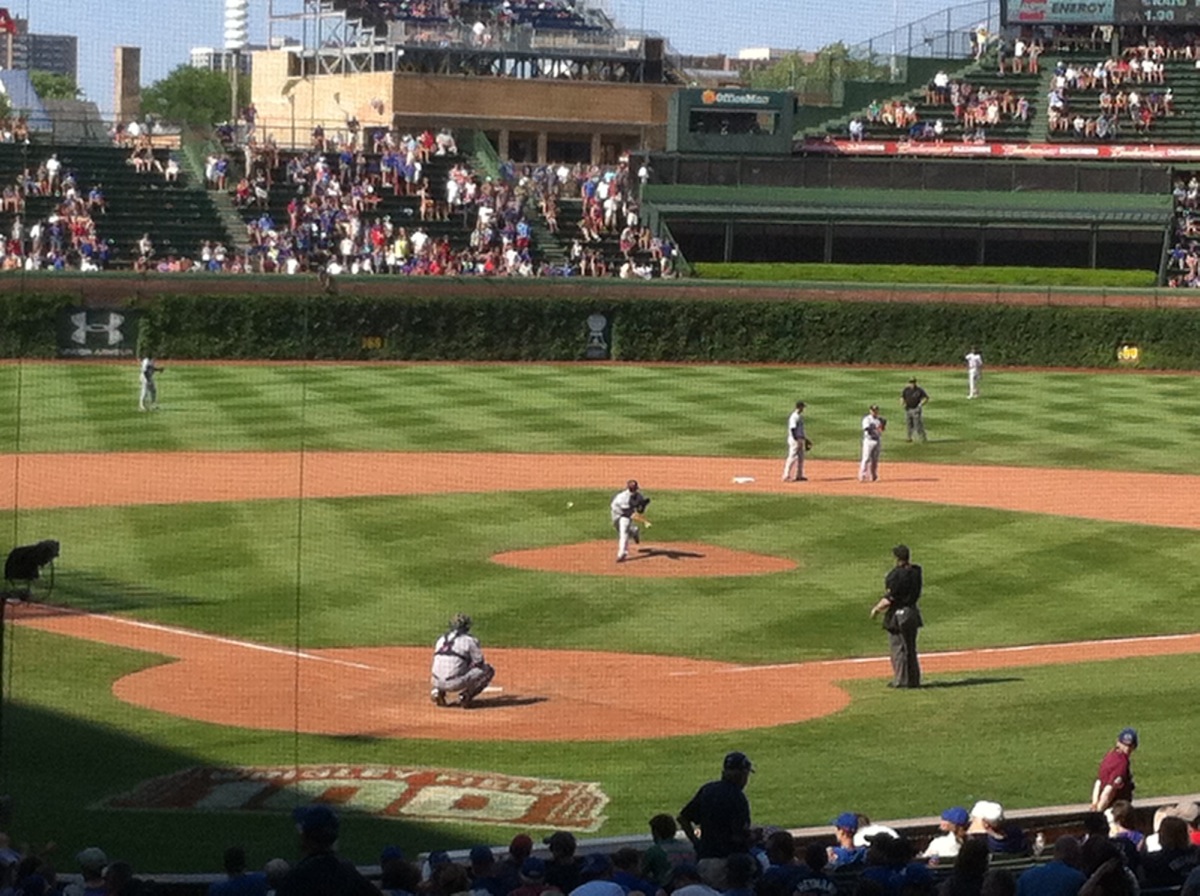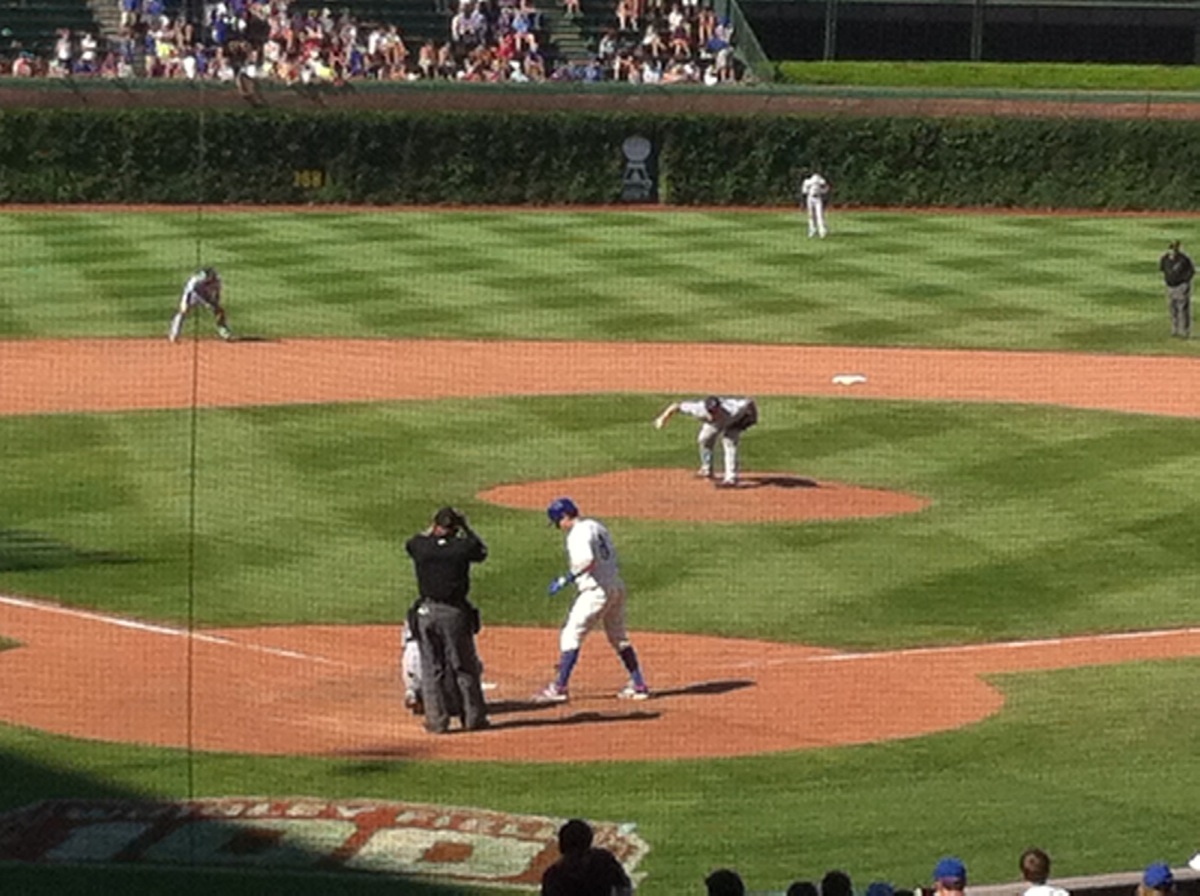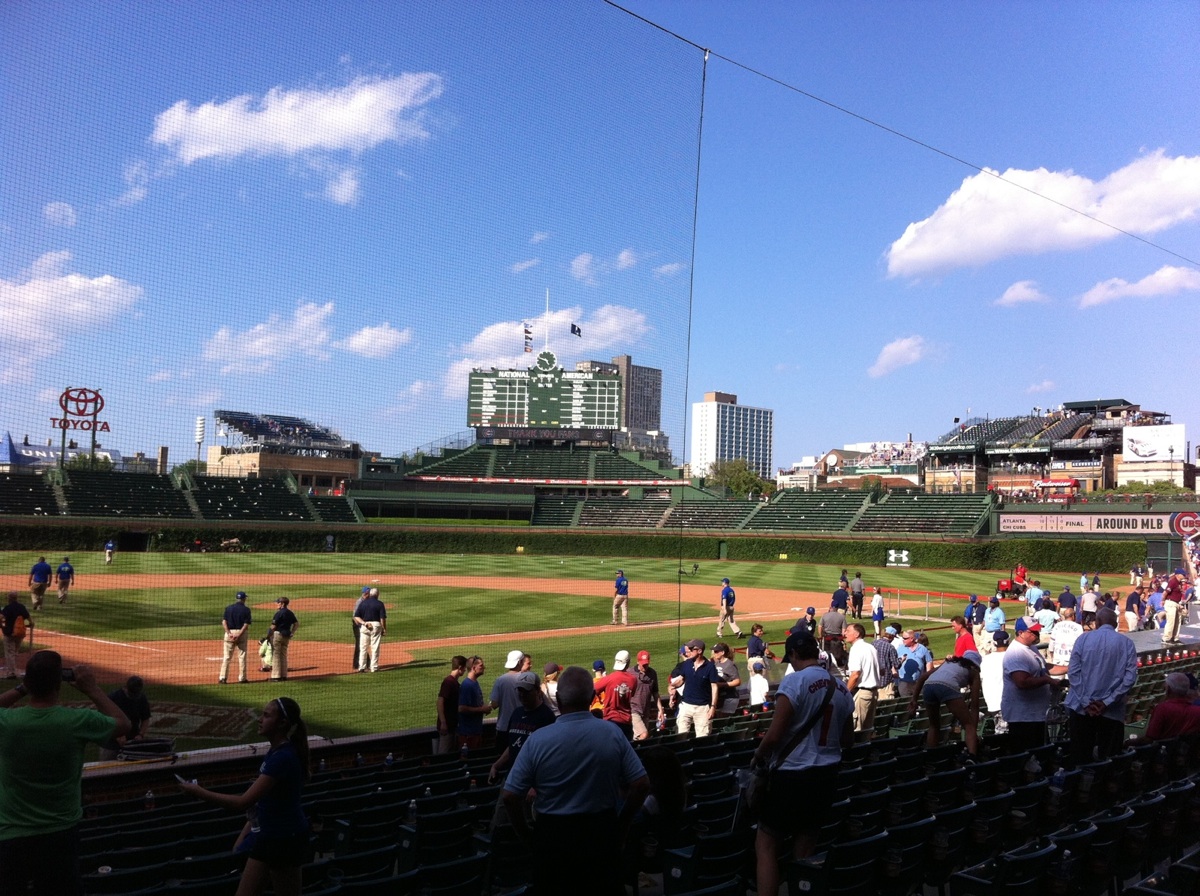 (If anyone else has a Wrigley experience to share, please do so below.)