The Vancouver Canadians returned home after two weeks on the road for a late Sunday matchup against Tri-City. After taking two of three against the Dust Devils, the C's were hoping to continue their winning ways against the Rockies affiliate.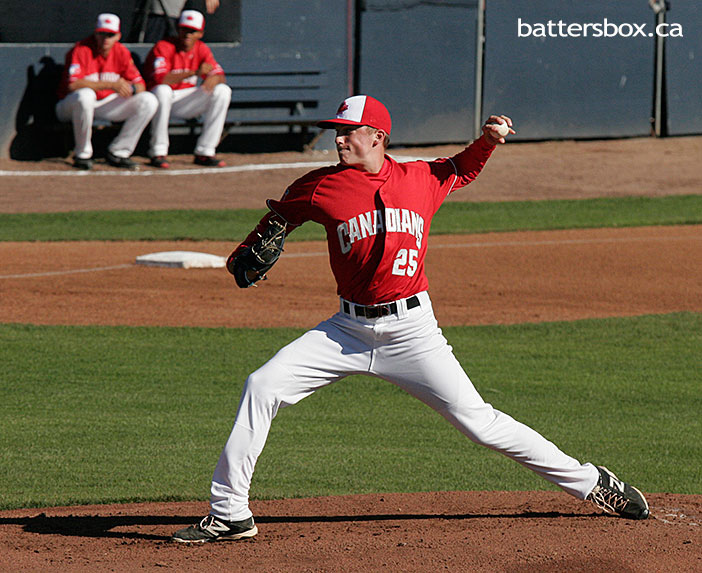 Ryan Borucki
made his first pro start on Canadian soil. He struck out six batters over five innings, giving up two runs on four hits, two walks and a hit by pitch.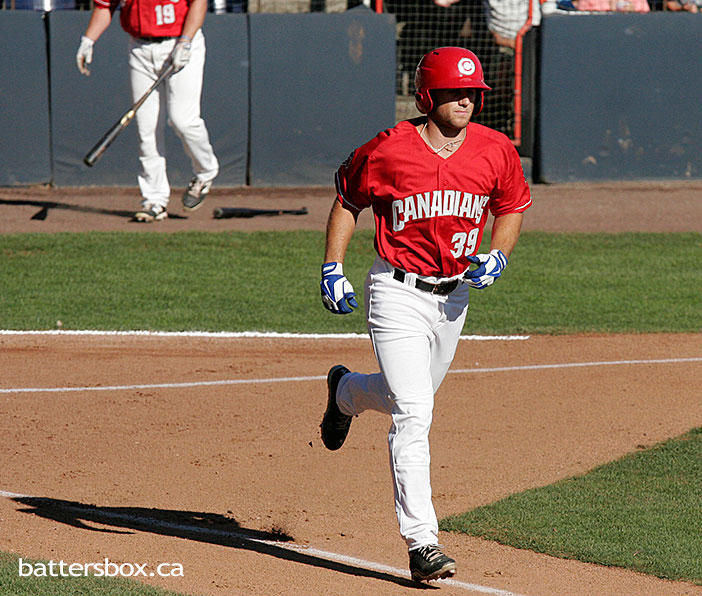 Gunnar Heidt
trots down to first base in his first plate appearance in Vancouver after drawing a bases-loaded walk to put the Canadians on the board first.
Boomer Collins
would follow with an RBI single to make it 2-0 after one.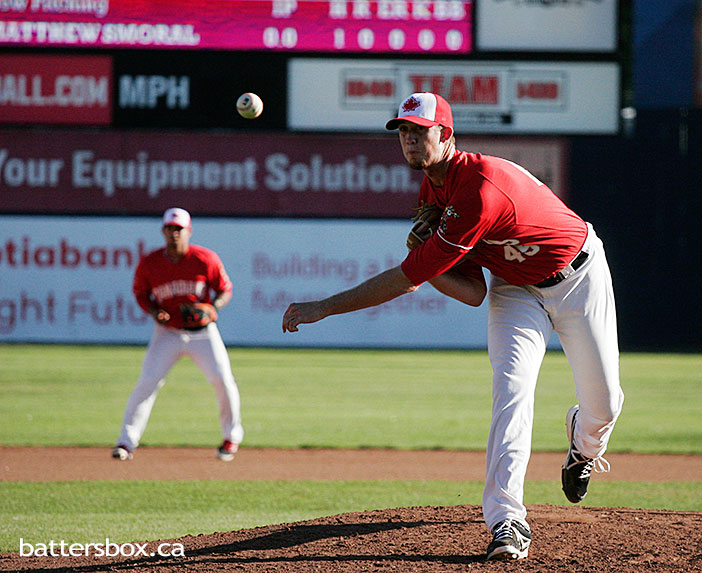 Matthew Smoral
had trouble throwing strikes in his Nat Bailey Stadium debut. In just two-thirds of an inning, he surrendered three runs on two hits, two walks, two hit by pitches and two wild pitches.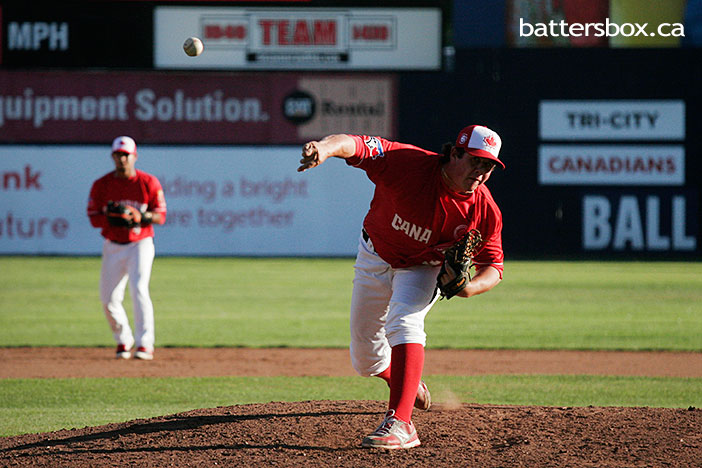 Andrew Case
needed one pitch to end the sixth inning and strand three Smoral runners. He was charged with one run over 2.1 innings on one hit and one walk.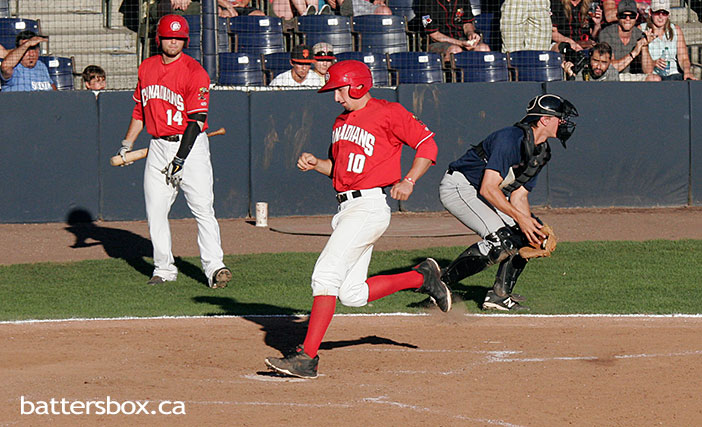 Tim Locastro
began a two-out rally in the sixth with a single and he came in to score on a
Franklin Barreto
double. Barreto wound up scoring on the play after a throwing error by Dust Devils catcher
Robbie Perkins
.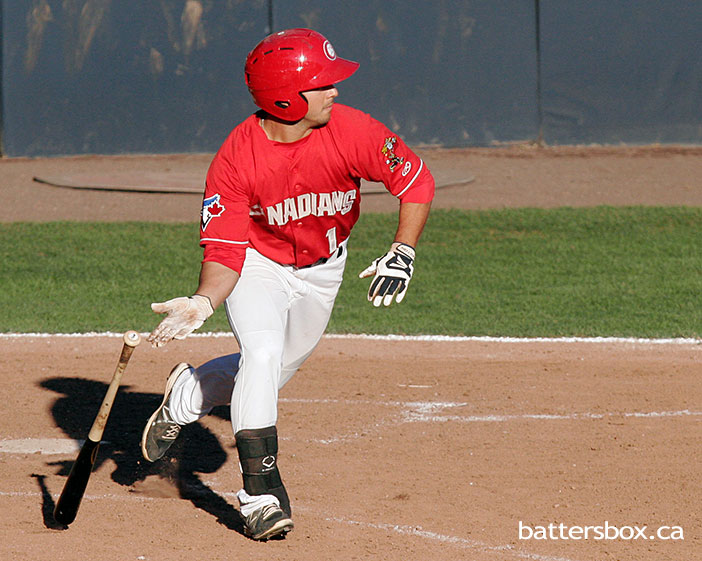 Chris Carlson
brings the C's to within a run with an RBI single.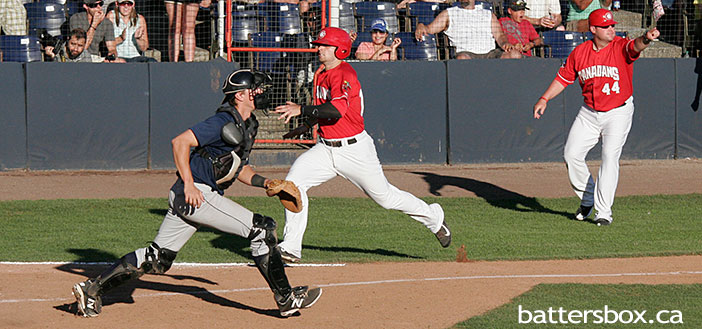 That hit scored
Ryan McBroom
, who had doubled to keep the inning going. Manager
John Schneider
points toward Carlson at first.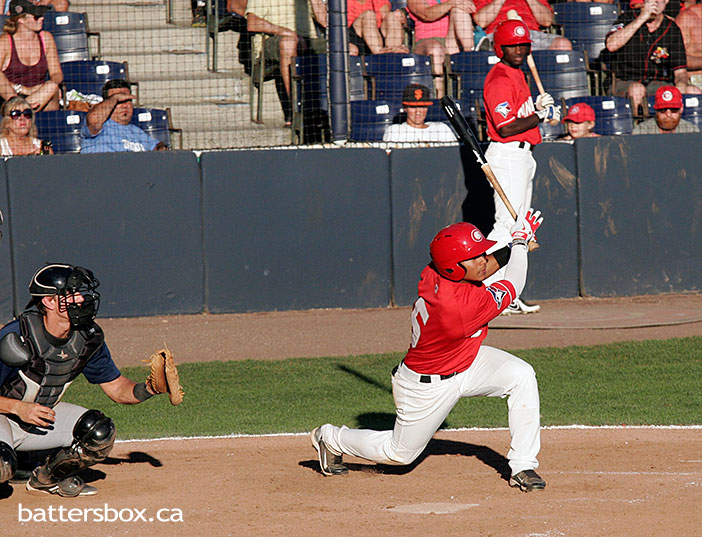 Alexis Maldonado
lines a single to right field in the eighth inning after
Michael De La Cruz
started the frame with a single. De La Cruz would score on a
Roemon Fields
base hit to tie the game at 6-6.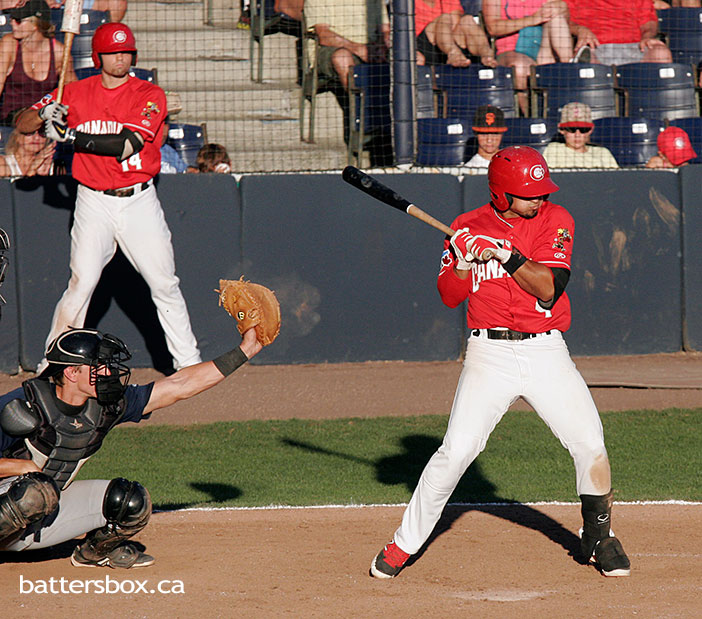 Franklin Barreto
gets hit by a pitch with the bases loaded and that would score Maldonado with the go-ahead run.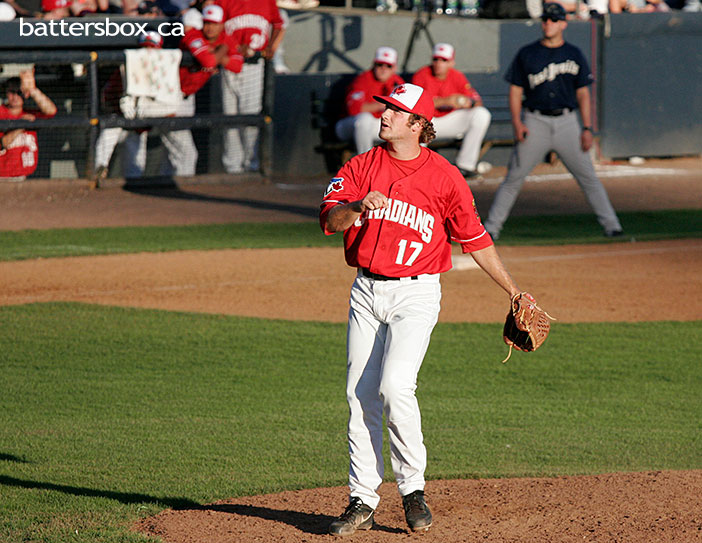 Brett Barber
was called on in the ninth to save it for
Andrew Case
but two hits and two walks would lead to four runs to give Barber the blown save, his first of the season.
Joe Lovecchio
had to get the final three outs but he was also nicked for a run as the Dust Devils rallied for an 11-7 victory.
---
Random Observations
Ryan Borucki
was in the 73-93 MPH range and threw some changeups from 80-83. The home run he gave up came on what looked like a two-seam fastball at 88...
Matthew Smoral
was in the 79-95 MPH range with a strikeout on an 88 offering. Smoral hit 95 on his first pitch for a strike but he gave up a hit on a 92 MPH heater and things began to go downhill...
Brett Barber
gave up a leadoff single but got ahead of the next hitter with two strikes but he wound up walking him and the next hitter. A base hit and an error by
Chris Carlson
, who overran the ball in left field, cleared the bases and put the game away for Tri-City.

Tim Locastro
, F
ranklin Barreto
,
Boomer Collins
and
Alexis Maldonado
all had two-hit efforts...Locastro and Barreto were plunked and Collins walked to reach base three times.
Gunnar Heidt
had a hit, a walk and a hit by pitch. Locastro and Barreto pulled off a double steal and both of them would score in the first inning.
Ryan McBroom
had a chance to add to the C's lead with the bases loaded and one out in the eighth inning but he popped up a 2-0 pitch to second to put a damper on the rally.
The C's and everyone else in the Northwest League North continue to play under .500 ball. Had the C's pulled this one out, they would have tied Everett for top spot in the division. However, Tri-City has a share of top spot at 8-9 while Vancouver and Spokane bring up the rear but are only a game back at 7-10. The Canadians bullpen was not able to get the job done once again. They blew a pair of seven-run leads in a couple of losses in Boise in the second half already. Had the pen done its job in Idaho, Vancouver would be in first place. It's a minor miracle the C's still have a chance to win the division in the second half. With two games against Tri-City and the next six against Everett, the opportunity is still there for the C's to get the ship righted and earn a playoff berth to defend their championship trophies from the last three seasons.