The final day of the minor league regular season saw the affiliates come away with a 2-2 record. Buffalo and Vancouver put one in the win column. New Hampshire played for far too long and Lansing not enough.
Buffalo 8 Syracuse 2

Syracuse, NY
- The Bisons took out their frustrations on just missing out on the playoffs by unleashing a 20-hit attack on the Nationals affiliate.
Matt Hague
started the scoring with an RBI single in the first inning.
Darin Mastroianni
singled home a run and
Brett Wallace
doubled home two more in the second. Wallace singled home another run in the fourth to go along with a
Cole Gillespie
sacrifice fly. A
Jonathan Diaz
double and another Mastroianni single in the fifth gave the Herd their final two runs of the season. Wallace, Mastroianni and
Dalton Pompey
shared the hitting lead with four hits apiece and Mastroianni was also hit by a pitch. Hague had three hits while Diaz and Gillespie had two each.
Mike Nickeas
had the other hit.
Scott Copeland
(3-1) surrendered just one run on three hits and a walk while striking out five and getting 10 groundball outs.
Brandon Morrow
allowed a run on a hit and struck out one in 1.1 innings.
Steve Delabar
allowed Morrow's run to come home and gave up two hits but he got the final two outs with two K's.


New Britain 4 New Hampshire 3 (13 Innings)
New Britain, CT
- So much for getting away quickly on getaway day! The Fisher Cats had a 3-2 lead in the eighth but
Richard Bleier
could not hold the lead by giving up the tying run in the bottom of the eighth. Bleier gave up the run in two-thirds of an inning on two singles. The run was unearned because of a passed ball by
Jack Murphy
.
Randy Boone
stranded a runner for Bleier and pitched 1.1 perfect innings with one strikeout.
Blake McFarland
worked three shutout frames of two-hit ball and struck out three.
Justin Jackson
(0-1) got just one out and was walked off by the Twins affiliate for the winning run on two hits. That spoiled seven strong innings from
Casey Lawrence
, who coughed up just two runs on two five hits. He only struck out a pair but he got 14 ground ball outs.
The Fisher Cats clawed their way back from a two-run deficit thanks to a
Sean Ochinko
two-run home run in the fourth inning. They took a 3-2 lead in the eighth on a
Kevin Nolan
RBI single. Ochinko, Nolan,
K.C. Hobson
and
Matt Newman
put two dents apiece in the hit column with Hobson getting a double and Nolan stealing a base.
Andy Burns
had a hit and a walk.
Jon Berti
and
Brad Glenn
were both 1-for-6.


South Bend 5 Lansing 4
Lansing, MI
- Mother Nature decided not to allow nine innings on the final day, cutting this one short after 5-1/2.
Starlyn Suriel
(2-4) was stung by the Diamondbacks farm club for three runs over 4.1 innings. He surrendered nine hits and a walk and struck out four.
Jimmy Cordero
allowed a Suriel runner to score and gave up two more runs on a hit and two walks in 1.1 innings. He did strike out a batter.

Jason Leblebijian
singled home the first run of the game in the first and knocked home another run with a base hit in the fifth.
Rowdy Tellez
capped off the three-run rally with a two-run homer to score Leblebijian. Tellez was 3-for-3 while Leblebijian and
Dawel Lugo
finished up with two-hit efforts.
Dickie Joe Thon
had a double while
Chaz Frank
and
David Harris
had base hits.
Daniel Klein
was plunked by a pitch.

Vancouver 4 Spokane 1

Vancouver, BC
- The C's went with their B-team and still pulled off the sweep of Spokane to end the regular season with a franchise-tying 46th win of the season, matching their 2012 mark.
Jonathan Davis
helped bring in three runs without a hit. Davis delivered the first run of the game with a groundout in the second inning and got his second RBI with a sac fly in the fourth. On that fly ball, another run scored on an error. Davis also had a stolen base.
Ryan Metzler
singled home the final run of the frame as part of a two-hit afternoon.
Michael De La Cruz
was 1-for-2 with two walks and two runs scored.
Seth Conner
had a hit and a walk while
Trent Miller
and
Christian Vazquez
had base hits.
Brenden Kalfus
walked, was hit by a pitch and scored a run. Of the regulars,
Ryan McBroom
was 0-for-1 as the designated hitter before giving way to
Boomer Collins
. Among those getting the day off were
Franklin Barreto
,
Roemon Fields
,
Tim Locastro
and
Chris Carlson
.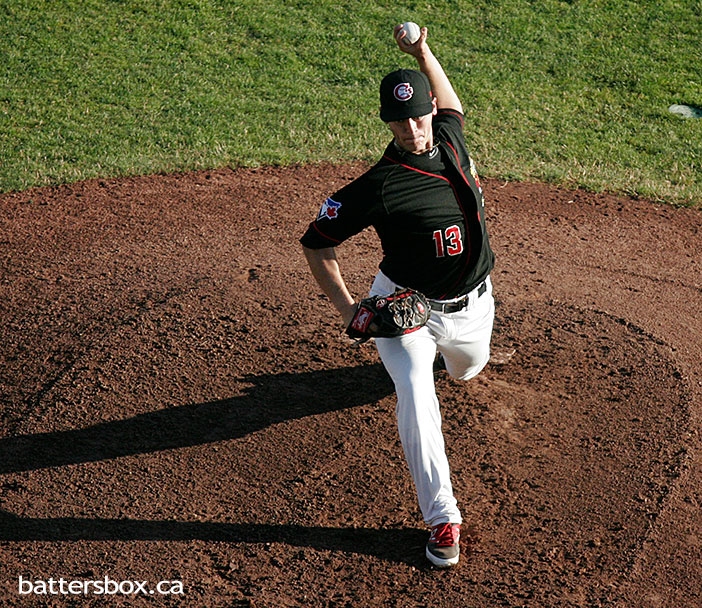 Zak Wasilewski
- pitching against Everett earlier this season - got the victory with three shutout innings against Spokane Monday afternoon.
Daniel Lietz
had trouble finding the plate after issuing six walks and yielding three hits over four innings but limited the Rangers affiliate to one run. Lietz struck out three and was bailed out by two double plays, one of them an unassisted liner to third base to double off a runner. He did touch 93 MPH on the radar gun.
Zak Wasilewski
(2-4) gave up a hit and hit two Spokane batters over three scoreless frames but needed a spectacular
Ryan Metzler
over the shoulder catch at third base to help get out of the seventh inning.
Adaric Kelly
pitched two innings of one-hit ball and struck out two to get the save. One of the strikeouts was too good as the batter reached on a wild pitch. He threw pitches in the 77-91 MPH range.
Monday's Linescores
*** 3 Stars!!! ***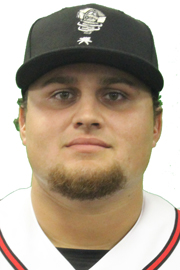 3. Rowdy Tellez, Lansing
- Finished up his 12-game stint in Michigan with a .949 OPS.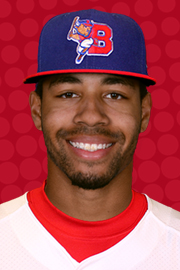 2. Dalton Pompey, Buffalo
- An .846 OPS and 6-for-6 in stolen bases with the Bisons.
1. Darin Mastroianni, Buffalo
- Compiled a .349 OBP and 20 stolen bases with the Herd.
3 Stars images from
MiLB.com
.

Tuesday's Schedule & Probable StartersDunedin
@ Daytona (Game 1), 7:05 pm ET -
Matt Boyd
(5-3, 1.39) vs. Edmonton, Alberta native
Rob Zastryzny
(4-6, 4.66).
Spokane @
Vancouver
(Game 1), 10:05 pm ET -
Ryan Borucki
(1-1, 1.90).

Extra Innings
The National Post
catches up
with some players who have ridden the Buffalo to Toronto shuttle.
The Lansing State Journal
has
a feature
on pitcher
Brad Allen
.
The Vancouver Province
has a
video interview
with Canadians manager
John Schneider
as well as
a feature
on lefthander
Matthew Smoral
.