A look back on the career of
Adam Lind
.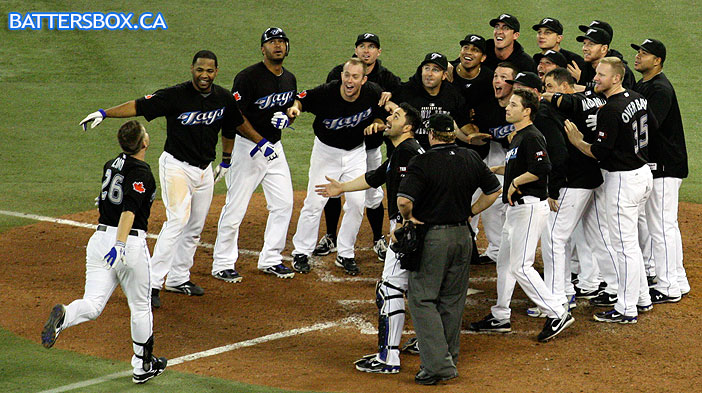 Adam Lind
belts a walk-off homer and is getting ready to be mobbed by his teammates after a 10th inning blast off Seattle's
Shawn Kelley
September 26, 2009. It was Lind's second homer of the game to help the Jays beat the M's 5-4.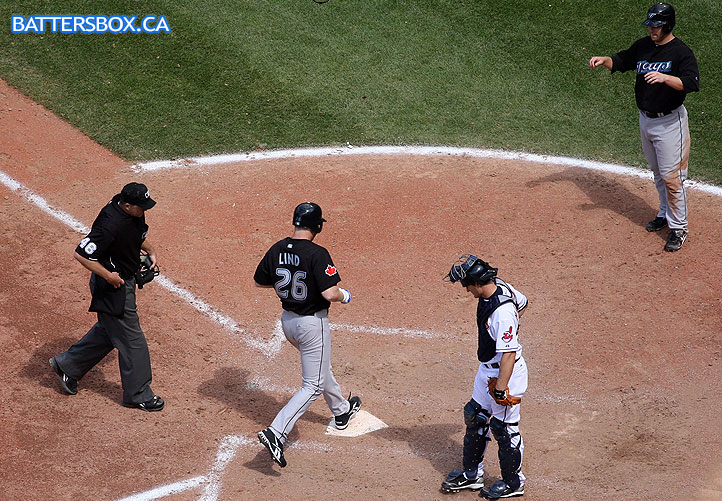 Adam Lind
is about to be greeted by
Aaron Hill
after a walk-on, two-run homer at Progressive Energy Field in the top of the ninth to complete a comeback from a 4-2 deficit against Cleveland. Lind's homer off
Chris Perez
gave the Jays a 5-4 victory and a three-game series sweep. Current Miami Marlins and former Lansing Lugnuts manager
Mike Redmond
was behind the plate that day for the Indians.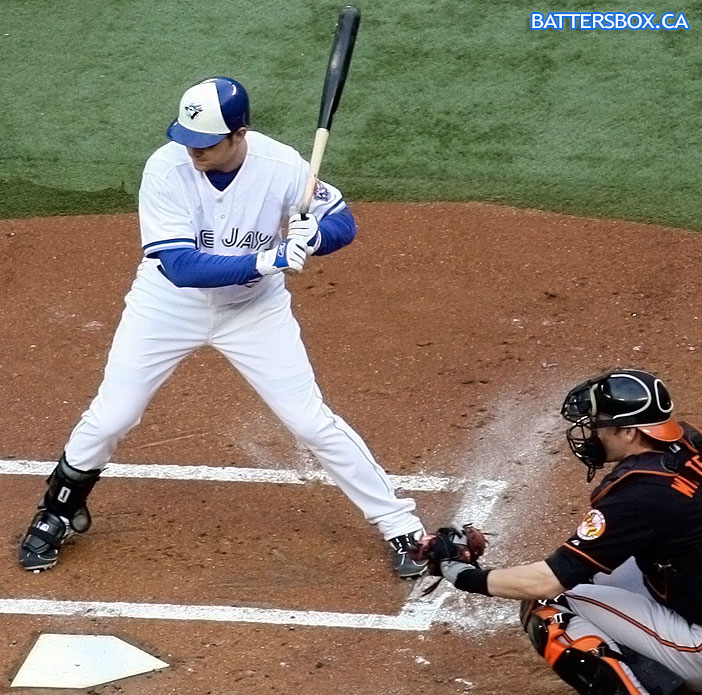 Adam Lind
wearing the white retro jersey during World Series Reunion Night on August 7, 20009.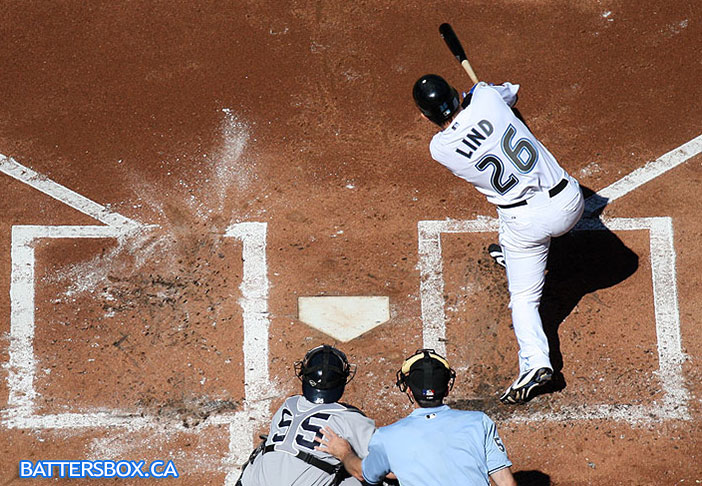 Adam Lind
belts one of his two home runs off
Freddy Garcia
to give the Blue Jays a 3-0 victory over the New York Yankees on September 18, 2011.

Adam Lind
sporting his
Jim 'The Anvil' Niedhart
look on JaysVision.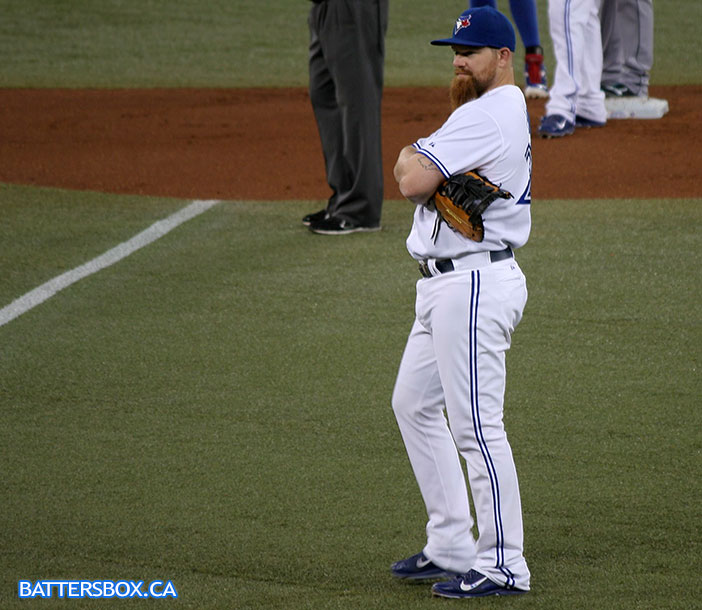 Adam Lind
folds his arms during a break in the action against Seattle September 24.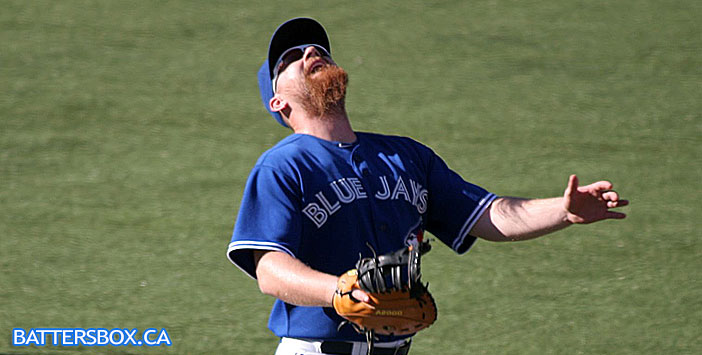 Adam Lind
chases down a pop fly in foul territory off the bat of Mariners first baseman
Kendrys Morales
September 25.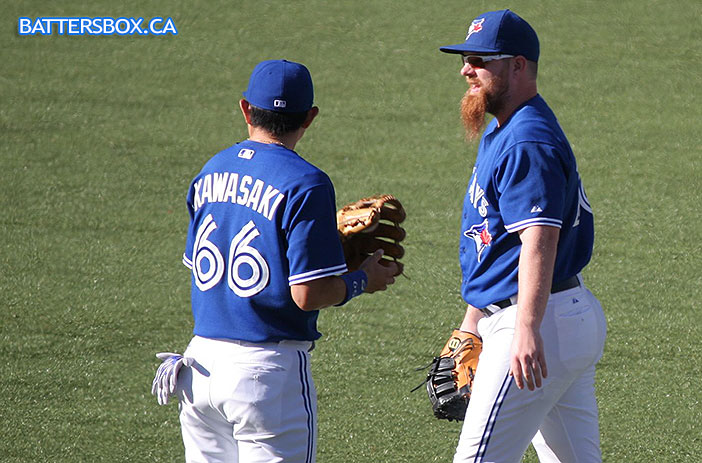 Adam Lind
makes the catch to retire Morales with
Munenori Kawasaki
trailing the play.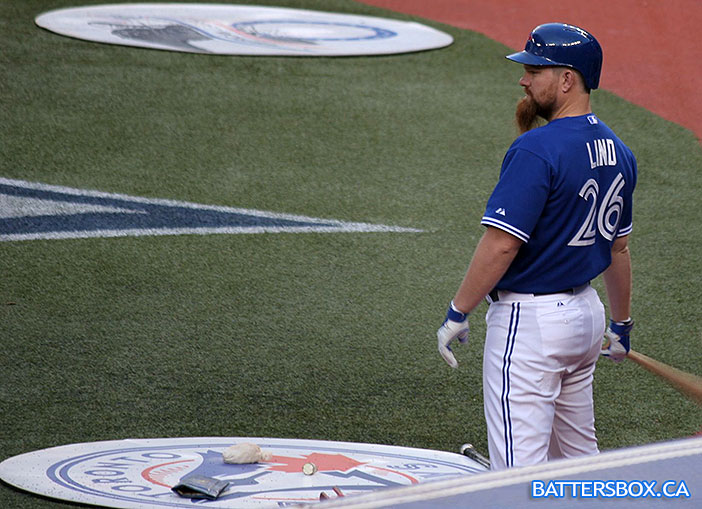 Adam Lind
gets ready in the on-deck circle.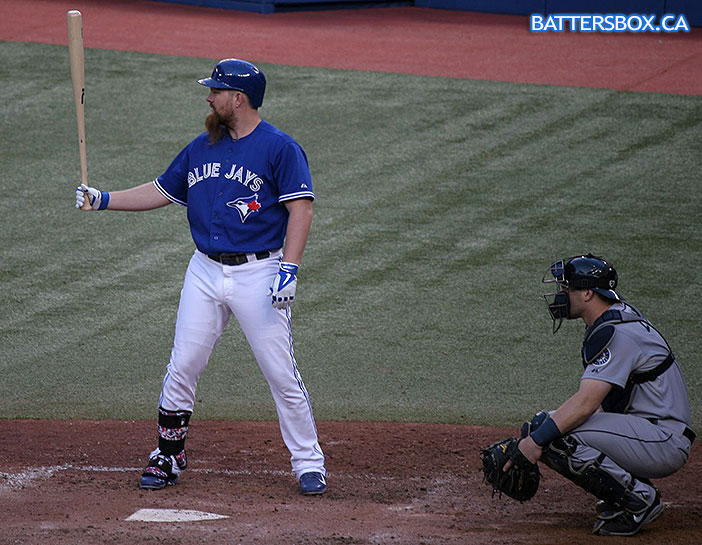 Adam Lind
digs in against Mariners reliever
Yoervis Medina
and lines a single to right field to score
Munenori Kawasaki
.
---
Adam Lind
made his major league debut September 2, 2006 in Fenway Park and doubled off lefty
Lenny DiNardo
for his first major league hit in a 5-1 Blue Jays victory. His first major league homer came against
Jered Weaver
in Anaheim September 10. That came in the midst of a six-game hitting streak that featured four straight multi-hit efforts. His second homer came on the final day of 2006 at Yankee Stadium when his two-run blast off
Kyle Farnsworth
in the ninth inning helped the Blue Jays end the season on a winning note October 1. He batted .367 with an OPS of 1.015 in 65 plate appearances and was named the Eastern League's Most Valuable Player with the New Hampshire Fisher Cats.
The Jays third round pick of the 2004 draft from the University of South Alabama struggled in 2007 with a .238 average in 2007 and endured a rough start in 2008 which included a stint back in Triple-A in Syracuse. He was summoned up to the big club on June 21, shortly after the firing of manager
John Gibbons
, and blossomed under the tutelage of new skipper
Cito Gaston
to hit .282 in 349 plate appearances.
The man from Muncie, Indiana broke through with the bat in 2009 when he slashed .305/.370/.562 with 46 doubles, 36 homers and 115 runs batted in to win a Silver Slugger and the Edgar Martinez Award as the top designated hitter. His OPS the next three seasons dropped an average of 200 points and his home run output fell to 23, 26 and 11. He was plagued by back problems and was sent down to Triple-A Las Vegas in 2012.
Lind bounced back in 2013 with a .288 average with 23 homers and 67 RBI with just 100 of his 521 plate appearances being limited to lefthanded pitchers. In 2014, Lind was limited by a foot injury in early July but still hit .321 with an OPS of .860, facing lefties just 37 times in which he batted all of .061. Lind had his eventful moments off the field by telling the media his mother was the one who
told him
to get an MRI on his broken foot and he was
outspoken
about management's commitment to win, pointing to the delay of
Marcus Stroman
's arrival with the club. There is a feeling those developments may have helped sealed his fate with Toronto.
Originally an eighth-round pick of Minnesota in the 2002 draft, Lind will begin a new chapter of his big league career back in the Central Time Zone with the Milwaukee Brewers. The 31 year-old is expected to replace former Jay
Lyle Overbay
as the left-handed bat at first base in 2015.
In his nine seasons with the Blue Jays,
Adam Lind
batted. 273 with 196 doubles, 12 triples, 146 home runs and 519 runs batted in. Thanks for the memories and all the best, #26!