The affiliates had a rough cut Tuesday, losing seven out of nine. The only highlights were a split of a doubleheader in Florida and a win north of the border.
Rochester 6 Buffalo 5

Rochester, NY
- The Red Wings fouled up
Jeff Francis
(5-2, 2.14) for six runs on nine hits over four innings. He struck out four to go along with five groundball outs.
Bobby Korecky
got through the fifth and sixth innings unscathed despite three hits and a walk while whiffing one.
Ben Rowen
also kept the Twins affiliate at bay with two perfect frames that included one strikeout.
The Bisons tried to rally from a 6-0 hole but fell short. An error and a two-run single by
Alex Hassan
got the Herd rumbling in the fifth. A
Dalton Pompey
sacrifice fly and a
Jon Berti
run-scoring single put the Bisons within one in the eighth. Hassan and
Calebl Gindl
had two-hit nights. Berti singled and walked but
Josh Thole
was on base the most with three walks.
Andy Burns
and
Ty Kelly
doubled and
Jonathan Diaz
added a single. Pompey drew a walk but
Chris Heisey
was 0-for-5.
Reading 6 New Hampshire 5

Reading, PA
- Leads of 4-0 and 5-2 were not enough for the Fisher Cats against the Phillies affiliate.
Conner Greene
coughed up five runs in 4-2/3 innings, giving up a home run among five hits and walking three. He did strike out six and produced five outs on the ground.
Chad Girodo
pitched a one-hitter over 2-1/3 innings, striking out a couple.
Dustin Antolin
(3-3) allowed the winning run in the eighth on two hits with one strikeout.
New Hampshire struck for three runs in the first on a
Melky Mesa
double, a
Ryan Schimpf
RBI groundout and a
K.C. Hobson
sac fly. A
Jorge Flores
home run in the second inning and a run-scoring single from
Roemon Fields
gave the visitors a 5-2 lead. Fields had two hits and two stolen bases. Flores was hit by a pitch to get aboard twice.
Dwight Smith Jr.
added a pair of walks while
Emilio Guerrero
had a double. Schimpf and
Derrick Chung
worked the count to ball four.
Kevin Nolan
was 0-for-4.
Ian Parmley
pinch-ran for Chung but did not score.

Clearwater 9 Dunedin 4

Dunedin, FL
- The Jays scored twice in the first and twice in the ninth but the problem was the Phillies affiliate scored nine in between.
Alonzo Gonzalez
(2-5, 3.91) was gonged for five runs over five innings on nine hits, including a home run, and two walks. The lefty had one strikeout while splitting 12 outs in play evenly on the ground and in the air. Fellow southpaw
Matt Dermody
also allowed a run on two hits but had two strikeouts over two frames.
Chris Smith
struck out two in a shutout eighth but
Colton Turner
was spun around for a three-run homer and two more hits with one walk and one strikeout in the ninth.
L.B. Dantzler
doubled in the first run and
Matt Dean
scored another with an RBI groundout. Dantzler would later drill a two-run homer to plate a
Christian Lopes
walk. Dantzler and Lopes had two hits and one walk apiece.
Anthony Alford
singled, walked and stole a base while
Dickie Joe Thon
had a double.
Jason Leblebijian
walked twice while
Derrick Loveless
and
Mike Reeves
heard ball four once. Dean was 0-for-5 with three strikeouts and
Boomer Collins
went 0-for-4.


Lake County 7 Lansing 3

Lansing, MI
- The Indians affiliate snapped a 3-3 tie with four runs in the ninth inning for the victory. They scored five times off
Phil Kish
(1-3) over the final two frames, including a three-run homer. Kish was punished for five hits and a walk while striking out one. One of the runs allowed was unearned.
Jon Wandling
worked his way through seven innings, giving up just two runs (one earned) on four hits, three walks and a hit by pitch. He struck out four and did a good job keeping the ball down by getting the infield to convert 10 of his 13 outs in play.
Lansing rallied from 2-0 down thanks to two-out doubles by
Josh Almonte
and
Michael De La Cruz
in the fifth. De La Cruz would bring home Almonte again in the seventh with a single after Almonte got a base hit and stole second. The Lugnuts would fight back again in the eighth on a two-out single by
David Harris
to score a
Richard Urena
base knock. De La Cruz had three hits while Almonte, Urena and
D.J. Davis
had a pair apiece.
Chris Carlson
and
Lane Thomas
also made a dent in the hit column.
Ryan McBroom
and
Alex Maldonado
both reached base with a walk.


Vancouver 11 Tri-City 6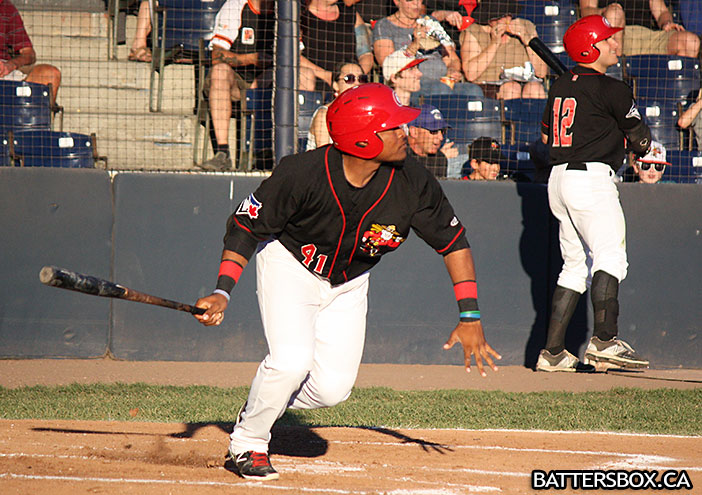 Juan Kelly
homered in his return to Canadian soil Tuesday night.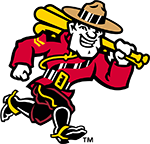 Vancouver, BC
- Vancouver evened up its second-half record at 10-10 with a five-run first inning against the Padres affiliate.
Sean Hurley
brought in the first run with a bases-loaded walk and
Carl Wise
followed with a sacrifice fly.
Juan Kelly
came through with the big blast, belting a three-run homer to left in his first game back in Vancouver after being sent down from Lansing.
Ryan Hissey
had an RBI single in the second before
Andrew Guillotte
got a hold of one for a two-run homer to left in the third to make it 8-0 C's.
Gunnar Heidt
homered for the second straight night, connecting for a two-run shot to left and Hissey would complete the three-run rally in the fifth with another run-scoring base hit. Heidt, Hissey and
Ryan Metzler
all had two hits with Heidt and Metzler getting a walk. Kelly also got aboard three times by drawing a couple of free passes.
Connor Panas
singled and walked while Hurley and
Justin Atkinson
walked twice. Wise was 0-for-4.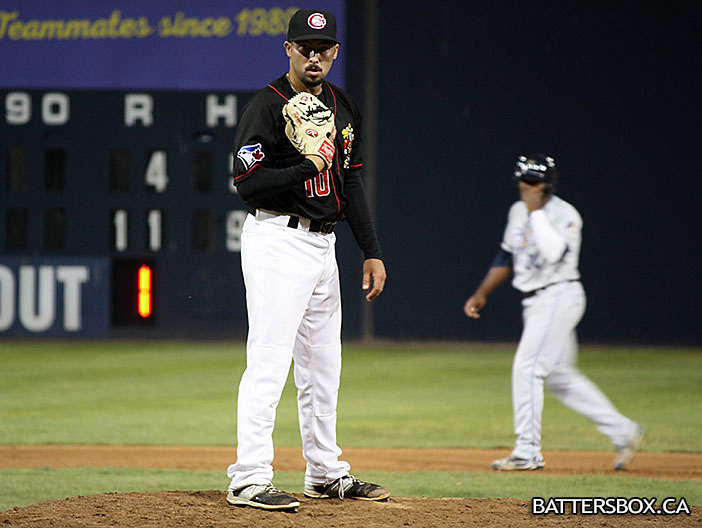 Brandon Hinkle
earned his fourth victory of the season in relief.
Francisco Rios
set down the first seven hitters in a row and nine of out 10 but the Dust Devils burned him for runs in the fourth. He was roughed up for four hits and two walks while striking out a pair.
Brandon Hinkle
(4-0) picked off a runner to erase a leadoff walk in the fifth but was nicked for a run on two hits and two walks while whiffing two over two innings.
Sean Ratcliffe
served up a solo homer but struck out one in two innings.
Andrew Case
loaded the bases with a single and two walks but he got around it with a game-ending strikeout in the ninth, leaving the potential tying run in the on-deck circle.


Bristol 6 Bluefield 2

Bristol, WV
- This one got away from the Jays in the fifth inning when the Bucs scored five times to break a 1-1 deadlock.
Luis Sanchez
(1-2, 4.40) threw a one-hiter over 4-1/3 innings. The problem was five walks which led to four runs (two earned). He retired nine of the first 10 men he faced before three walks, two wild pitches and a stolen base gave the Pirates a 1-0 lead in the fourth. Errors by Sanchez on a bunt attempt and by
Deiferson Barreto
at third led to the unearned markers in the fifth.
Zak Wasilewski
was zinged for both inherited runners scoring as well as an unearned run on one hit and two walks but he struck out two batters to end the fifth.
Joe Claver
worked a clean sixth but
Matt Smoral
surrendered a run on a hit and two walks but struck out a pair over 1-2/3 innings.
Zach Rodgers
came in and got the inning-ending strikeout of the only batter he faced in the eighth.
Bluefield scored runs in the fifth and sixth with
Freddy Rodriguez
walking and scoring on a two-base error and
Juan Tejada
lifiing a sacrifice fly to bring in an
Aaron Attaway
single.
Rodrigo Orozco
singled, walked and stole a base in the leadoff spot while Rodriguez walked twice.
Barreto
had the other hit and
Gabriel Clark
reached on a walk.
Yeltsin Gudino
had a 0-for-4 night while
Jacob Anderson
and
Andres Sotillo
were 0-for-3.


GCL Blue Jays 4 GCL Tigers 1 (Game 1 - 7 Innings)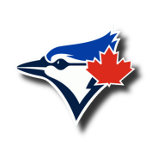 Dunedin, FL
- The Jays were able to string together two-run innings in their last two at-bats to erase a 1-0 deficit and upend the Tigers.
Lance Jones
came through with a two-out triple in the sixth to cash in a
Juandy Mendoza
single and a
Reggie Pruitt
double. Jones' hit was especially big because it happened after
Owen Spiwak
was thrown out at the plate on the Pruitt extra-base hit. Mendoza also had a big two-out hit as his single brought in a couple of walks by
Levi Scott
and
Nash Knight
. Mendoza was 3-for-3 while Spiwak had a single and a walk. Pruitt and Jones both took one for the team to get on base a couple of times.
Jake Thomas
also had a hit and
Edward Olivares
was hit by a pitch.
Jesus Severino
was hitless in three at-bats.
Justin Maese
(4-0, 1.17) mowed down the first nine hitters in a row before a double and two singles led to a run in the fourth. The third round pick scattered six hits and a walk over six innings while striking out four and racking up 10 outs on the grass for a Game Score of 59.
Griffin Glaude
struck out two in a perfect ninth for his sixth save.
GCL Tigers 2 GCL Blue Jays 0 (Game 2 - 7 Innings)
Lakeland, FL
- Two first-inning runs against
Hansel Rodriguez
(1-2, 4.93) was all the Tigers would need to split the twinbill. The Tigers strung together the two runs on two singles, a double and a groundout before Rodriguez settled in. He set down six in a row and it would have been seven had a runner not reached on a strikeout/wild pitch. Rodriguez would retire eight more in a row before a base hit in the fifth but that runner was thrown out by
Javier Hernandez
trying to steal second. Rodriguez went the distance in a six-inning complete game loss, permitting just four hits and striking out six. He also induced eight groundball outs.
The only two Jays hits came off the bat of
Cliff Brantley
.
Lance Jones
drew a pinch-walk and
Roberto Lucido
also got a free pass along with a stolen base.
Kalik May
,
Jake Thomas
,
Nash Knight
and
Bryan Lizardo
all went hitless in their three AB's. Hernandez,
Miguel Almonte
and
Andrew Florides
were 0-for-2.
DSL Padres 8 DSL Padres 3
Boca Chica, DR
- The pitching and defence did not come together in this one.
Wilfri Aleton
(4-3, 2.83) gave up a run an inning over four frames on five hits and two walks. He also balked a couple of times, uncorked a wild pitch and struck out just one.
Alvaro Galindo
gave up an unearned tally over three innings on two hits and had a K-BB total of 3-3.
Luis Mendoza
also had an unearned run on his ledger as he was mauled for three runs on three hits and a walk over two frames but struck out three. The Jays made three errors, two by
Enmanuel Moreta
at first base and one at short by
Kevin Vicuna
.
Andres Guerra
also had a passed ball.
The Jays grabbed a short-lived 2-1 lead on a two-run single by
Norberto Obeso
in the third inning. That scored a
Sam Buelens
single and a
Ronald Concepion
walk. Buelens stole second before pulling off a double steal with Concepion. Back-to-back triples by
Antonio Concepion
and
Enmanuel Moreta
accounted for the other run in the eighth. Ronald Concepion did not have a hit but was the on-base leader with three walks.
Antony Fuentes
had a hit and a walk and Moreta was on base twice after getting plunked. Vicuna was 0-for-5 while Guerra and
Sterling Guzman
went 0-for-4.
*** 3 Stars!!! ***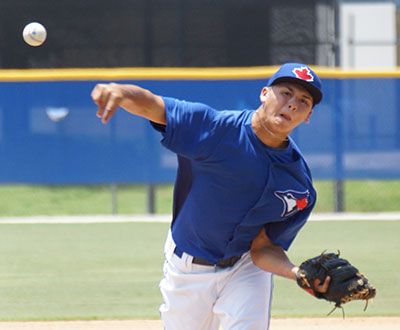 3. Justin Maese, GCL Blue Jays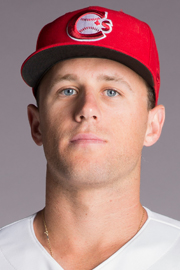 2. Gunnar Heidt, Vancouver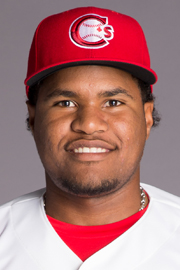 1. Juan Kelly, Vancouver


Tuesday's Linescores
Wednesday's Schedule / Probable Starters
DSL Blue Jays
@ DSL Orioles1, 10:30 am ET - TBA
GCL Yankees @
GCL Blue Jays
, 11:00 am ET - TBA
Buffalo
@ Rochester, 1:35 pm ET -
Phillippe Aumont
(3-5, 2.78)
Tri-City @
Vancouver
, 4:05 pm ET -
Jon Harris
(0-3, 4.83)
Clearwater @
Dunedin
, 6:30 pm ET -
Jeremy Gabryszwski
(8-6, 3.49)
New Hampshire
@ Reading, 7:05 pm ET -
Casey Lawrence
(11-11, 4.41)
Lake County @
Lansing
, 7:05 pm ET -
Sean Reid-Foley
(3-3, 3.48)