The affiliates won three out of seven Tuesday with a doubleheader sweep being the highlight. The lowlight was a disappointing season finale. Meanwhile, Game 2 of the Gulf Coast League final between the Blue Jays and Red Sox was rained out. The two teams will play this morning in Dunedin for Game 2 and head over to Fort Myers later today if the Jays can force a third and deciding game.
Syracuse 7 Buffalo 1

Buffalo, NY
-
Todd Redmond
(2-7, 4.33) was ripped for three home runs, accounting for four of the five runs he surrendered in 6-1/3 innings. He struck out three and recorded 10 of his 14 outs in play on the ground.
Bobby Korecky
was cuffed for the other two runs on four hits in 1-2/3 innings but he did strand a runner for Redmond.
Chad Girodo
threw a one-hit ninth in his Bisons debut.
The Bisons waited until the ninth before getting their first run, which came on a
Caleb Gindl
groundout to plate a
George Kottaras
walk. Kottaras,
Andy Burns
,
Danny Dorn
and
Jonathan Diaz
accounted for the Herd's four hits with Burns drawing a walk and Dorn getting hit by a pitch and stealing a base.
Ty Kelly
and
Jon Berti
earned a base on balls.
Matt Hague
and
Alex Hassan
had no hits in their eight collective at-bats.


New Hampshire 5 Portland 2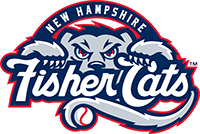 Manchester, NH
-
Emilio Guerrero
knocked home the tying and winning runs with a seventh inning single as part of a four-run rally to beat the Red Sox affiliate.
Jorge Flores
and
K.C. Hobson
singled home the other two runs in the frame. The Fisher Cats scored in their first at-bat after two-out doubles by
Dwight Smith Jr.
and Hobson produced the first run of the game. Hobson had three hits while Smith and
Derrick Chung
had two apiece. Chung also added a walk.
Matt Newman
had a base hit and a base on balls and
Kevin Nolan
had a single.
Roemon Fields
and
Jack Murphy
were both 0-for-4. Flores had the lone stolen base.
Austin Bibens-Dirkx
(6-8, 4.30) stuck around long enough to get the win, powering his way through seven innings of two-run ball on seven hits and two walks. One of the hits was a home run and he only struck out one, keeping everyone on defense busy with seven groundouts and nine flyouts.
Cory Burns
gave up just one hit and struck out two for the two-inning save, his first of the year.
Dunedin 2 Tampa 0 (Game 1 - 7 Innings)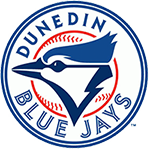 Dunedin, FL
-
Shane Dawson
(3-2, 3.12) was simply awesome as he spun a complete game one-hitter. The Alberta lefty faced just two batters over the minimum, allowing a single while another batter reached on a
Matt Dean
error at third. Before that miscue, Dawson had set down nine in a row. He struck out four, including the last two batters of the game, for a Game Score of 79. He also recorded eight of his 11 outs in play on the ground.
Jorge Saez
made sure Dawson's effort did not go to waste as he wasted one over the wall for a two-run homer in the fifth.
Dickie Joe Thon
also scored on Saez's shot after he got aboard on a double. Saez also drew a walk for a perfect day at the plate in the number nine spot in the order.
Anthony Alford
also reached twice with a hit and a base on balls. Dean had a double and
Andy Fermin
had a single and a sacrifice bunt.
Christian Lopes
,
L.B. Dantzler
,
Boomer Collins
and
Derrick Loveless
all wore the 0-for-3 collar.
Dunedin 3 Tampa 1 (Game 2 - 7 Innings)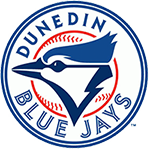 Dunedin, FL
- A Yankees error in the fifth error was the difference to help the Jays win both ends of the doubleheader.
Boomer Collins
brought in an insurance run with a base hit in the sixth inning. A
Matt Dean
double play grounder opened the scoring in the first.
Derrick Loveless
had a double and a walk but
Ian Parmley
was the on-base champ with three walks.
Aaron Attaway
had a single and a stolen base.
L.B. Dantzler
and
Mike Reeves
also singled, with Reeves scoring a run.
Andy Fermin
and
Dickie Joe Thon
both heard ball four once. Dean was 0-for-3.

Jeremy Gabryszwski
(9-7, 3.77) gave up just one run on four hits and two walks over five innings. He rung up four batters and got five of his nine outs in play to stay on the diamond.
Arik Sikula
struck out one for the two-inning save, his fifth.
Fort Wayne 6 Lansing 4

Lansing, MI
-
Alex Maldonado
knocked home the first run of the game with a second-inning single but he was denied a second RBI when
David Harris
was thrown out at the plate. Maldonado walked and scored the second run after a
Josh Almonte
double in the fourth.
Jason Leblebijian
tripled home a
Richard Urena
walk in the sixth and would double home Urena with the final run in the eighth. Almonte and Leblebijian had the only multi-hit efforts for Lansing with Leblebijian also getting a walk. Maldonado and Urena both had a base hit and a base on balls.
D.J. Davis
walked twice and Harris once.
Chris Carlson
was 0-for-5 out of the leadoff spot.
Ryan McBroom
and
Danny Jansen
were hitless in their four trips to the plate.

Chase Mallard
(6-7, 5.29) served up two long balls and four runs overall on seven hits and three walks over 5-2/3 innings. He struck out four but had just three of his nine outs in play on the grass.
Tim Mayza
finished up with 3-1/3 innings of two-run ball on five hits and a walk but rung up six batters. All five outs in play were on the ground.
Tri-City 8 Vancouver 6

Pasco, WA
- The C's took another step towards missing the playoffs for the first time since 2009.
Evan Smith
(2-4, 4.91) could not get out of the first inning as the Padres affiliate scored four runs off the lefty on four hits and two walks.
Michael Kraft
got the final out of the first and pitched 1-1/3 scoreless innings despite a hit and four walks.
Ryan Cook
was fried for three runs (two earned) on three hits and three walks over three innings but struck out three.
Daniel Young
was tripped up for a run on three hits over the final three innings but struck out one.

Gunnar Heidt
got Vancouver on the board with an RBI single in the second inning to score
Connor Panas
, who singled and went to second on a wild pitch. Panas sparked a four-run rally in the sixth with a triple to score a
Sean Hurley
double before coming home on a Heidt sacrifice fly.
Ryan Metzler
walked another run home and
Justin Atkinson
had an RBI base knock in the sixth. Panas scored another run after coming around on a four-base throwing error by the catcher in the seventh. Panas, Heidt and Atkinson had two hits with Panas also walking once and Heidt swiping a base. Metzler, Hurley and
Juan Kelly
put up a one in the hit and walk columns.
J.C. Cardenas
walked twice and
Andrew Guillotte
once.
Ryan Hissey
was 0-for-5. The C's were just 3-for-11 with runners in scoring position and left 12 men on. They are four games back of Everett with just five to play.
Burlington 10 Bluefield 0

Bluefield, WV
- A helluva way to end a disappointing season.
Juliandry Higuera
(5-4, 4.26) was hammered for six runs on eight hits and two walks by the Royals. He had only one K and five groundball outs in his four-inning outing.
Geno Encina
gave up three hits and struck out three over two shutout frames.
John Kravetz
also allowed three hits but gave up a run over one inning.
Joe Claver
also coughed up three hits and issued a walk, leading to three unearned runs in two-thirds of an inning but he did whiff one.
Zach Rodgers
gave up a hit but stranded two of three runners for Claver and got the final four outs.
Andres Sotillo
finished up on a strong note with a triple and two walks.
D.J. McKnight
and
Mattingly Romanin
had the other base hits with Romanin also drawing a walk.
Freddy Rodriguez
,
Christian Williams
and
Yeltsin Gudino
got the other free passes.
Nick Sinay
was hit by a pitch.
Dean Bell
struck out three in a 0-for-4 night.
Dave Pepe
was 0-for-3 while
Juan Tejada
was 0-for-2.
Tuesday's Linescores
*
** 3 Stars!!! ***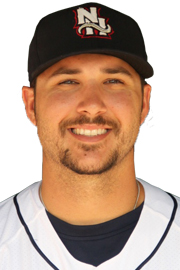 3. K.C. Hobson, New Hampshire



2. Jorge Saez, Dunedin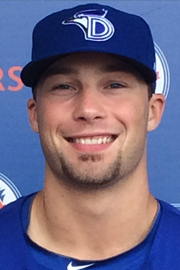 1. Shane Dawson, DunedinWednesday's Schedule / Probable Starters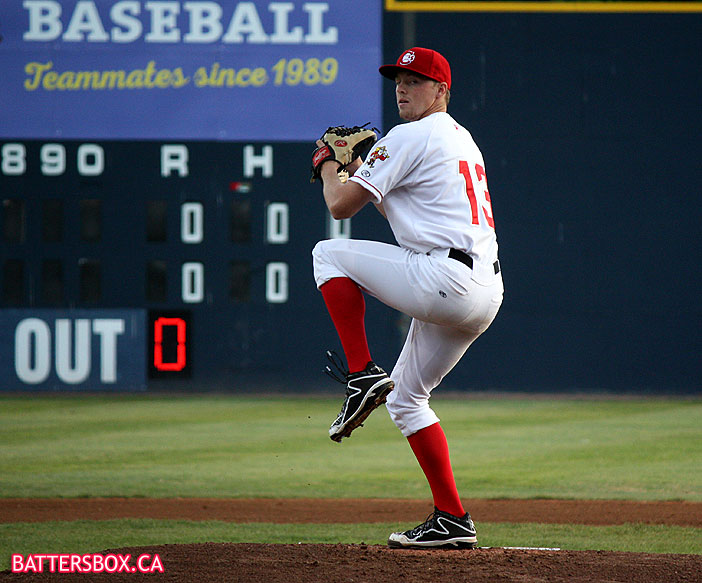 Josh DeGraaf
will be on the hill for Vancouver as they try to keep their slim playoff hopes alive.
GCL Red Sox @
GCL Blue Jays
, 11:00 am ET (Game 2, GCL Final) - TBA
GCL Blue Jays
@ GCL Red Sox, TBA pm ET(Game 3, if necessary) - TBA (Red Sox lead GCL best-of-three final 1-0)
Syracuse @
Buffalo
, 6:05 pm ET -
Donn Roach
(2-4, 5.87)
Portland @
New Hampshire
, 6:35 pm ET -
Taylor Cole
(6-10, 4.24)
Great Lakes @
Lansing
, 7:05 pm ET -
Marcus Stroman
(NR)
Vancouver
@ Tri-City, 10:15 pm ET -
Josh DeGraaf
(2-1, 3.49)
Extra Innings