It only took 20 years but the MLB schedule makers finally got it right. The San Diego Padres will finally play in Toronto for the first time since interleague play was introduced in 1997. Here is your
2016 schedule
.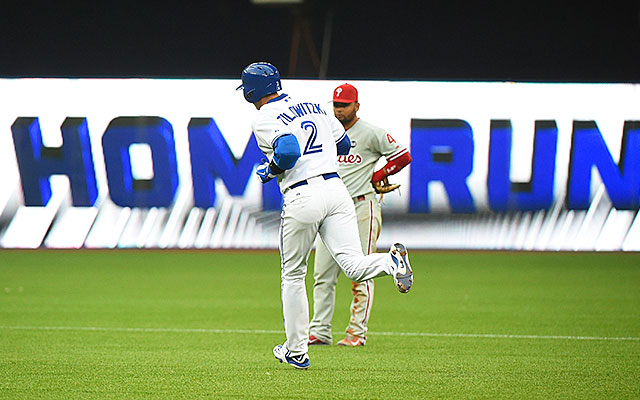 Troy Tulowitzki
will see Philadelphia in mid-June before visiting his former team in Denver at the end of the month.
The Jays will open and close their seasons on the road. They visit the Tampa Bay Rays Monday, April 4 and will close out their season in Boston on the weekend of September 30 to October 2. The Red Sox will be the opponent on Opening Night at the Dome Friday, April 8.
The Jays will take on teams from the National League West in interleague action in 2016. The first matchup features the Los Angeles Dodgers in town on the May 6-8 weekend. They will then head to San Francisco for three games on May 9-11. The Jays will host their "natural rival" Philadelphia Phillies for two games June 13 and 14 before paying a return visit June 15 and 16. They'll resume their NL West schedule June 21 and 22 at home against the Arizona Diamondbacks before going over to Arizona July 19 and 20.
Troy Tulowitzki
and company are also scheduled to play in Denver against Tulo's former team, the Colorado Rockies, June 27 to 29. Finally, the San Diego Padres touch down in Toronto for the first time on July 25 for the start of a three-game set.
For those of you in the West Coast, the Jays will not be in Seattle until September 19, which is a Monday. After that three game set at Safeco Field, the Jays final homestand begins with a four-game series against the New York Yankees and ends with a three-game set against Baltimore that ends Thursday, September 29.
The Canada Day matchup is set for Friday, July 1 against Cleveland. The Jays are in Minnesota for the Victoria Day weekend for a four-game series May 19-22 before getting Victoria Day Monday off. The Jays are in Houston for the Civic Day Holiday Monday, August 1 but host Baltimore over the weekend. The Jays are also on the road for Labour Day Monday against the Yankees.
The Padres visit aside, I'm not that thrilled about this year's schedule. If you begin on the road, you should end at home and vice-versa. Save for the Dodgers series, all the interleague series are scheduled during the week. I'm also disappointed about the Seattle series being scheduled during the week. I turn it over to you, Bauxites. Your thoughts.