Welcome to the Batter's Box Top 30 Blue Jay prospects for 2015. Your trusted minor league correspondents pooled their votes to come up with the list and then began the task of creating the prospect descriptions you see below. Come back tomorrow for numbers 20 through 11.
There is a lot of turnover from 2014 thanks to "trade-em-all Alex". Ten of last year's top 30 were traded. They were Daniel Norris, Franklin Barreto, Jeff Hoffman, Kendall Graveman, Miguel Castro, Jairo Labourt, Sean Nolin, Dawel Lugo, Matt Boyd and Alberto Tirado. In addition to those ten, Aaron Sanchez, Dalton Pompey and Roberto Osuna all graduated to the big leagues. All of those departures makes room for a new crop of prospects, some of whom shot onto the scene in 2015, and others who made it because the system is a lot less deep than it was a year ago. The system will now be a bottom third system, but there are always some exciting players and you only need two or three to become stars to have a successful top 30.
30. Jorge Flores | SS-2B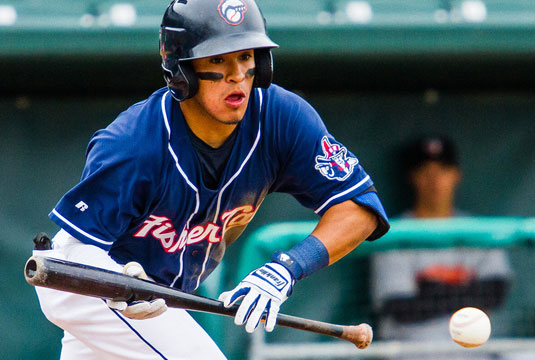 (Image from MiLB.com)

Year
Age
Level
AB
2B
3B
HR
BB
K
SB
CS
AVG
OBP
SLG
2015

24

AA

395
20
1
2

47

63

10

11

.276

.360
.347
Height doesn't measure heart. It is Marcus Stroman's trademarked phrase but it can also apply to Jorge Flores. The 5-foot-5, 165 pound shortstop was a 46th round pick by the Arizona Diamondbacks in 2010 after they spotted him in their own backyard in nearby Hamilton High School in Chandler. He had left Mexico at the age of 17 to go to school in Arizona despite not speaking English at the time.
After turning down the D-Backs, Flores was taken again in round 19 by the Blue Jays in the 2012 draft from Central Arizona College. He began his pro career that year with Vancouver and made a solid first impression with his hustle on the field and his ability to grind out at-bats. Not only was Flores number one in the team program, he was also number one in the fans' hearts by winning the Fan Favourite award. He helped the Canadians win the second of three straight Northwest League titles and was named a Post-Season All-Star at short.
His manager in Vancouver, Clayton McCullough, told The Vancouver Sun that Flores "has the hands and enough arm to stay at shortstop. I haven't even thought about his size. If our catchers are airmailing balls to second base, then we're not getting people out anyway."
After getting on base at a .355 clip in Vancouver, Flores split 2013 with Lansing and Dunedin where managed to maintain a decent .348 OBP with the Lugnuts in 2013 but that dipped to .292 in 19 games with Dunedin. His batting average in Michigan and Florida was also - on average - 100 points below his OBP.
The right-handed hitter had a better second go-round in Dunedin by hitting .308 with an on-base mark of .374. That got him promoted to New Hampshire where he batted .293 but he only drew walks in five percent of his plate appearances, leading to a 36-point drop in his OBP.
In 2015, Flores was selected as one of five Fisher Cats to represent New Hampshire at the Eastern League All-Star game. He boosted his career OBP to .351 by getting on base 36 percent of the time. The Ensenada, Baja California, Mexico native told the Toronto Observer he believes his diminutive size is an advantage because pitchers have trouble finding the strike zone against him. However, his isolated slugging mark has been well below .100 over the last two seasons so he will need to contribute with the leather. He has seen time at second base for the last three years but he lined up at all three outfield positions for the first time in 2015.
Currently playing winter ball for Hermosillo in the Mexican League, Flores could find himself in Buffalo at some point in 2016 with a puncher's chance of making it north of the border. He can look to fellow 5-foot-5 shortstop Freddie Patek for inspiration. Patek spent 14 years in the bigs spanning the 1960's, '70's and 80's with the Pirates, Royals and Angels. Flores celebrated his 24th birthday on November 25.
29. A.J. Jimenez | C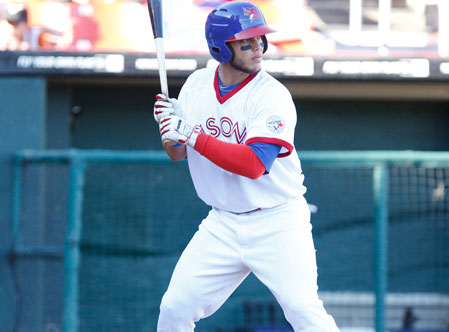 (Image from MiLB.com)

Year
Age
Level
AB
2B
3B
HR
BB
K
SB
CS
AVG
OBP
SLG
2015

25

AA

21

0
0
0

0

6

0

0

.095

.095

.095

2015

25

AAA

87

7

1

0

9

12

2

0

.218

.296

.322

A.J. Jimenez made his first appearance on a Batter's Box Top 30 in 2009, when he ranked 22nd overall. Interestingly, there was another member of that Top 30 who was still in the Jays system during the 2015 season and who has never seen major league action, as Ryan Schimpf ranked 25th on that year's list, although he recently signed with San Diego as a minor league free agent. Both were ranked ahead of Jake Marisnick, who snuck on to the list at 29th.
Jimenez was a 9th round selection in 2008 and, at the time, he was regarded as the best catcher out of Puerto Rico since Yadier Molina. He had experienced elbow issues leading up to the draft, which partially explained why he dropped a few rounds further than was expected. These injury issues have become an ongoing thing, as Jimenez had Tommy John surgery in 2012 and he's had lingering elbow problems since then. Furthermore, in 2015, he was limited to 28 games because of wrist problems, which eventually necessitated surgery that ended his season.
Jimenez has more than 1,900 minor league plate appearances – nearly 2,300 if you include foreign winter leagues – in seven seasons, but he's only broken the 300 plate appearance threshold in only one season since 2012. Jimenez isn't a strong hitter, although his bat may be acceptable for a strong defensive backup catcher. He posted a .618 OPS at Buffalo this year after posting a .652 OPS at Triple-A the previous season.
His strength has always been his defensive skills, which includes above-average athleticism for a catcher and a strong arm. It's been hard to get a read on whether his arm has been affected by his injuries, but the stats suggest it hasn't, as he threw out 32% of attempted steals in 2014 and 33% in 2015. He has a career caught stealing percentage of 40% in the minors.
Jimenez isn't in consideration to be the club's backup catcher in 2016 and will likely split time with Humberto Quintero at Buffalo. However, if he can stay healthy and demonstrate that he can hit passably for a backup catcher, he could force himself into consideration should an injury occur for the backup role in 2017.
28. Jose Espada | RHP
(Image from Getty Images)

| | | | | | | | | | | |
| --- | --- | --- | --- | --- | --- | --- | --- | --- | --- | --- |
| Year | Age | Level | G | GS | IP | H/9 | HR/9 | BB/9 | K/9 | ERA |
| 2015 | 18 | Rk | 10 | 7 | 34.1 | 6.6 | 0.9 | 2.1 | 8.1 | 3.41 |
The Blue Jays have done well in recent years through drafting high school pitchers. Jose Espada was a fifth-round pick in 2015 out of Puerto Rico. Espada is six feet tall and a skinny 170 pounds. His fastball sits in the low nineties and the Jays believe he can add some velocity as he matures. Espada also throws a curve and a change-up. Espada started his pro career by allowing just one run in his first five starts. He came back to earth after that but that is expected as the coaching staff start to teach new grips and deliveries to the new players.
As an 18 year old Espada is a high risk prospect, he will likely remain in extended spring training to start 2016 and then look to be assigned to Bluefield.
27. Mitch Nay | 1B-3B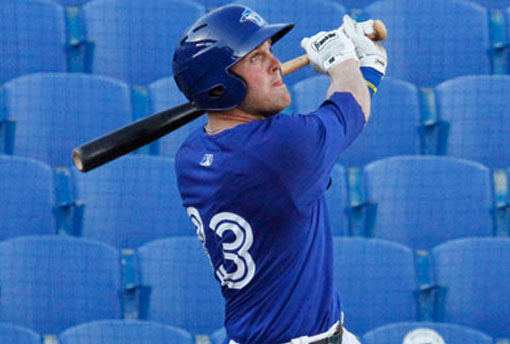 (Image from Jim Goins - MiLB.com)

Year
Age
Level
AB
2B
3B
HR
BB
K
SB
CS
AVG
OBP
SLG
2015

21

A+

391

18
5
5

32

75

0

1

.243

.303

.353

From last year's Top 10 prospects list on Batter's Box, five of the players (Miguel Castro, Kendall Graveman, Jeff Hoffman, Franklin Barreto and Daniel Norris) were traded. Roberto Osuna, Aaron Sanchez and Dalton Pompey graduated to the majors. Of the two players who haven't graduated or found themselves wearing another team's uniform, you'll hear more about one of them in a couple of days. And then there's Mitch Nay.
The Jays lured the product of Hamilton High School in Chandler, Arizona away from a commitment to Arizona State after selecting him in the supplemental first round of the 2013 draft at 58th overall. Nay placed 10th on last year's list on the strength of his draft slot and his strong 2013 season in Bluefield, where he posted a .790 OPS as a 19-year-old.
Baseball America
ranked Nay as the fourth best prospect in the Appalachian League after that season on the strength of his offensive potential.
His 2014 season wasn't as strong, as he posted a .731 OPS at Lansing, where he spent most of the season, but he was still named the R. Howard Webster Award winner for Lansing. Nay was invited to big league camp in 2015, where he spent the first half of March working alongside Josh Donaldson and Danny Valencia.
However, 2015 has to be considered a disappointment. With Dunedin, Nay hit .243/.303/.353 and posted a .656 OPS. In 437 plate appearances, he grounded into 18 double plays and struck out 75 times. After hitting 35 doubles in 2014, he hit 18 doubles this year with five home runs.
Nay's pre-draft profile was impressive, as he was ranked 42nd overall by ESPN despite a rather thin resume and the fact he was unable to participate in the national showcase tour due to a broken left hamate bone and a strained lower back. Going into the draft it was reported that Nay generated true power when he opened up his swing early, but that this habit left him particularly vulnerable to breaking pitches away. Nay was purported to have strong power to all fields with quick wrists and good bat speed. Baseball America described him as having a "70 bat" after his 2013 season.
His defensive game is still a work in progress. He has a strong arm, but isn't advanced with his footwork and going into the draft reports suggested that his future may be in right field. However, he's worked on his defensive game significantly since turning professional and, although he has high error totals, it was reported by Baseball America after the 2013 season that Nay had the ability to remain at third base.
There are still many reasons to be optimistic about Nay's profile and it wouldn't be surprising to see him rebound and place much higher on the 2016 list if he has a bounceback season at the plate.
26. Ryan McBroom | 1B-LF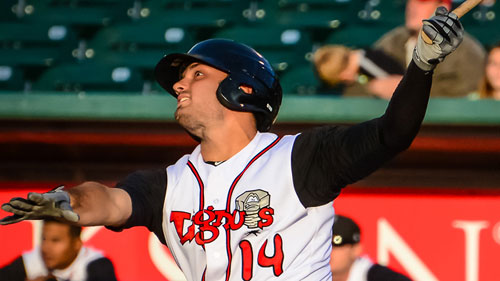 (Image from Kyle Castle - MiLB.com)

Year
Age
Level
AB
2B
3B
HR
BB
K
SB
CS
AVG
OBP
SLG
2015

23

A

461

39
1

12

49

96

5

4

.315

.387

.482

Ryan McBroom has the perfect last name for a clean-up hitter. The question is, will he be able to develop enough power that's required for first base? The 6-foot-3 right-handed hitter has been in the number four spot in the batting order in his two stops up the minor league chain, starting with the Vancouver Canadians last season. In his first taste of playing north of the border, McBroom had 34 extra-base hits and an isolated slugging average of .205 that led to a Player of the Week award and a berth in the Northwest League All-Star game. His performance with the stick was a key reason for the C's reaching the Northwest League finals for a fourth straight season.
The Fredericksburg, Virginia native followed up with an even better 2015 campaign with Lansing. He gave Dayton Dragons pitchers nightmares by slaying them with a 5-for-5 day at the plate in May and a 6-for-6 performance in July to set a franchise and league record for most hits in a game. McBroom also recorded hits in nine straight at-bats, falling just one shy of the league mark after his tenth at-bat resulted in a sacrifice fly. It was efforts like those that helped him win the Midwest League's Most Valuable Player award, the first Lansing player to do so since Kevin Pillar in 2012. He also helped the Lugnuts get to the playoffs with a first-half division title and was named to the postseason all-star team after batting .400. McBroom was also given the R. Howard Webster award winner by the Blue Jays as their top minor leaguer in Michigan.
The most encouraging sign of McBroom's performance was seeing him double his walk rate to nine percent with the Lugnuts, boosting his on-base percentage 48 points from his time in Vancouver. His best month came in June when he batted .413.
McBroom's sterling 2015 comes with a couple of caveats. He was a year-and-a-half older than the competition in the Midwest League and he only upped his home run total from Lansing to Vancouver by one by knocking just 12 out of the park.
In an interview with Metro News in 2014, Vancouver manager John Schneider praises McBroom for his calm demeanor at first base, his footwork and his ability in holding runners on. However, with doubts about his bat being able to fit the profile for first, McBroom also played some left field for Lansing to expand his defensive portfolio.
A 36th round pick of Kansas City in 2013, McBroom decided to return to West Virginia for his senior season with the Mountaineers to finish up his degree in sport and exercise psychology. The Blue Jays took him in the 15th round of the 2014 draft. McBroom – who is expected to start 2016 in Dunedin - will turn 24 on April 9.
25. Chad Girodo | LHP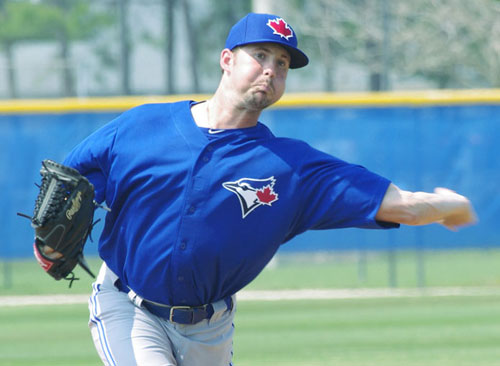 (Image from BlueJaysFromAway.com)

| | | | | | | | | | | |
| --- | --- | --- | --- | --- | --- | --- | --- | --- | --- | --- |
| Year | Age | Level | G | GS | IP | H/9 | HR/9 | BB/9 | K/9 | ERA |
| 2015 | 24 | A+ | 20 | 0 | 27.1 | 5.6 | 0.3 | 2.3 | 10.5 | 1.32 |
| 2015 | 24 | AA | 21 | 0 | 29.0 | 8.1 | 0.0 | 0.6 | 7.1 | 0.62 |
| 2015 | 24 | AAA | 4 | 0 | 4.0 | 13.5 | 0.0 | 0.0 | 6.8 | 6.75 |
It was surprising when Chad Girodo was assigned to Dunedin to start 2015. Girodo had pitched in Dunedin for all of 2014 and it seemed as though it was time to move up. In mid-year the Jays did move Girodo to AA and then gave him a few games in AAA to end the season, followed by a trip to the Arizona Fall League. Girodo is a classic LOOGY, with a side arm delivery, think Aaron Loup, mark two. Some pitchers like Loup and Girodo find a career as pitchers who only face left-handed hitters. Other left-handed pitchers will face right-handed hitters too. Side-arming lefties like Girodo and Loup throw their pitches so they run away from left handed hitters but run into the bat of right handed hitters. Unless Girodo can find a pitch to get right-handed hitters out, he will be confined to LOOGY or mop-up duties. If Girodo wants a major league career it would help him to work on those pitches to get righties out as pure LOOGY's are not as valuable to a team as are more versatile left-handed pitchers. Although bullpens are bigger these days, pitchers who are versatile will get preference for a spot.
In New Hampshire, lefties hit just .098 off Girodo while righties hit .328. Girodo had a 1.80 ERA in seven games in the Arizona Fall League. Again lefties hit just .143 against him while righties hit .269. Girodo could be assigned to either New Hampshire or Buffalo to start 2016, it would depend on which free-agent pitchers are added by the Jays.

24. Yeltsin Gudino | SS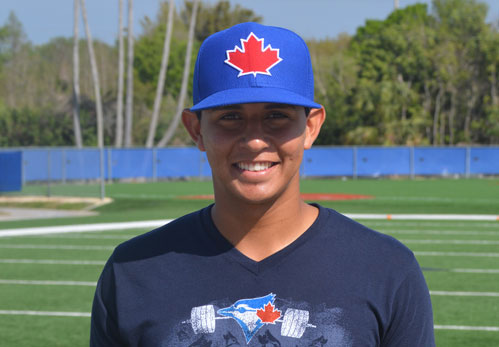 (Image from TorontoObserver.com)

Year
Age
Level
AB
2B
3B
HR
BB
K
SB
CS
AVG
OBP
SLG
2015

18

RK

211

12
1
1

17

36

2

2

.185

.251

.265

Yeltsin Gudino is on this list because he received a $1.2 million bonus in 2013. Gudino played for Bluefield this season and his numbers were a little disappointing. He had a terrible June, a decent July and a terrible August. The rap on Gudino has been his skinny frame and his lack of strength. His BABIP of .222 supports that view. Gudino is a top-notch defender but his bat needs to step it up.
Gudino did show reasonable control of the strike zone with just a 17% K/9. Gudino also hit .330 in extended spring training so perhaps he was really suitable for the GCL level and Bluefield was a step too far. At 18 years old, Gudino still has lots of time to improve his hitting but he needs to start showing that in 2016. Gudino will either return to Bluefield or move up to Vancouver next year.

23. Ryan Borucki | LHP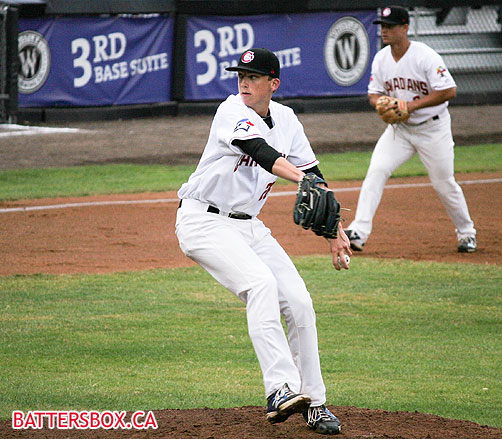 | | | | | | | | | | | |
| --- | --- | --- | --- | --- | --- | --- | --- | --- | --- | --- |
| Year | Age | Level | G | GS | IP | H/9 | HR/9 | BB/9 | K/9 | ERA |
| 2015 | 21 | RK | 1 | 0 | 1.0 | 9.0 | 0.0 | 0.0 | 9.0 | 0.00 |
| 2015 | 21 | A- | 2 | 2 | 4.2 | 11.6 | 0.0 | 5.8 | 11.6 | 3.86 |
A high-school pitcher from Mundelein High School in Mundelein, Illinois, Ryan Borucki was selected in the 15th round of the 2012 amateur draft after his senior season. The draft buzz around Borucki had intensified over the year prior to the draft, due to his growth between his sophomore and senior year. It also likely helped that he came from a family with professional baseball experience, as his father, Ray Borucki, was a minor league infielder for both the Philadelphia Phillies and Detroit Tigers and made it as far at Triple-A.
Borucki pitched sparingly during his senior season due to a ligament tear in his elbow. As of May 1, 2012, Borucki had only pitched 14.2 innings that season, although he had struck out 26 of the 52 batters he faced. Borucki opted to avoid Tommy John surgery and instead chose to rest and rehab his elbow.
The Jays spent $426,000 to sign Borucki away from a scholarship to the University of Iowa. He was the only player selected in the 15th round of the draft to receive a signing bonus over the $100,000 limit.
Listed at 6'4 and 175 pounds, Borucki was sent to the Gulf Coast League in 2012 where he made four appearances, facing 22 batters. He allowed four hits, including one homer, but struck out 10 of those hitters.
Unfortunately, Borucki blew out his elbow in 2013 and missed the season after undergoing Tommy John surgery. He didn't return to the mound until the middle of 2014. Borucki split the 2014 season between Bluefield and Vancouver, making 10 starts and 3 relief appearances. After six starts with Bluefield, he was promoted to Vancouver, where he made his final four starts of the year. Over the full season, he struck out 52 batters in 57 innings and put up a 2.37 ERA.
Borucki's 2015 was a non-factor from a developmental perspective, as he only threw 5.2 innings due to injuries. After being shut down in the spring with elbow troubles, Borucki made three appearances in July, but was shut down again after July 16 and he didn't pitch again. During those 5.2 innings, Borucki struck out 7, although he walked three, and posted a 1.50 groundball to flyball ratio.
In 2014, it was reported that Borucki's fastball comfortably sat in the 88-92 miles per hour range. Borucki also throws a change-up and a curveball and has a projectable frame. Dane Johnson spoke to Batter's Box in 2014 about Borucki and praised his intangibles, commenting, "He has the intangibles on the mound that you like to see, especially from a kid his age, that are far above what you would normally see from a kid that age."
Borucki likely has more upside than any left-hander in the system after Matt Smoral and Angel Perdomo, but at this point he's struggling to stay healthy and there are serious questions as to whether injuries will derail his pro career. Next year will be a big season for Borucki, as the Jays will be looking for Borucki to stay healthy and continue his development as a pitcher.
22. Andy Burns | INF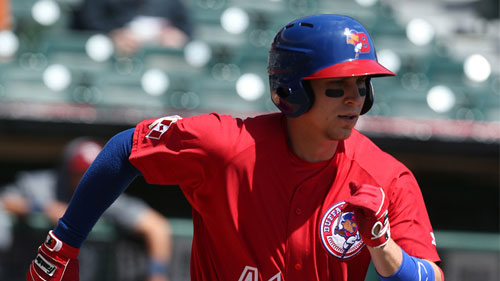 (Image from MiLB.com)

Year
Age
Level
AB
2B
3B
HR
BB
K
SB
CS
AVG
OBP
SLG
2015

25

AA

21

0
0
0

3

3

0

0

.238

.333

.381

2015

25

AAA

478

26

0

4

38

69

6

9

.293

.351

.372

Andy Burns is a very good baseball player but unfortunately he could be a quad-A player. Burns hits reasonably well, he hit almost .300 in Buffalo this year. Burns has a decent eye at the plate and can run a bit. In the field Burns can play multiple positions. On the other hand, Burns' .723 OPS would be equivalent to a .600 major league OPS. He can play second and third but has not played much shortstop recently. In these days of shorter MLB benches, your utility infielder has to be able to cover short. Burns can hit but doesn't have much power, just four home runs in almost a full season in AAA. And although Burns can run, he is not a base stealing threat in the major leagues.
Burns had originally signed after sitting out a college season due to a transfer. He picked up his form in his second year and progressed regularly through the organization until he stalled somewhat between AA and AAA. Andy Burns is a very good baseball player but might fall through the cracks of a major league teams roster construction and needs. He is good enough to be a utility major leaguer but not quite enough of a hitting threat and not quite enough range for shortstop. Burns is eligible for the upcoming Rule 5 draft. The Jays made a gamble that another team will feel the same way about Burns and leave him to stay with the Jays for another year. Burns is a decent insurance policy in the event that there is a short-term need at second or third in 2016.

21. Juan Meza | RHP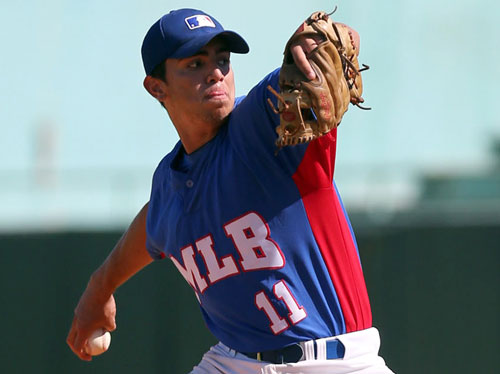 (Image from MiLB.com)

| | | | | | | | | | | |
| --- | --- | --- | --- | --- | --- | --- | --- | --- | --- | --- |
| Year | Age | Level | G | GS | IP | H/9 | HR/9 | BB/9 | K/9 | ERA |
| 2015 | 17 | RK- | 7 | 5 | 25.2 | 10.5 | 0.4 | 4.9 | 7.4 | 6.66 |
| 2015 | 17 | Rk | 4 | 1 | 5.0 | 10.8 | 1.8 | 14.4 | 14.4 | 10.80 |
This ranking is all about projection and a weaker Jays system. Juan Meza was signed out of Venezuela last year for $1.6 million and made his professional debut in 2015. His numbers were generally uninspiring but he was pitching as a 17 year-old. Meza started the year in the GCL before being sent to the Jays' Dominican academy. Meza is 6'3" tall and can pitch in the low-to-mid nineties, but obviously the command of his pitches has not arrived yet. It is hard to make pronouncements about a 17 year-old but I expect to see him in the GCL in 2016. Usually pitchers who get the big signing bonuses have the talent, they just need some time to figure out what they are doing.
Join us tomorrow for more of the Blue Jays top 30 prospects.