Today we look at the prospects rated 20 though 11. For prospects 30-21,
click here
.
20. Angel Perdomo | RHP
| | | | | | | | | | | |
| --- | --- | --- | --- | --- | --- | --- | --- | --- | --- | --- |
| Year | Age | Level | G | GS | IP | H/9 | HR/9 | BB/9 | K/9 | ERA |
| 2015 | 21 | R+ | 9 | 9 | 48.0 | 7.9 | 0.6 | 2.6 | 6.8 | 2.62 |
| 2015 | 21 | A- | 5 | 3 | 21.1 | 4.2 | 0.4 | 6.8 | 13.1 | 2.53 |
The Blue Jays have found something in Angel Perdomo. What that something is has not yet been determined. Will the 6-foot-6 lefthander be a starter that fits in the middle of a big league rotation or a reliever throwing smoke out of the bullpen?
Signed as a 17 year-old free agent out of the Dominican Republic in 2011, Perdomo spent two seasons with the DSL Blue Jays. He showed strikeout stuff with 13 strikeouts but also control problems with the same number of walks in 11-2/3 innings in 2012. The next season, he boosted his K rate by 4.5 batters per nine innings but only reduced his walk rate to six.
Perdomo really showed progress in his stateside debut in 2014 by chopping his walk rate to a more manageable 4.1 per nine innings while racking up 57 strikes in 46 innings. With 27 of his 32 appearances coming out of the bullpen in his first three seasons, the big southpaw was converted into a starter in 2015 with Bluefield. The good news was his walk rate was cut down to 2.6 per nine frames but the K's were not coming as frequently with a rate of 6.8 but when he was on, he was really on. He struck out nine and walked one in a six-inning shutout victory against Johnson City in July and had a K-BB total of 8-0 while allowing just one run over two hits in a five-inning no-decision against Greenville in August.
Even after being roughed up for four runs on 10 hits in 3-1/3 innings against Elizabethton, the Jays brass decided to promote Perdomo to Vancouver in mid-August. He got the victory in his first appearance for Vancouver by throwing four shutout innings in relief against the defending Northwest League champion Hillsboro Hops in which he struck out seven and walked one. His strikeout stuff was on display to the tune of 31 K's in 21-1/3 innings but his control problems would resurface over his next four outings.

Perdomo's final outing of 2015 summed up his season perfectly. The good was a no hit-bid against Everett that lasted until the sixth inning and finished with a one-hitter over 5-1/3 shutout innings with nine strikeouts. However, he handed four free passes to give him 14 bases on balls over his last 14-1/3 innings.
Perdomo throws a fastball, slider and changeup and did hit 97 miles per hour on the radar gun. His other two offerings range in the low-to-mid 80's. Where the San Cristobal, Dominican Republic native begins 2016 is anyone's guess. Will he see time in extended spring training before being assigned to Lansing or could he be back in Vancouver in some point. Time will tell. Perdomo will celebrate his 22nd birthday May 7.
19. Tom Robson | RHP
| | | | | | | | | | | |
| --- | --- | --- | --- | --- | --- | --- | --- | --- | --- | --- |
| Year | Age | Level | G | GS | IP | H/9 | HR/9 | BB/9 | K/9 | ERA |
| 2015 | 22 | R+ | 3 | 2 | 4.2 | 17.4 | 1.9 | 1.9 | 9.6 | 3.86 |
| 2015 | 22 | A- | 2 | 2 | 5.1 | 3.4 | 0.0 | 6.8 | 15.2 | 5.06 |
| 2015 | 22 | A | 7 | 7 | 26.2 | 10.5 | 0.7 | 4.7 | 7.1 | 5.06 |
The best news for
Tom Robson
in 2015 was getting back on the mound after he was sidelined early in 2014 with Tommy John surgery on his right elbow. The 2014 campaign was one to forget for the Richmond, BC native as he struggled with Lansing, losing four of six decisions with a 6.25 earned run average and walking just over five batters per nine innings in 31-2/3 innings of work. That was in stark contrast to his banner 2013 campaign in which he posted a perfect 6-0 record and a 1.12 ERA split between Bluefield and Vancouver. The capper was a 6-1/3 shutout inning performance in front of the hometown crowd in the third and deciding game against Boise to clinch the Canadians' third straight Northwest League championship.
After three tune-up appearances for the Gulf Coast Blue Jays, Robson returned to Vancouver for two more abbreviated starts in front of the locals. His first start there saw his range of pitches register from 76-96 miles per hour. He throws a four-seam and two-seam fastbal as well as a curveball and a changeup. The 6-foot-4 hurler told
Charlie Caskey
of
The Vancouver Sun
he was working on staying on top of his changeup to prevent stress on his elbow and regaining his feel of his breaking ball.
Robson was bumped up to Lansing at the end of July and was still knocking off the rust as he dropped his only two decisions to end the season. However, the pride of Ladner, BC got in the win column by limiting eventual Midwest League champion West Michigan to a run over six innings in Game 1 of their best-of-three series.
A 2011 fourth-round pick of the Blue Jays who made his pro debut with Bluefield in 2012, Robson could find himself back in Lansing in 2016 before moving on to Dunedin. He will turn 23 on June 27.

18. Reggie Pruitt | OF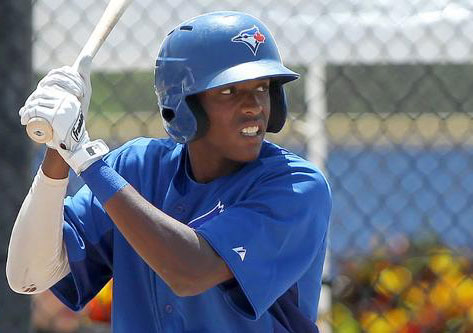 (Image from MiLB.com)

Year
Age
Level
AB
2B
3B
HR
BB
K
SB
CS
AVG
OBP
SLG
2015

18

RK

121

6
1
0

12

37

15

2

.223

.309

.289

This year Toronto was able to land a consensus top 200 talent in the 24th round when the club selected Reggie Pruitt 772nd overall. Pruitt, who was rumoured to be a tough sign before the draft, reinforced that impression by tweeting shortly after being selected that he was going to follow through on his commitment to Vanderbilt University. However, something changed the Kennesaw Mountain High School product's mind and he accepted the club's offer of a $500,000 signing bonus, forsaking his commitment to Vanderbilt.
Kennesaw Mountain, which was the same high school that produced 11th overall pick Tyler Stephenson, reached the state semifinals in the Class 6-A division and Pruitt compiled a .466 batting average with 3 home runs and 21 stolen bases on the season. Stephenson's presence on the club gave scouts plenty of opportunities to take a look at Pruitt and he grew into a place on the pre-draft ranking boards, with MLB.com ranking him 189th and Baseball America ranked him 200th overall. The consensus was that he would be selected in one of the early rounds, although not during the first couple of rounds, but he wouldn't be offered enough money to turn down Vanderbilt.
After signing, Pruitt was assigned to the Gulf Coast League Blue Jays, where he hit .223/.309/.289 for a .599 OPS. Although his on-base percentage may have been a little inflated by four hit-by-pitches, he showed decent plate discipline and worked 12 walks. Pruitt struck out 37 times, but was a factor on the bases with 15 stolen bases in 17 attempts.
If you don't get a picture of the player Pruitt is at this stage of his development from those numbers, the pre-draft scouting reports paint a clear picture. There was a consensus that Pruitt can be a plus defensive centre fielder with speed that can make a difference, but he needs a lot of work at the plate. Defensively, Pruitt's fielding instincts are strong and he has been recorded reaching speeds in the low 90's on his throws. While he made six errors with the GCL Blue Jays, these may have been a result of aggressiveness and inexperience and no one doubts he has the tools to be a strong fielder up the middle.
On the bases he was ranked as having 70 grade speed on the traditional 20-80 scouting scale by MLB.com. Pruitt ran a 6.49 60-yard dash in June during a USA Baseball pro workout and tryout day in June and MLB.com noted that Pruitt has been timed at 3.6 seconds from home to first on a drag bunt. As noted above, Pruitt stole 15 bases with the GCL Blue Jays and he only reached based 43 times via hits, walks or being hit by a pitch.
The biggest question mark is Pruitt's bat. There is agreement that Pruitt's swing needs a lot of work, as it's choppy and can get long at times. Apparently, Pruitt also has a tendency to start too late. He doesn't ever project to hit for average power, although he could develop gap power that would be a great weapon with his speed. He does have good bat speed and, if the Jays can fix his swing, he should be able to hit for average.
Pruitt has admitted he wishes he was a power hitter, saying "I want to be a power hitter because I see all these guys hitting the ball over the wall and hitting the fence. However, he admits that he has realized his strength is "just staying on top of [the ball], getting it in gaps, on the ground."
Pruitt seems to have embraced the organization, as he traveled to Atlanta to watch the Jays play the Braves in September and his Twitter account shows that he was actively rooting for the team during the playoffs. Hopefully he was taking notes on the play of Kevin Pillar.
17. Roemon Fields | CF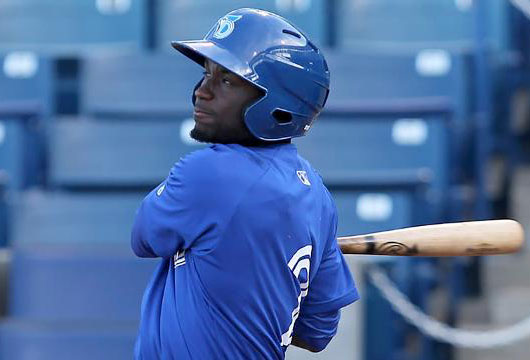 (Image from
MiLB.com
)
Year
Age
Level
AB
2B
3B
HR
BB
K
SB
CS
AVG
OBP
SLG
2015

24

A+

264

10

4

1

16

52

21

9

.269

.312

.348

2015

24

AA

202

2

1

1

18

34

23

5

.257

.292

.392

2015

24

AAA

23

1

0

0

3

4

2

0

.217

.308

.261

Roemon Fields found himself just a promotion away from reaching the fields of the major leagues, advancing all the way from Dunedin to Buffalo in 2015. It was an impressive jump for the speedy outfielder, considering he just began his minor pro career in Vancouver the year before.
His 2014 season with the Canadians was not the first time he played ball in Canada. It was at a tournament in Prince George, BC in 2013 when he was first noticed by the Blue Jays. According to Sportsnet's Shi Davidi, the undrafted Fields was only at the tournament after being pushed by his brother Anthony to accept the tournament invite from Marcus McKimmy, Roemon's former coach at Yakima Community College.
Fields played four years in college that saw him spend two seasons with Bethany College in Kansas after transferring from Yakima. He batted .348 and stole 28 bases in his final year and despite a workout with the Royals in 2012, Fields felt his baseball career was over and was delivering mail in his native Seattle before he decided to go play ball in B.C.
In a story from The Vancouver Province, the left-handed hitting Fields summed up his play in Prince George this way, "Hit an opposite-field home run. Stole some bases. Caught a few balls. Made a few nice plays." That performance earned him a free-agent contract from the Jays, who signed him in late August of 2013. In the aforementioned Davidi article, Jays scout Matt Bishoff lauded Fields' athleticism, speed and defence in center field along with his short, contact-oriented swing.
Fields put his speed to great use, shattering the Vancouver Canadians short-season record for stolen bases in a season with 48, nearly doubling the previous mark of 25. The 5-foot-11 speed merchant was caught just nine times and posted a respectable on-base percentage of .338 with the C's.
Skipping past Lansing, Fields began his 2015 campaign in Dunedin and overcame a .228 batting average in April by batting over .280 in May and June, leading to a call-up to Double-A New Hampshire where he hit well over .350 in June and July. He he did miss some time in July with a dislocated finger, which he suffered by sliding into home plate with the winning run after tagging up on a Dwight Smith Jr. sacrifice fly to give the Fisher Cats a 1-0 win over New Britain July 4. Fields was able to overcome that to earn him a six-game trial in Buffalo before finishing out the rest of the season back in New Hampshire.
In a story from the New Hampshire Union Leader, Fields was advised by fellow outfielder Dalton Pompey to continue to work on his bunting. Not requiring as much attention is his base stealing prowess as he improved his success rate in Manchester, including a steal of home in one game.
Fields' whirlwind 2015 concluded with a productive stint in the Arizona Fall League in which he led the league with 14 stolen bases in 21 attempts and reached base at a .378 clip.
The scouting consensus about Fields' ceiling appears to be that of a fourth or fifth outfielder with comparisons being made to Kansas City Royals outfielders Jarrod Dyson and Terrence Gore. There was even speculation late in the season that Fields would be called up to Toronto to be the team's designated speedster, a la Gore, in September. His time to get to Baseball North may very well come in 2016 but he is likely to need more seasoning in New Hampshire and/or Buffalo before that day arrives. Fields recently turned 25 on November 28.
16. Danny Jansen | C
(Image from MiLB.com)

Year
Age
Level
AB
2B
3B
HR
BB
K
SB
CS
AVG
OBP
SLG
2015

20

R

20

1
0
1

2

5

0

0

.238

.304

.429

2015

20

A

160

8

0

4

19

22

2

0

.206

.299

.331

Danny Jansen was a rather unheralded 16th round pick out of West High School in Appleton, Wisconsin. Of course, hailing from Wisconsin, he didn't have the same amount of professional baseball experience as he would have if he grew up in a warmer state but he burst onto the scene with a very impressive 2014 season for Bluefield.
Jansen hit .282 in 38 games for Bluefield with 10 doubles, five home runs and an excellent strikeout-to-walk ratio of nearly 1:1. His season was ended early due to a knee injury, but there was a lot to like in Jansen's 2014 season.
There was some thought that Jansen would remain in rookie ball in 2015 to develop further; given the fact his 2014 season was cut short. However, the Jays promoted him to Lansing, where he didn't have the same offensive season as he did in 2015. Jansen hit .206/.299/.331 in 46 games, as his season was derailed by a hand injury on a catcher's interference play that caused him to miss the entirety of June and July. It's possible the hand injury continued his impact his hitting when he returned from the disabled list. Promisingly, although his average dropped off and he didn't quite hit for the same power, Jansen continued to display very strong control of the strike zone with 19 walks against only 22 strikeouts.
Jansen is big for a catcher at 6'2" and 230 pounds, so he's been practicing yoga and doing agility drills to try to improve his flexibility. He's been working on his defense with roving minor league catching instructor Sal Fasano and improved his caught stealing percentage to 29% in 2015.
Jansen has a plus power profile with good bat speed. Reportedly, he's been a pull-heavy hitter in the minors, so he'll have to work on using the whole field more as he progresses through the system. High school catchers take time to develop, so there's no rush with Jansen, as the Jays will want to give him every opportunity to develop defensively and remain behind the plate. Jansen may be assigned to Dunedin next year and it shouldn't be viewed negatively if he starts with Lansing, given his age and lack of playing time to date, as the club will likely be looking to promote him to Dunedin during the season.

15. Dwight Smith Jr | LF
(Image from New Hampshire Union Leader)

Year
Age
Level
AB
2B
3B
HR
BB
K
SB
CS
AVG
OBP
SLG
2015

22

AA

460

26
2
7

47

64

4

3

.265

.335

.376

It's never a good sign when the club's 15th-ranked prospect is left exposed for the Rule 5 draft, but the Blue Jays appear to be gambling that Dwight Smith Jr.'s raw talent and disappointing 2015 will lead to teams to steering clear of him later this month, despite the success of Delino DeShields Jr., another son of a former major leaguer who was a Rule 5 draft selection in 2014. Nevertheless, the fact that Smith was left exposed despite several openings on the 40-man roster that the Jays could have used to protect him may be a sign of how the front office views him.
The 23-year-old was selected from McIntosh High School in McIntosh, Georgia with the 53rd overall pick in the 2011 draft and he has steadily progressed through the Jays minor league system, spending 2012 at Bluefield, 2013 at Vancouver, 2014 at Dunedin and the past season with New Hampshire.
After posting an .816 OPS with Dunedin in 2014 and winning the R. Howard Webster Award for the team, Smith lost over 100 points on his OPS this year and only posted a .711 OPS at New Hampshire. Most of the difference came from his slugging percentage dropping from .453 to .376. Although he hit nearly the same number of doubles, he only notched two triples in 2015 after hitting eight in 2014 and he saw his home run total drop from 12 to seven. His stolen base total also declined dramatically, after already dropping from 25 to 15 between 2013 and 2014, he stole only four bases in seven attempts in 2015.
There was talk at various points during the last two seasons of Smith moving to second base, but he spent all of 2015 in the outfield and saw time at each of the outfield positions, including gaining his first professional experience at right field. Like previous seasons, Smith played primarily left field and saw occasional time in center. It seems clear at this point that Smith will not be a regular center fielder, but can fill that position occasionally which is useful for someone who may wind up as a fourth outfielder.
If Smith isn't selected in the Rule 5 draft, he may return to New Hampshire in 2016 with the club hoping to see him regain some of the success he had in 2014 before advancing to Buffalo.
14. Shane Dawson | LHP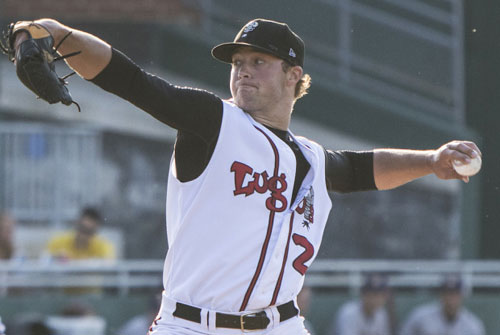 (Image from MiLB.com)

| | | | | | | | | | | |
| --- | --- | --- | --- | --- | --- | --- | --- | --- | --- | --- |
| Year | Age | Level | G | GS | IP | H/9 | HR/9 | BB/9 | K/9 | ERA |
| 2015 | 21 | A | 19 | 17 | 101.2 | 8.4 | 0.6 | 2.1 | 8.7 | 3.01 |
| 2015 | 21 | A+ | 5 | 5 | 26.0 | 6.9 | 0.7 | 2.8 | 7.6 | 3.12 |
Shane Dawson and R.A Dickey have something in common. Both are pitching in pro baseball without a certain body part. Dickey was born without an ulnar collateral ligament in his right elbow while Dawson is missing part of his rotator cuff. Dawson told John Lott of The National Post that he is missing a shoulder muscle called the infraspinatus and described the injury as a huge divot caused by a pitching wedge. Doctors discovered the problem when he reported for fall instructional league in 2013. A special conditioning regimen focused on strengthening the three remaining muscles around the rotator cuff helped Dawson toss a career-high 127-2/3 innings, mostly with Lansing in 2015. He earned a berth in the Midwest League All-Star Game and won a Pitcher of the Week award with the Lugnuts. His best outing was a 10-strikeout performance over six shutout innings of two-run ball against Dayton. He won 12 of 16 decisions, striking out 98 batters and recording a respectable WHIP of 1.17.
Dawson left the Blue Jays nest in July to pitch for Team Canada during the Pan-Am Games in Toronto and pitched 6-1/3 shutout innings out of the bullpen to help Canada win the gold medal. It was a sweet moment for him, especially when a broken leg prevented him from landing a spot on the Canadian National Junior Team during his high school days.
The 6-foot-1 southpaw would be promoted to Dunedin and continued to hold his own, winning three of five decisions and striking out 22 batters over 26 frames with an excellent WHIP of 1.08. He saved his best start for last, spinning a seven-inning, complete game one-hitter against Tampa September 1.
The Drayton Valley, Alberta native would return to Lansing for the team's playoff run and won his first start with a quality outing (six innings, three runs allowed) in their series opener against Great Lakes but was rocked for six runs over five innings in the third and deciding game to eventual Midwest League champion West Michigan.
A 17th-round pick of the Blue Jays in the 2012 draft out of Lethbridge Community College, Dawson began his pro career in Bluefield where he won two of three decisions with a 2.35 earned run average and 35 strikeouts over 30-2/3 innings. He returned to Bluefield to start 2013 and struck out another 35 hitters in 27-1/3 innings while posting a record of 1-3 with a 3.29 ERA. A promotion to Vancouver in late July really agreed with Dawson in the early going as he permitted just one run over 14-1/3 innings, helping him win a Northwest League Pitcher of the Week award in early August. However, he was roughed up for five runs in his final start and sat out the rest of the year with a sore elbow. He finished his time with the C's by splitting a pair of decisions while posting a 2.89 ERA. Dawson went to Lansing for the first time in 2014 and went 3-5 with a 3.38 ERA before a tired arm ended his season in July.
A four-pitch pitcher whose fastball tops out in the low 90-mile-per-hour range, Dawson has to rely on control, command and deception to get hitters out, something that was preached to him by his coach, Todd Hubka, at the Prairie Baseball Academy. He shows great athleticism in fielding his position but acknowledges his over-aggressiveness at times has caused problems with his infielders.
Dawson appears to be headed back to Dunedin in 2016 but another strong performance in Florida could land him in New Hampshire later on. His 23rd birthday will be on September 9.
13. Clinton Hollon | LHP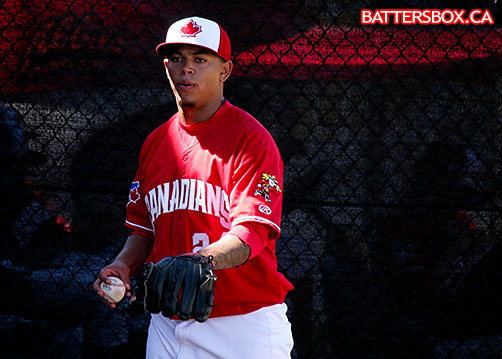 | | | | | | | | | | | |
| --- | --- | --- | --- | --- | --- | --- | --- | --- | --- | --- |
| Year | Age | Level | G | GS | IP | H/9 | HR/9 | BB/9 | K/9 | ERA |
| 2015 | 20 | A- | 9 | 9 | 45.1 | 7.3 | 0.2 | 3.0 | 7.9 | 3.18 |
| 2015 | 20 | A | 3 | 3 | 13.1 | 7.4 | 0.0 | 4.7 | 3.4 | 4.05 |
Clinton Hollon will have to wait until May before getting to pitch in a game that counts. That's because he was suspended for 50 games after he was busted for testing positive for an amphetamine. Setbacks are nothing new for the Blue Jays' second round pick of 2013. His signing bonus ($467,000) was reduced by 40 percent from the slot value of his pick after a physical revealed a ligament problem in his right elbow. The Lexington, Kentucky native was still able to begin his professional career that same season with 15-1/3 scoreless innings, 12 of them with the Gulf Coast League Blue Jays before the streak was ended during his first start with Bluefield. His earned run average over two starts in the Appalachian League was 10.13. The 6-foot-1 righthander from Woodford County High School in Kentucky had to wait until the summer of 2015 to whittle down his career ERA after missing all of 2014 with Tommy John elbow surgery.
Vancouver manager John Schneider, who praised Hollon for "being a bulldog on the mound" in an interview with MetroNews.ca, gave him the Opening Day assignment for the Canadians June 18. On that day, he got the win in Salem-Keizer with five shutout innings of two-hit ball, striking out seven. A 2.25 ERA over three starts in June would balloon to 3.68 in July but he finished up his stint with the C's with his longest outing, going 6-2/3 innings and allowing just one run in Boise July 30 to even his record at 2-2.
It was off to Lansing for Hollon and he made quite an impression in his first start in front of the home fans, tossing seven scoreless frames against Wisconsin August 5 by setting down the last 19 hitters he faced. His next start saw him get nicked for an unearned run over 4-2/3 innings in a no-decision at Clinton but he got just five outs and gave up six runs in a loss at Kane County in what turned out to be his final appearance of the season.
According to Baseball America, Hollon throws a fastball from 90-95 miles per hour and a plus slider from 82-85. He also has a changeup and a curveball that project to be at least average if not above. He has the makings to be a starter in the middle of a major league rotation. After his suspension is up, Hollon will probably return to Lansing to begin 2016 to build up his innings. He will turn 21 on Christmas Eve, which he will celebrate with his one-year old son Carter.

12. Lane Thomas | 2B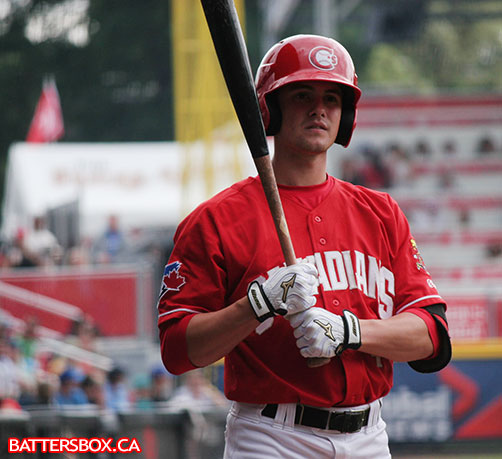 Year
Age
Level
AB
2B
3B
HR
BB
K
SB
CS
AVG
OBP
SLG
2015

19

A-

169

13

0

5

8

34

5

4

.225

.257

.391

2015

19

A

35

2

0

0

3

10

1

0

.114

.184

.171

Lane Thomas burst on the scene with a promising 2014 but he had took a step back with the bat and the glove in 2015. Signed to a $750,000 bonus, double the slot value of his 5th-round selection by Toronto in 2014, Thomas turned down a scholarship with Tennessee and joined the GCL Blue Jays where he posted a .362 on-base percentage, 102 points higher than his batting average over 152 plate appearances. He was bumped up to Bluefield and compiled an OPS of .814 over 78 trips to the dish. The BABIP gods smiled upon him with averages of .347 and .408 respectively despite striking out just over 20 percent of the time.
After playing third base as well as left and center field, Thomas was moved to second base during the fall instructional league and that was where he played with Vancouver in 2015. The Knoxville, Tennessee native had his problems at the keystone as he committed 13 errors. The struggles also extended to his bat with a .149 batting average in June. The right-handed hitter had a six-RBI game against Spokane July 3 in which he finished a triple short of the cycle but that did not carry over for the rest of the month as he hit just .212. A three-game multi-hit streak led to a .500 spurt in August and a promotion to Lansing. However, he really struggled with Midwest League pitching with an OPS of .356 over nine games and he made seven more errors at second base to give him a not-so grand total of 20 on the season.

Jim Callis of MLB.com first described Thomas as a player with "plus speed" and an "interesting bat" when he was drafted. Baseball America lists him as a player with tools, athleticism and great make-up in its 2015 Prospect Handbook. The BA scouting report also says the 6-foot-1 Thomas has a quick line-drive stroke that could produce double-digit home run totals. Defensively, BA believes he can handle staying in the infield thanks to his quick hands, lateral movement and strong throwing arm.
Thomas has been aggressively promoted during his first two seasons in the pros. Given his struggles in 2015, chances are he will probably be back in Lansing in 2016. He will turn 21 on August 25.
11. Matt Smoral | LHP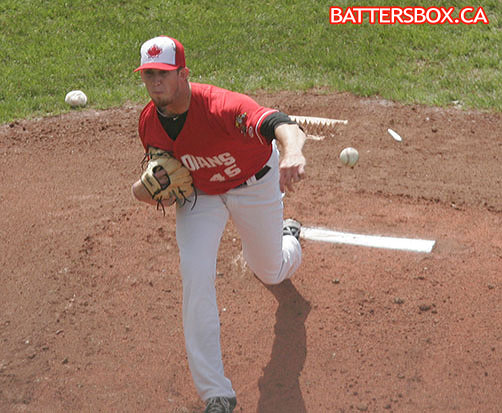 | | | | | | | | | | | |
| --- | --- | --- | --- | --- | --- | --- | --- | --- | --- | --- |
| Year | Age | Level | G | GS | IP | H/9 | HR/9 | BB/9 | K/9 | ERA |
| 2015 | 21 | RK | 8 | 0 | 10.2 | 5.9 | 0.0 | 11.8 | 13.5 | 6.75 |
| 2015 | 21 | A+ | 5 | 0 | 3.2 | 17.2 | 0.0 | 14.7 | 12.3 | 14.73 |
Matt Smoral was selected 50th overall out of Solon High School in Solon, Ohio in the 2012 draft. He appeared to have clear first round potential and likely would have been selected higher if not for the fact he was limited to pitching one game in his senior year due to a broken bone in his foot. The Jays signed Smoral for $2 million.
The 6'8" southpaw has a tantalizing frame, but he also displays some of the problems you'd expect from a raw left-handed pitcher trying to learn how to pitch after a growth spurt at the end of his high school career, as he has significant control problems. Furthermore, Smoral's had to deal with several injuries and has had issues with blisters and cracked nails. He had further problems with his back in 2015 and was limited to 14.1 innings.
Since he's been drafted, Smoral's only accumulated 93.2 innings. In those innings, Smoral struck out 118 of the 453 batters he has faced in his professional career; over a quarter of them. He's also only allowed one home run. However, he's also allowed 160 of these batters to reach base, with 79 of them reaching base via a base on balls. Additionally, he's hit a further 19 batters and thrown 22 wild pitches.
When he's pitching well, Smoral sits in the low-90s with, at times at least, a plus slider. However, his changeup is below average and he clearly has control issues that he showed no signs of having corrected this season. The more he struggles with his command, the more it looks like Smoral's future may lie as a flame-throwing reliever, but if he can fix his command and develop his changeup, there is number-two starter upside. Right now, the Jays would be very happy to see Smoral have a healthy season and show a little bit of improved command in 2016.