After coming off a hugely disappointing split of their season-opening series in Tampa Bay, the Blue Jays hope some home cooking will get them back on track as they return to SkyDome for their first home opening set against Boston.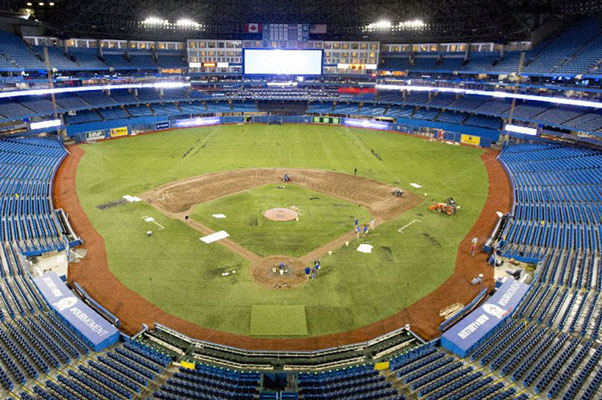 The Blue Jays will get to play on an
all-dirt
infield at home for the first time in their 40-year franchise history. (Image from
Toronto Star
)
Series Schedule / Probable Starters
Friday at 7:07 pm ET -
Joe Kelly
(0-0, 0.00) vs.
Marcus Stroman
(1-0, 3.38)
Saturday at 1:07 pm ET -
Rick Porcello
(0-0, 0.00) vs.
R.A. Dickey
(1-0, 5.40)
Sunday at 1:07 pm ET -
Steven Wright
(1-0, 3.00) vs.
Marco Estrada
(0-0, 0.00)
The Red Sox were supposed to play four games in Cleveland but only managed to play two of them thanks to the weather scrubbing the first and last games of the series. The 1-1 Sox are tied with the 2-2 Blue Jays, Rays and New York Yankees for second place in the AL East, all three of them looking up at 3-0 Baltimore.
George Bell
will be
in the house for the home opener as the 1987 American League Most Valuable Player will present the 2015 AL MVP award to
Josh Donaldson
, who is expected to be the DH after straining his calf in Tampa Bay.