The Blue Jays take on the Broad Street Bullies of Philadelphia for the next two nights at The Dome before heading to Philly for games Wednesday and Thursday. Barring the unforeseen,
Bo "The Hammer" Schultz
will not be appearing for the Jays this week. Maybe
Moose Dupont
or
Ed Van Impe
will show up instead.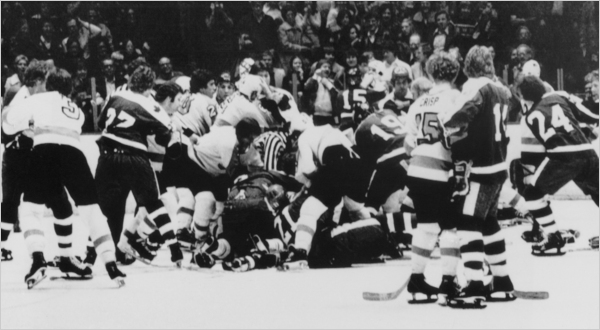 Image from
The Associated Press
.
Series Schedule / Probable Starters
Monday at 7:07 pm ET -
Jared Eickhoff
(3-8, 3.68) vs.
R.A. Dickey
(4-6, 4.15)
Tuesday at 12:37 pm ET -
Zach Eflin
(MLB debut) vs.
Marcus Stroman
(5-2, 4.94)
The Phillies come to town with a 29-34 record and have fallen to fourth place in the NL East after a strong start to the season. They have not won a series since mid-May since winning two of three at home against the Reds (sorry,
Eephus
!). The Phils find themselves 10 games back of the NL East lead after being swept by Washington in the nation's capital over the weekend. They have lost four in a row and seven of their last 10.
Keeping
Odubel Herrera
off the bases would be a great idea for the Jays if they want to do well over the next four games. The former Rule 5 pick is in the top 10 in the NL batting race at .321 and has the league's third best OBP at .418, trailing the Cubs'
Ben Zobrist
and the Diamondbacks'
Paul Goldschmidt
.
Mikael Franco
leads Philly with 11 home runs but his OPS is just .738.
The Blue Jays are five games above .500 and look to add to that before heading to Baltimore this weekend. The Jays are 2-1/2 games back of Baltimore and Boston after taking three of four against the O's at home over the last four days. They look to
Edwin Encarnacion
to keep swinging the hot bat as he is just one RBI back of
David Ortiz
for the AL lead with 54.
Michael Saunders
finds himself sixth in AL OPS at .955.
Guelph, Ontario's
Scott Diamond
has joined
the roster from Triple-A Buffalo. The lefty takes over for
Pat Venditte
, who goes back down to the Herd.
Franklin Morales
finds himself on the 60-day disabled list. Meantime,
Jose Bautista
is expected
to return to the lineup tonight after missing three games with a sore hip but there is still no timeline for
Troy Tulowitzki
's return.