The C's came up short in the rubber match of their series against Everett on a wet Wednesday evening.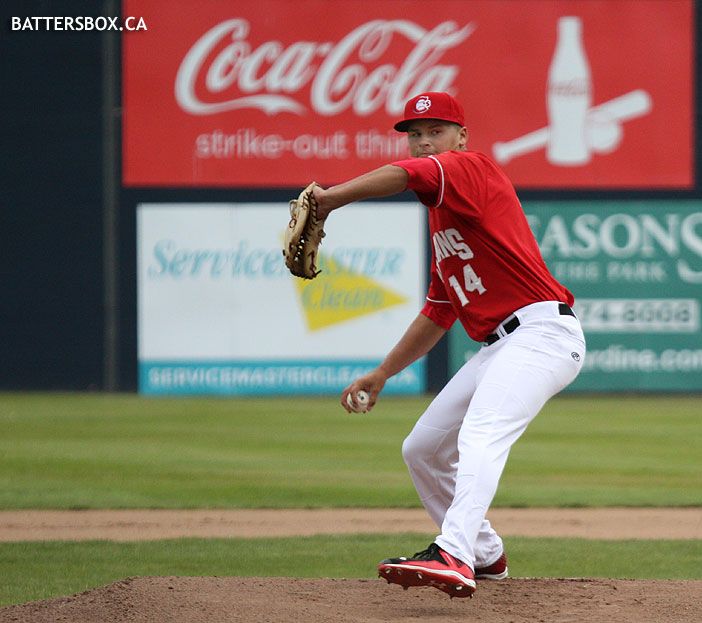 Justin Maese
made his first start in Vancouver Wednesday.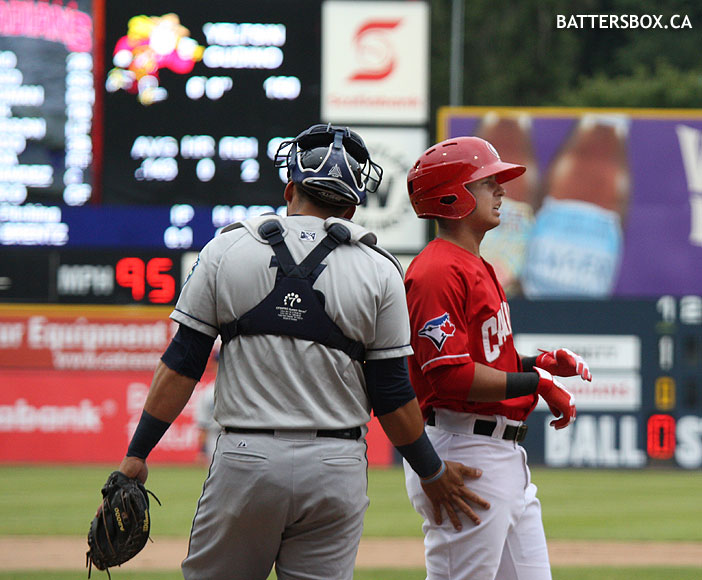 Everett catcher
Johan Quevada
checks in on fellow Venezuelan
Yeltsin Gudino
after Guidino was hit by a 95 mph fastball by former Jays farmhand
Jake Brentz
in the first inning.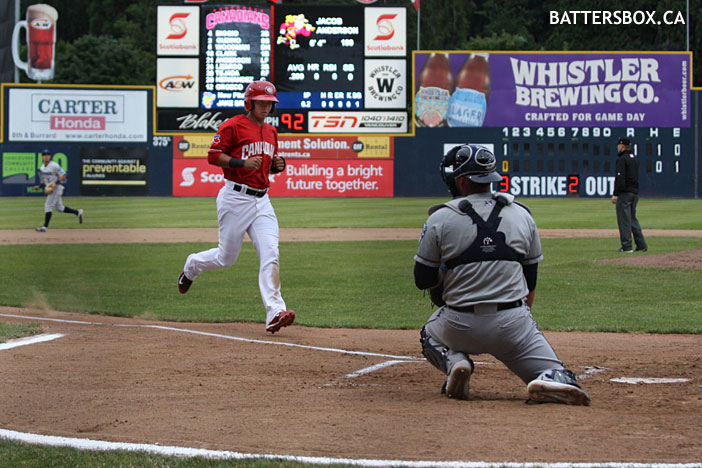 Yeltsin Gudino
scores the tying run and
J.B. Woodman
would follow after a two-run double by
Jacob Anderson
to give the C's a 2-1 lead.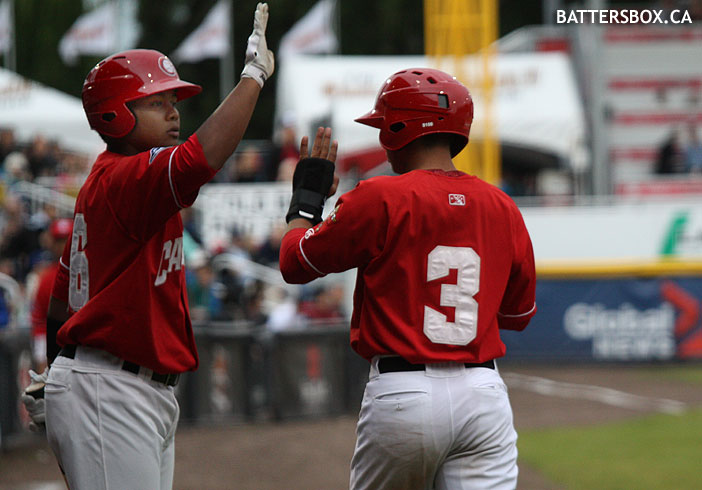 Bryan Lizardo
greets
Yeltsin Gudino
upon his return to the dugout.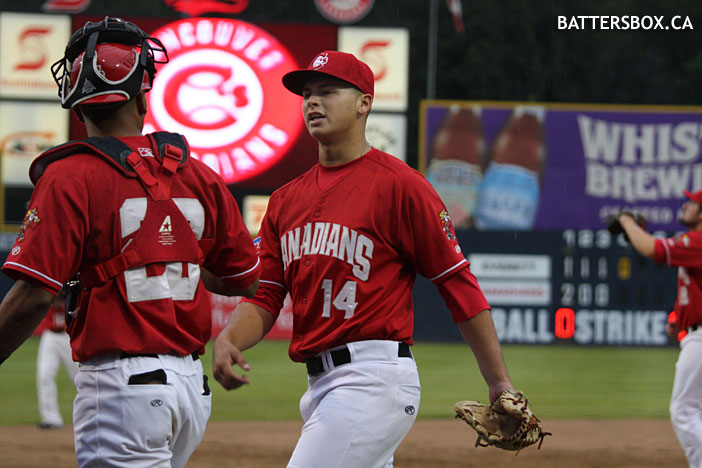 Justin Maese
and catcher
Javier Hernandez
head off the field after the C's kept the AquaSox off the board for the first time in the fourth inning.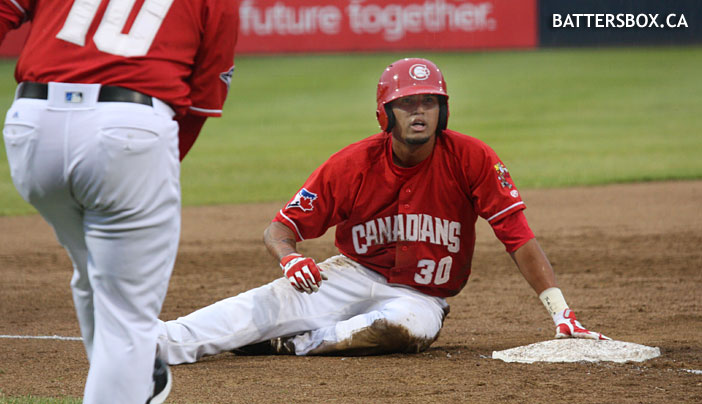 Juan Tejada
slides into third safely after an errant pickoff throw by Everett first baseman
Kristian Brito
to second.
Yeltsin Gudino
would drive in Tejada with a base hit to tie the game at 3-3 in the fourth.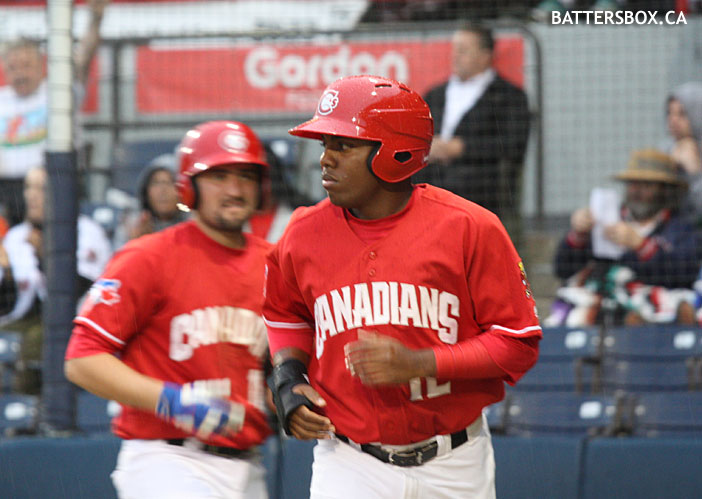 After drawing a walk,
Rodrigo Orozco
would score on a
J.B. Woodman
single to give the C's a 4-3 advantage in the fourth.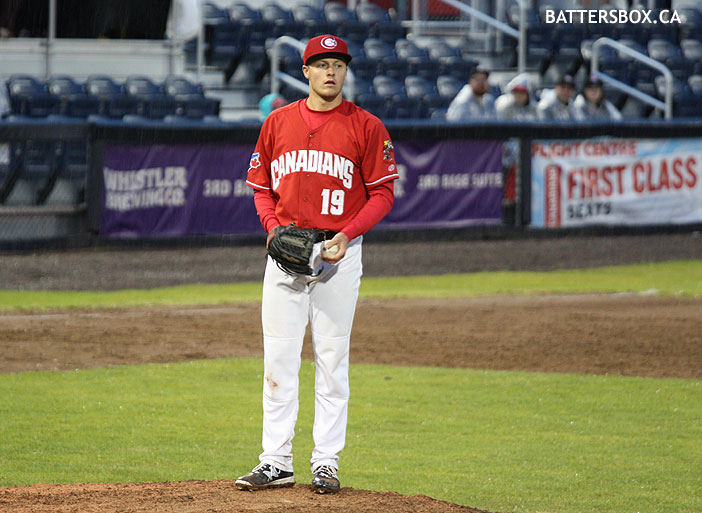 Lefty
Grayson Huffman
relieved
Justin Maese
to start the seventh and stranded a hit and a walk with a strikeout and two groundouts.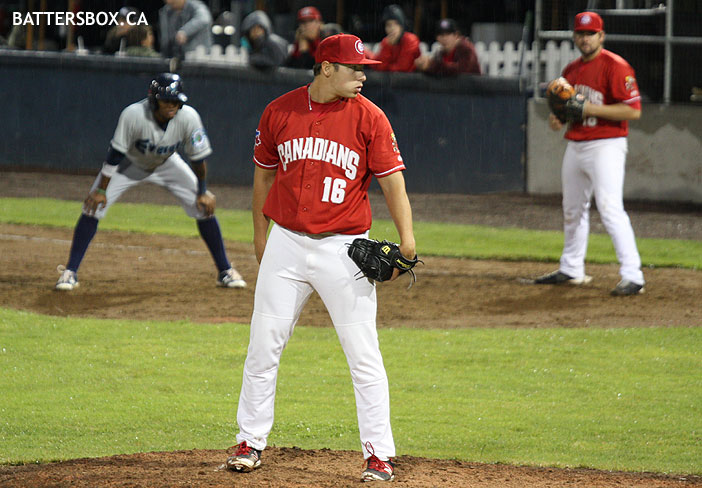 Gabe Noyalis
also stranded two runners in the eighth by getting around a triple and a hit by pitch.
Javier Hernandez
threw out a runner at second on a steal attempt before Noyalis induced two groundouts, including a tapper back to the mound, to keep Everett from scoring.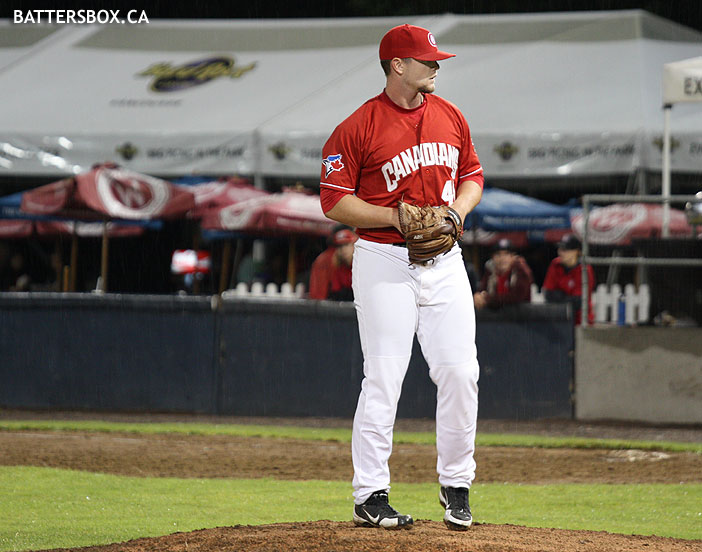 Jackson McClelland
worked a perfect ninth inning by getting two flyball outs and a punchout. The stellar relief work went for naught as Everett downed Vancouver
6-4
.
---

C Notes
...
Justin Maese
gave up six runs over six innings but only two were earned.
Cavan Biggio
committed an error in the first that advanced a leadoff single to third which eventually resulted in a sacrifice fly. A double and two groundouts tied it for Everett at 2-2 in the second and a two-out double and single put the Mariners affiliate ahead 3-2 in the third.
Maese got away with a leadoff walk for a shutout fourth but ran into some bad luck in the fifth.
Bryan Lizardo
was charged with a throwing error at third. He ranged well to his right to field the ball and he bounced a throw to first that
Gabe Clark
was not able to hang on to. One mitigating factor may have been the weather as it began to rain in the third inning. It wasn't a heavy rain but it remained steady for the rest of the night. Clark had made a handful of nice plays around the bag to snare some off-target throws but if he held on to the ball, the runner (Mariners first rounder
Kyle Lewis
) would have been out. After a game-tying sac fly, Maese surrendered a single and uncorked a wild pitch to move two runners into scoring position. The next hitter flared one into no man's land in left field to score the runners, who were running on contact as there were two outs. Maese struck out the next hitter and went on to shut out the AquaSox in the sixth despite a two-out base hit.
Maese did not help himself by allowing the leadoff man to reach in four of his six innings and he could not work a 1-2-3 frame. He threw a couple of wild pitches to compound his problems but his defence did not help him either with two crucial errors. He threw 89-93 miles per hour and did not really throw anything offspeed until the third inning. His offspeed offerings were in the low-to-mid-80's. The El Paso, Texas native wasn't hit that hard in the fifth as a couple of groundball singles found holes along with that bloop single that put Everett ahead for good. His peripherals were outstanding as his K-BB ratio was 5-1 and 12 of his 14 outs in play were on the ground.
The relievers did their part to keep the C's within striking distance.
Grayson Huffman
registered his pitches at 89-90 and
Gabe Noyalis
was around 90-91.
Jackson McClelland
threw the fastest pitch of the night at 94 and also clocked in at 93.
The C's best chance to get back into the game was in the sixth when they loaded up the bases with one out.
Javier Hernandez
was hit by a pitch (forced at second by a
Rodrigo Orozco
fielder's choice), a
Cavan Biggio
bunt single and a
Yeltsin Gudino
walk. With the number three and four hitters due up, the opportunity was there for the C's to do some damage. Instead,
J.B. Woodman
hit into a fielder's choice and
Gabe Clark
struck out swinging to end the threat.
Another threat was snuffed out in the seventh when
Jacob Anderson
tried to stretch a single into a double but he was thrown out at second. Anderson took the gamble after a diving
Kyle Lewis
could not make the play in shallow right-center field. Unfortunately for Vancouver, Everett right fielder
Gus Craig
managed to get to the ball and fire a strike to second to nail Anderson. The next batter,
Bryan Lizardo
, would sock a triple to split the right-center field gap, but a
Juan Tejada
strikeout and a
Javier Hernandez
one-out late fly ball left Lizardo at third. Biggio drew a one-out walk in the eighth but that was the last baserunner of the game for Vancouver.
Vancouver had nine hits, six walks and two hit by pitches but went 3-for-14 with runners in scoring position and left 11 men on base. Gudino, Anderson and Lizardo all had two-hit, one walk games. Clark was 0-for-5 with three strikeouts.
In roster news, outfielder
Nick Sinay
and righthander
Mike Estevez
have been sent down to Bluefield. Sinay was 1-for-5 with a run batted in his lone game with the C's in Spokane June 19, an 8-1 victory. Estevez made his lone appearance out of the pen in that same contest and pitched a shutout inning despite two hits and a walk.
If the weather holds,
Dalton Rodriguez
is slated to face the two-time Northwest League champion Hillsboro Hops to open up a five-game series at The Nat this evening in a 7:05 start.
Jack Morris
will be at the park to sign autographs.
Juliandry Higuera
will take the ball tomorrow afternoon in a 1:05 contest.