The affiliates won seven of eight games Tuesday night. If not for some baserunning buffoonery, it could have been a perfect night.
Buffalo 8 Rochester 2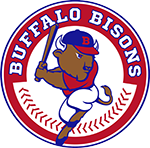 Rochester, NY
- The Bisons used a four-run third inning to down the Twins affiliate for a second straight night.
Darrell Ceciliani
started things off with a leadoff walk and ran home on a double by
David Adams
. An RBI single by
Jesus Montero
and a bases-loaded walk by
Casey Kotchman
produced the other two runs in the third. A leadoff walk to
Tony Sanchez
in the sixth was followed by RBI doubles from
Alexi Casilla
and Ceciliani. Casilla and Ceciliani started another rally in the eighth with a single and run-scoring double respectively and
Matt Dominguez
also doubled to bring in the final run. Dominguez had four hits, including a pair of doubles, and Ceciliani got aboard tour times with three hits, two of them doubles, and a walk.
Domonic Brown
doubled, singled and walked and Casilla was 2-for-2 after replacing
Jio Mier
. Montero, Sanchez and
Melky Mesa
had a hit and a walk apiece.
Casey Lawrence
(1-2, 6.75) got his first win at the Triple-A level by grounding the Red Wings to a single run on seven hits and three walks over six innings. His strikeout and groundout totals were five.
Franklin Morales
struck out two men in a perfect seventh and
Bo Schultz
also slammed the door in the eighth with one strikeout.
Colt Hynes
struck out a pair but gave up a run on three hits in the ninth.
New Hampshire 6 Portland 5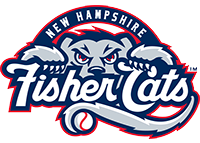 Manchester, NH
- The Fisher Cats squandered a 4-0 lead but they bounced back to walk off the Red Sox affiliate.
Derrick Loveless
' second home run of the game tied it in the seventh to set the stage for the ninth-inning rally, which started with a
Jason Leblebijian
walk and ended with a
Christian Lopes
base hit. New Hampshire built a 4-0 with single runs in the first four innings.
Rowdy Tellez
doubled home the first run and a
Ryan Lavarnway
RBI single sandwiched Loveless' first homer of the game. An
Emilio Guerrero
sac fly plated a
Dwight Smith Jr.
walk for the other run. Lopes joined Loveless in the two-hit, one-walk club with Loveless' pass being intentional.
Roemon Fields
singled and stole a base.

Jason Berken
was jolted for three runs in 4-2/3 innings, including a two-run homer by 2015 first round pick
Andrew Benintendi
. Berken gave up seven hits and two walks with three strikeouts.
Brady Dragmire
also gave up a two-run bomb and a single over 1-1/3 innings.
John Stilson
pitched a perfect 2-1/3 innings with two punchouts.
Tim Mayza
(1-2) retired the only two men he faced to earn the victory.
Dunedin 6 Brevard County 1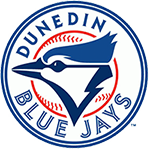 Viera, FL
- The Blue Jays put together a pair of three-run innings to down the Brewers affiliate.
Josh Almonte
drove in four of the six runs with a bases-clearing double in the second and an RBI single in the sixth. The other two runs scored on an error. Almonte had three hits on the evening while
Richard Urena
and
Andy Fermin
had two.
Ryan McBroom
had the other hit.
Gunnar Heidt
walked and stole a base.
Justin Shafer
(2-4, 5.76) was spectacular over 7-1/3 innings as he surrendered just one run on four hits and and a walks. He whiffed two and recorded 13 infield outs for a Game Score of 73. Shafer set down the first seven hitters in order and retired 14 of the first 15.
Jose Fernandez
allowed a pair of hits but got the final two outs of the eighth without any damage.
Adonys Cardona
struck out a batter and overcame an error in a shutout ninth.
Lansing 7 Dayton 3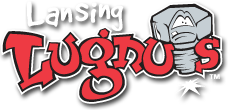 Lansing, MI
- The Lugnuts rolled over the Reds affiliate by scoring all of their runs in the first two innings. A pair of errors in right field alternating with RBI singles by
Carl Wise
and
Justin Atkinson
erased a 1-0 deficit in the first.
Juan Kelly
then connected for a three-run home run in the second. Kelly and Wise were the Lansing hit leaders with two apiece.
John La Prise
singled and heard ball four twice.
J.C. Cardenas
and
Connor Panas
both singled, walked and stole a base.
Tayler Saucedo
(4-7, 5.11) pitched six innings of two-run ball on eight hits and a walk. He struck out four and induced six outs on the ground.
Starlyn Suriel
surrendered the other run on two hits but struck out three over two frames.
Andrew Case
returned from his 50-game suspension for not taking a drug test to toss a perfect ninth with one K.
Salem-Keizer 6 Vancouver 4
Keizer, OR
- The C's held leads of 2-1 and 3-2 but too much recklessness on the basepaths really cost them against the Giants affiliate.
Christian Williams
did not tag up at third and was doubled off after
Lance Jones
lined out to center for an inning-ending double play in the second. The same things happened in the eighth when
Yeltsin Gudino
did not tag up at third as
Bryan Lizardo
flied out to left for another inning-ending twin killing.
Rodrigo Orozco
continued the baserunning woes by getting nailed at second base after trying to stretch a single in the ninth. Orozco was also caught stealing second to end the seventh and Yeltsin Gudino was picked off at second to close out the fifth.
Vancouver got their first two runs in the third on a
Cavan Biggio
RBI single and a Gudino ground ball double play. Biggio walked in the fifth and scored on a
J.B. Woodman
sac fly. Woodman brought home another Biggio base hit with an RBI double in the eighth. Orozco had three hits and Biggio worked a walk to get on base three times. Williams had a two-hit night and Woodman drew a walk to appear on base twice. Also getting on twice were
Bryan Lizardo
with a double and a walk,
Mattingly Romanin
had a knock and a walk and Gudino had two free passes. Jones and
Javier Hernandez
heard ball four once to give every C's hitter at least one on-base appearance.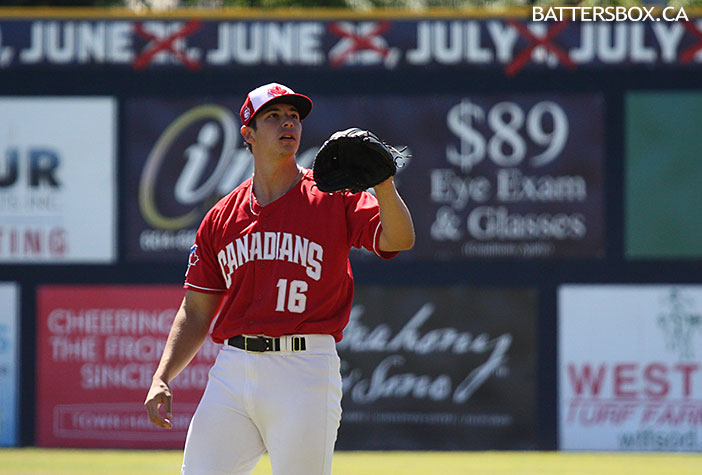 Gabe Noyalis
struck out four in 1-2/3 innings of scoreless relief.
Juliandry Higuera
gave up two runs over four frames but it could have been more after giving up seven hits and three walks while striking out only one.
Stuart Holmes
(0-1) only retired one of the five men he faced as he was charged with two runs on three hits and a hit by pitch.
Gabe Noyalis
stranded two of the three runners he inherited and pitched 1-2/3 innings of one-hit ball, striking out four. An error by Gudino resulted in an unearned run for
Nick Hartman
, who worked a one-hit seventh.
Evan Smith
gave up a run in the eighth on two hits but struck out one.
Bluefield 3 Princeton 2



Bluefield, WV
- Three runs in the first inning helped the Jays ward off the Rays.
Nick Sinay
began the game by reaching base on a strikeout and another wild pitch advanced him to second before
Vladimir Guerrero Jr.
singled him home.
Bradley Jones
then singled and he and Guerrero pulled off a double steal of second and third. They would both score on a strikeout-wild pitch that allowed
Kalik May
to get on base. Guerrero and Jones teamed up for four of Bluefield's seven hits.
Edward Olivares
,
Levi Scott
and
Juandy Mendoza
had the other base hits. Sinay drew the only walk and May had a stolen base.
Kyle Weatherly
(1-0, 9.35) experienced some early turbulence with a leadoff double that would score on a wild pitch and a throwing error by catcher
Ridge Smith
. Weatherly settled down by retiring the next nine hitters in a row before giving up a leadoff homer in the fourth. He got back to business by retiring six of the last seven men he faced, working around a two-out double in the fifth. Over five innings, Weatherly gave up two runs (one earned) on three hits with a 5-0 K/BB total and also recorded five groundball outs.
Jose Espada
scattered two hits and a hit by pitch over four shutout innings, ringing up four batters for his first save.
GCL Blue Jays 8 GCL Braves 7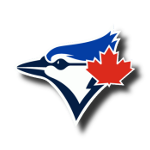 Dunedin, FL
- The Blue Jays refused to go away in this one, battling back from deficits of 5-0, 6-4 and 7-5 for a walk-off winner over the Braves.
Kevin Vicuna
and
Norberto Obeso
got the ninth inning rally started with back-to-back walks.
Bo Bichette
singled home Vicuna and after
Danny Jansen
was hit by a pitch,
David Jacob
lifted a sacrifice fly to score Obeso with the tying run but a throwing error by the catcher on the same play allowed Bichette to score the winning run. The Jays took awhile to get going with the bats but they got back into the game with a four-spot in the fifth. Bichette, Jacob and
Antony Fuentes
all had run-scoring singles with Jacob's driving in two. Two-out doubles by
Freddy Rodriguez
and
Manuel Herazo
kept the comeback hopes alive in the eighth. Vicuna and Bichette both had a pair of hits with Vicuna adding two walks. Jansen was on base three times with a hit and a walk to go withe the aforementioned plunk.
Maximo Castillo
struggled over 3-1/3 innings after coughing up five runs on four hits and three walks. Two of the runs were unearned after a Jacob error at first in the first. Castillo struck out two and produced seven outs on the ground.
Jairo Rosario
limited the damage in the fourth with just one of three inherited runners scoring to finish the fourth.
Randy Pondler
soaked up 3-1/3 innings, holding the Braves to a run despite four hits and two walks while whiffing one.
Mitch McKown
got the final out of the eighth but could only strand one of two Pondler runners. McKown was charged with a run after issuing a pair of free passes.
Brayden Bouchey
(1-0) replaced McKown in the ninth and like McKown, could only strand one of two runners. However, the Vancouver righty got the final three outs to get the win.
DSL Blue Jays 7 DSL Reds 1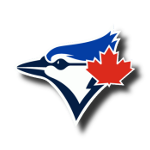 Boca Chica, DR
- The Blue Jays roughed up the Reds by scoring in four of their final at-bats. An
Aldo Ovando
sacrifice fly snapped a scoreless tie in the fourth inning before
McGregory Contreras
socked an RBI triple. A Luis De Los Santos single and an error in center field helped bring across another run in the fifth. A bases-loaded walk by
Yeison Estevez
and a De Los Santos infield single and an error at short led to three runs in the sixth. Estevez doubled home the final run in the eighth. De Los Santos had three of the Jays' 10 hits and a stolen base while Contreras had two hits and a walk.
Jesus Navarro
also had a pair of hits.
Elio Silva
(2-0, 2.03) limited the Reds to one run on four hits over six innings. He struck out eight, his groundout total was eight and his Game Score was 73.
Adams Cuevas
worked around three hits by striking out two over three shutout frames for the save. Of his seven outs in play, six were on the dirt.
Tuesday's Linescores

*** 3 Stars!!! ***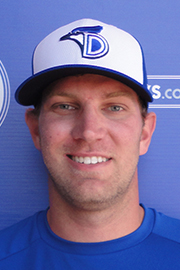 3. Justin Shafer, Dunedin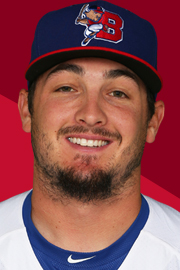 2. Darrell Ceciliani, Buffalo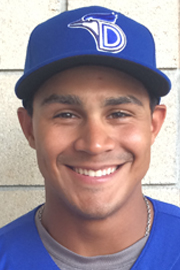 1. Derrick Loveless, New Hampshire
Wednesday's Schedule / Probable StartersDSL Blue Jays
@ DSL Reds, 10:30 am ET - TBA
GCL Blue Jays
@ GCL Yankees East, 12:00 pm ET - TBA
Dunedin
@ Brevard County, 6:30 pm ET -
Conor Fisk
(2-2, 4.40)
Buffalo
@ Rochester, 7:05 pm ET -
John Anderson
(1-2, 4.91)
Portland @
New Hampshire
, 7:05 pm ET -
Taylor Cole
(0-2, 5.27)
Dayton @
Lansing
, 7:05 pm ET -
Jon Harris
(7-1, 2.49)
Danville @
Bluefield
, 7:05 pm ET - TBA
Vancouver
@ Salem-Keizer, 9:35 pm ET -
Patrick Murphy
(1-1, 2.12)