The C's looked to clinch a series win over Spokane after a convincing Canada Day victory.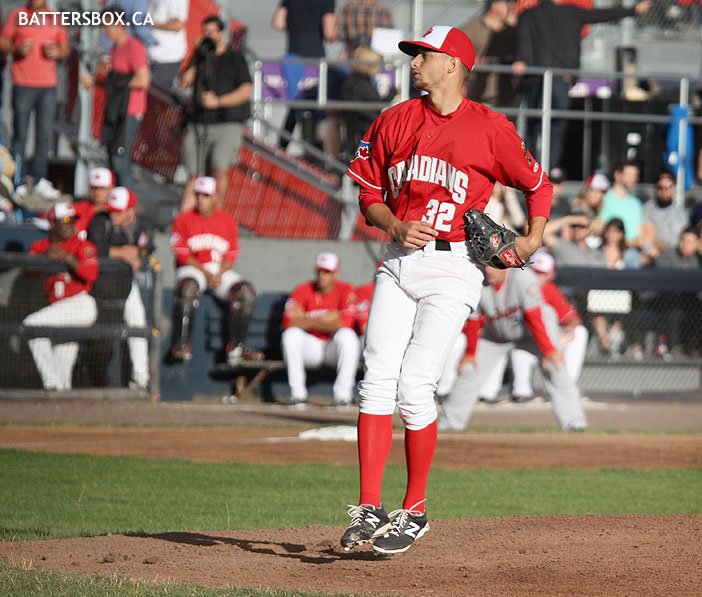 Andy Ravel
got the spot start for Vancouver.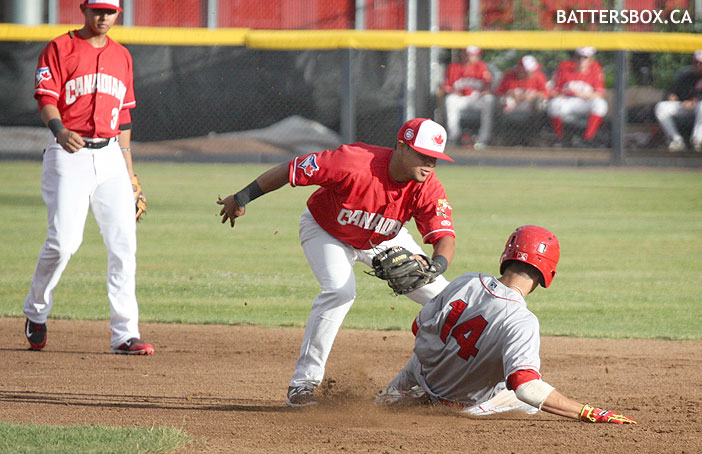 Deiferson Barreto
gets ready to tag out
Josh Merrigan
trying to steal second in the second inning.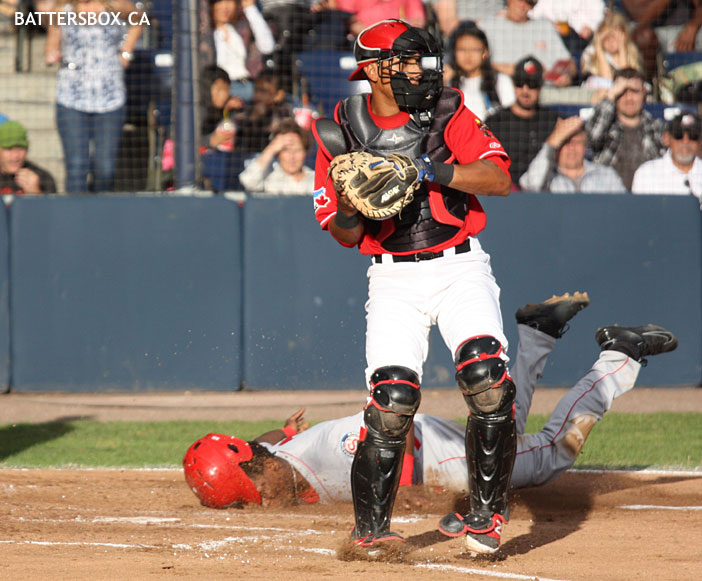 Xavier Turner
eats the dirt with an awkward headfirst slide but he scores the game's first run in the third.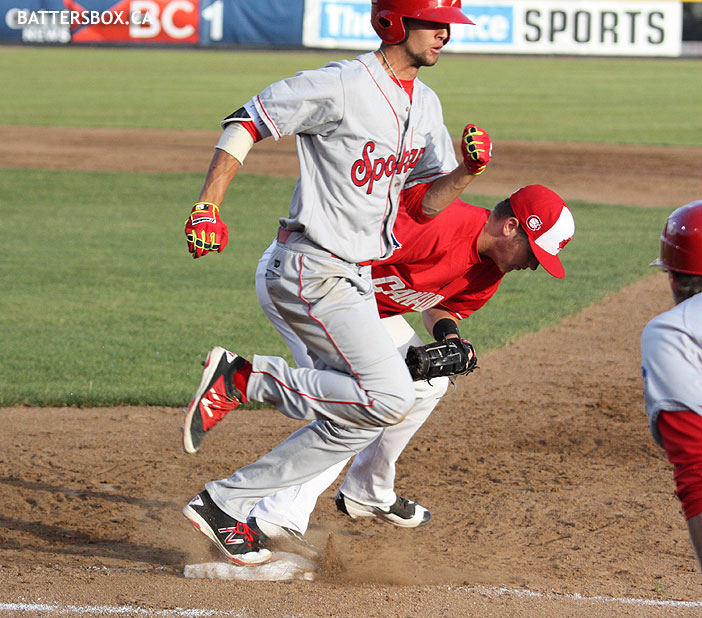 Josh Merrigan
loses a foot race to first base as
Christian Williams
gets there in time to complete the 4-3 putout in the fourth.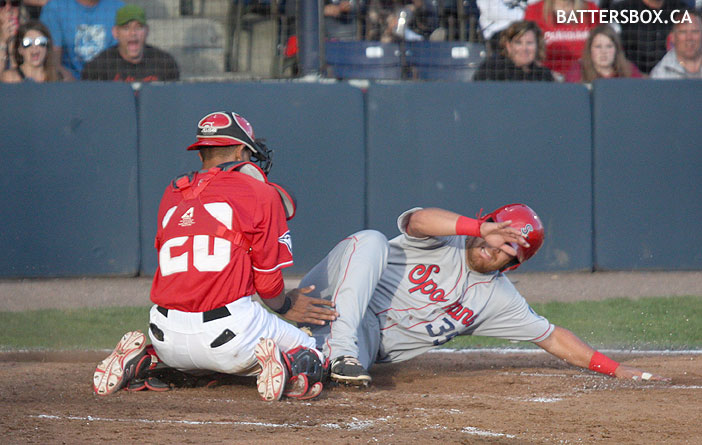 Javier Hernandez
blocks the plate and puts the tag on
Carlos Garay
in the fourth inning after getting the throw from
J.B. Woodman
in center field.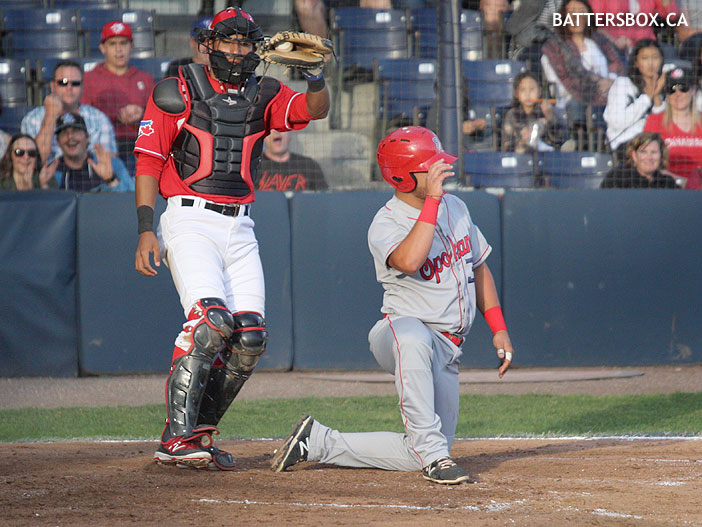 Javier Hernandez
hangs on to the ball for the final out of the fourth.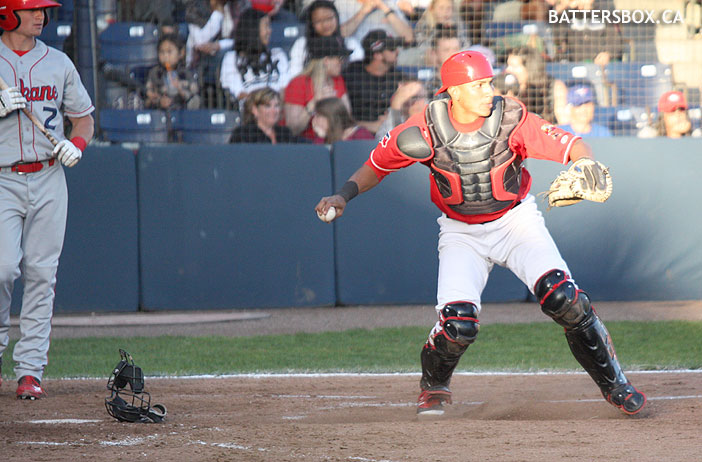 Javier Hernandez
comes up gunning after blocking a wild pitch and throws out
Elio Castillo
trying to steal second in the fifth inning.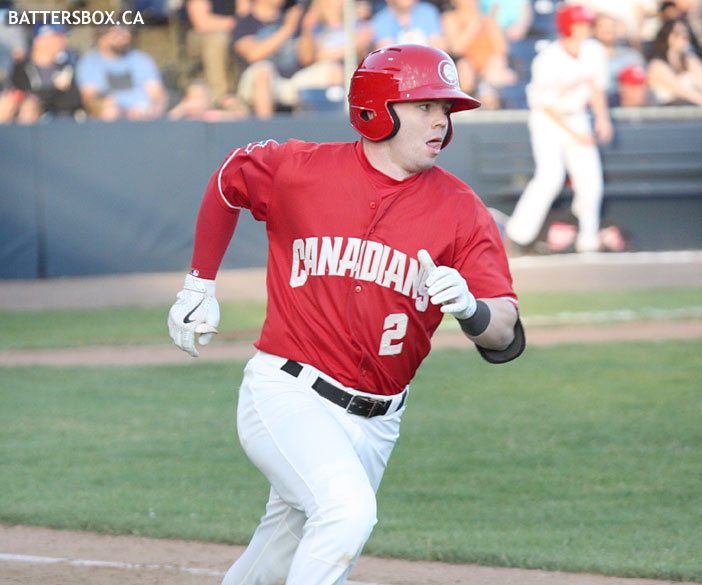 Mattingly Romanin
gets ready to round first base after a two-out single in the fifth inning.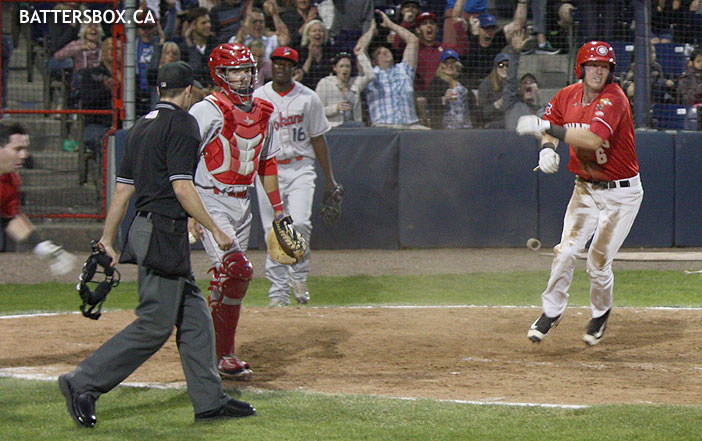 J.B. Woodman
jumps up to celebrate after scoring the winning run in the bottom of the ninth.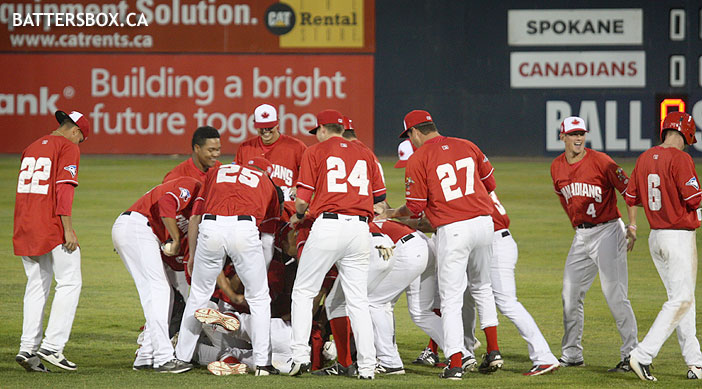 Javier Hernandez
gets lost in the dogpile after his opposite field single to right drove in Woodman to give the C's a
2-1
walk-off victory.
For even more photos of this game,
click here
.
---
Random Observations


Spokane got their first run thanks to some heads-up baserunning by
Xavier Turner
. After doubling to lead off the third, he advanced to third on a shallow single to center field by
Darius Day
and had slowed up before finding another gear to scamper home, taking advantage of a lob throw by
J.B. Woodman
back to the infield. Turner wound up eating dirt by sliding head first into the ground before touching home plate. On the same play, C's catcher
Javier Hernandez
made a heads-up play of his own to nail Day trying to advance to second.
Andy Ravel
managed to face the minimum six batters over the first two frames with a 1-2-3 first and a single that was erased on a stolen base attempt by Hernandez. He was roughed up for four hits in the third but the first by Turner was a flare double that
Lance Jones
could not catch up to near the right field foul line.
The C's tied the game in the home half of the third when Hernandez doubled and advanced to third when
Mattingly Romanin
reached on an error at short. Hernandez would score the tying run on a
Rodrigo Orozco
fielder's choice. Romanin did his part to break up the potential double play with a good, hard slide.
Spokane had the first of many chances to take the lead in the fourth against
Mike Ellenbest
. They strung together three singles with two outs but Ellenbest got out of it by apparently deflecting a throw from Woodman in center field after a single by Day. The ball still made its way to Hernandez in plenty of time at the plate to tag out
Carlos Garay
trying to score from second.
The Rangers affiliate knocked on the door again in the fifth with two singles but Hernandez threw out one of two basestealers to keep the game tied. An error by
Yeltsin Gudino
at short gave Spokane another runner in the sixth but they could not do anything else against Ellenbest.
Evan Smith
overcame a two-out double in the seventh but two walks and a wild pitch left a pair of runners in scoring position with just one out in the eighth.
Jackson McClelland
came to the rescue when Gudino started a 6-4-3 inning-ending double play with
Deiferson Barreto
and
Christian Williams
.
The C's wasted some chances in this one too as they could not do anything with a two-out single by Romanin in the fifth and a Jones stolen base was stranded at second after he reached on an error in the sixth. Their best chance was in the eighth when Romanin singled, went to second on a
Rodrigo Orozco
bunt and made it to third on a Gudino base hit.
Christian Williams
hit one right on the nose but it was right at the shortstop and Jones hit into a fielder's choice to end the threat.
McClelland had some trouble in the ninth with a Turner single, a Day sacrifice bunt, a Seth Spivey intentional walk and a wild pitch that put two runners in scoring position but McClelland retired
Blaine Prescott
on a nice running catch by Jones in right field.
J.B. Woodman
got aboard in the ninth on a leadoff single and got into scoring position on a Barreto groundout to short. Bryan Lizardo could not bring Woodman home when he flied out to right for the second out. Just when it looked like extra innings was going to happen, Hernandez grounded one to the opposite field in right and Woodman managed to sprint home with the winning run.
Woodman had two assists from center field and had two hits and a walk to go along with the winning run.
Spokane had 12 hits and three walks to work with but left 10 men on base. Vancouver had seven hits and two free passes and left seven stranded.

The Radar Gun Report
Andy Ravel
threw a fastball that topped out at 92 miles per hour. His other pitches settled in the 83-86 and 88-90 ranges.
Mike Ellenbest
came in at 89 with his fastball and 77-79 at the low end with other offerings from 81-85.
Evan Smith
ranged from 84 to 90 and 93.
Jackson McClelland
topped out at 94 with his fastball.