Two slugfests, one pitching duel. Two losses, one win.
New Hampshire Fisher Cats
Anthony Alford
is a man on a mission right now. He had a double and two singles, using an all-fields approaching and all of his hits were line drives according to the game log. He doubled to center field before pulling a single to left and going the opposite field to right. He's hitting .500 with six multi-hit efforts, a 10-game on-base streak and a four-game stolen base streak, swiping five bases in six attempts overall.
Shane Dawson
allowed just three baserunners over six shutout innings on two hits and a walk, striking out five in a no-decision. He retired 13 of 14 hitters at one point and picked off a runner at first. That was a big bounce-back effort from his first start for the Alberta lefty when he was roughed up for eight runs over four innings by Reading last week.
Dunedin Blue Jays
Danny Jansen
outdid Alford in the hit department with a four-hit evening, scoring three times and driving in a run to increase his batting average to .459.
Lane Thomas
is looking to get settled with the bat in 2017 and had a triple, a single, a walk and a stolen base. He has three multi-hit games in his last five contests as he looks to match the promise of his first season in 2014 when he hit a combined .281 with the Gulf Coast League and Bluefield Blue Jays.
Ryan Borucki
was rocked for six runs (five earned) over 5-1/3 innings. The lefty has a K/BB ratio of 18-6 but right-handed hitters are batting .321 against him.
Tom Robson
struck out two in a perfect seventh but he lost his mojo in the eighth as he was unable to retire any of the five hitters he faced. The Richmond, BC native has a 9-1 K/BB total in seven innings but has lost two of three decisions with a 6.41 ERA.
Lansing Lugnuts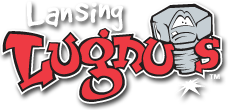 Bradley Jones
has reached the 20-home run plateau in his young career. After 16 bombs with Bluefield last season, the College of Charleston product belted two three-run homers among his three hits to give the Lugnuts a come-from-behind victory. Jones' teammate last year,
Edward Olivares
, is trying to get going with the bat. He connected for his second homer of the season to highlight a three-hit game and drew his first walk of the season after striking out eight times. He also swiped his first two bases of the season.
Griffin Glaude
allowed an inherited run and gave up one of his own but he soaked up 3-2/3 innings of relief that featured six punchouts.
Jackson McClelland
had his struggles trying to close in Vancouver last year, going 1-for-5 in that department, but the former Pepperdine Wave slammed the door shut by converting his second save in as many opportunities with the Lugnuts. He issued just one walk while getting the final four outs of the game. He has a 6-2 K/BB total in 4-2/3 scoreless frames so far.
*** 3 Stars!!! ***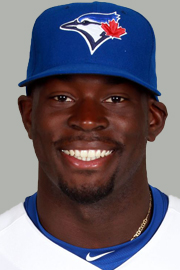 3. Anthony Alford, New Hampshire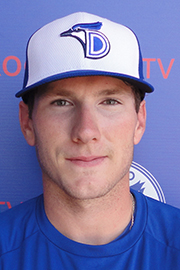 2. Danny Jansen, Dunedin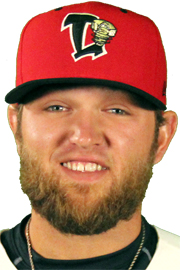 1. Bradley Jones, Lansing
Monday's Linescores
Extra Innings
Today's Schedule/Probable Starters
Norfolk @
Buffalo
, 6:05 pm ET -
Casey Lawrence
(0-0, 0.00)
St. Lucie @
Dunedin
, 6:30 pm ET -
Jordan Romano
(0-0, 2.08)
New Hampshire
@ Trenton, 7:00 pm ET -
Sean Reid-Foley
(0-1, 10.80)
Lansing
@ Dayton, 7:00 pm ET -
Justin Maese
(1-1, 4.91)
Ask your doctor if Batter's Box is right for you.