The affiliates put four of six in the loss column Monday. Buffalo and New Hampshire are on their All-Star breaks.
Dunedin Blue Jays
Conor Fisk
deserved much better in this one. He surrendered just two hits and a walk over seven shutout innings while racking up nine strikeouts and a Game Score of 85.
Adonys Cardona
suffered the loss by allowing three runs in two-thirds of an inning.
Daniel Lietz
got the last out of the eighth but allowed a Cardona runner to score.
Max Pentecost
tripled and scored on a
Cavan Biggio
base hit.
Bo Bichette
was 0-for-4 with a walk.
Lourdes Gourriel Jr.
,
Juan Kelly
and
Connor Panas
had the other Dunedin hits.
Lansing Lugnuts
Yeltsin Gudino
was on base four times after going 3-for-3 with a walk. He is hitting .324 over his last 10 games to push his average to .270.
Nash Knight
,
Mitch Nay
and
Ridge Smith
had the other Lugnut hits.
Andy Ravel
was rocked for six runs in six innings for the loss as he gave up two home runs.
Andrew Deramo
was dinged for four runs and
Denis Diaz
for three runs in their respective innings.
Vancouver Canadians
Riley Adams
doubled home a
Reggie Pruitt
single.
Cullen Large
had a double while
Kevin Vicuna
and
Deiferson Barreto
had the other hits.
Norberto Obeso
walked twice.
Dalton Rodriguez
was run over for eight runs in four innings.
Grayson Huffman
struck out two in a shutout fifth.
Justin Dillon
had a scoreless sixth but
Brayden Bouchey
was blasted for four runs in the seventh and
William Ouelette
allowed another in the ninth. More details of
this disaster
can be found at CsPlusBaseball.com if you're a glutton for punishment.
Bluefield Blue Jays

Yorman Rodriguez
and
Ryan Gold
paced the Bluef-Jays 19-hit attack with four apiece. Two-hit games were turned in by
Kevin Smith
,
Ryan Noda
,
Antony Fuentes
,
Jesus Severino
and
Jesus Navarro
.
Josh Winckowski
was walloped for seven runs (six earned) over 2-1/3 innings.
Kelyn Jose
stranded one of two inherited runners and gave up one of his own in 2-2/3 innings but he struck out four to get the win.
Jose Nova
had two scoreless frames while
Joe DiBenedetto
and
Ty Tice
contributed one apiece.
GCL Blue Jays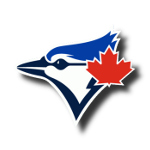 Joseph Reyes
had a triple as part of a three-hit day,
Aldo Ovando
also tripled and knocked home three runs and
D.J. Neal
also had a three-bagger to lead the G-Jays to victory.
Logan Warmoth
capped things off with a three-run home run as part of a 2-for-5 day at the dish.
Dominic Abbadessa
had a double and a single but
Hagen Danner
went 0-for-5 to drop his average to .174.
Elieser Medrano
was mauled for five runs over 2-2/3 innings but
Juan Meza
(0.1IP),
Matthew Gunter
(3IP, 5K),
Maverik Buffo
(2IP, 2K) and
Adams Cuevas
(1IP, 3K) provided 6-1/3 innings of shutout relief with Buffo getting the win.
DSL Blue Jays
Hector Guerrero
and
Hugo Cardona
were the only Jays to reach base twice with a base hit and a base on balls. Guerrero knocked home a run while Cardona stole two bases to run his season total to eight.
Steward Berroa
walked and swiped his 10th base of the year.
Rafael Monsion
gave up two runs over 2-2/3 innings.
Alexander Molina
chipped in with 2-1/3 scoreless frames of one-hit ball and stranded the bases loaded for Monsion. The loss went to
Nicolas Medina
who had a funky cold sixth by coughing up two runs.
Geremy Jimenez
gave up a run in his inning of work but
Juan Jimenez
did not.
*** 3 Stars!!! ***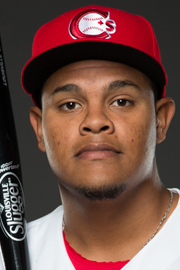 3. Francisco Rodriguez, Bluefield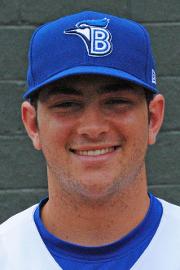 2. Ryan Gold, Bluefield
1. Conor Fisk, Dunedin
Linescores
Extra Innings