It's day one of the MLB draft. Auburn pitcher
Casey Mize
has been selected by the Detroit Tigers first overall. You can follow the picks
right here
. The # BlueJays are picking 12th and 52nd.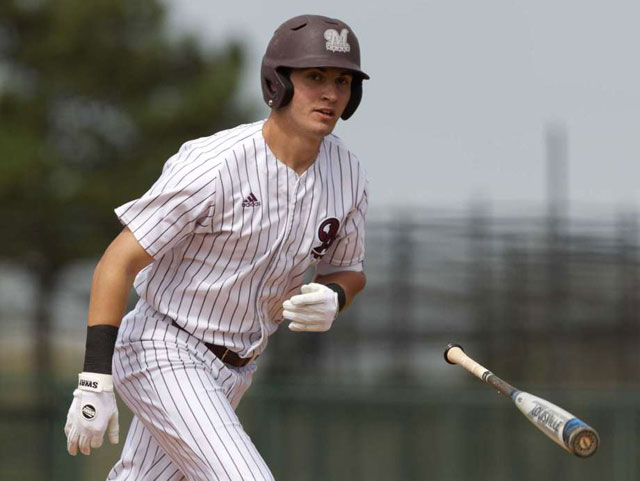 1st round - 12th overall - Jordan Groshans, Magnolia HS - 3B, Bats - Right Throws - Right 6-3, 178 lbs. Born November 10, 1999 Pick Value - $4.2M

MLB.com Scouting Report Excerpt.

While Groshans doesn't have an obvious plus tool, he also doesn't have a glaring weakness. Groshans has a quick right-handed stroke and has a track record of catching up to and punishing quality fastballs on the showcase circuit. With his strength, balance and mature approach, he makes consistent hard line-drive contact. Once he fills out his rangy 6-foot-4 frame and adds some loft to his swings, he should have average or better power. An average runner out of the batter's box and quicker once he gets going, Groshans is athletic for his size but won't stay at shortstop after he leaves Magnolia. His solid arm will play anywhere in the infield, where he probably fits best at third base but may have a chance to stick up the middle at second, and he has the makeup to get the most out of his ability. If he attends college, he'll reunite with his brother Jaxx at Kansas.
Baseball America Scouting Report

Groshans might never wind up at Kansas with his older brother, Jaxx, thanks to his performance throughout last summer and this spring at Magnolia High in Texas. A 6-foot-4, 190-pound shortstop, Groshans has quick bat speed and plus raw power and he showed the ability to square up elite pitching on the summer showcase circuit in 2017. He hit 90-plus mph velocity hard all over the field in multiple events, including a home run against a 95-mph fastball from New York righthander Lineras Torres Jr. in the Perfect Game All-American Classic. Over the summer, Groshans used a big leg kick to get start his load and when he was on time it didn't hinder him, instead helping him generate more power. But there were instances where Groshans would get out on his front side and fly open early, leaving some scouts to question whether the big leg kick would create more timing issues as he advanced against better pitching. This spring, Groshans has quieted the leg kick and improved his balance and hand path to the ball, attempting to lift the ball less frequently and has been hitting lasers the entire season. He's also added around 10 pounds of muscle while maintaining his lean body. Groshans has an above-average arm and he's shown good defensive actions at a number of infield positions, though most scouts believe he will eventually move to third base with a chance to be an above-average defender as he continues to fill out his frame.
Twitter Reaction
@ShiDavidi
Jordan
Groshans
is the first high school player selected by
#BlueJays
in first round since Phil Bickford in 2013. The right-hander didn't sign and the compensatory pick the next year was used on Max Pentecost.
@thejaysnation Blue Jays select 3B Jordan Groshans at No. 12. None BA, MLB Pipeline, or Klaw have him in their top 30. He ranked No. 28 on FanGraphs' list.

@Crawford_MILB Jordan Groshans is interesting. Power from the right side, some feel for the barrel, too. Think he probably ends up at third base instead of shortstop but the bat could play there
@bnicholsonsmith
Groshans
was someone "we certainly had targeted" per
#BlueJays
scouting director Steve Sanders. Could be a "middle of the lineup" hitter at the MLB level.
@bnicholsonsmith
#
BlueJays
will see if
Jordan
Groshans
can stick at SS. They clearly like his bat. Steve Sanders says
Groshans
offers "a combination of contact, of power, of plate discipline, he's got a great feel and approach at the box. He's able to drive the ball to all fields"
@burkegranger
Some video of
#BlueJays
pick
Jordan
Groshans
(3B/SS, Magnolia HS (TX)) from the Perfect Game All-American Classic, where he homered. Future 3B for me. Showed a lot of XBH power over the summer with wood, but comes with some swing-and-miss.
#MLBDraft
.
@ScottyMitchTSN #BlueJays amateur scouting director Steve Sanders on Jordan Groshans: "Both offensively and defensively, he brings tools to the table, and somebody we believe that has the potential to be a middle-of-the-lineup hitter at the major-league level and impact the lineup."
@B_Sakowski_PG
12. Jordan Groshans, ss, Magnolia HS (Texas) - one of the best performers on the circuit last summer, extreme bat speed and RH pop, likely a 3B/LF long term but the hitting tools are extremely impactful.
#MLBDraft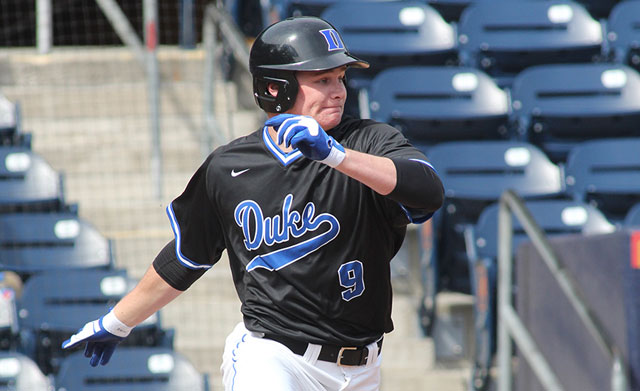 2nd round - 52nd overall - Griffin Conine, Duke - OF. Bats Left Throws Right - 6-foot-1, 200 pounds - Born July 11, 1997 - Pick Value $1.4 million

MLB.com Scouting Report

Has similar upside as his father Jeff who appeared in two All-Star Games and won two World Series in a 17-year career. After playing sparingly and going homerless as a freshman in 2016, he broke out with 13 home runs last spring and led the Cap Cod League with nine last summer and was named the Cape's top prospect. Despite a rough junior season, he's still one of the better power hitters in the draft, capable of driving the ball to all fields thanks to his bat speed and the loft he generates with his left-handed swing. There are concerns about his propensity to swing and miss as he tried to lift nearly every pitch out of the park. With his power potential and solid arm strength, Conine fits the right field profile. He can flash average run times but hasn't showed that kind of speed this spring. Even with modest quickness, he's a sound defender on the outfield corners.

Twitter Reaction

@CanuckBBPlus
With the 52nd overall pick the
@BlueJays
select
Griffin
Conine
. The Jays love sons of former pros.
@CollinHuguley
Duke OF
Griffin
Conine
, who just throttled Georgia in the
#AthensRegional
, has been selected in the second round of the MLB Draft by the Toronto Blue Jays. 52nd overall.
@mlananna
@BlueJays
draft Duke's
Griffin
Conine
. Son of Jeff
Conine
. He hit two homers today to help send the Blue Devils to supers. He's got massive power.
@BFriedACC
Griffin
Conine
's day just got even better ... three dingers in helping
#Duke
into Super Regionals. Now, he just got picked by the
@BlueJays
with the 52nd overall pick.
@JasonAtTheGame
Griffin
Conine
mashed in the Cape Cod league. Struggled at Duke in Jr. year. Looked bored at times. Got himself in trouble by trying to sell out and launch everything
#BlueJays
@Crawford_MILB
Griffin
Conine
could be excellent value for the Blue Jays. Had some issues this spring, but when he's at his best showed a chance to hit for average and power. Just a matter of getting that version as a professional consistently.
@burkegranger
Love this pick for the
#BlueJays
.
Griffin
Conine
(RF, Duke Univ.) was a projected top 10 pick coming into the season. Stumbled out of the gate and K'd a bunch, but had a good second half. .278/.402/.611 w/ 18 HR.