The top ten features five returnees from 2016, three newly drafted players and two prospects who had big years to move up the list into the top 10.
10. Adam Kloffenstein | RHP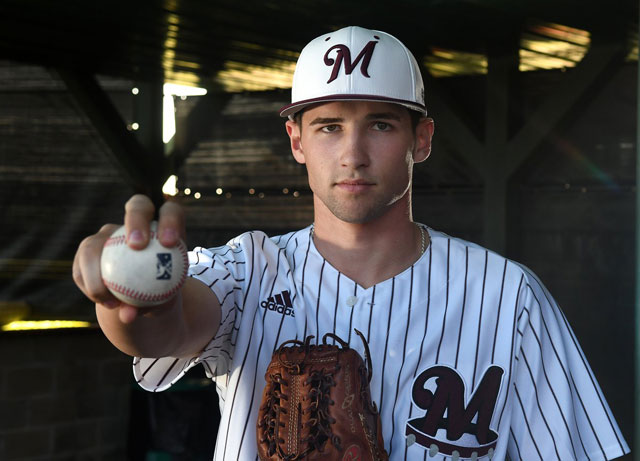 Image from Vype Houston.
| | | | | | | | | | | |
| --- | --- | --- | --- | --- | --- | --- | --- | --- | --- | --- |
| Year | Age | Team | G | GS | IP | H/9 | HR/9 | BB/9 | K/9 | ERA |
| 2018 | 17 | GCL | 2 | 2 | 2.0 | 4.5 | 0.0 | 9.0 | 18.0 | 0.00 |
Kloffenstein features at number ten on our list of top prospects this year despite having thrown just two professional innings. Kloffenstein is the prospect many of those here have pined after ever since AA left. Big, high school right-hander from Texas, with reportedly plus stuff and signing for over slot, yes please.
Drafted this past year in the third round out the same high school as Jordan Groshans, it took a reportedly $2.5 million US big ones for Kloffenstein to forgo his college commitment to TCU. Kloffenstein apparently works in the low 90s with the fastball and has two average pitches in the slider/curve ball and changeup. He's big, athletic and repeats his delivery. There's a lot there to like. Before we start calling him Thor 2.0 though, let's see a couple seasons of 100-plus innings. In the meantime, the farm system is better off with him and at least he keeps the dinosaurs out there (i.e. me) quiet.
9. Cavan Biggio | 2B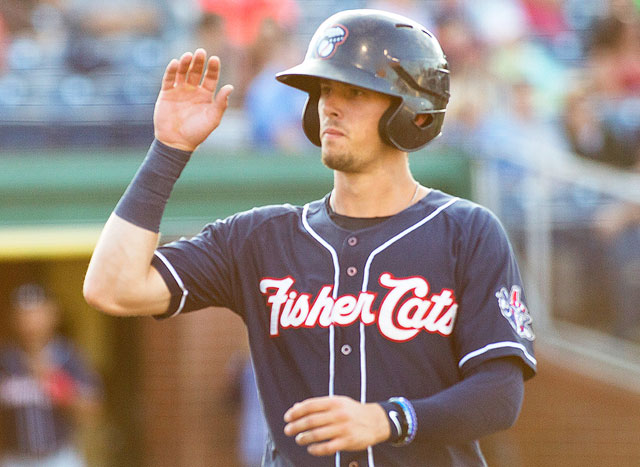 Image from Sportsnet.
Year
Age
Team
AB
2B
3B
HR
BB
K
SB
CS
AVG
OBP
SLG
2018

23

NH

449

23

5

26

100

148

20

8

.252

.388

.499

Last year, only one of the four ballots that was submitted by members of the Minor League Crew for the Batter's Box Top 30 included Cavan Biggio, and even on that ballot he was the 30th ranked prospect. This year, Biggio catapulted all the way to 9th on the Top 30 after a performance that absolutely nobody saw coming.
The Blue Jays selected the son of Hall of Famer Craig Biggio in the 5th round of the 2016 minor league draft out of the University of Notre Dame. The left-handed hitting prospect was drafted as a second baseman, just like his father. In his first year as a professional, Biggio posted a solid, but unremarkable, .282/.382/.366 line for Vancouver. He walked more often than he struck out, but he only had 14 extra-base hits and didn't hit a homer. He finished the year with 9 games for the Lugnuts.
In 2017 Biggio was assigned to Dunedin, where he hit .233/.342/.363. Again, Biggio displayed advanced plate discipline and showed a little more power, with 17 doubles, 5 triples and 11 home runs. However, he only hit .233 and struck out 140 times in 463 at-bats. Without a strong defensive reputation, it was easy to see why Biggio's name hardly came up when discussing Toronto's minor leaguers, other than noting Biggio was another son of a major leaguer when discussing the bloodlines in the system.
To the delight of Jays fans, 2018 was an entirely different story. Biggio didn't hit for a particularly high average at .252, but he displayed his trademark strong plate discipline and demonstrated power that surprised everyone. Biggio finished with a slash line of .252/.388/.499. While he struck out 148 times, he also drew 100 walks. He hit 23 doubles, 5 triples and 26 homers. Biggio also stole 20 bases against 8 caught stealing.
Additionally, he achieved all of that while filling a utility role and diversifying his defensive skillset. With 22 games at 1B, 68 at 2B and 34 at 3B, as well as starting two games in right field, Biggio was forced to travel with many different gloves.
This fall Biggio played in the Arizona Fall League. After a slow start, Biggio finished with a .262/.405/.415 stat line in 65 at-bats. In the AFL, Biggio continued to learn the outfield by making 11 of 14 starts in the corner outfield positions.
Biggio was named the Eastern League's Most Valuable Player. He is the fourth Toronto Blue Jay farmhand to win the award, following Alex Rios, Adam Lind and Travis d'Arnaud. Between d'Arnaud and Biggio, the following players won the award: Darin Ruf, Allan Dykstra, Steven Moya, Brock Stassi, Dylan Cozens and Garabez Rosa. The Jays are certainly hoping for a better major league career for Biggio than any of those players.
It's fair to say that it can be hard to know what to make of Biggio after 2018. His offensive performance was unexpected and, not unreasonably, a number of analysts are skeptical he can repeat it. Keith Law is among those who seem to doubt Biggio is a prospect capable of being an above-average major league regular.
There is some reason to hope those changes may be more permanent. According to Shi Davidi, towards the latter part of the 2017 season, Biggio was experiencing issues with his timing and bat path. Once the off-season arrived, he looked to find comfort at the plate, and engaged in a lot of trial and error. Biggio told Davidi, "There were a lot of those times in those two months where I was just like, 'Am I ever going to feel comfortable doing this?'" It was just so unnatural for me and everything I've been my whole life has just been all natural..."
Biggio eventually made two changes, which are first that he lowered he hands in his pre-pitch setup and, secondly, he added a load mechanism that allows him to transfer his weight through his swing. I couldn't find a great side-by-side comparison video on the internet, but don't be surprised if we see one on television if Biggio continues to progress.
Biggio believes with his new approach he's less susceptible to change-ups and offspeed pitches and he's become more consistent at the plate. He identified Corey Hart, the hitting coach with Dunedin, and, unsurprisingly, his father as significant helps in keeping him on the right track with his new approach. However, he identified one frustration with his father that isn't uncommon when very successful players transition to coach, which is that they can't always explain their success in a way that other less naturally-talented players can absorb it. However, Biggio affirmed his father is a constant source of encouragement and support, even if he goes elsewhere for some coaching advice.
Biggio says he didn't go out intending to adjust his launch angle, but if his recent success continues into 2019, he may somewhat unwittingly become another poster child for the launch angle revolution. The combination of the lower starting point for his hands and his naturally high finish created a checkmarket-shaped launch angle that elevates the ball.
"I was just trying to keep the bat path in the zone more," Biggio told Davidi. "I kept my natural finish, which is a high finish, higher than most people. So, with the lower starting point and higher finish, it created more of a launch angle."
One thing that was noticeable about Biggio's season was how relatively consistent he was, aside from one cold stretch of about four weeks in June and July. Although he didn't finish quite as strong as he started, there was only one point in the year where he experienced any significant struggle.
As one analyst noted, Biggio's 15-game rolling BB% ranged between 11.1% to 28.6%. To illustrate how good that is, the 75th percentile BB% rate at Double-A in 10.9%. So, even in his worst stretches, Biggio was walking more than three-quarters of the batters at Double-A.
While Biggio has been incredibly consistent in drawing walks, he's also been relatively consistent in his power and overall offensive production. Biggio's 15-game rolling ISO has been above the 75th percentile level for approximately three-quarters of the season. Also, his rolling wOBA has also been above the 75th percentile for three-quarters of the year.
While Biggio isn't a standout defensive performer, his versatility on the diamond is a definite plus and the Jays may have a Marwin Gonzalez-type player on their hands. However, if he struggles to stay at second base and turns into a first baseman and corner outfielder, there may be questions about whether his bat would be as useful at the position.
Biggio has a relatively unique profile as a prospect. He has significant problems striking out, but, compared to his level, he has nearly peerless BB% and significantly above-average power. He's young for Double-A at 23, but not young compared to top prospects who often pass through the level much younger (*cough*Vlad*cough*). Biggio's numbers are illustrative of the balancing act he'll need to maintain as he progresses – maintaining excellent plate discipline and strong power, approximately average BABIP and not having his strikeout rate worsen any further. However, if he can do that as he climbs through Triple-A, the Jays could have an excellent hitting second baseman or a strong utility player to add to the fold.
8. Eric Pardinho | RHP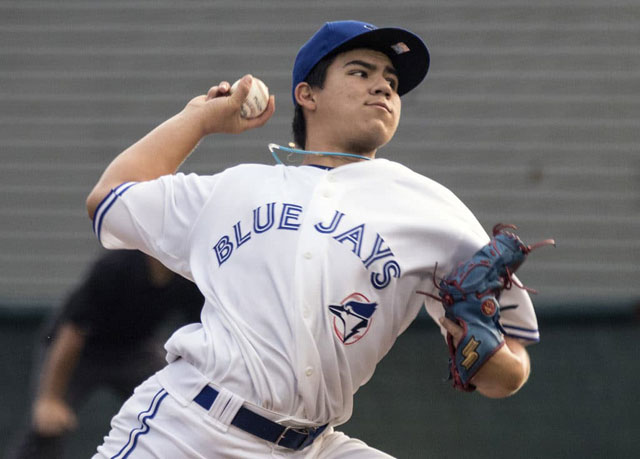 Image from John Lott.
| | | | | | | | | | | |
| --- | --- | --- | --- | --- | --- | --- | --- | --- | --- | --- |
| Year | Age | Team | G | GS | IP | H/9 | HR/9 | BB/9 | K/9 | ERA |
| 2018 | 17 | BLU | 11 | 11 | 50.0 | 6.7 | 0.9 | 2.9 | 11.5 | 2.88 |
One of Toronto's top pitching prospects after only a year pitching in North America, Eric Pardinho joins Nate Pearson as an arm in the system that fans can truly dream on.
He was signed by the Blue Jays on July 2, 2017 for $1.4 million after ranking as the highest pitcher, fifth overall, on MLB.com's list of 30 international amateur prospects. The diminutive Brazilian right-hander signed with Toronto after the club had scouted him heavily for more than two years. Toronto beat the Mariners and Diamondbacks, both of which have strong presences in Brazil, to his signature. The Jays have a history with Brazilian players, as they were the first franchise to sign a Brazilian player when they signed Jose Pett in 1992 for $700,000. Although this move didn't work out, reportedly because Pett had difficulty mentally adjusting to North American baseball, during which he developed difficulties with addiction. Toronto had more success when they drafted Yan Gomes in 2009. Gomes became the first Brazilian native to play in the majors in 2012 when he had a cup of coffee with the Blue Jays prior to becoming an established part-time catcher with Cleveland.
Pardinho started playing baseball after an uncle saw him throwing a paddleball on the beach and thought he showed promise. The nearby city of Bastos, with a significant Japanese population, had given them some exposure to the sport. Pardinho's mother's parents are Japanese.
While little can be discerned about his stats against Brazilian competition, Pardinho started gaining attention last year when he struck out 12 in 6 innings during a win over the strong Dominican Republic team at the under-16 Pan Am Games. Prior to signing, Pardinho had spent the past two seasons at the Yakult Academy in Ibiuna, which is essentially Brazilian baseball's equivalent to the IMG Academy. At the time Pardinho was its youngest resident. At Pardinho's introductory press conference, assistant General Manager Andrew Tinnish said the Jays were very impressed by Pardinho's development at the Yakult Academy. Tinnish said, "He is one of the most advanced I've seen at this age. This is a very mature 16-year-old."
After signing, Pardinho spent the rest of the year at the team's Dominican Republic complex. In 2018, Pardinho played for Bluefield in the Rookie Appalachian League. In 11 starts, Pardinho posted a 2.88 ERA, striking out 64 and walking 16 over 50 innings. Pardinho placed 24th in the Appalachian League in ERA. While that may not surround impressive, he would have placed 15th if you eliminated pitchers with less than 25 innings pitched. Furthermore, Pardinho was pitching in his age 17 season and only two teenagers finished ahead of him in ERA, and one of them threw under 25 innings.
Director of Player Development, Gil Kim, has high praise for Pardinho, remarking in an article on Sportsnet, "What stands out about Pardinho is his passion and his competitiveness, and how off the field, he's an unassuming, genuine, very nice young man and very respectful. On the mound, he's a bulldog. He wants to beat you. He can get emotional. He's intense, and that's one of the best qualities he has as well."
Pardinho speaks Portugese and Spanish, but he has been working on his English since signing with the Jays. On the adjustment to life as a professional ballplayer, Padinho stated to the media, "It's been a very positive experience. I have learned a lot of new things, and I feel like I'm progressing. I'm really focused on working hard to maintain my health and listening to my coaches. The food and the bus rides are much different from my life in Brazil, but it's been fun and I'm adjusting."
Some reports say his fastball can reach the mid-90's, but sits in the low 90's, but other reports say he regular reaches mid-90's. It's not clear which is more accurate or if he just hits the mid-90's more regularly as he is maturing. Pardinho throws a curveball, which projects to be a plus pitch once it's finished. He also throws a slider and a change-up and there are hopes that they will all be at least average major league offerings. He gets glowing reviews for his poise and mental strength, which he has demonstrated in his first year adjusting to life in a new country against more experienced competition. It is very easy to forecast Pardinho at the top of the Jays prospects lists once Vladimir Guerrero Jr. and Bo Bichette graduate and forming part of Toronto's rotation shortly thereafter.
7. Sean Reid-Foley | RHP


Image from Sportsnet.


| | | | | | | | | | | |
| --- | --- | --- | --- | --- | --- | --- | --- | --- | --- | --- |
| Year | Age | Team | G | GS | IP | H/9 | HR/9 | BB/9 | K/9 | ERA |
| 2018 | 22 | NH | 8 | 8 | 44.1 | 5.5 | 0.6 | 4.1 | 10.6 | 2.03 |
| 2018 | 22 | BUF | 16 | 16 | 85.1 | 8.0 | 0.5 | 3.2 | 10.3 | 3.90 |
| 2018 | 22 | TOR | 7 | 7 | 33.1 | 8.4 | 1.6 | 5.7 | 11.3 | 5.13 |
Reid-Foley will be known to many in these parts. Drafted in the second round out of a Jacksonville area high school back in 2014, Reid-Foley has been a bit of enigma through the years. He generally doesn't seem to thrive with promotion, struggling each time he has been promoted. We saw some of those struggles this year play out every fifth day with the big club—poor command and a general lack of faith in his stuff. He has, however, turned in some strong stretches of baseball and clearly has talent. He is also, now that Ryan Borucki has graduated is rarely impressive fashion, our best pitching prospect closest to the real thing.
Reid-Foley is ranked so high because it is quite easy to see a very good starting pitcher. Sometimes I think that he could be Corey Kluber-esque with the fastball and slider, but that would be unfair to Kluber. Reid-Foley is a long way from Kluber in terms of fastball command and the slider lacks the tilt of Kluber's, with it sometimes verging on "get me over" than "put you away." He does though possess a lot of the qualities one looks for at this level. Sturdy and athletic with a real compete to him, Reid-Foley looks and generally acts the part. The challenge with him will be developing his attacks angles to each side of the plate. I think it's there, but there's likely to be a lot more frustration ahead. Having been up at the big club for a minute will hopefully assist in focusing his offseason work such that he returns to Buffalo with a strong first half with the sort of backend of the season that has him firmly planted in Toronto come 2020.
6. Jordan Groshans | SS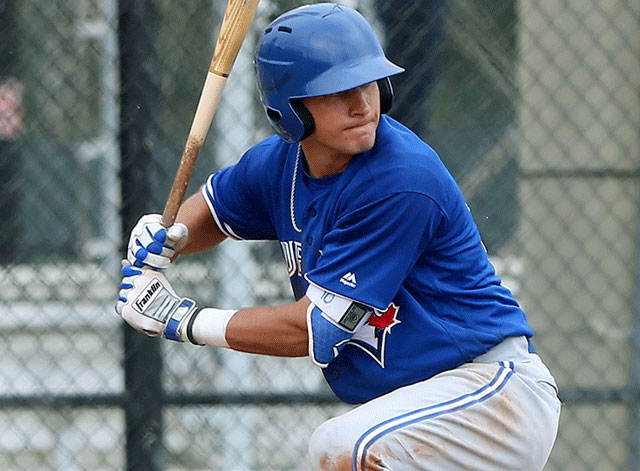 Image from MiLB.com.
Year
Age
Team
AB
2B
3B
HR
BB
K
SB
CS
AVG
OBP
SLG
2018

18

GCL

142

12

0

4

13

29

0

0
.331

.390

.500

2018

18

BLU

44

1

0

1

2

8

0

0

.182

.229

.273

Even though highly-touted lefthander Matthew Liberatore and third baseman Nolan Gorman were still on the board, the Blue Jays decided to take Groshans with the 12th pick of the 2018 Major League draft from Magnolia High School in Texas. If his pro debut is any indication, Groshans was worthy of that high selection.
It was the first time since 2013 Toronto picked a high school player in the first round when they chose righthander Phil Bickford, who they did not sign. The Jays did get Groshans to agree to an under-slot signing bonus of $3.4 million. The 6-foot-3 shortstop could have become a Jayhawk instead of a Jay but he passed up the opportunity to go to the University of Kansas to join his older brother Jaxx, a catcher.
Blue Jays amateur scouting director Steve Sanders believes Groshans could develop into a middle of the lineup hitter in the majors, citing his advanced hitting approach and his ability to drive the ball to all fields. Sanders also expects Grohans to add more strength to help round out his offensive game.
Jim Callis of MLB.com claimed Groshans had "some of the best raw power in this draft" and projects him to be a third baseman. He also played third and pitched with Magnolia in addition to short and was reported to reach up to 91 miles per hour on the radar gun.
Groshans showed he could handle velocity as he hit a 95 MPH fastball from Lenny Torres (the 41st overall pick by Cleveland in 2018) in the Perfect Game All-American Classic in 2017 at Petco Park in San Diego.
Baseball America rated the righthanded-hitting Groshans as the best pure hitter in the Blue Jays 2018 draft class with his ability to barrel up the ball and drive it to right-center field. He quieted down a high leg kick to improve his balance and hand path to the ball. Along with adding 10 pounds of muscle, Groshans was able to hit more line drives.
Groshans began his pro career with a bang by getting at least one hit in his first 12 games with the Gulf Coast League Blue Jays. He led the GCL in runs batted in with 39 at the time of his mid-August promotion to Bluefield. Groshans had trouble adjusting at first in the Appalachian League but his bat came alive for the playoffs when he went 7-for-12 with a home run in Bluefield's semi-final loss to Princeton. He drew a walk in over eight percent of his plate appearances in the GCL but that dropped to just over four percent in his 11-game regular season trial in Bluefield. He kept his strikeout rate below 20 percent at both stops.
Groshans split time at shortstop and third between the GCL and Appy League where he committed 13 errors, nine of them at short. Baseball America believes the Magnolia, Texas native will become an above-average defender at third base as he continues to fill out. The publication's Ben Badler adds Groshans' offensive game projects at short or third with his advanced approach and potential plus bat/plus power combination.
Where Groshans will play next season is up in the air. The Jays may challenge him with an assignment to Lansing or give him more seasoning at either short-season Bluefield or Vancouver. Groshans will play next season as a 19 year-old. He will turn 20 on November 10.
5. Kevin Smith | SS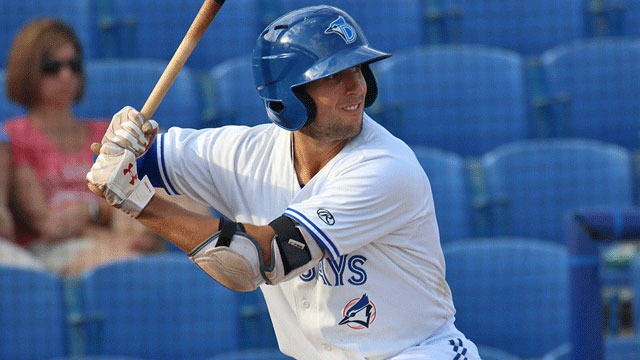 Image from MiLB.com.
Year
Age
Team
AB
2B
3B
HR
BB
K
SB
CS
AVG
OBP
SLG
2018

21

LAN

183
23
4
7
17
33
12
1
.355

.407

.639

2018

21

DUN

340
8
2
18
23
88
17
5
.274

.332

.468

"Adventure, excitement… a Jedi craves not these things." That may be the belief of actor Kevin Smith but the force was strong with the baseball player Kevin Smith in 2018.
The 2017 fourth-round pick out of Maryland—who received a $405,100 signing bonus—showed tremendous improvement from his rookie year by revamping his swing. Smith told Shi Davidi of Sportsnet that he shortened his swing to be able to handle the high fastball. A righthanded hitter, Smith explained he had a loop in his swing that left him susceptible to breaking balls.
It did not take long for Smith to make an impact as he drove in six runs in his first three games with the Lansing Lugnuts. Another three-game stretch saw him collect six hits and earn a one-game promotion to Dunedin in mid-April. When Smith returned to Lansing, he enjoyed a 16-game hitting hitting streak and reached base by a hit or a walk in 19 straight. After winning a pair of Midwest League Player of the Week awards, Smith got another call to go to Dunedin in late May where he would stay for the remainder of the year. He also won a Florida State League Player of the Week award. Smith turned in two four-hit games, 11 three-hit games among his 45 multi-hit efforts between his two stops.
Smith was doing his best to control the strike zone with Lansing with a walk rate of over eight percent and a strikeout rate of nearly 17 percent. Those numbers trended the wrong way with Dunedin with rates of six and 23 respectively. His line drive rate remained above 20 percent at both stops according to FanGraphs. His BABIP was three points shy of .400 with Lansing along with a .319 mark in Dunedin.
Smith saw time at second base and third base in addition to shortstop with Lansing but remained on the left side of the field with Dunedin. The Troy, New York native was charged with 19 errors in total, 15 of them at short but the general consensus is he has the tools to stay at the six-spot thanks to his sure hands, body control, above-average arm strength and quick release that allow him to make highlight reel plays.
His base stealing ability (29-for-35 in 2018 after going 9-for-9 in 2017) helped round out Smith's 2nd Team selection to MLB Pipeline's team of the year.
A 2016 Cape Cod League All-Star and Baseball America's top prospect in that summer league helped pad Smith's resume after landing the starting shortstop gig with Maryland in his freshman season of 2015.
If his Twitter account (@KJS_4) is any indication, Smith is a good teammate who constantly praises others when they perform well.
Double-A New Hampshire should be Smith's next stop up the minor league ladder. He will turn 23 on the 4th of July.

4. Nate Pearson | RHP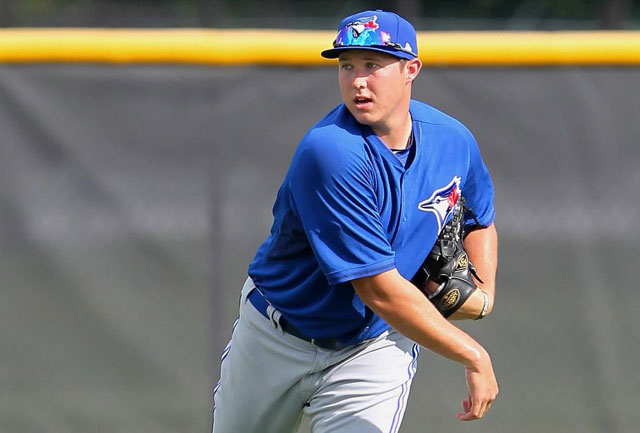 Image from The Toronto Star.
| | | | | | | | | | | |
| --- | --- | --- | --- | --- | --- | --- | --- | --- | --- | --- |
| Year | Age | Team | G | GS | IP | H/9 | HR/9 | BB/9 | K/9 | ERA |
| 2018 | 21 | GCL | 1 | 1 | 1.2 | 27.0 | 5.4 | 0.0 | 5.4 | 10.80 |
An early season injury on a comebacker dampened what was to many an eagerly anticipated season for Pearson. In his short stint in Vancouver in 2017, Pearson at times looked like Nolan Ryan. The fastball looked like it would shrink just as it was about to enter the strike zone.
Drafted in the back end of the first round in 2017, Pearson hails from Central Florida Community College, far from a baseball powerhouse. A reportedly late bloomer, Pearson came to his plus-plus fastball relatively late in his amateur career. He possesses a strong slider and creates good separation from his fastball with it. It plays up given the 104mph fastball, as does the changeup, but neither particularly rank as above average pitches. The fastball though is special and the size and delivery speak to a front-end starter. Bauxites will look to see 120 plus innings from Pearson in 2019 and a few strikeouts as well.
3. Danny Jansen | C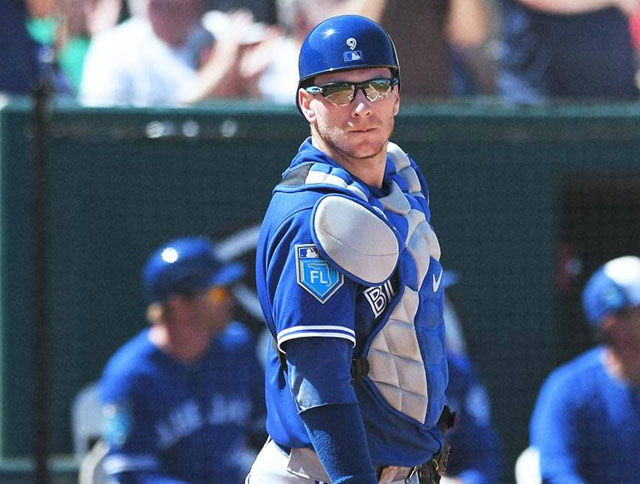 Image from Sportsnet.
Year
Age
Team
AB
2B
3B
HR
BB
K
SB
CS
AVG
OBP
SLG
2018

23

BUF

298

21

1

12

44

49

5

1

.275

.390

.473

2018

23

TOR

81

6

0

3

9

17

0

0

.247

.347

.432

Drafting and developing catchers is such a difficult task that when one makes it to the big leagues and shows the makings of an average, if not slightly above average backstop, it is a cause of much congratulations among development types. The position is demanding and every part of one's game is under the microscope. Take Jansen, for example. Jansen does just about everything on the baseball field well. He hits, catches and runs. Did he look like he could get himself out at times, sure. Did it look like teams are going to run on him a bit, ya. Will I pick at this throughout his career with the Jays, probably. But, the majority of teams out there don't have a guy who can do the things Jansen can do and by god, he is certainly not J.P. Arencibia.
Jansen is in an enviable position this upcoming year. He has Russell Martin for another season to split duties. At the same time though, catching is a habits-based game and the Jays will need to find someone to work with Jansen on a daily basis. I'm not entirely sure who that is going to be on the current staff. Martin I imagine will get a few of the Boston games this upcoming season. The pop times to me look pretty good from Jansen though he tends to get going more east-west more than north-south yielding some pretty bad, tailing balls down there. Best to slowly introduce him to that Red Sox running game. I wouldn't be surprised if the Jays look to bring in a pure catch and throw guy down the line. Jansen though is a gem of a find and a true backbone type player to a championship calibre team. He looks like he could spend ten years back there and be the best catcher this franchise has ever had.
2. Bo Bichette | SS
Image from MiLB.com.
Year
Age
Team
AB
2B
3B
HR
BB
K
SB
CS
AVG
OBP
SLG
2018

20

NH

539

43

7

11

48

101

32

11

.286

.343

.453

If it wasn't for the presence of Vladimir Guerrero Jr. (can you ever talk about Bichette without talking about Vlad Jr.), the Box would be dusting off a thesaurus to run out a list of superlatives to describe Bo. However unfair it is to him, Bo is destined to be the second-best prospect in the system for the rest of the offseason and several weeks – and only several weeks – of the 2019 season.
After the 2017 season, the son of famed Rockies power hitter Dante Bichette was ranked as the 8th best prospect in baseball by Baseball America. He also ranked inside the top 15 by MLB.com and was a member of the top 20 prospects, as ranked by Baseball Prospectus. Bichette finished his 2016 season with a strong second half and then had a performance in 2017 that attracted attention across baseball and catapulted him into elite prospect status.
It was almost inevitable that Bo wouldn't be able to repeat his 2017 performance in 2018, but he posted a very solid slash line of .286/.343/.453 and provided comfort to the front office that 2017 wasn't going to be the highlight of his professional career.
Toronto selected Bichette 66th overall in the 2016 draft out of Lakewood High School in St. Petersburg, where he hit .569 with 13 homers and 44 RBIs in 25 games. Bo followed his older brother, Dante, and father, Dante, into professional baseball. Dante Jr. was selected 51st overall in the 2011 draft by the Yankees, but has never truly lived up to his potential to date. His career stalled in Double-A with a lifetime .691 OPS in the minors. He spent successive seasons in Double-A with a .715 OPS and .705 OPS and then was released by the Yankees. In 2018 he played for the St. Paul Saints in the Independent League. Bo's father, Dante Bichette, was a four-time All-Star in the mid-1990s and led the National League in home runs and RBIs in 1995.
After projecting him to be Toronto's first round selection in an early mock draft, Keith Law ranked Bo 52nd overall just prior to the draft. He fared a little bit better with Baseball America, which rated Bo as the 46th best prospect going into the draft, In either case, Toronto was thrilled when Bo was sill on the board when it was time for the club's 2nd selection, 66th overall. Toronto signed him for $1,100,000, which was $121,400 over slot. After the draft Bichette told the Tampa Bay Times that he turned down four other offers to sign with Toronto, explaining that he felt the club was the right fit for him.
In 91 plate appearances with the Gulf Coast League Jays, Bichette hit .427/.451/.732 for a 1.182 OPS. He led the GCL in batting average, slugging percentage and OPS and finished second in on-base percentage to a 23-year-old five years his senior. Baseball America ranked him as the fourth best prospect in the GCL after the season, behind the 1st and 9th overall picks in the 2016 draft and a 2015 international free agent signed for $1.5 million by the Nationals. Nevertheless, Bichette did not make the end of season top prospect lists from Baseball America, ESPN, FanGraphs or MLB.com.
In 2017, playing in his age 19 season, Bichette began the year by posting a .384/.448/.623 line at Lansing. He hit 32 doubles and 10 homers in 284 at-bats, with 12 stolen bases in 15 attempts. Bichette's 1.071 OPS led the Midwest League by over 100 points; the second best mark was .961. Also, Bichette was one of only three teenagers in the top 25 in OPS. Interestingly, all three were sons of former major leaguers, as Fernando Tatis Jr. in 6th spot and Vlad Jr. in the 8th spot joined him.
Bichette slowed down only slightly in Dunedin, where he posted a .323/.379/463 line, which was good for an .843 OPS. Bichette had nine doubles, four homers and 10 stolen bases in fourteen attempts. Bichette's .843 OPS was good for 15th in the Florida State League, where he was one of only two teenagers in the top 100 by OPS.
As noted above, he was ranked as a top 10 prospect by Baseball America and was in the top 20 by MLB.com and Baseball Prospectus. Keith Law also had Bo inside his Top 20 and Fangraphs had him inside the Top 10.
He posted a .796 OPS for New Hampshire over 595 plate appearances which, admittedly, didn't set the world on fire. However, this was still an impressive feat in his age 20 season. There were only two players 20 or younger in the Top 50 in OPS in the Eastern League amongst qualified batters. One of them led the Eastern League in OPS and is the son of a former major leaguer. That's all I'll say. The other is Bo Bichette. In fact, only four other players in the Top 50 were even in their age 21 season and all four will be Top 100 prospects this offseason (Brendan Rogers, Daz Cameron, Ke'Bryan Hayes and Ryan Mountcastle). Bichette led the Eastern League in total bases and finished second overall in stolen bases, demonstrating his power-speed potential.
Bichette has never been known for his glove. While he currently plays short, many people have commented it's more realistic to think he'll move to second or third before his minor league career is finished. Previously, you could find a lot of Dustin Pedroia or Ian Kinsler comparisons, suggesting most people think he'll end up at second. However, given how they are handling Lourdes Gurriel, it seems as if this front office will give a lot of rope to young players at shortstop. And Bo isn't exactly being moved off the position. He only played 9 contests at 2B this year, which is five fewer than 2017, and he played a noticeably smaller percentage of games at 2B (7.2% in 2018 compared to 14% in 2017). It is worth noting he made 25 errors in New Hampshire this year.
Bichette hasn't demonstrated Guerrero's strike zone judgment, but his strikeout totals aren't unduly alarming. He appears to have an aggressive approach at the plate, but so far he's able to channel that into a controlled aggression that avoids a complete free-swinging approach. BIchette has good bat to ball skills and contact ability to go with the ability to make hard contact and he has strong power potential, as he tries to make hard contact rather than simply hunting for home runs.
In 2016, Batter's Box wrote, "[2016] demonstrated there's a lot to dream on offensively…." Even if Bichette did not post the elite offensive numbers he did in 2017 this year, fans should not stop dreaming on Bichette.
Nothing that happened in 2018 suggests he doesn't have the potential to be a very special player. And, if you've seen the clip of him from the exhibition games in Montreal bounding in front of the camera with unbridled enthusiasm when Vlad Jr. created magic, Bo's also going to be a very fun player to watch.
1. Vladimir Guerrero Jr. | 3B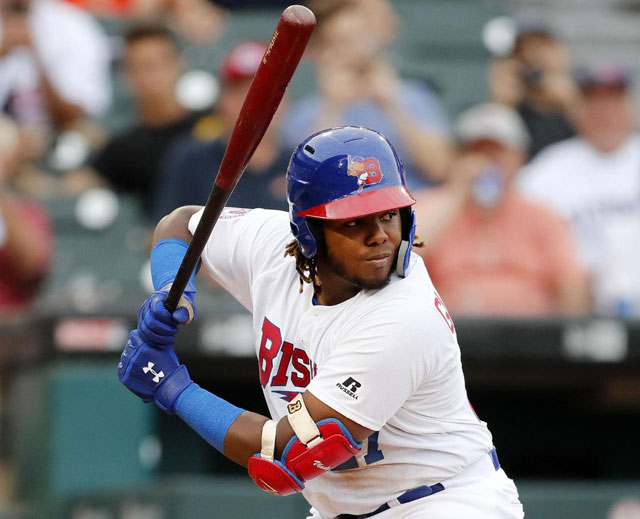 Image from The Buffalo News.


Year
Age
Team
AB
2B
3B
HR
BB
K
SB
CS
AVG
OBP
SLG
2018

19

DUN

4

1

0

0

0

0

0

0

.500

.500

.750

2018

19

NH

234

19

1

14

21

27

3

3

.401

.449

.671

2018

19

BUF

110

7

0

6

15

10

0

0

.336

.414

.564

Ranked by Batter's Box as the top prospect in the system for the third straight year, Vladimir Guerrero Jr. continued to tantalize Blue Jays fans with his performance this year and should be the top prospect in baseball on most lists as they are published.
Guerrero Jr. was born on March 16, 1999. He is listed at 6'1" and 210 pounds and throws and bats right-handed. The son of the beloved Expo, who was a nine-time All-Star, former MVP and Canadian and National Baseball Hall of Famer, Guerrero Jr. was scouted heavily by the Blue Jays, who were able to sign him as an international free agent for $3.9 million in July 2015.
Guerrero's first year in North America could hardly have gone any better. In 2016, he played in the Appalachian League, where he was more than three years younger than the average age of a player. He posted an above-average .808 OPS that was good for 32nd in the league. Only eight teenagers posted better marks than Guerrero. He was 7th in the league with 8 home runs, 10th with three triples and tied for 17th with 12 doubles. He also finished with the fourth-highest walk total.
Heading in 2017, Baseball America ranked Guerrero Jr. as the 20th best prospect in baseball and MLB.com ranked him as the 34th best prospect. Fangraphs ranked him as the 24th best prospect, while Keith Law had the low ranking of the major evaluators, slotting him 48th.
The future was looking bright heading into 2017. Guerrero began the year at A-ball with Lansing, where he hit .316/.409/.480 over 269 at-bats. Vlad Jr. hit 21 doubles and seven homers during this stretch. He continued to display a good batting eye, as he walked 40 times, while only striking out on 34 occasions. Guerrero Jr.'s OPS was the 8th best in the Midwest League and he was one of only three players in the top 25 by OPS who was still a teenager (Bichette being another). Guerrero Jr. was also one of only two players in the top 25 who walked more times than he struck out. On the strength of that performance, Guerrero Jr. was ranked the 2nd best prospect in baseball by Baseball America during their midseason update.
He did even better over the second half of the season, as he posted a .333/.450/.494 line at advanced A-ball. Over 168 at-bats with the Dunedin Blue Jays, Guerrero hit seven doubles, six homers and walked 36 times against 28 strikeouts. In his age 18 season, Guerrero Jr. led the Florida State League in OPS. As evidence of how young Guerrero was compared to his competition, the only other player in the Top 100 by OPS who was still a teenager was, you guessed it, Bichette. Furthermore, no other player in the top 100 by OPS walked more times than they struck out, regardless of their age.
At the end of the 2017 season, ESPN named Vladimir Guerrero Jr. their prospect of the year and Keith Law wrote, "I could make arguments for other players, but no one blew the doors off the hinges this year the way the 18-year-old son of possible Hall of Famer Vlad Sr. did." Heading into 2018, Baseball America ranked him as the 3rd best prospect in baseball, as did MLB.com and Fangraphs. On each of those lists he appeared behind Ronald Acuna Jr. and Shohei Ohtani. Baseball Prospectus ranked him fourth and Keith Law ranked him 2nd.
The main question heading into the 2018 season seemed to be whether Vlad Jr. would reach the major leagues. And that debate raged on early in the season, as, over 266 plate appearances, Guerrero Jr. posted a .402/449/.671 line for Double-A New Hampshire. His 1.120 OPS ranked first in the Eastern League in his age 19 season. Nobody else in the Top 10 was younger than 22.
However, on June 5th Guerrero Jr. suffered a patella tendon strain he suffered in his left knee at the beginning of June that sidelined him into July. With Toronto's chances of making the playoffs essentially over at that point, Guerrero Jr.'s injury dampened, but did not eliminate, the talk of promoting him to Toronto that season. After short stops in the Rookie League and Dunedin on a rehab assignment, Guerrero Jr. returned to New Hampshire, whereupon he was promoted to Buffalo on July 28.
Guerrero Jr. played 30 games for the Bisons, accumulating 128 plate appearances where he hit .336/.414/.564. If he had qualified, his .978 OPS would have ranked fourth in the International League as a 19-year-old.
This post could go on for pages with the accolades that have been heaped on Vlad Jr., although one of the most eye-catching comments came from then-Baseball America writer John Manuel in a chat in 2017, when he was asked if Vlad Jr. was the best hitting prospect of the last decade. After cautioning not to try any opinion too much, as they clearly missed on Mike Trout, Manuel answered, "….Vlad Jr. might be an 80 hit-80 power…that's hard to beat. That's peak Cabrera or peak Pujols. We're talking that kind of hitter. He's closer to Cabrera I guess because I don't expect him to have Pujols' all-around brilliance, but…I think I just answered 'yes' in a longwinded fashion." Throughout the past two seasons, analysts have repeated variations on that theme. As a Blue Jays fan, it can be hard not to get carried away thinking about what Guerrero Jr. may become if he avoids injury and keeps his body in good condition.
Blue Jays special assistant of Latin American Operations Ismael Cruz noted several years ago that "[Vlad Jr.] has a better bat now than his father did at that age. ... He's hit all his life and he's always faced competition above him." Cruz also noted that Guerrero plays the game because he loves it, as he doesn't need to succeed for financial reasons given his dad's earnings. After being drafted Vlad Jr. said he wanted to reach the majors within two years. He didn't succeed, but he's going to come far closer than most people expected.
Baseball America has noted that Guerrero "does just about everything evaluators want to see in a teenage hitter. He has tremendous hand-eye coordination and bat-to-ball skills, to the point he seems to have been born to hit. His special hands allow him to manipulate the barrel and square up pitches of all types." Baseball America also described him as having "tremendous raw power and showed the ability to drive the ball to all fields at an advanced rate for his age."
His biggest weakness is defensively and it's long been suspected he'll wind up at first base or DH. However, he's worked hard at his defence since he was drafted to improve his quickness and mobility. In his 2017 mid-season review, John Sickels reported that he had made "good progress" with his defense and there was a chance he could stay at third base. Vlad Jr.'s recent injury has undoubtedly intensified speculation about whether his future lies at 1B or DH and whether the Jays should expedite such a move in order to increase the odds he stays healthy. So far, publicly at least, the club has shown no desire to move Vlad Jr. until it becomes necessary.
The 2017 Batter's Box Top 30 summary of Vlad Jr. concluded, "Readers, temper your expectations. Next year can't possibly be a repeat of his success in 2017." Foolish words that won't be repeated again. Blue Jays fans, get ready to enjoy a very special talent as of, I don't know, the third or fourth week of April. And keep your fingers crossed he remains healthy. Every single data point in Vlad Jr.'s professional career points to this being a generational bat.
We hope you enjoyed the top 30 prospects for 2018. A big thank you goes out to #2JBrumfield, sam and Thomas for their work on this list and also for the minor league reports during the season.