The top ten features five returnees from 2016, three newly drafted players and two prospects who had big years to move up the list into the top 10.
10. Riley Adams | C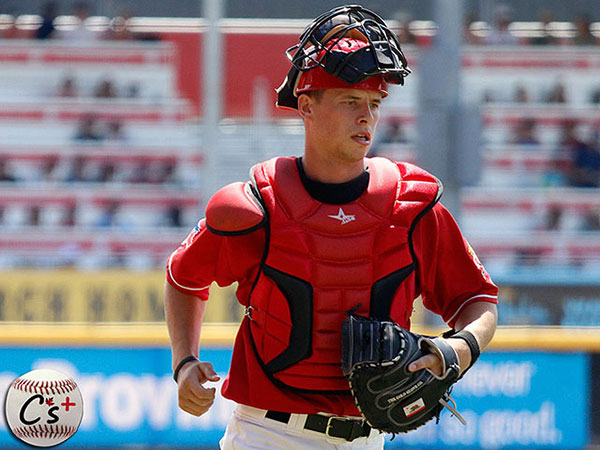 Image from CsPlusBaseball.ca
Year
Age
Team
AB
2B
3B
HR
BB
K
SB
CS
AVG
OBP
SLG
2017

21

VAN

203

16

1

3

18

50

1

1

.305

.374

.438

There was some surprise among draft experts that
Riley Adams
slid down to the third round of the 2017 draft. That's where the Blue Jays snapped up the San Diego Toreros product with the 99th overall pick for the slot bonus of $542,400. Pegged as a possible second-rounder, if not a late-first, Adams was a young college junior as he just turned 21 before embarking on his pro journey.
Adams is looking to prove the naysayers wrong that he can stay behind the plate and not have to move to first base or the outfield.
Baseball America
had indicated before the draft that Adams was below-average in blocking and receiving.
According to
Shi Davidi
of
Sportsnet
, the Jays were interested in Adams since he made the switch from shortstop to catcher during his sophomore season at Canyon Crest High School in San Diego. Adams was also a star basketball player and has a black belt in karate which should come in handy if his team is involved in any bench-clearing brawls. He was selected by the Chicago Cubs in the 37th round in 2014 but opted to play for the University of San Diego.
Adams will rely on his athleticism to make the necessary improvements behind the plate as he is expected to work extensively with Blue Jays catching coordinator
Ken Huckaby
. One area in which he excelled was throwing out runners on the basepaths as he nailed 40 percent of would-be basestealers in the Northwest League.
In
a story
by
Jonathan Mayo
of MLB.com, Blue Jays farm director
Gil Kim
praised Adams for his leadership abilities and said they helped key Vancouver's run to the Northwest League championship. Adams' calling card is his bat which helped him excel in college and in the Cape Cod League in 2016 in which he batted .333. He began his pro career with a nine-game on-base streak that included two four-hit games—one that saw him thrown out at third base in a bid for a triple to get the cycle July 3—and two two-hit efforts to boost his average to .432. He cooled off after that but he earned a Northwest League All-Star berth and kept his average above .300 at the end of the regular season. His 16 doubles were one shy of the league lead.
Even though Nat Bailey Stadium is considered a hitter's graveyard, Adams still managed to slug .504 at home compared to his .366 mark on the road. On the negative side, the right-handed hitter had issues making contact by striking out 22 percent of the time and he benefited from some batted ball luck with a BABIP of .391.
Adams' spread-out stance at the plate is said to be similar to fellow San Diego Torero and Chicago Cubs star
Kris Bryant
. He is said to have at least average power with raw power ranging from 60 to 70 on the 20-80 scouting scale.
The Encinitas, California native is expected to head to Lansing for his first exposure to full-season baseball in 2018. He will turn 22 on June 26.
You can find out more about Adams
right here
.
9. Logan Warmoth | SS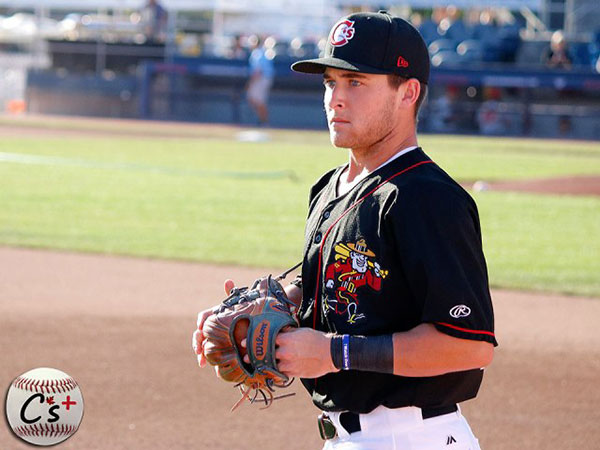 Image from CsPlusBaseball.ca
Year
Age
Team
AB
2B
3B
HR
BB
K
SB
CS
AVG
OBP
SLG
2017

21

GCL

22

0

0

1

1

2

1

0

.273

.304

.409

2017

23

VAN

160

11

2

1

7

33

5

2

.306

.356

.419

Warmoth, yeah! What is he good for? Absolutely something, say it again!
Logan Warmoth
was nothing but a heartbreaker for opposing pitchers in the Northwest League upon his arrival in Vancouver. After clubbing his first pro homer in a brief stint in the Gulf Coast League, he began his C's tenure with a 12-game hitting streak that included four multi-hit efforts which resulted in a four-hit game and two three-hit contests, including his first NWL dinger. He ended the month of July hitting .364 but cooled off with a still respectable .280 batting average in August. Warmoth had enough left in the tank in the post-season when his two-run home run on his 22nd birthday gave Vancouver a semi-final victory over Spokane before driving in the winning run in the championship clincher over Eugene at Nat Bailey Stadium.
Warmoth's biggest hits of the post-season illustrated
Baseball America
's scouting report about him before he was taken with the 22nd pick of the 2017 draft and signed for a bonus of over $2.8 million. The right-handed hitter—who was a switch-hitter before heading to college—showed his power from the pull side with his home run along with a solid offensive approach and an ability to adjust and use the whole field as his opposite-field single cashed in the championship-winning run.
Warmoth made fairly decent contact by only striking out 19 percent of the time and had a line drive nearing 17 percent in Vancouver. However, he only drew walks four percent of the time in YVR and was the beneficiary of a BABIP boost of .378.
The North Carolina Tar Heel capped off his college career by earning first team All-American and All-ACC honours and earned the
Brooks Wallace
Award as the top shortstop in the NCAA. Despite that honour, there are doubts in the industry he can stick at the six spot and may be more suited to second base. However, Blue Jays director of amateur scouting
Steve Sanders
told
MLB.com
the club believes Warmoth can stick at short thanks to good hands and footwork as well as great instincts and smarts.
His middle-infield profile led
MLB Network
analyst
Peter Gammons
to compare him to Baltimore shortstop
J.J. Hardy
and Minnesota Twins second baseman
Brian Dozier
. Not bad for someone who was not drafted out of high school in which Warmoth said he did not speak to any major league scouts in his Grade 12 year. The Orlando, Florida native was overshadowed on his Orlando Scorpions travel team by 2015 first round pick
Brendan Rogers
from Colorado and the eighth pick
Adam Haseley
in this year's draft from Philadelphia.
Still, Warmoth did not go unnoticed by Scorpions coach
Jerry Kennedy
who told Baseball America that a large part of Warmoth's success was due to his work ethic, calling him a "baseball junkie" who took extra batting practice before and after games.
The brother of
Tyler Warmoth
—a right-handed pitcher who spent most of 2017 at Double-A in the Los Angeles Angels system—Logan began drawing attention to himself with his play in collegiate summer ball by hitting .330 in the Cal Ripken League in 2015 before slugging four homers and batting .270 in the Cape Cod League in 2016.
Warmoth is expected to get his first exposure to full-season ball with Lansing, if not Dunedin, in 2018. The 6-footer will turn 23 on September 6.
8. Sean Reid-Foley | RHP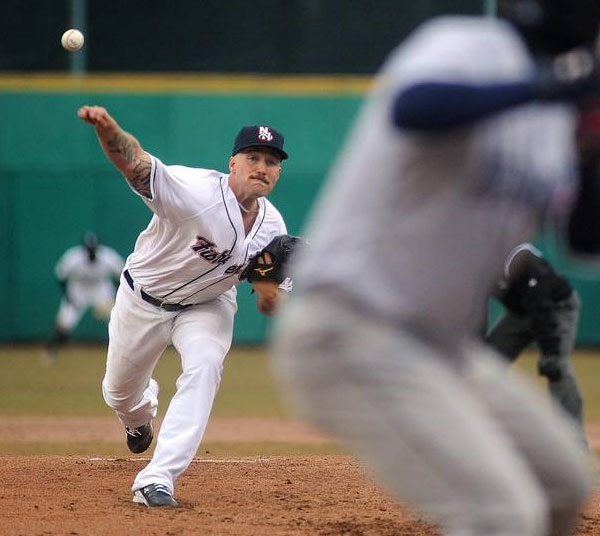 Image from New Hampshire Union Leader.
| | | | | | | | | | | |
| --- | --- | --- | --- | --- | --- | --- | --- | --- | --- | --- |
| Year | Age | Team | G | GS | IP | H/9 | HR/9 | BB/9 | K/9 | ERA |
| 2017 | 21 | NH | 27 | 27 | 132.2 | 9.8 | 1.5 | 3.6 | 8.3 | 5.09 |
I suspect that as we move closer to the winter meetings the Jays will be getting a lot of calls on Sean Reid-Foley. Yes, his stellar 2016 was not followed up with an equally dominating 2017. But, prospects of Reid-Foley's ilk do not come around all too often and there are many who probably see an asset a front office may be willing to move for short term help. The powerful right-hander possesses two plus pitches as well as the intangibles most scouts crave. The command still has a ways to go, but there's nothing here to suggest it won't. Look for Reid-Foley to bounce back either in New Hampshire or Buffalo come April. Given the dearth of pitching prospects in the upper minors, it wouldn't be a leap to suggest that a solid April/May may see Reid-Foley get the call come blister season.
7. Ryan Borucki | LHP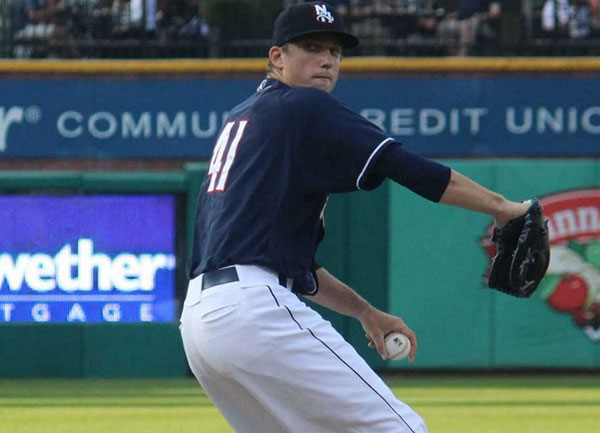 Image from MiLB.com.


| | | | | | | | | | | |
| --- | --- | --- | --- | --- | --- | --- | --- | --- | --- | --- |
| Year | Age | Team | G | GS | IP | H/9 | HR/9 | BB/9 | K/9 | ERA |
| 2017 | 23 | A+ | 19 | 18 | 98.0 | 8.7 | 0.5 | 2.5 | 10.0 | 3.58 |
| 2017 | 23 | AA | 7 | 7 | 46.1 | 6.0 | 0.4 | 1.6 | 8.2 | 1.94 |
| 2017 | 23 | AAA | 1 | 1 | 6.0 | 9.0 | 0.0 | 1.5 | 9.0 | 0.00 |
Last offseason, while ranking Ryan Borucki at 22nd overall, Batter's Box expressed optimism that Borucki may make it to New Hampshire in 2017 and concluded the profile with the sentence, "If Borucki manages to avoid further arm troubles, he may soon emerge as the team's best left-handed pitching prospect." It appears that was a wise prognostication, as Borucki had one of the best seasons in Toronto's minor league system.
Toronto's 15th round selection in the 2012 amateur draft, the Jays selected Borucki out of Mundelein High School in Mundelein, Illinois. Borucki has baseball in his bloodlines, as his father, Ray, was a minor league infielder who progressed as far at Triple-A. The Jays spent $426,000 to entice Borucki away from a scholarship to the University of Iowa. He was the only player selected in the 15th round of that year's draft to receive a signing bonus over $100,000.
Borucki pitched sparingly during his senior season due to a ligament tear in his elbow. He chose to avoid Tommy John surgery and to rest and rehab his elbow instead. However, while Borucki had only thrown 14.2 innings in his senior year as of early May, he had struck out 26 of the 52 batters he faced. This enticed the Jays to pay such a relatively high price for his signature.
Borucki was assigned to the Gulf Coast League in 2012 where he made four appearances. He struck out ten of the 22 hitters he faced. Unfortunately, Borucki blew out his elbow in 2013 and missed the season with Tommy John surgery. He didn't return to the mound until mid-2014. The 6'4" lefty split the second half of 2014 between Bluefield and Vancouver. After six starts with Bluefield, he was promoted to Vancouver, where he made his final four starts. During the season, he struck out 52 batters in 57 innings and posted a 2.37 ERA.
The southpaw had another lost season in 2015, hurling only 5.2 innings due to injuries. Borucki was shut down in the spring with elbow troubles, made three appearances in July, but, after experiencing more soreness, he was shut down again and didn't pitch the rest of the year.
In 2016, Borucki finally had a clean bill of health and threw 135.2 innings, which was more than twice as many as he had hurled during any previous season. Borucki struggled in Dunedin as the season began, making 6 starts and posting a 14.40 ERA. He allowed 40 hits over 20 innings and walked more batters than he struck out. Borucki was demoted and made 20 starts for Lansing, going 10-4 with a 2.41 ERA. He struck out 107 and only allowed one homer over 115.2 innings for the Lugnuts.
Borucki began 2017 at Dunedin, where he posted a 3.58 ERA over 18 starts. He struck out 109 over 98 innings and only allowed 95 hits and 27 walks. Borucki's ground ball rate (50.4%) was 4th among Florida State League pitchers. He was also very impressive during his 7 starts for the Fisher Cats, notching 42 strikeouts over 46.1 innings against 31 hits and 8 walks. Borucki's 1.94 ERA at Double-A had fans speculating he may make the majors in September, but the Jays chose to reward him with a final start for Buffalo, where he hurled 6 shutout innings.
Borucki's role model is former Blue Jay southpaw Mark Buehrle, both in terms of his pace and his devastating changeup. Borucki told John Lott that, although he works quickly at times, he isn't always able to mimic Buehrle's calm demeanor and sometimes he becomes amped up, which can lead to him elevating his pitches.
Borucki has a plus changeup, which he learned in part by watching Buehrle master the fastball-changeup combination. He first developed his changeup when his father banned him from throwing breaking balls in his teen years after he developed arm problems. Borucki also attributed some of his success this year to developing his slider, which has generated a lot more swings and misses than in the past. He has also refined consistency in his delivery and continues to field his position well.
It's reported that Borucki's fastball comfortably sits in the 88-92 miles per hour range, but can touch 94. Borucki's developed more confidence in his fastball since turning professional and has worked on establishing it earlier in the count. Borucki also is reported to have good intangibles, and he spends a significant amount of time between starts working on pitch sequencing and mechanical adjustments.
In the 2016 offseason, when the club had to decide whether to add Borucki to the 40-man roster, general manager Ross Atkins told Shi Davidi that, "It was unanimous across player development that from a work-ethic and competitive standpoint, what he means to this organization as a teammate, that it was somebody we were excited to add to our 40-man."
It seems unlikely that Borucki will begin 2018 with the parent club, particularly given how conscious of service time the front office appears to be. He may begin the year in Buffalo with an eye to a callup at some point during the season if the team is struggling in the rotation or suffers and injury. However, there is a small chance that, if the Jays decide to make a strong run at contention in Josh Donaldson's last year and Borucki puts up a strong spring, we could see him on the opening day roster.
6. Richard Urena | SS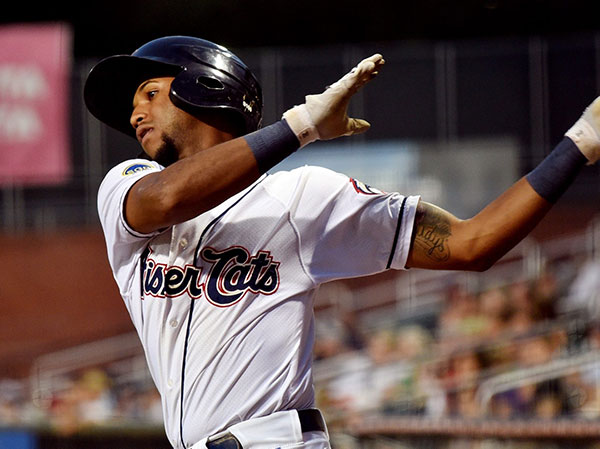 Image from New Hampshire Union Leader.
Year
Age
Team
AB
2B
3B
HR
BB
K
SB
CS
AVG
OBP
SLG
2017

21

NH

510

36

3

5

30

100

0

1

.247

.286

.359

2017

21

MAJ

68

4

0

1

6

28

1

0

.206

.270

.309

A regular inhabitant of the Batter's Box top 30, Richard Urena checks in this year at number six. Many here got their first look of Urena during an extended September look. While the numbers do not jump out at you, Urena provided several instances of late-game magic for the die-hards during his time with the big club. Urena, however, needs work and his overall 2017 season will likely be viewed as somewhat disappointing for the brass. Nonetheless, Urena is solid-looking prospect with a lot to offer. A switch-hitter as of three seasons ago, Urena possesses several above-average tools including the ability to stay at short. 2018 will be a big year for Urena. Another "flat" year of production may mean a fall down the organization's depth chart. The hit and power tools still have a ways to go and he'll need to show a better aptitude for the walk.
5. Nate Pearson | RHP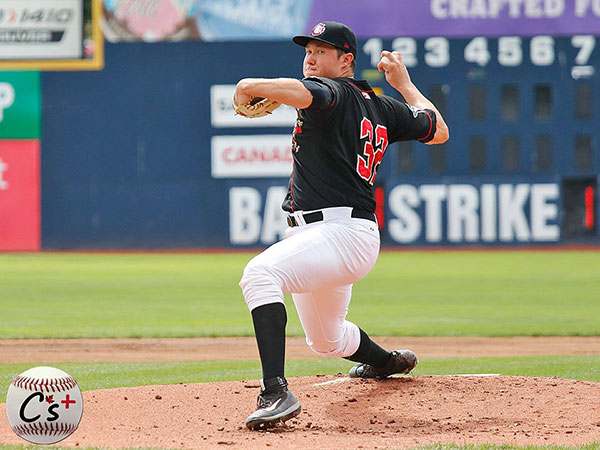 Image from CsPlusBaseball.ca.
| | | | | | | | | | | |
| --- | --- | --- | --- | --- | --- | --- | --- | --- | --- | --- |
| Year | Age | Team | G | GS | IP | H/9 | HR/9 | BB/9 | K/9 | ERA |
| 2017 | 20 | GCL | 1 | 1 | 1.0 | 9.0 | 0.0 | 0.0 | 18.0 | 0.00 |
| 2017 | 20 | VAN | 7 | 7 | 19.0 | 2.8 | 0.0 | 2.4 | 11.4 | 0.95 |
"I have just seen the future. @BlueJays RHP Nate Pearson is filthy. Oh man…"
That was a tweet from Vancouver Canadians broadcaster
Rob Fai
on the Northwest League debut of
Nate Pearson
in Salem-Keizer July 23. The 6-foot-6 righthander showed off his 100-mile per hour fastball three times during two shutout innings in which he threw 22 of 31 pitches for strikes. He also hit 101 and 102 on the radar gun at Nat Bailey Stadium.
Pearson did not give up a run in his first 18-2/3 innings in his professional debut, all but one of them with Vancouver as he made his debut in the Gulf Coast League. He only gave up one run over eight combined innings in the play-offs, striking out 10 batters in the semi-final against Spokane.
There's no question Pearson can bring the heat as he had the best velocity among 2017 draftees but the question is whether he can do it as a starter or will he be moved to the bullpen to be a dominant arm in the late innings.
The improvement of his secondary pitches will determine Pearson's future role. He is said to have a plus-changeup but needs more work on refining his slider and 12-6 curveball. Blue Jays director of amateur scouting
Steve Sanders
told
MLB.com
that he believes Pearson has a chance to be a major league starter thanks to a four-pitch mix and a good delivery.
If it were up to Pearson, he would like to take the ball every five days in the bigs. He left Florida International University after his freshman season because he only made one start during his time there. He decided to transfer to the College of Central Florida and posted a 5-2 record, a 1.56 earned run average and 188 strikeouts in 81 innings. Those numbers over 13 starts earned Pearson Junior College Pitcher of the Year honours.
Another concern heading into the draft was Pearson's health after a screw was placed in his right elbow during his high school career but the Jays believe it will not be a problem going forward as he has been healthy since the surgery.
Pattering his game after Nolan Ryan and the Ryan Express, Pearson hopes he can become the best known Pearson Express in Toronto after Union Pearson. The Odessa, Florida native could find himself in Lansing or Dunedin in 2018. He turns 22 on August 20.
For more about Pearson,
click here
.
4. Danny Jansen | C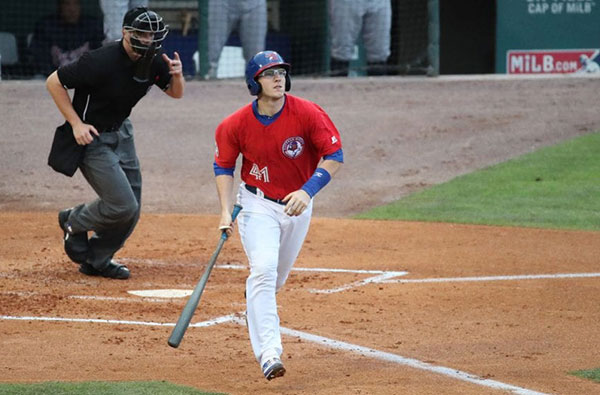 Image from Sportsnet.
(Image from Eddie Michels)

Year
Age
Team
AB
2B
3B
HR
BB
K
SB
CS
AVG
OBP
SLG
2017

22

DUN

122

6

0

5

8

14

0

0

.369

.422

.541

2017

22

NH

179

15

1

2

22

19

1

0

.291

.378

.419

2017

22

BUF

67

4

1

3

11

7

0

0

.328

.423

.552

Health and prescription glasses helped catapult Danny Jansen up the Batter's Box Top 30 so much so that it would not be too farfetched to pencil him in as the post-Martin everyday catcher. Drafted in the 16th round out of a Wisconsin high school in 2013, Jansen has progressed slowly due in large part to repeated hand and wrist injuries, as well as undiagnosed vision problems ultimately remedied by prescription glasses. Jansen put all that behind him in 2017, progressing through three levels of affiliates and posting impressive all-around stats with the bat. Jansen also reports average tools behind the plate. Look to see Jansen as part of a solid contingent of prospects in Buffalo come April.
3. Anthony Alford  | OF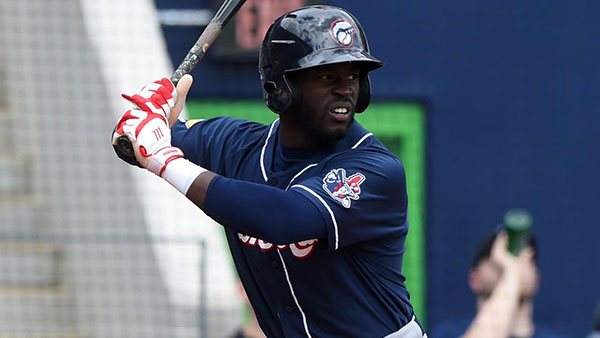 Image from Curtis Chapin.
Year
Age
Team
AB
2B
3B
HR
BB
K
SB
CS
AVG
OBP
SLG
2017

22

DUN

21

0

0

0

0

8

1

0

.143

.182

.143

2017

22

NH

245

14

0

5

35

45

18

3

.310

.406

.429

2017

22

BUF

12

1

0

0

1

2

0

0

.333

.385

.417

2017

22

MAJ

8

1

0

0

0

3

0

0

.125

.125

.250

Anthony Alford played on four teams this past year. There was the short stint with the big club in May, the late season promotion to Buffalo, rehab in Dunedin, and half-season in New Hampshire. Yes, Mr. Alford had an eventful season. In the process, however, Alford put together a strong, albeit truncated, season where he showed real development with the bat despite a mid-season wrist injury. Alford will presumptively start with the AAA club and will hopefully breathe down Kevin Pillar's neck throughout the season. Pillar, in my opinion, needs that. Alford needs a true full-season of baseball, but he should be considered the club's centerfielder of the future. He's probably not the 30-30 threat scouts pegged him at draft time and there will always be a fair bit of swing and miss to his game, but he's got a lot of Mike Cameron to his game which is saying something.
2. Bo Bichette | SS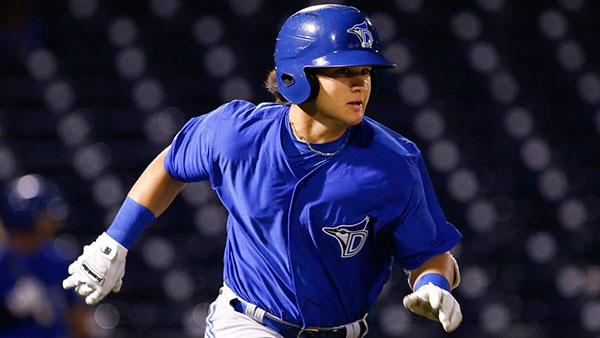 Image from Twitter.
(Image from MiLB.com)

Year
Age
Team
AB
2B
3B
HR
BB
K
SB
CS
AVG
OBP
SLG
2017

19

A

284

32

3

10

28

55

12

3

.384

.448

.623

2017

19

A+

164

9

1

4

14

26

10

4

.323

.379

.463

Bo Bichette, son of slugger Dante Bichette, followed up a strong second half to his 2016 season with a 2017 that attracted attention across baseball and should catapult him into elite prospect status.
Toronto selected Bo 66th overall in the 2016 draft out of Lakewood High School in St. Petersburg, where Bichette hit .569 with 13 homers and 44 RBIs in 25 games. Bo followed his older brother, Dante, and father, Dante, into professional baseball. Dante Jr. was selected 51st overall in the 2011 draft by the Yankees, but has never truly lived up to his potential to date. It appears as if he may have stalled in Double-A with a career .691 OPS in the minors. He's spent successive seasons in Double-A with a .715 OPS and .705 OPS. Dante the elder was a four-time All-Star in the mid-1990s and led the National League in home runs and RBIs in 1995.
After projecting him to be Toronto's first round selection in an early mock draft, Keith Law ranked Bo 52nd overall just prior to the draft. He fared a little bit better with Baseball America, which rated Bo as the 46th best prospect going into the draft, In either case, Toronto was thrilled when Bo was sill on the board when the club came to its 66th selection. Toronto signed him for $1,100,000, which was $121,400 over slot. After the draft Bichette told the Tampa Bay Times that he turned down four other offers to sign with Toronto, explaining that he felt the club was the right fit for him.
In 91 plate appearances with the Gulf Coast League Jays, Bichette hit .427/.451/.732 for a 1.182 OPS. He led the GCL in batting average, slugging percentage and OPS and finished second in on-base percentage to a 23-year-old prospect five years older than him. Baseball America ranked him as the fourth best prospect in the GCL after the season, behind the 1st and 9th overall picks in the 2016 draft and a 2015 international free agent signed for $1.5 million by the Nationals.
Nevertheless, Bichette did not make the end of season top prospect lists from Baseball America, ESPN, Fangraphs or MLB.com. While that looks questionable now, the Minor League Crew at Batter's Box only had him 9th in the Jays system, which also looks like an oversight in retrospect.
In 2017, Bichette and Vladimir Guerrero Jr. both split the year between A-ball Lansing and advanced-A Dunedin. Playing in his age 19 season, Bichette began the year by posting a .384/.448/.623 line at Lansing. He hit 32 doubles and 10 homers in 284 at-bats, with 12 stolen bases in 15 attempts. Bichette's 1.071 OPS led the Midwest League by over 100 points, as the next best mark was .961. Also, Bichette was one of only three teenagers in the top 25 in OPS. Interestingly, all three were sons of former major leaguers, as he was joined by Fernando Tatis Jr. in 6th spot and Vlad Jr. in the 8th spot. Bo was ranked 44th on Baseball America's midseason top 100 prospect update.
Bichette slowed down only slightly in Dunedin, where he posted a .323/.379/463 line, which was good for an .843 OPS. Bichette had nine doubles, four homers and 10 stolen bases in fourteen attempts. Bichette's .843 OPS was good for 15th in the Florida State League, where he was one of only two teenagers in the top 100 by OPS.
With regards to his weaknesses, Bo isn't known for his glove. While he currently plays short, it's more realistic to think he'll move to second or third before his minor league career is finished. If you read up on Bo, you will sometimes see Dustin Pedroia or Ian Kinsler comparisons, suggesting most people think he'll end up at second. He also is reported to have below-average speed, but he's posted decent stolen base numbers as a professional demonstrated he's not as slow as reported or that he's very good at picking his spots.
Bichette hasn't demonstrated Guerrero's strike zone judgment, but his strikeout totals aren't alarming. He appears to have an aggressive approach at the plate, but he's able to channel that into a controlled aggression that avoids a complete free-swinging approach. Bichette has good bat to ball skills and contact ability to go with the ability to make hard contact and he has strong power potential, as he tries to make hard contact rather than simply hunting for home runs.
Last year, Batter's Box wrote, "[2016] demonstrated there's a lot to dream on offensively, as he showed signs of tapping into significant raw power and demonstrated a high baseball IQ that should serve him well as he progresses through the minor leagues." Blue Jays fans should continue that dreaming, as Bichette looks like an elite offensive prospect in his own right.
1. Vladimir Guerrero Jr.  | 3B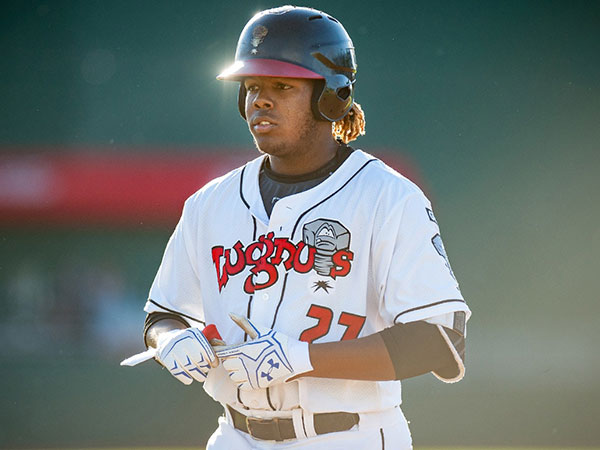 Image from Sportsnet.


Year
Age
Team
AB
2B
3B
HR
BB
K
SB
CS
AVG
OBP
SLG
2017

18

A

269

21

1

7

40

34

6

2

.316

.409

.480

2017

18

A+

168

7

1

6

36

28

2

2

.333

.450

.494

Ranked by Batter's Box as the top prospect in the system last year, if anything
Vladimir Guerrero Jr
only improved his stock this year and, by the end of the year, was universally ranked as one of the top prospects in baseball.
Guerrero Jr. was born on March 16, 1999. He is listed at 6'1" and 210 pounds and throws and bats right-handed. The son of the beloved Expo, who was a nine-time All-Star, former MVP and Canadian Baseball Hall of Famer, Guerrero Jr. was scouted heavily by the Blue Jays, who were able to sign him as an international free agent for $3.9 million in July 2015.
Last year, Batter's Box wrote that Guerrero's first year in America could hardly have gone any better. In 2016, he played in the Appalachian League, where he was more than three years younger than the average player. He posted an above-average .808 OPS that was good for 32nd in the league. Only eight teenagers posted better marks than Guerrero. He was 7th in the league with 8 home runs, 10th with three triples and tied for 17th with 12 doubles. He also finished with the fourth-highest walk total.
Heading in 2017, Baseball America ranked Guerrero Jr. as the 20th best prospect in baseball and MLB.com ranked him as the 34th best prospect. Fangraphs ranked him as the 24th best prospect, while Keith Law had the low ranking of the major evaluators, slotting him 48th.
The future was certainly looking bright heading into 2017 and it's nearly blinding now. Guerrero began the year at A-ball with Lansing, where he hit .316/.409/.480 over 269 at-bats. Vlad Jr. hit 21 doubles and seven homers over this stretch. He continued to display a good batting eye, as he walked 40 times, while only striking out on 34 occasions. Guerrero Jr.'s OPS was the 8th best in the Midwest League and he was one of only three players in the top 25 by OPS who was still a teenager (Bichette being another). Guerrero Jr. was also one of only two players in the top 25 who walked more times than he struck out. On the strength of that performance, Guerrero Jr. was ranked the 2nd best prospect in baseball by Baseball America during their midseason update.
He did even better over the second half of the season, as he followed that up by posting a .333/.450/.494 line at advanced A-ball. With the Dunedin Blue Jays, over 168 at-bats, Guerrero hit seven doubles, six homers and walked 36 times against 28 strikeouts. In his age 18 season, Guerrero Jr. led the Florida State League in OPS. As evidence of how young Guerrero was compared to his competition, the only other player in the Top 100 by OPS who was still a teenager was, you guessed it, Bichette. Furthermore, no other player in the top 100 by OPS walked more times than they struck out, regardless of age
At the end of the season, ESPN named Vladimir Guerrero Jr. their prospect of the year and Keith Law wrote, "I could make arguments for other players, but no one blew the doors off the hinges this year the way the 18-year-old son of possible Hall of Famer Vlad Sr. did." It would be surprising if he's ranked any lower than second by any publication in their end-of-season rankings, as the only other prospect who could make a case for first place is Atlanta's Ronald Acuna.
This post could go on for pages with the accolades that have been heaped on Vlad Jr., although one of the most eye-catching comments came from then-Baseball America writer John Manuel in a chat earlier this season, when he was asked if Vlad Jr. was the best hitting prospect of the last decade. After cautioning not to try any opinion too much, as they clearly missed on Mike Trout, Manuel answered, "….Vlad Jr. might be an 80 hit 80 power…that's hard to beat. That's peak Cabrera or peak Pujols. We're talking that kind of hitter. He's closer to Cabrera I guess because I don't expect him to have Pujols' all-around brilliance, but…I think I just answered 'yes' in a longwinded fashion."
Blue Jays special assistant of Latin American Operations Ismael Cruz noted several years ago that "[Vlad Jr.] has a better bat now than his father did at that age. ... He's hit all his life and he's always faced competition above him." Although he'll never escape comparisons to his father, Vlad Jr.'s reputation as a prospect has now begun to make people think he'll be a better hitter than his father (who is a potential Hall of Famer, don't forget). Cruz also noted that Guerrero plays the game because he loves it, as he doesn't need to succeed for financial reasons given his dad's earnings. Vlad Jr.'s desire was reflected in his ambitious comments shortly after being drafted that he wanted to reach the majors within two years. That comment seems a lot less far-fetched than it did then.
Baseball America has noted that Guerrero "does just about everything evaluators want to see in a teenage hitter. He has tremendous hand-eye coordination and bat-to-ball skills, to the point he seems to have been born to hit. His special hands allow him to manipulate the barrel and square up pitches of all types." Baseball America also described him as having "tremendous raw power and showed the ability to drive the ball to all fields at an advanced rate for his age."
His biggest weakness is defensively and it's long been suspected he'll wind up at first base or DH. However, he's worked hard at his defence since he was drafted to improve his quickness and mobility. In his midseason review, John Sickels reported that he had made "good progress" with his defense and there was a chance he could stay at third base.
If you thought they Blue Jays had a good prospect at the end of 2016, 2017 has demonstrated how special Vlad Jr. could be. Readers, temper your expectations. Next year can't possibly be a repeat of his success in 2017. However, if the Blue Jays lose Josh Donaldson during or after this season, Vlad Jr. might prove to be a more than adequate replacement before too long.
We hope you enjoyed the top 30 prospects for 2017. A big thank you goes out to #2JBrumfield, sam and Thomas for their work on this list and also for the minor league reports during the season.