They're evil, they're imperial, they're coming to town.
Let's not talk about them. I have some random, disconnected thoughts about Toronto GMs whose last names begin with the first letter of the alphabet.
Oh, that would include Pat Gillick's successor? Let's confine the discussion to this millennium. You see, I wanted to make a pretty picture. Just to see if I still knew how...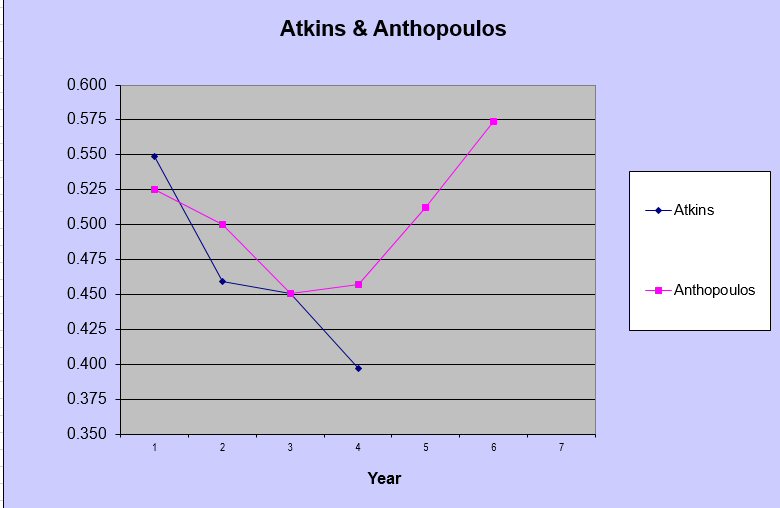 Yes! I can do it! I can still fly!
Let's not read too much into this, there was just a piece of symmetry I liked: in the third year, each man's team went 73-89. (On the occasion, I gave Atkins a D+ for his season and Anthopoulos an E and man, did I get flack for that!)

Before his fourth year Anthopoulos made his big trades with the Mets and Marlins. Atkins, of course, is scorching the earth and starting over.
Anthopoulos' term certainly wasn't a disaster, as someone suggested the other day. It ended with the 2015 post-season, which I say was worth it. No, it wasn't as good as a championship, which is what justified trading Jeff Kent's future† for one month of David Cone. But I still think it was worth trading† Matt Boyd's (and maybe Daniel Norris') future for two months of David Price. It was loads and loads of fun and excitement. Which is what we're here for. We'll always have Game Five.

Lord knows, it was way, way better than... oh, the 1991 post-season. (1985? Hey, we're just happy to be here, although blowing a 3-1 lead still hurts. 1989? The scrappy underdogs who started 12-24, fired the manager, and fought all the way back to win a weak division just to get blown away by the eventual WS champs? No matter. That was the most loveable Jays team ever! But 1991 left a sour and nasty aftertaste.)
Atkins and Anthopoulos† inherited very different situations, of course.

Anthopoulos took over a team that wasn't nearly as bad as their 75-87 record in 2009 made them look. Of course, the very first thing he was obliged to do was trade away his best player, and to a particular destination. Which is a problem, indeed. But what happened? The 2009 Jays had gone 17-15 in Roy Halladay's starts. So Shaun Marcum came back from missing a year, took over as the Opening Day starter, and the 2010 Jays went 17-14 in his 31 starts. Go figure. Anthopoulos' first team went 85-79, and it turned out to be the best team he'd have here until his final season.
Atkins took over a team that - well, were they really as good as their 93-69 record? Especially when you take away David Price? Maybe they were really just a middle of the pack team that got insanely hot (31-10) for six weeks? Or were they even better than the record suggested? They were simply awful (15-28) in close games, which is largely a matter of Luck. And they did make a positive habit of beating the other team senseless (37-12 in blowouts), which is a sign of Quality. I think we're still trying to figure that team out. They did have enough left the following year to get themselves into the Wild Card game, although the warning signs were flashing even then.

Pretty much everything Anthopoulos' did during his first four years elicited variations on the same response: "AA is a Ninja!" And within a couple of years we were all singing along with Peggy Lee. Is that all there is, Brett Lawrie? Colby Rasmus? Jose Reyes? R.A. Dickey? Anthopoulos loved the big, splashy move when he started his GM career but by 2014, after none of them had quite worked out as planned, he'd grown wary himself.


Pretty much everything Atkins has done so far has also elicited variations on the same response: "What the hell is he doing?"

Well, it's a tough gig.
The Yankees have been pummelled, absolutely devastated, by injuries. It hasn't broken their stride one little bit. Fringe players and assorted ne'er-do-wells put on the pinstripes and play like All-Stars. Gio Urshela? Are you kidding me? They've won their last 8 games. Let's break that off, OK?
Matchups!
Thu 8 Aug - German (14-2, 3.98) vs Pannone (2-4, 5.98)

Fri 9 Aug - Happ (9-6, 5.24) vs Reid-Foley (1-2, 2.49)

Sat 10 Aug - Tanaka (7-6, 4.93) vs Waguespack (3-1, 4.00)

Sun 11 Aug - TBD vs Thornton (4-7, 5.55)